The 100ASK-V853-Pro board is a development kit consisting of an Allwinner V853 system-on-module board (SoM) and a feature-rich carrier board with a large number of interfaces. Allwinner V853 supports up to 1TOPS of NPU computing power and is mainly for AI vision application development.
The core board contains a DDR and eMMC as well as a PMU chip (AXP2101) and is connected to the carrier board through a board-to-board connector. All the functional resources of the V853 are drawn out through the carrier board. The carrier board comes with 2-channels CSI camera interfaces as well as RGB and MIPI DSI display interfaces. Although 1 TOPS of AI computing power is not outstanding, the NPU can still be used to accelerate AI vision applications at the edge. The board also comes with four USB 2.0 ports (two Type-A, two Type-C), an 100Mbps Ethernet port, a 22-pin header for expansion, and five programmable user buttons.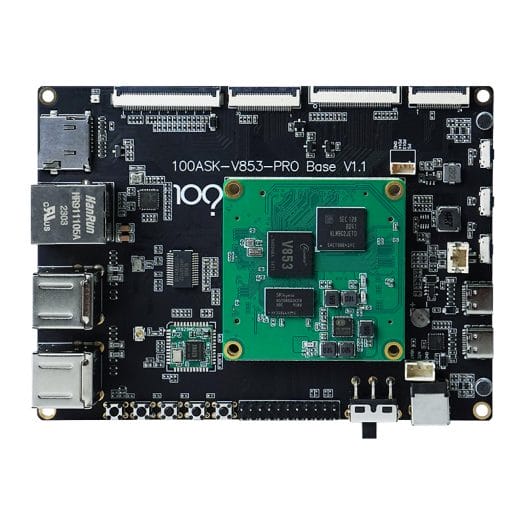 100ASK-V853-Pro Specifications:
V853 Core Lite

Soc – Allwinner V853 with a single Arm Cortex-A7 core, a Xuantie E907 RISC-V core, and a 1 TOPS NPU, an ISP image processor. and Allwinner's Smart video engine capable of up to 5M @ 30fps H.265/H.264 encoding and 5M @ 25fps H.264 decoding.
Memory – Optional 512MB, 1GB DDR3
Storage – Optional 8GB, 32GB eMMC 5.1 flash module
PMIC – AXP2101
Carrier board:

Storage – MicroSD card slot
Video Output

1x RGB LCD interface for RGB Screen
1x MIPI LCD interface for MIPI Screen

Audio

1x S/PDIF audio output
2x Speaker header

Camera I/F

1x 2-lane MIPI interface for MIPI CSI
1x 4-lane MIPI interface for MIPI CSI

Networking

1x 10/100M Ethernet RJ45 port
XR829 WiFi and Bluetooth module

USB – 2x USB 2.0 Type-A ports, 1x USB 2.0 Type-C OTG ports
Debugging – 1x USB Type-C port for serial console
Expansion – 22-pin expansion header
Misc – 8x buttons (Power, Reset, FEL, and 5 user buttons)
Power Supply – DC Power Jack
Rich peripheral interfaces make this development board suitable for camera-related projects. Currently, the V853 SoC supports Allwinner's official Tina Linux system, but the developer (GLGH_) of the Allwinner V851s/V851se board also ported Debian GNU/Linux to V853, providing another option besides Tina Linux. Support is available through the official forum (in Chinese), where we'll also find a tutorial to get started with the 100ASK-V853-Pro development board, as well as instructions to use the RGB and MIPI displays.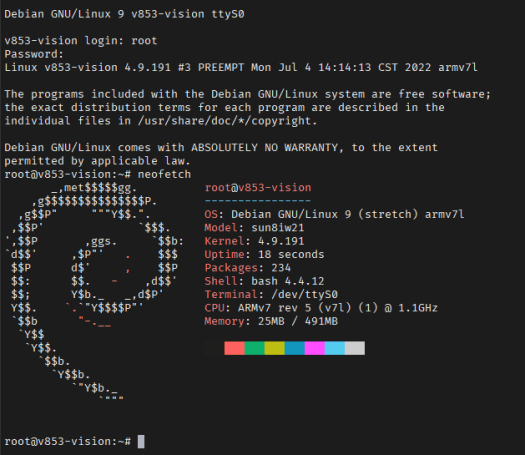 This development board is not yet available outside of China, but should eventually sell on the DongshanPI Store on Aliexpress. At present, there are only 512MB DDR versions of SoMsold on Taobao for  99 RMB (about $14) with 8GB eMMC flash and 129 RMB (about $18) with 32GB eMMC flash. 449 RMB(About $65) will get you a complete kit with an Allwinner V853 core board (8GB) and the carrier board, while the 32GB kit costs 499 RMB (about $72).

Li Zexi became a part-time writer for CNX Software in 2022 and works as a software engineer in an embedded software company in China. He's been passionate about embedded development and the Internet of Things for many years, with extensive industry experience, and a new and unique vision!