Allwinner should launch new Cortex-A76/A55 and Cortex-A78/A55 processors in 2024 according to the company's roadmap including the Allwinner A736/A737 for tablets and the T736/T737 designed for automotive and industrial applications.
In recent years, we've seen Rockchip and Amlogic introduce more powerful processors with the Rockchip RK3588 octa-core Cortex-A76/A55 processor and Amlogic A311D2 octa-core Cortex-A73/A53 or the more recent Amlogic S928X Cortex-A76/A55 for 8K TV boxes. But we're still seeing some recent boards based on Allwinner Cortex-A7 32-bit processors, although recently we covered the Allwinner A523 octa-core Cortex-A55 processor for tablets.
So today, I decided to go on a quest to find out whether Allwinner plans to use 64-bit Arm "big" cores in their future design. I first ended up on the linux-sunxi website where they list the Allwinner T736 octa-core "sun60i" processor with two Cortex-A76 cores and six Cortex-A55 cores, but no other details. This leads me to some "notes" on GitHub with five Allwinner processors featuring big 64-bit Arm cores:
R923 (4xA73+4xA53+1xRISCV(E906), sun60i new product 2023/2024, 12nm)
A736/T736 (2xA76+6xA55, IMG BXM, new product 2023/2024, 12nm)
A737/T737 (2xA78+6xA55, IMG BXM, 12nm)
That looks more interesting, and eventually, I found an Allwinner roadmap for 2021 to 2024 hosted on the website of a Russian distributor called MT System. Note the document is composed of several roadmaps, one for each product segment, and shows the years 2021, 2023, and 2024, so it may be a couple of years old. But let's have a look anyway…
The document starts with "Intelligent Hardware" SoCs that we would typically find in IoT/AIoT products.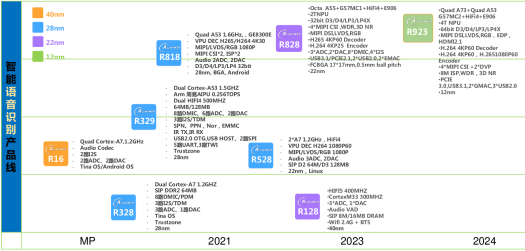 We've already written about the Allwinner R128 wireless microcontroller and the R828 looks to be the same as the aforementioned A523. This leaves us with the Allwinner R923, scheduled for 2024, with the following key features and specifications:
CPU – 4x Cortex-A73, 4x Cortex-A53, E906 RISC-V core
GPU  – Arm Mali-G57 MC2
DSP – HiFi 4
AI accelerator – 4 TOPS NPU
VPU

H.264 4Kp60 decoder
H.264 4Kp60 encoder, H.265 1080p60 encoder

Memory – 64-bit DDR3/DDR4/LPDDR3/LPDDR4X
Display I/F – HDMI 2.1, MIPI DSI, LVDS, eDP, RGB
Camera I/F – 8M ISP, 4x MIPI CSI, 2x DVP
Ethernet – 2x GMAC
USB – USB 3.1, 3x USB 2.0
PCIe 3.0
Process – 12nm
The processor looks suitable for AIoT gateways and NVR systems with multiple cameras. The hardware decoding capabilities feel a bit underwhelming for this type of processor with apparently only 4Kp60 H.264 supported (TBC).
Allwinner has a category of Arm SoC specially designed for robot vacuum cleaners.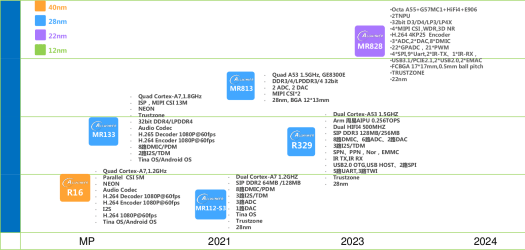 The new model is the 22nm Allwinner MR828 octa-core Cortex-A55 processor, but – as I understand it – it's the same as the Allwinner A523 just sold under a different business unit and possibly a different SDK for support for features required by robot vacuum cleaners.
Allwinner smart camera SoCs will finally switch to 64-bit cores with three new processors for 4K, 4-5MP, and 2-3MP cameras.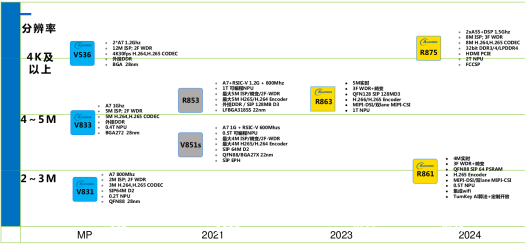 The company did not disclose the cores used for the R863 and R861 scheduled to launch later this year and in 2024 respectively, but we have a few more details for the 4K-capable Allwinner R875 SoC:
CPU – 2x Cortex-A55 with DSP @ 1.5 GHz
VPU – 8M H.264/H.265 codec
AI accelerator – 2TOPS NPU
Memory – 32-bit DDR3/DDR4/LPDDR4
Video Output – HDMI
Camera – 8M ISP with 3F WDR support
PCIe
It's when it comes to tablet processors that things get more interesting as Allwinner will get some mid-range solutions (which may become entry-level in 2024) with the Allwinner A736 and A737  processors manufactured using a 12nm process likely from SMIC.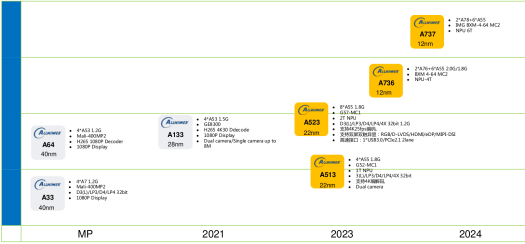 Allwinner A736 key features:
Octa-core CPU with 2x Arm Cortex-A76 @ 2.0 GHz, 6x Arm Cortex-A55 cores @ 1.8 GHz
GPU – Imagination BXM-4-64 MC2 (as found in Alibaba T-Head TH1520 RISC-V SoC)
AI accelerator – 4 TOPS NPU
12nm process
Allwinner A737 key features:
Octa-core CPU with 2x Arm Cortex-A78, 6x Arm Cortex-A55 cores
GPU – Imagination BXM-4-64 MC2 (as found in Alibaba T-Head TH1520 RISC-V SoC)
AI accelerator – 6 TOPS NPU
12nm process
Sadly, we don't have any information about the interfaces, but they should be more power-efficient than the Rockchip RK3588 processor and suitable for battery-powered devices.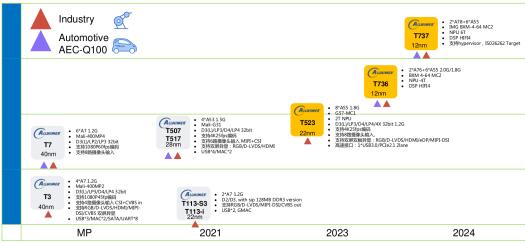 The Allwinner T736 and T737 should be the same as the Allwinner A736/A737 processors but sold by a different business unit and with a separate SDK. However, the 2023-2024 roadmap for industrial and automotive SoCs also shows a HiFi 4 DSP in the Allwinner T736 and T737, and the latter is said to include a hypervisor and the aim to be compliant with the ISO26262 functional safety standard for road vehicles.
So I guess it's progress even though it feels like Allwinner is two years late.

Jean-Luc started CNX Software in 2010 as a part-time endeavor, before quitting his job as a software engineering manager, and starting to write daily news, and reviews full time later in 2011.