We've been writing about international Black Friday and Cyber Monday deals and coupon codes since 2014, as US-centric promotions such as Amazon's Black Friday and Cyber Monday deals are not always available to the international audience of CNX Software. So once again, we've searched at Black Friday and Cyber Monday 2023 international promotions and discount codes from specific manufacturers as well as popular online stores such as Aliexpress, Banggood, and others.
Aliexpress Black Friday and Cyber Monday event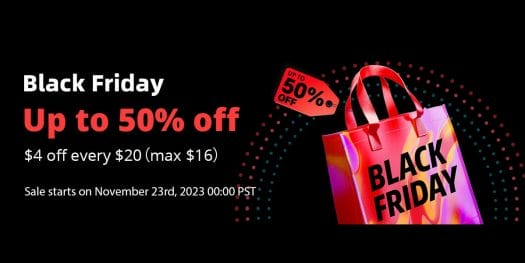 Aliexpress will have a Black Friday (and Cyber Monday) event in 2023, but we have limited details at this time since it will only start on November 23, contrary to some of the other deals we'll feature below which are already up and running.
But the event will have two periods:
Nov 20-22 PT – Warm Up event where users can find and add items to the cart before purchasing during the main event.
Nov 23-29 PT – Sale event with discounts up to 50%, coupons such as $4 off every $20 up to $16 in total.
Banggood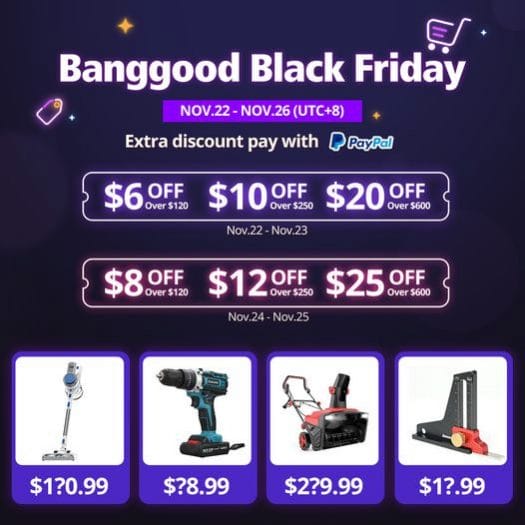 Banggood will also start its Black Friday 2023 in a few days as it will run on November 22-26 with discounts for people who pay with PayPal, and coupon codes from $6 to $25 off depending on the order period and amount. You'll still be able to find Black Friday deals on November 20-21 and add them to your cart before going through the order process on November 22 and beyond. Banggood Cyber Monday will follow starting on November 26 and going on until December 2 for late shoppers.
Geekbuying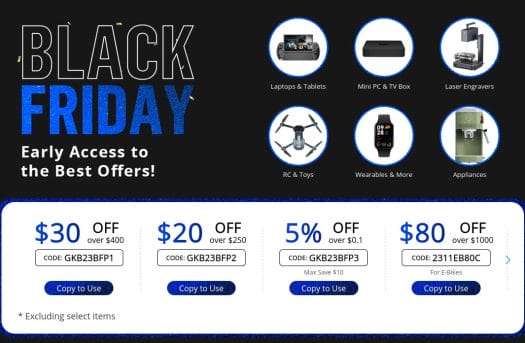 Contrary to Aliexpress and Banggood, GeekBuying Black Mega Sale event has already been up for a few days. The company offers deals for up to $80 discount using sitewide coupons:
Discount codes for USD orders (can be used to order from any country)

2311EB80C – $80 discount for $1000+ orders (E-Bikes only)
GKB23BFP1 – $30 discount for $400+ orders
GKB23BFP2 – $20 discount for $250+ orders
GKB23BFP3 – 5% off for any order, max save $10
Extra discount after checking out with PayPal, Klarna, or Credit/Debit Card. $5 off for orders over $100

Discount codes for EUR orders (can be used to order from any country)

GKB23BFPE1 – €30 discount for €400+ orders
GKB23BFPE2 – €20 discount for €250+ orders
GKB23BFPE3 – 5% off for any order, max save €10
Extra discount after checking out with PayPal, Klarna, or Credit/Debit Card. €5 off for orders over €100
GeekBuying does not typically sell SBCs and other electronics boards, except for the occasional Raspberry Pi, and will be more interesting for mini PCs and/or 3D printers.
Arduino Black Friday 2023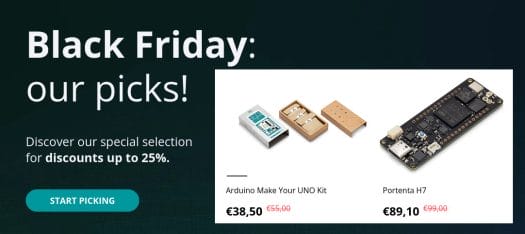 A website that will sell boards and devkits for Black Friday will be the Arduino store with deals for the Arduino Make Your UNO Kit, the Portenta H7 SBC, and many others both on the EU and US websites.
Sipeed development boards
Are you a fan of FPGA boards, RISC-V SBCs, and small Arm boards? Then you should find what you need from Sipeed with the company offering up to 20% discount on their boards on November 23-27.

We don't have the full details yet, but based on the illustration above since should cover several Tang FPGA boards, a stereo camera board, and the Lichee Pi 4A RISC-V SBC.
RAKwireless IoT development kits
RAKwireless is well-known for its low-power IoT modules and devkit based on LoRaWAN, Cellular IoT, etc…. and RAKwireless Black Friday/Cyber Monday sales event will be taking place from November 24 to November 28, 2023 with up to 10% discount even for bulk orders. As I understand it, all products will be covered except RAK3172, Sensor Probe IO with Sensor, RAK10701-H, RAK10701-L, RAK11720, and all Raspberry Pi products including the Compute Module 4, RAK2270, and Trackpac Subscription. The company also has a permanent code "XUO54T" that offers an 8% discount after the event.
Radxa ROCK SBCs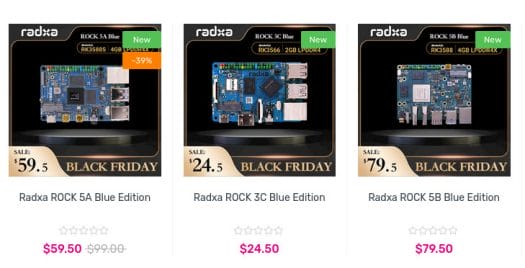 Radxa has a promotion for three of its single board computers on the Arace store with the ROCK 5A Blue Edition ($59.5 and up), ROCK 3C Blue Edition ($24.5 and up), and ROCK 5B Blue Edition ($79.5 and up).
Khadas mini PC and audio devices
Khadas is well-known for its powerful, low-profile Arm SBCs, but the company's Black Friday event instead covers its consumer products such as the Khadas Mind mini PC ($100 discount) and Tea
Portable MagSafe DAC & Headphone Amplifier ($20).
DFRobot Black Friday 2023
DFRobot's upcoming Black Friday sale will take place from November 21st to November 27th (UTC+8), so we don't have the full details yet, but we do know it will include the following:
Volume Discounts on 16 selected products. If you buy 2 pieces or 5 pieces of selected items, you will get a discount.
Flash Sales on 8 selected hot sale items.
LattePanda sales – The LattePanda 3 Delta 864 Single Board Computer will be on sale during the Black Friday promotion, and if you have joined the LattePanda Discord Group, you will get an exclusive code.
GEEKOM Black Friday mini PC event
GEEKOM has ongoing Black Friday sales that will end on November 27th and offer savings up to US$280 (60%). Those are not quite international discounts since the company has separate website that will only ship locally. But the Mini IT11 (Core i7-11390H, 32GB, 1TB) mini PC can be purchased for £449 in the UK with coupon cnxsoftware25 on November 20-30.
Arylic audio devices
Arylic is selling its smart Hi-Fi devices such as Bluetooth pre-amplifiers and amplifiers at a discount for Black Friday and Cyber Monday 2023 with 30 to 50% discount with coupon codes BW30, BW40, and BW50 for specific products.
GL.iNet routers
GL.Inet Black Friday deals are live now for up to 35% off on their routers such as the Beryl AX (GL-MT3000) travel router ($100) or Spitz AX (GL-X3000) WiFI 6 and 5G router ($385.25) until the end of the month.
3D printers and laser engraver from Creality and Longer
Creality Black Friday & Cyber Monday Sale is taking place now until November 30, 2023 with up to 80% discount on 3D printers, laser engravers, and accessories. The company has separate events for different countries or zones: United States, Europe, Germany, Australia, Canada, the United Kingdom, and Japan.
Longer has the same type of event for their 3D printers and laser engraver with up to a $490 discount.
I'll keep adding more international Black Friday & Cyber Monday 2023 deals and/or coupon codes directly to this post or the comments section as they come to my attention.

Jean-Luc started CNX Software in 2010 as a part-time endeavor, before quitting his job as a software engineering manager, and starting to write daily news, and reviews full time later in 2011.