iKOOLCORE R2 is an Intel Alder-Lake-N mini PC and network appliance (router/firewall/gateway) that comes with four 2.5GbE ports, up to 16GB RAM, NVMe storage, and the usual HDMI and USB ports, and offered with either Processor N95 or Core i3-N305 SoC.
It's the successor of the iKOOLCORE R1 with four gigabit Ethernet ports and Intel Celeron N5095 or Jasper Lake processor, and the company sent us a sample for testing, so we'll start with listing the specifications, check out the mini PC and accessories with an unboxing, teardown the multilayer mini PC to check out the hardware design and explain how to update the SSD or install a wireless module, and check whether it can still boot to Windows 11 (default, preinstalled OS) after my adventurous teardown…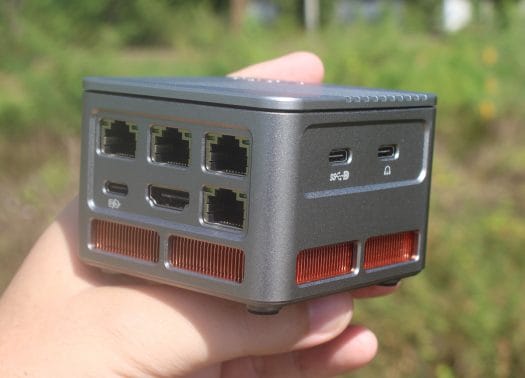 iKOOCORE R2 specifications
Alder Lake-N SoC

Intel Processor N95 quad-core processor @ up to 3.4 GHz (Turbo) with 6MB cache, 24EU Intel UHD graphics; TDP: 6W
Intel Core i3-N300 octa-core processor @ up to 3.8 GHz (Turbo) with 6MB cache, 32EU Intel UHD Graphics; TDP: 7W

System Memory – 8GB or 16GB LPDDR5 4800 MHz
Storage – M.2 Key-M 2242 socket for NVMe (PCIe 3.0 x2) or SATA 3.0 SSD
Video Output

HDMI 2.0 up to 4Kp60
USB-C port with DisplayPort Alt. mode up to 4Kp60
Dual independent display support

Networking

4x 2.5GbE RJ45 ports via 3x Intel i226V 2.5GbE controllers, and 1x Realtek RTL8156BG 2.5GbE controller
Optional WiFi 6(E) and Bluetooth via M.2 E-Key module (AX210 or MT7921 recommended)

USB

2x USB 3.1 Gen 2 (5 Gbps) Type-A ports
1x USB 3.1 Gen 2 (10 Gbps) Type-C port with DisplayPort Alt. mode
1x USB-C audio port using RealTek ALC987 codec

Misc

1x Power button
1x Reset pinhole
Heatsink+fan for cooling
AMI BIOS/UEFI

Power Supply – 12V via USB Type-C port that supports USB PD (Note: 12V/4A power supply provided)
Dimensions – 75 x 75 x 52 mm
Weight – 420 grams
iKOOCORE Technology says the mini PC can run Windows, Ubuntu, CentOS, Debian, Promox VE, VMware ESXi, pfSense, OPNsense, OpenWrt, and others. The specifications are pretty similar to the "M1 Pocket Mini Soft Router" except it's based on other Alder Lake-N processors, has a slightly different mechanical design, and potentially lacks the M.2 Key-E socket found in the R2.
iKOOLCORE R2 unboxing
The mini PC/Firewall/Smart gateway comes with a retail package that reads "TINY AND MIGHTY" on the top and includes some key features and specifications on the bottom. To this point, I still don't know which exact model I've received, since it's the same package for either processor (Processor N95 vs Core i3/N305), and the memory and storage capacities are not written. But we'll find out soon enough…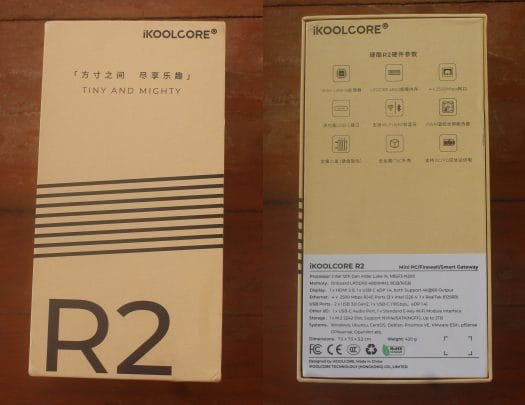 The package includes the mini PC itself, a 12V/4A "USB Type-C" power adapter, a USB Type-C to DC jack in case you prefer to use your own 12V power supply, a VESA mount, a screw sets a Quick Guide, some rubber pads (although some are already installed on the bottom of the device), and a QC certificate.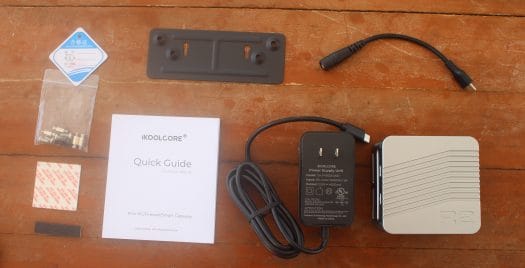 The Quick Guide is a bit more useful than usual, as it describes the ports, lists the specifications, and explains some of the BIOS settings for thermal management (max CPU temperature, fan control), networking (WoL disable/enable), and others. There's also an online wiki for more details.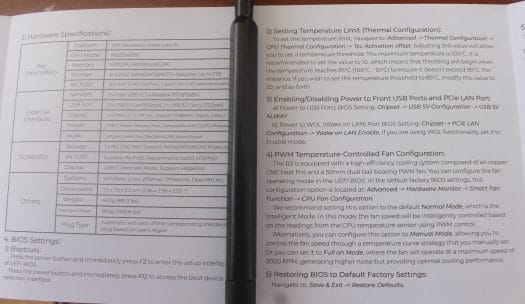 The front panel comes with two USB 3.2 Gen 1 (5 Gbps) Type-A ports and the power button and LED. We can see the cooling system with the copper heatsink on the bottom side on the right of the device.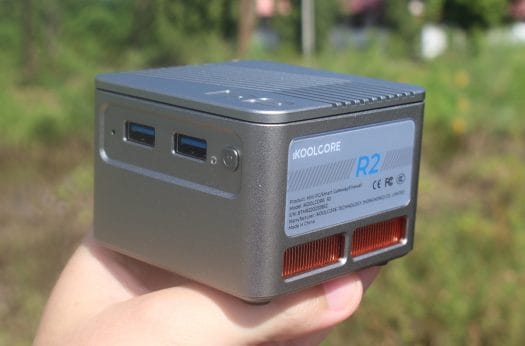 The rear panel has the most interesting connectors with four 2.5GbE RJ45 ports, an HDMI 2.0 port, and a USB-C port for power only. The right side comes with two USB Type-C ports, one USB 3.2 gen 2 (10 Gbps) port with DisplayPort alt mode support, and the other for audio only, although we have to find out how to use this exactly…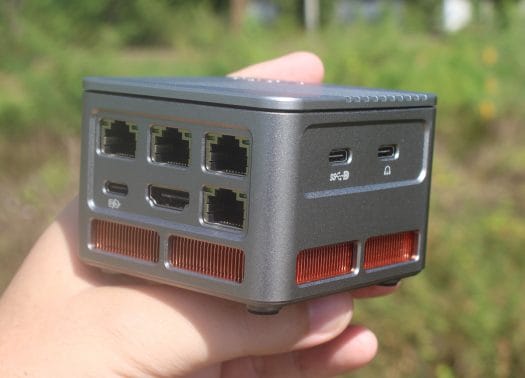 Teardown, M.2 SSD & Wireless modules
The iKOOCORE R2 comes with an M.2 NVMe/SATA SSD socket and an M.2 Key-E socket for wireless modules, so users may have to open the device to change to update and install those. As a reviewer, I also want to tear it down to find out more about the hardware design. Teardowns on most mini PCs start by taking out the bottom cover, so that's where I started not seeing other methods to open the device. But if you just want to change or install an M.2 module in the iKOOLCORE R2 that's the wrong method. Keep on reading and you'll understand what I mean.
I started the teardown by removing the four rubber pads to reveal four screws with a relatively uncommon hexagonal head. I thought it was really odd for a device that's supposed to be upgradeable… But anyway, I loosened those four screws and removed the bottom cover.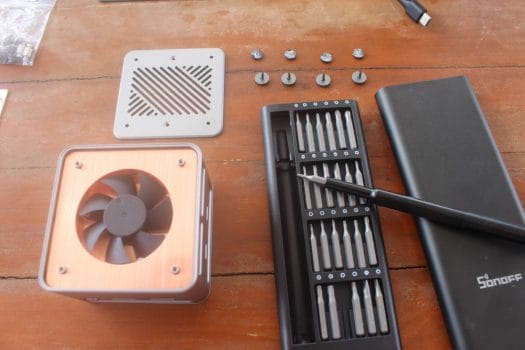 If you want to do that (believe me you don't!), you'll need a tiny Allen hex or a screwdriver kit. I'm using a SONOFF-branded screwdriver kit that I received as part of a present last year and that does not seem to be for sale, but you should be able to find similar kits locally.
Then I tried to slide the plastic enclosure but it would get stuck, and I even saw a detached WiFi antenna cable, so I thought I damaged something, but no, there are two antennas inside for people who want to install a wireless module (there aren't any in the review sample). But this allowed me to notice the top cover was not attached with any screws, and it simply need to be pulled up with some force using your hands or a plastic tool to give access to the M.2 sockets… So there's no need to remove any screws for a typical user, just pull out the top cover.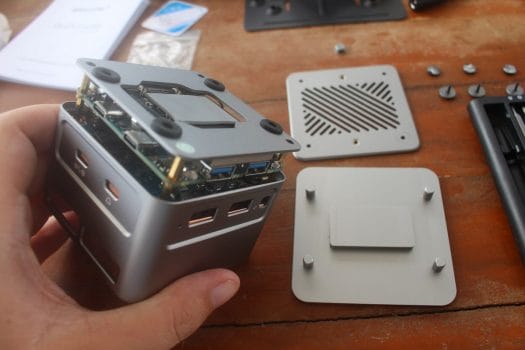 I could slide the plastic chassis out and also remove the thermal pad on top of the SSD to check out the model: Samsung MZ-ALQ512B. That's a 512GB NVMe (PCIe Gen3 x4) SSD.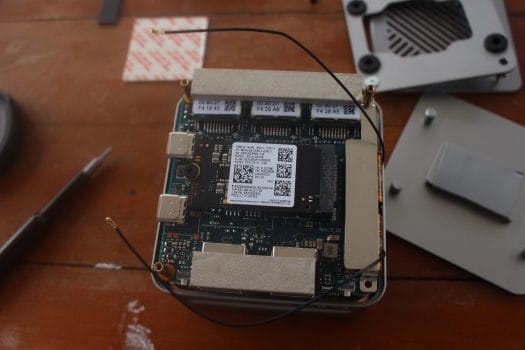 We can also see the two antenna cables that are not connected to anything, so I removed the M.2 SSD, and we can see the second M.2 2230 socket for a wireless module.
I didn't think I had any spare M.2 WiFi modules, so I didn't install anything, but then I realized I did, so I'll try to install and test the Fn-Link 6252M-PUB WiFi 6 and Bluetooth 5.3 wireless module (RTL8852BE) – taken from my Rock 5B SBC – in the second part of the review.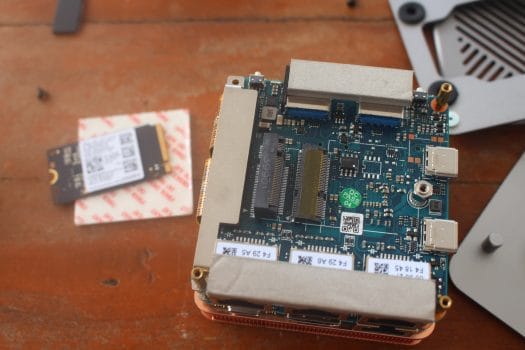 Let's carry on with our teardown by removing the three metal spacers on the top of the board and lifting the board…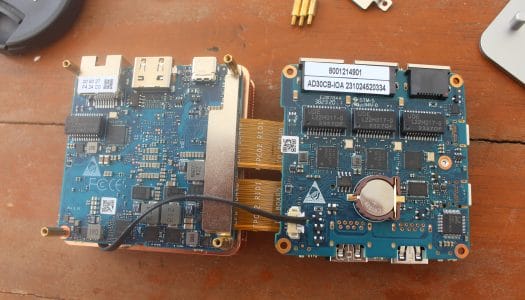 The top board, which we've seen with the M.2 socket, also features two Intel "S2363L51 SRKTU" chips, which should be Intel i226-V 2.5GbE controllers, a Realtek RTL8156BG USB 3.0 to 2.5GbE controller, and RTC battery and RealTek ALC987 audio codec.
The top board is connected via two FPC cables to the bottom board with an additional "S2363L51 SRKTU" chip for the last remaining Ethernet port, as well as the HDMI port and USB-C power port. We can also see a 4-wire cable that's connected to the PWM fan underneath the electronics. In theory, I could remove four more spacers to have a look at the processor and soldered-on memory, but I skipped that part to avoid potentially messing up the cooling system upon reassembly.
First boot to… AMI BIOS
I reassembled everything, then connected CrowView USB-C monitor to the USB-C DisplayPort connector, one Ethernet cable, two RF dongles to connect a keyboard and a mouse, and the 12V power supply. I didn't need to press the power button, and the system started automatically and booted to .. Aptio Setup, or in other words AMI UEFI/BIOS.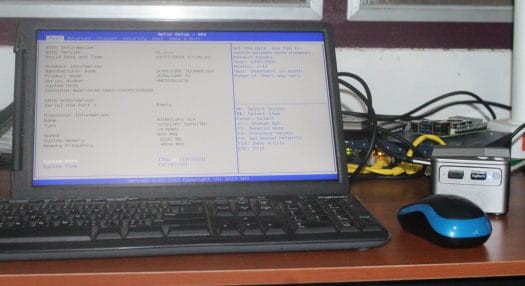 So that means the iKOOLCORE R2 does not come with any pre-installed operating system which I suppose makes sense for this type of device. So I'll skip Windows, and install some other operating system better suited to make sure of the four 2.5GbE ports. I'll probably go with Proxmox to install multiple operating systems on the device like pfSense, Ubuntu, and/or OpenWrt, but I'm open to other ideas.
Since we have access to the BIOS, we get more technical details about my review sample which ends up being powered by an Intel Core i3-N300 processor and equipped with 8192MB RAM. There's no information about the NVMe SSD on the main page of the BIOS, so I went to the Advanced tab to confirm the 512GB was properly detected by the system.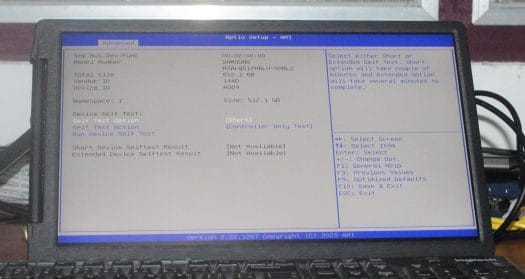 That will be all for today. I'd like to thank iKOOLCORE for sending the R2 mini PC / router for review in Core i3-N300, 8GB RAM, and 512GB SSD configuration. The iKOOLCORE R2 model reviewed here can be purchased for $389 on the iKOOLCORE store, but since it's Black Friday week, there's an additional $30 discount with BLACKFRIDAY code, so the actual price is $359 plus shipping. After the even if over, you should be able to use CNXSOFT coupon to lower the price by 5%. Pricing currently starts at $199 for the N95 model with 8GB RAM and no storage when taking into account the Black Friday discount.

Jean-Luc started CNX Software in 2010 as a part-time endeavor, before quitting his job as a software engineering manager, and starting to write daily news, and reviews full time later in 2011.