After showing pictures of Xiami Mi Box Mini, it's now time for a "review", but a bit different from my other reviews, as Xiaomi tiny media player is much different. First the firmware is in Chinese only, and there's only one external port HDMI output. So first I'll show the user interface is Chinese, then explain how you can install your own Android apps, and finally run some benchmark to evaluates Mediatek MT8568, Wi-Fi and storage performance.
Xiaomi Mi Box Mini Setup and Chinese User Interface
The device is super small, but in my case it was almost too big, as it takes enough space to potentially cause problems with the adjacent plug.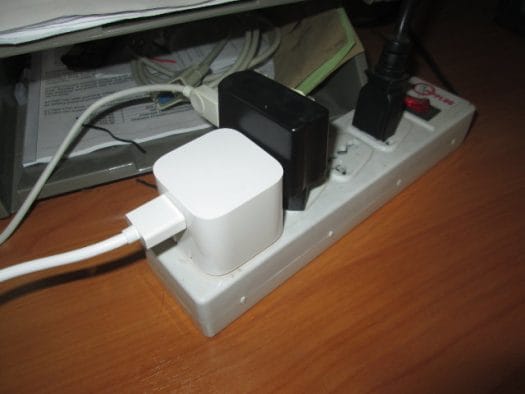 This little issue will of course depend on your power extension. You then need to connect the 1.5 meter HDMI cable, which should be long enough for most setups, and you'll see some guide asking you to remove the plastic sheet under the battery on the Bluetooth remote, and showing how to use the remote (I guess).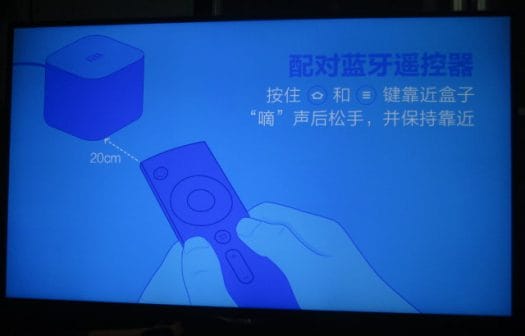 After that you need to configure Wi-Fi, which should be relatively straightforward even you can't read a word a Chinese, and then you get to the user interface.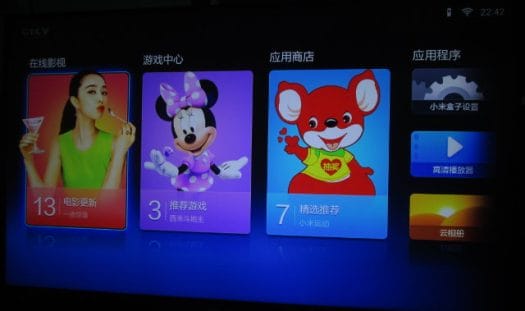 We are told the box runs Android, but all visual traces of that are gone including the setup.
I've recorded a video of the user interface with Zidoo X9 recorder to show what you'd get.

So if you can't read Chinese, you'll be up for a struggle, and the only think you may be able to use is Miracast function, although I had mixed luck making it work with my mobile phone (M6752). Alternatively, there's a QR code in the user manual linking to an app that will allow you to display your mobile's photos and videos on the big screen.
If you are an oversea Chinese you may have though it could have been a nice option to watch Chinese shows and movie online, but unfortunately most of the content is only copyrighted for China viewing, or you'd need to setup a VPN.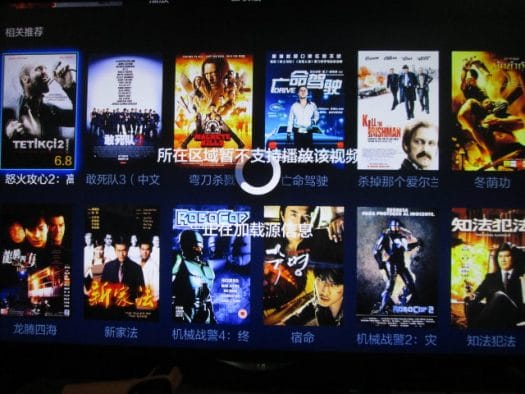 I've been told the two lines in the picture above translated into "Your current region does not support the playback of this channel" and "Downloading source information" so no Fast and Furious 7 for me…
There's an option to enable adb.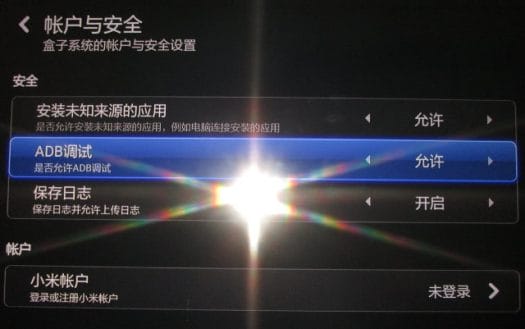 But I had no luck connecting to the box with adb over Wi-Fi, and whatever setting I choose adb port is not open.

sudo

nmap

-

sS

192.168.0.109

Starting

Nmap

6.40

(

http

:

//nmap.org ) at 2015-04-03 16:27 ICT

Nmap

scan

report

for

192.168.0.109

Host

is

up

(

0.0065s

latency

)

.

Not

shown

:

994

closed

ports

7000

/

tcp

open

 

afs3

-

fileserver

7100

/

tcp

open

 

font

-

service

MAC

Address

:

10

:

48

:

B1

:

95

:

5D

:

86

(

Beijing

Duokan

Technology

Limited

)

Nmap

done

:

1

IP

address

(

1

host

up

)

scanned

in

28.07

seconds

Finally, as I tried the box, I got a pop-up for a new firmware that I happily installed. Unfortunately, I turned out to be a bad idea since this also removed the menu required to side-load apks to the board. So I had to downgrade the firmware, something that's very easy to do since there's an option for that.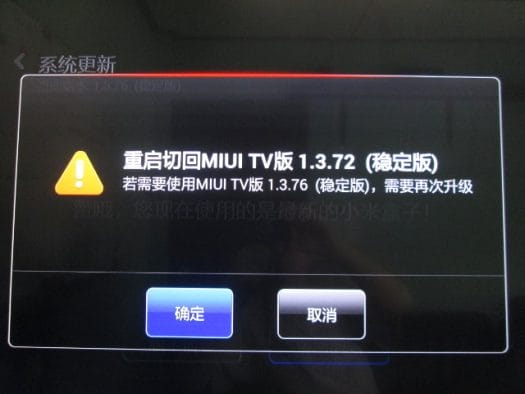 Simply go to the firmware upgrade menu, and click on the right button, a window will pop-up asking if you really want to downgrade from MIUI TV 1.3.72 to MIUI TV 1.3.76. Accept by selecting the left button.
Changing Xiaomi Mi Box Mini Language and Side-loading Apps
A shop posted video instructions to help users change the language and load apps, including Google Play. To do so, click on the third icon from the left in the launcher, and select the fifth option on the top menu.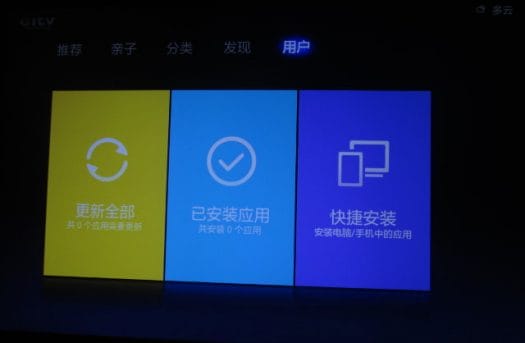 If the third Blue option is missing, then your firmware may have removed the option to side-load apps, and should you try to downgrade the firmware as mentioned above. If you can't do that, I don't know other solutions to change to English and install apps.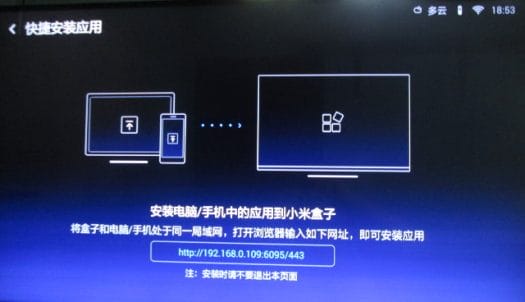 Upon entering the third options, you'll ne shown an address, in my case http://192.168.0.109:6095/443 that you need to type in your mobile or computer's browser, and will allow you copy files to the device over Wi-Fi.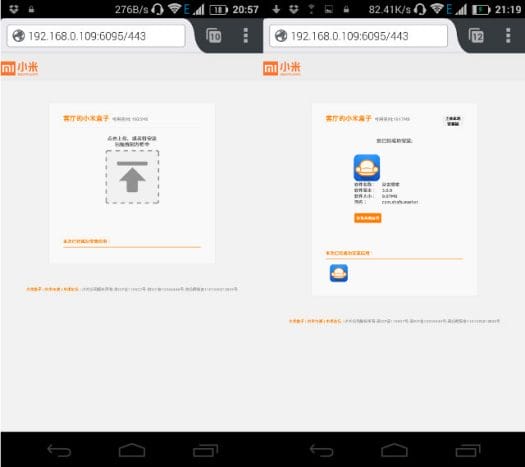 A bunch of apk have been provided, including Google services, Google Play, and YouTube, but unfortunately, so the only one you really need to download is Shafaguanjia.apk, as it will allow you to access Android settings, and change the language and input method, as well as upload more apk, which may fail with the Xiaomi uploader. Once the file is transfered to Mi Box Mini, you'll get the usual installation prompt asking to review permissions before installation, and installation is complete, you should see "Shafa Market" app (in Chinese) shown in the right of the main screen.
Start the app, select the Setup icon to enter the "standard" Android settings, scroll down until your the the options for Language ("A" icon), select the first options, and you should be able to select English, simplified Chinese, or traditional Chinese as shown in the picture below.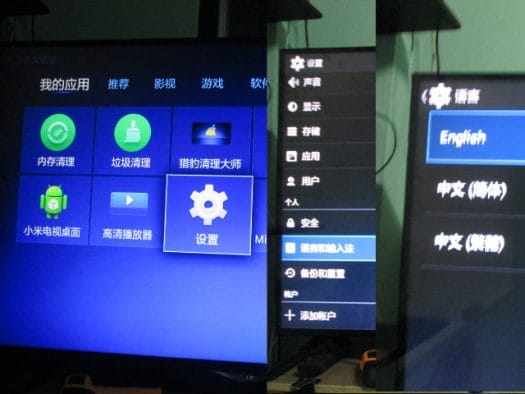 Now get a bunch of apk you want to install, for example with APK Downloader, and since the default web uploader does not seem to work for all apk, instead go to the last option to the right of the top menu in Shafa market, and click on the bottom right icon (Computer + Smartphone) in order to get another address to upload, for example http://192.168.0.109:8899.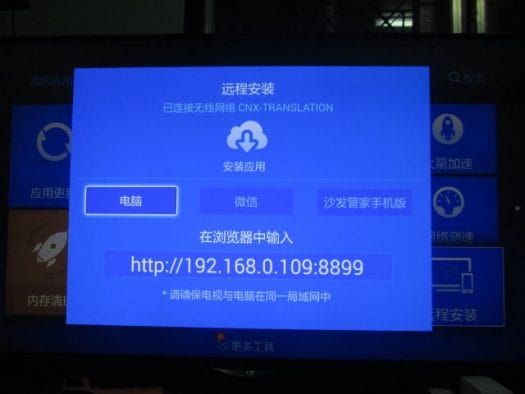 The webpage is similar to the Xiaomi one, with a single green button to browse your local storage and install apps.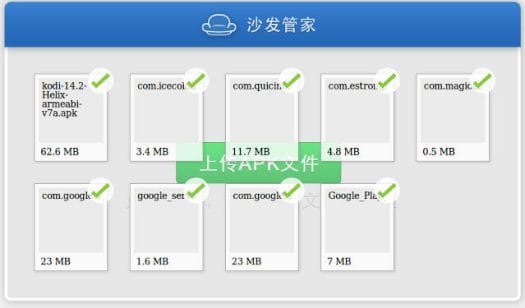 I've installed a bunch of application include ES File Explorer, Antutu, Vellamo, CPU-Z, Google Play, Chrome (there's no web browser by default), Amazon appstore, Kodi 14.2, and so on. For some unknown reasons, Firefox Android browser was transfer to Xiaomi box but the installation window did not show up. Once you have installed Shafa Market, you can safely upgrade your Xiaomi Mi Box Mini firmware.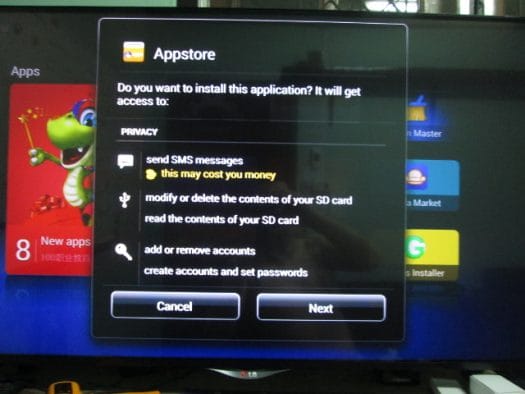 The Bluetooth is a standard remote, e.g. not a magic remote with pointer, so many android apps won't work. You should be able to work around this by using a Bluetooth mouse and keyboard, but I don't happen to have any, and since the device is not rooted it might not be possible to install a server (e.g. DroidMote) to be used with a smartphone remote app. So I had to give up on using Amazon Appstore, 3Dmark benchmark, and iperf, and I did not even bother side-loading any games for that reason. Chrome browser is working, but you may have to select "Request desktop site" with the menu key in order to be able to click on links…
If you want to see I've shot another video with the user interface in English and a few extra apps.
Since I forgot to include Kodi in the video above, and I'm sure some people would ask, I've also tried to play a few samples including Sintel Blu-ray in Kodi 14.2 from a SAMBA share. It sort of work for some videos, but in many cases the system struggle to have a decent framerate, or there are massive artifacts.
Xiami Mi Box Mini Benchmarks
Mediatek MT8685 is a completely new processor to me, so I had to run CPU-Z first.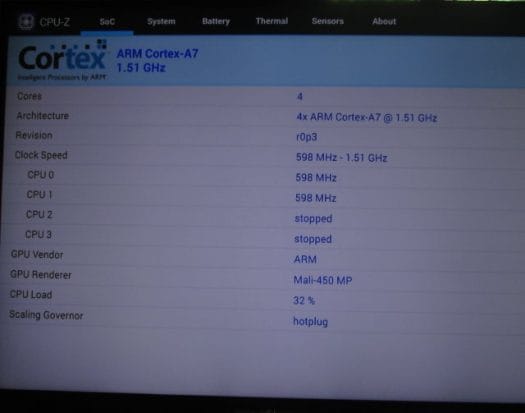 The processor indeed features four Cortex A7 cores @ 598MHz to 1.51 GHz with a Mali-450 MP GPU.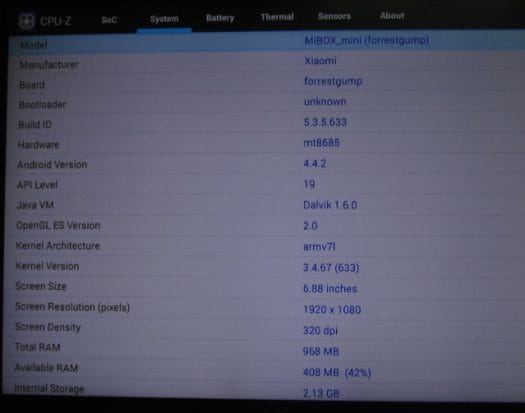 The board is called forrestgump, the screen resolution is 1920×1080, and there's just 968 MB RAM, and 2.13 GB storage available from the internal flash.
The box gets 21,091 points in Antutu 5.6.1, but the score is probably higher than it should because it was only performed on part of the screen (830×1080 instead of 1920×1080), hence affecting 2D and 3D graphics scores positively.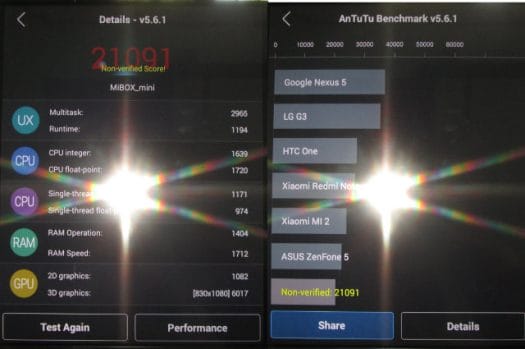 I've also run Vellamo 3.1 which in most cases places Xiaomi Mi Box Mini close LG Nexus 4 smartphone powered by Qualcomm Snapdragon S4 Pro quad core processor (APQ8064).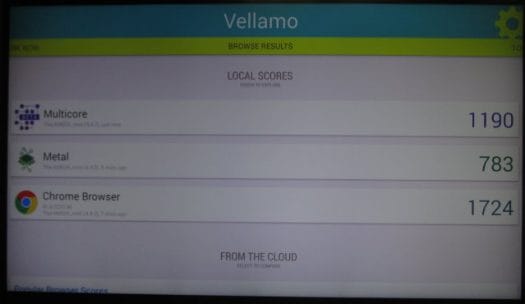 You can get the comparison charts for Multicore, Metal, and Browser.
I've also tried to run 3DMark, but I could not download Ice Storm package due to input issues.
I can't report about Wi-Fi performance either since ES File Explorer failed to copy a file from SAMBA to flash, and I could not use iperf, again due to input issues as the software keyboard would not show up when needed…
I still managed to run A1SD bench to evaluate internal storage performance, but there's no little storage, that the utility detected Cache reads. The reported read speed is 57.11 MB/s, and write speed is 12.41 MB/s.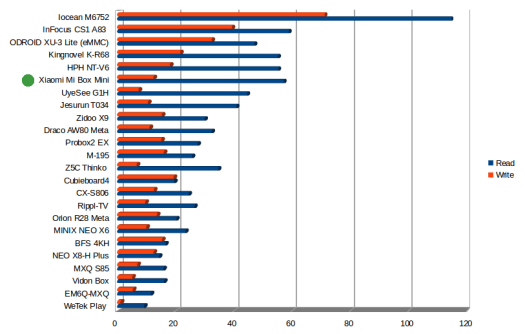 Conclusion
If you live in China, Xiao Mi Box Mini may be a nice little device giving you access to lots of content. If you can read Chinese, and live overseas, be prepared to setup a VPN to China, and you may access the many online videos and movies, but if you don't read a word of Chinese, switching to English will require some efforts, and many apps won't work as expected, unless possibly if you get a Bluetooth air mouse or Bluetooth keyboard and mouse. Provided the latter work, you could get a decent little box for web browsing, some casual gaming, watching videos and so on. Just don't expect Google Play, YouTube. etc… to work.
In case you'd still like to give it a try, GearBest, who kindly provided a sample for review, sells it for $42.98 with coupon MIBOX, but you can also purchase on other websites such as GeekBuying, Aliexpress, or eBay for around $50.

Jean-Luc started CNX Software in 2010 as a part-time endeavor, before quitting his job as a software engineering manager, and starting to write daily news, and reviews full time later in 2011.