Voyo V2 is another Intel Atom Z3735F mini PC pre-installed with Windows 10 Home, but it has some interesting features such as a 64GB SSD connected via a USB to SATA bridge on top of the regular 32GB eMMC, and a 5,000 mAh battery acting as a UPS. Since I have already received several of such platforms including MeLE PCG01, Wintel W8, and MeLE PCG03 and that there are usually few differences in regular benchmarks, I'll focus on what varies between platforms: Windows activation status, storage and network performance, as well as power consumption.
System Info and Windows Activation
One of the shortcoming of this mini PC is that it only comes with a full sized USB port, and a micro USB port. So if you plan to use it as a PC with USB keyboard and mouse, you'll need to use a USB hub, or at least a USB OTG adapter. I use a USB hub to connect a keyboard, mouse, and external hard drive. I also used Ethernet by default, and when you boot in this configuration it takes about 45 seconds to boot, a bit longer than other Z3735F systems I tried before. You'll need to press the power button for about 4 seconds to boot. If the system hangs, you can't disconnect the power to restart, and the battery will take time to discharge, but you can press the button for 10 seconds to turn it off.
I first went to System->About section to double check the system, and an Intel Atom Z3735F processor and 2GB RAM are indeed installed, with Windows 10 Home 32-bit pre-installed.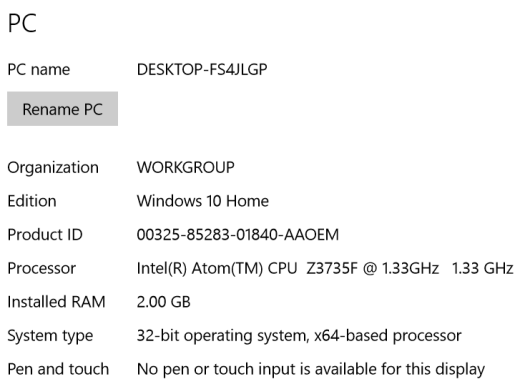 Since Voyo V2 only sells for $120 for a system with a 64GB SSD and a 5,000 mAh, I was convinced Windows would not be activated, but based on the info I got in Update & Security->Activation, Windows 10 Home installed in that machine appears to be legit.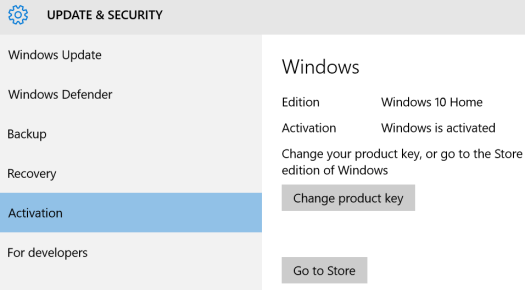 Finally, I went to check out the two storage devices, and the C: drive (32GB eMMC) has 22.3 GB free out of 28.6 GB, while the D: drive (64GB SSD) has 58.1 GB free out of 58.2 GB. The system also mounted NTFS and EXFAT partition from my USB hard drive.

For more details about the others chips used in the system, you may want to read Voyo V2 unboxing and teardown post.
Storage and Network Performance
Since the mini PC has two storage option: eMMC and SSD, it's important to find out which one is faster, as you'll want to install and run programs and caches from the fastest possible storage to get optimal performance out of your system, while your data may not need to the fastest speed.
I was expecting around 100 MB/s sequential read speed for the eMMC and 30 MB/s for the SSD, since it's connected via USB, but results ended up being a significantly slower.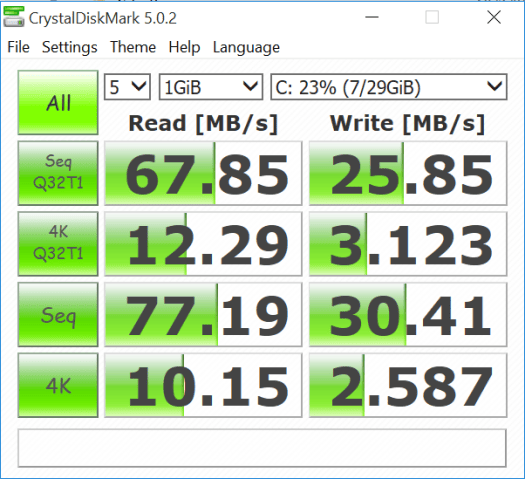 The sequential read speed was 77.19 MB/s, and write speed 30.41 MB/s. If you compare this to MeLE PCG03 results in Windows 10, i.e. 165 MB/s read speed, and 72.55 MB/s, it's clear the Biwin eMMC in Voyo V2 is not quite as fast, even over half as slow, as the Samsung eMMC in MeLe PCG03. The eMMC is one of the area where Voyo decided to cut costs.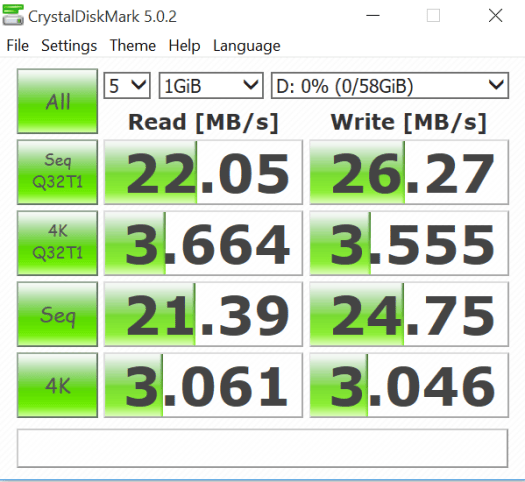 The SSD is even much slower @ 21.39 MB/s read and 24.75 MB/s write speed, so it's only advantage is that it's hidden inside the case. You'd get similar performance with a 64GB USB flash drive attached to a device with more USB ports.
[Update: I've added DiskMarkResults for a 64GB flash drive connected to Voyo V2 as reference.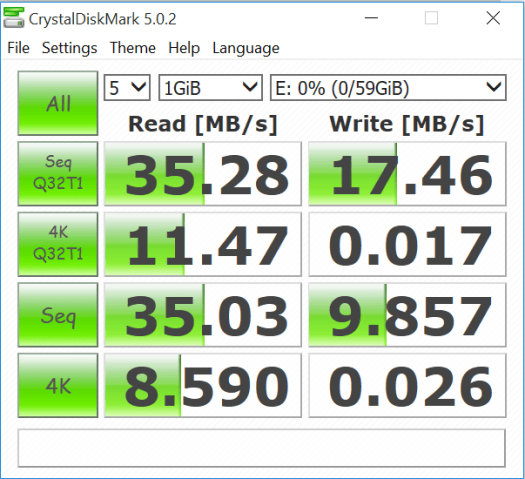 Also the sequential read is faster @ 35.28 MB/s, the sequential write speed is lower, and more importantly random write speed is much much lower. So a SSD connected via USB is still likely to offer better performance than a USB flash drive]
That means you'll definitely want to install programs on the C: drive, and possibly move the Document, Download, Pictures, and Movies directory to the D: drive to make sure you've got enough space for your programs and cache.
Let's look at wired and wireless network performance.
Voyo V2 features a Fast Ethernet port, and the performance is OK, but not outstanding, when tested with iperf -t 60 -c server_ip -d:

Client

connecting

to

192.168.0.110

,

TCP

port

5001

TCP

window

size

:

 

340

KByte

(

default

)

--

--

--

--

--

--

--

--

--

--

--

--

--

--

--

--

--

--

--

--

--

--

--

--

--

--

--

--

--

--

[

 

6

]

local

192.168.0.104

port

46827

connected

with

192.168.0.110

port

5001

[

 

6

]

 

0.0

-

60.0

sec

  

495

MBytes

 

69.2

Mbits

/

sec

[

 

5

]

 

0.0

-

60.0

sec

  

572

MBytes

 

79.9

Mbits

/

sec
I've also tested WiFi. Bear in my that during the teardown I broke the Wifi antenna cable, but I did re-solder it, and Windows reported a good signal (3 bars out of 4) for the WiFi connection, connected at 65 Mbps. So everything appears to be in order, but Wi-Fi (2.4 GHz only) was still very slow in that test:

TCP

window

size

:

85.0

KByte

(

default

)

--

--

--

--

--

--

--

--

--

--

--

--

--

--

--

--

--

--

--

--

--

--

--

--

--

--

--

--

--

--

[

 

6

]

local

192.168.0.104

port

49530

connected

with

192.168.0.111

port

5001

[

 

4

]

 

0.0

-

60.2

sec

 

62.6

MBytes

 

8.72

Mbits

/

sec

[

 

6

]

 

0.0

-

60.3

sec

 

62.4

MBytes

 

8.68

Mbits

/

sec
Battery and Power Consumption
The very first time I connected the computer, and pressed the power button, I could see the Windows boot logo for a few seconds, and then nothing, with my power meter reporting 0.2 Watts consumption. So I double checked the connection, and eventually saw 10.2 Watts on my power meter when the device was still off, simply because the battery was charging. So the first time, you need to charge the battery, just like you'd do on a tablet. So I let the charge run until I could see a low and constant wattage which turned out to be 0.2 Watts, and it took less than two hours of to fully charge the battery.
I could then start and use the machine normally, and measure power consumption. The issue is that when the battery is full, it's still being discharged even when the box is connected to the mains, so the only reliable power consumption measurement I could make were in power off mode:
Charging – 10.2 Watts at the start then slowly going down as the battery is fully charged
Power Off – 0.2 Watts
Power Off + HDD – 0.2 Watts
I also tried to measure power when the battery is fully charged, and I got about 4.0 Watts in idle mode, and 3.4 to 4.0 Watts in sleep mode, which does not make much sense. When I added a USB hard drive in idle mode, the power consumption would then fall between 3.4 to 4.0 Watt, right after a spike to 5.3W when the HDD partition were mounted. As soon as the battery level falls to 99% and below, charging will start, with reported power consumption around 7 to 8 at first, and going down as the battery is being charged. It takes 20 minutes to charge the battery from 99% to 100%. So overall, if what you are after is a system that consumes as little power as possible, Voyo V2 might not be for you, as the battery often gets charged.
However, the battery does its job as UPS, or if you want to carry it around with you a few hours without shutting it down. [Update: If the battery level drops below 89 ~ 90%, the system suddenly shuts down. It could be a hardware problem with my specific sample however]
I've tried to generate a battery report as explained on How to Geek, but it failed as follows:

powercfg

/

batteryreport

/

output

"C:\battery_report"

Unable

to

perform

operation

.

 

An

unexpected

error

(

0x10d2

)

has

occurred

:

 

The

library

,

drive

,

or

media

pool

is

empty

.

Since I've broken the top cover dramatically improved ventilation, I was not going to measure the box temperature, but as it felt a little hot, I changed my mind. The casing is bright and shiny, so I added some black tape on the side and bottom of the enclosure for temperature measurement with an IR thermometer. I installed Kodi 15.1, and playing a 1080p60 video for 10 minutes, and measured 48 C on the side, and 52 C on the bottom. But maybe the thermometer understates the temp, as it felt really hot with hands, and high temperatures are typical on Atom Z3735F devices. The video played smoothly during the whole ten minutes, and somehow the power meter reported 17 Watts power consumption, or over the capacity (5V/3A) of the power adapter, so maybe 2+ watts are dissipated during the 220V to 5V conversion.
GearBest provided a Voyo V2 sample for this review, so if you are interested in this product, you could consider purchasing the device for $120.99 including shipping on their website. Please note that there are two versions: one with a 64GB SSD and a 5,000 mAh battery, as shown in this review, and a cheaper one with a 8,000 mAh battery, but no SSD. Voyo V2 mini PC can also be found on GeekBuying, eBay, Aliexpress, and probably other online retailers.

Jean-Luc started CNX Software in 2010 as a part-time endeavor, before quitting his job as a software engineering manager, and starting to write daily news, and reviews full time later in 2011.