With the rise of IoT and M2M applications, more and more Low Power Wide Area Network (LPWAN) standards have been launched or being worked on, such as Sigfox, LoRa, 802.11ah "Hallow", Weightless, etc… with all promising long range, low power consumption, and support for a high number of nodes. WAVIoT, a US startup founded in 2011, has decided to create its own solution called WAVIoT Nb-Fi (Narrowband Fidelity) that works in ISM bands, offers up to 50km line-of-sight range, supports up to 2 million nodes by gateway, lasts over 20 years on a small battery, and with WAVIoT said to cost as low as $2 per node. The technology is already available in smart electricity and water meters, and modules as shown in the picture below.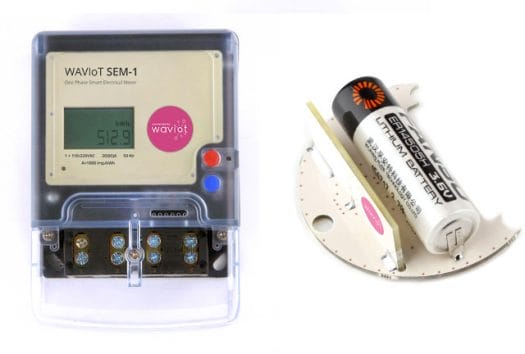 Here are some of WAVIoT Nb-Fi technical specifications:
DBPSK on physical layer of signal transmission;
End-nodes transmit radio signal in 10-500 kHz bandwidth
Minimum bit rate of 50 baud+ (8-10 bits per second)
Link budget available 184-194 dBm
Output power up to 25dBm (with FEM)
TX 250mA @ 27Bm, 90mA @ 16dBm, 44mA @ 14dBm
Sleep mode with RAM retention and wake-up timer running 1.5 μA
RF transceiver operates over a wide frequency range including 315MHz, 433MHz, 470MHz, 868MHz, 915MHz in the license-free Industrial, Scientific and Medical (ISM) frequency bands.
But the best way to see what the standard can do it to compare it to other solutions such as LoRa, Sigfox, LTE-M, WiFi, and Cellular.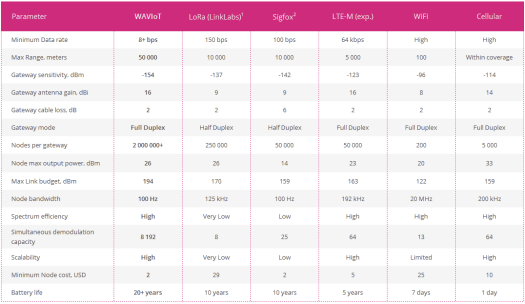 (1) LoRa info source: Link Labs; (2) Sigfox info source: SigFox.
The table above has been provided by the WAVIoT, and while it's informative, the data shown is likely to show WAVIoT Nb-IF in the best light possible.
You can already setup an ecosystem with WAVIoT, for example using WAVIoT GW200 base station combined with nodes using RM130 transceiver module ($15) supporting both Nb-Fi and LoRa, or smart meters such as SWM-1 smart water meter ($28) or SEM-1 smart electricity meter ($59).
The company also provides a WAVIoT and LoRa development kit based on RM-130 transceiver module with the following hardware specifications:
MCU – SiLabs EFM32G210F128 ARM Cortex-M3 MCU @ 32 MHz with 128 KB Flash and 16 KB RAM
RF Transceiver – Semtech SX1276 137 MHz to 1020 MHz Low Power Long Range Transceiver
Frequency Bands – 866.5 – 916.5 MHz
Radio protocols – LoRa, WAVIoT UNB
TX Power Range – -2…18.6 dBm, by 1 dBm steps
TX Current – 120mA @ 18.6dBm, 90mA @ 16dBm
RX Current – 16 mA
Sleep Current 10 µA
Expansion – 17 through holes for Power signals, as well as GPIO, USB, UART, SPI, I2Cm ADC, analog comparators, pulse counters, etc…
Debugging – 20-pin JTAG header, USB-UART interface
Power Supply – 5V via USB or 2.5 / 3.8V (selectable by jumper)
Dimensions – 80 × 38 × 11mm
Operating Temperature – – 40…85 °C
So WAVIoT is just using existing RF solutions, and seems to basically use the same hardware as LoRA, as Semtech SX1276 is featuring a "LoRa long range modem", and the cost per node is likely lower because of its better scalability. The board supports add-on shields for LCD display, SWR sensor, and more.
The company provides a simple Windows GUI, command-line utilities for Windows, Linux, and Mac OS X, and an open source host-interface abstraction written for PCs and embedded microcontrollers. Several cloud solutions for data management and billing are offered. The development kit sells for $274.99.
You can find more details on WAVIoT website.

Jean-Luc started CNX Software in 2010 as a part-time endeavor, before quitting his job as a software engineering manager, and starting to write daily news, and reviews full time later in 2011.