Rikomagic MK22 is one of the many Android TV boxes powered by Amlogic S912 octa-core processor with typical hardware specifications such as 2GB RAM, 16GB flash, Gigabit Ethernet and dual band WiFi. I've already taken the box apart to check out the hardware in the first part of the review, so I'll focus on the firmware, but I'll keep it short focusing on typical problem areas, as I've already reviewed a bunch of other Amlogic S912 TV boxes such as Qintaix Q912 or Beelink GT1.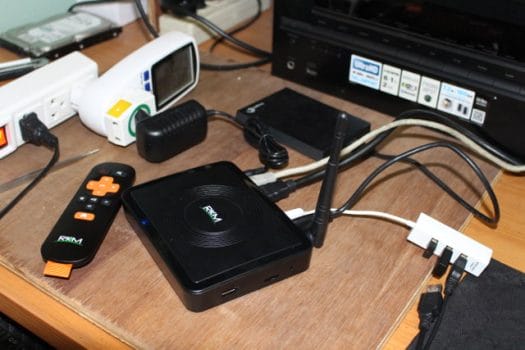 First Boot, Firmware Update, and First Impressions
After having connected all usual cables and accessories include a 1TB USB hard drive, and RF dongles for my air mouse and wireless gamepad, I booted the device, and after around 45 seconds (typically), I got to the main launcher.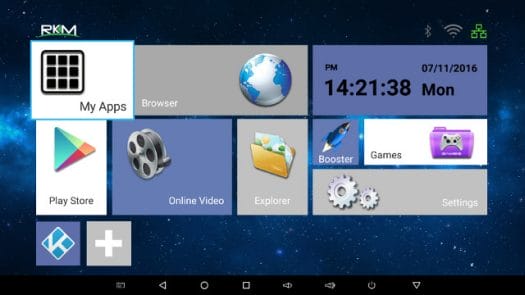 Since I received the device about a month ago, I decided to go to the UPDATE&BACKUP app to see if there was any OTA firmware update, and unfortunately, as you can see from the screenshot below online update was not enabled in the device with the error: "Check Failed! Check Your OTA Servier Argent" (sic).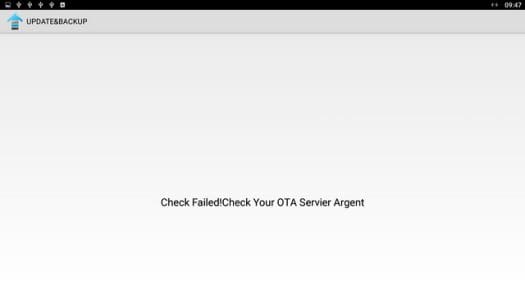 So I went to Rikomagic download page, and I could find a new firmware, the latest USB burning tool, and instructions. It did not go very smoothly, but I still managed to flash the firmware, and I explained the issues I came across in details in the post entitled USB Burning Tool Still Sucks in 2016. Still that was a disappointment to have to go through this, as the vast majority of TV boxes now support OTA firmware update through the network or SD cards, a much more user-friendly way to upgrade the firmware. The company explained that my early sample did not support OTA firmware update, but it should now. I tried again UPDATE&BACKUP, and got the same error, until I found another firmware update app called WirelessUpdate.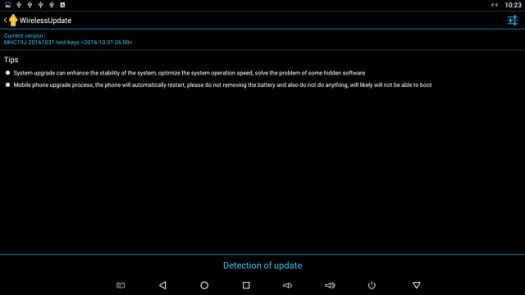 It won't detect a new firmware since I have RKM MK22_161031 firmware released a week ago, but it did seem to properly check the status from the OTA server, telling that was not new update.
I won't go into much details about the settings, as you can check my other S912 reviews for all options, for example M12N review. HDMI CEC, Playback settings (HDMI Adaptation), and Power key definition were all present in MK22 firmware. I had no troubles with settings Ethernet, WiFi, and the system automatically set my TV to 2160p @ 60 Hz and kept it that way throughout. I did not have the typical HDMI CEC issue turning on my AV receiver against my will. So it appears Rikomagic fixed some of the issues I encountered in early S912 TV boxes.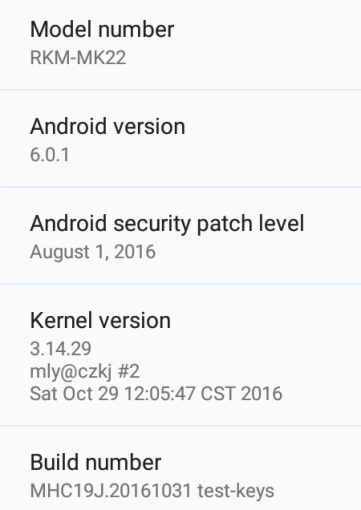 I could also enter Android Marshmallow settings, and access all usual options. A single unified 11.38GB partition is used for both apps and storage from the 16GB eMMC flash, and the system runs Android 6.0.1 on top of Linux kernel 3.14.29. The firmware is rooted.
The provide remote control worked fine for up to 8 meters, as further away some keys would be missed. I reverted to MINIX NEO A2 Lite air mouse for most of the review because its mouse mode and QWERTY keyboard make it so much easier in most Android apps.
I could also power on and off (long press) the system with the remote, and make it enter standby (short press), with the following power consumption numbers when all accessories, include a USB hard drive, are connected:
Power off – 0 Watt
Standby – 5.1 Watts
Idle – 6.2 Watts
Temperature wise the box top and bottom temperatures reach 44 and 52 °C max after Antutu 6.x benchmark, and after 15 minutes playing Riptide GP2, they rise to about 47°C and 59°C respectively. I could not notice any performance degradation over time in the game, and performance was the same as on other Amlogic S912 TV boxes.
After my initial frustration with having to upgrade the firmware using Windows based Amlogic USB burning tool, the device actually performance well, just like other entry-level Amlogic S912 TV boxes, with the advantage of having several bugs fixed (HDMI CEC bug gone, HDMI video setting constant, …). Google Play also worked with any problems and could install all apps I normally use for reviews.
4K Video & Audio playback in Kodi 16.1, DRM Info
While some Amlogic S912 TV boxes are pre-loaded with Kodi 17.0 (alpha / beta), Rikomagic MK22 comes with the stable version of Kodi 16.1, possibly with some tweaks, as well as pre-installed add-ons.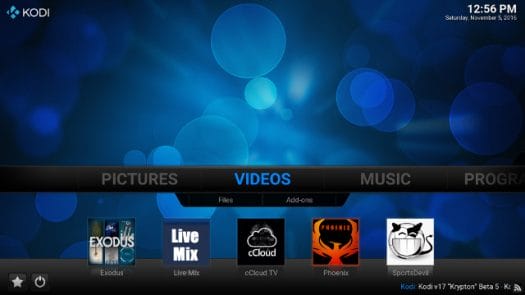 Again, I'll be quick in this review, as Amlogic S912 video playback performance is well known. So I've only tested 4K videos, and checked whether automatic frame rate switching and HDMI audio pass-through are working. All videos were playing through the Gigabit Ethernet connection from a SAMBA share, unless otherwise noted (HDD = played from USB hard drive).
4K videos are playing reasonably well, although 2 had some unusual issues:
HD.Club-4K-Chimei-inn-60mbps.mp4 (H.264, 30 fps) – OK

sintel-2010-4k.mkv (H.264, 24 fps, 4096×1744) – OK
Beauty_3840x2160_120fps_420_8bit_HEVC_MP4.mp4 (H.265) – OK
Bosphorus_3840x2160_120fps_420_8bit_HEVC_MP4.mp4 (H.265) –

First time: Video exited early (after 2 to 3 seconds)

. Second time: OK
Jockey_3840x2160_120fps_420_8bit_HEVC_TS.ts (H.265) – OK
MHD_2013_2160p_ShowReel_R_9000f_24fps_RMN_QP23_10b.mkv (10-bit HEVC) – OK
phfx_4KHD_VP9TestFootage.webm (VP9) – OK

BT.2020.20140602.ts

(

Rec.2020

compliant video; 36 Mbps; 59.97 Hz) – OK
big_buck_bunny_4k_H264_30fps.mp4 – Started well,

but after 30 seconds or so the image froze with the audio still playing in the background.

big_buck_bunny_4k_H264_60fps.mp4 – Not smooth, and audio delay (hardware does not support this type of video)
Fifa_WorldCup2014_Uruguay-Colombia_4K-x265.mp4 (4K, H.265, 60 fps) – OK (

although video did not seem as sharp as usual

)
Samsung_UHD_Dubai_10-bit_HEVC_51.4Mbps.ts (10-bit HEVC / MPEG-4 AAC) – OK
Astra-11479_V_22000-Canal+ UHD Demo 42.6 Mbps

bitrate.ts

(10-bit H.265 from DVB-S2 stream) – OK
Ducks Take Off [2160p a 243 Mbps].mkv (4K H.264 @ 29.97 fps; 243 Mbps; no audio) – HDD: Not smooth
tara-no9-vp9.webm (4K VP9 YouTube video @ 60 fps, Vorbis audio) – OK

The.Curvature.of.Earth.4K.60FPS-YT-UceRgEyfSsc.VP9.3840×2160.OPUS.160K.webm

(4K VP9 @ 60 fps + opus audio) –

Plays but could be smoother

.
Automatic frame rate switching is not working just like on other Amlogic S912 devices, even after setting it in both Kodi and Android (HDMI Adaptation).
HDMI audio passthrough works for 5.1 channel audio, and I could not detect any audio cuts during testing contrary to what happens on some other devices:
AC3 / Dolby Digital 5.1 – Audio OK, but video not smooth
E-AC-3 / Dolby Digital+ 5.1 – OK
Dolby Digital+ 7.1 – PCM 2.0, no audio
TrueHD 5.1 – PCM 2.0, no audio
TrueHD 7.1 – PCM 2.0, no audio
Dolby Atmos 7.1 – PCM 2.0, no audio
DTS HD Master – DTS 5.1
DTS HD High Resolution – DTS 5.1
DTS:X (not supported by Onkyo TX-NR636) – DTS 5.1
So if all you really is Dolby and DTS 5.1, MK22 should be good enough, but TrueHD and DTS HD audio formats are not supported, at least in Kodi.
MK22 support Widevine Level 3 according to DRM Info, which may be useful for some premium video streaming app. This DRM level is only good enough for SD resolution on Widewine "protected" apps, as Level 1 would be required for HD and UHD resolution.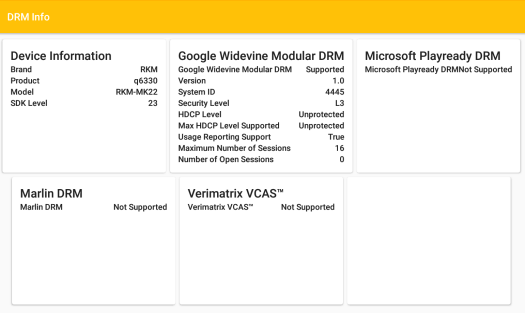 Networking and Storage
In order to evaluate WiFi performance, I copy a 278 MBfile between the internal storage and a SAMBA server using ES File Explorer in both direction. As with many recent boxes, MK22 also experience an asymmetric performance between download and upload, with the latter about twice as slow. On average Rikomagic MK22 achieves 1.6 MB/s throughput using 802.11n, not a very high performance even for 802.11n, but what's surprising is that all Amlogic S912 TV boxes are very closely tied for 802.1n WiFi performance, so there may be an issue with Amlogic SDK, or some other limitations.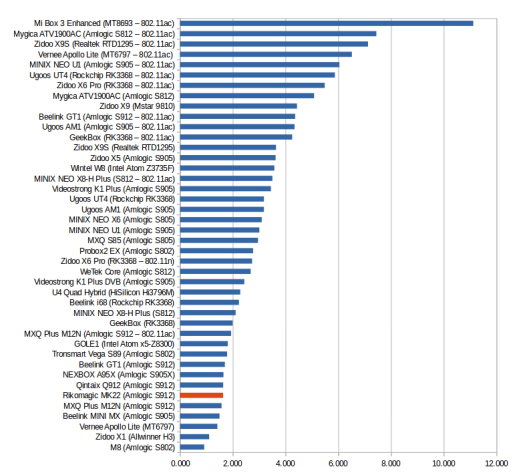 Internal performance is also important for fast loading times and overall system performance, and the eMMC used in MK22 has very good performance with 63.65 MB/s read speed, and 20.23 MB/s write speed.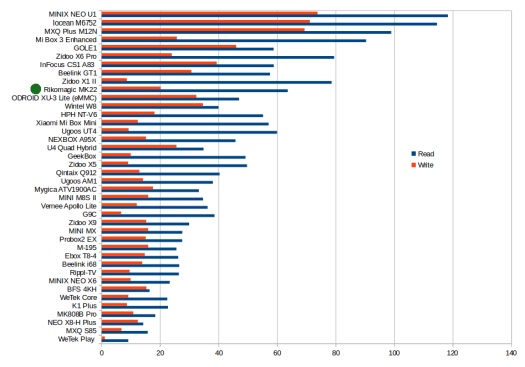 That means there should not be visible slowdowns due to I/Os (provided random I/Os are fast too), and indeed during testing I did not experience any slowdowns, and found apps to load rapidly. Somehow boot time could be a bit faster with such performance.
I also tested file systems support and found FAT32, NTFS, and exFAT file systems to be supported by the device.
Rikomagic MK22 System Info and Antutu Benchmark
CPU-Z reports Amlogic S912 clocked at 1.51 GHz, so Kudos to Rikomagic here, as they are the first to report the real CPU frequency of that processor. The board name is q6330, framebuffer resolution is set to 1920 x 1080, and there's indeed 2GB RAM (1807MB due to hardware buffers), and 11.38 GB storage available to the user.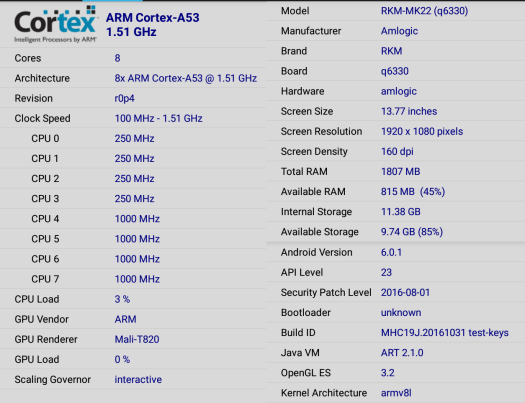 RKM-MK22 achieved 40,827 points in Antutu 6.x, a score in line with other Amlogic S912 Android TV boxes I've tested so far.

Conclusion
I found Rikomagic MK22 to be stable and working mostly as expected, with some bugs corrected compared to earlier S912 TV box models under reviews, but with limitations frequently found in entry-level Amlogic S912 TV boxes with lack of support for automatic frame rate switching and HD audio (TrueHD, DTS HD) pass-through in Kodi, as well as DRM limited to Widewine Level 3. WiFi 802.11n is reliable, but performance is a bit weak, although similar to what you get with other Amlogic S912 devices. Storage speed is very good which ensure fast loading times and a responsive system. A big let down was lack of OTA firmware update, as I had to run USB burning tool to upgrade the firmware, but the company told me that from now on OTA firmware will be provided.
Rikomagic MK22 TV box can be purchased on the company's Aliexpress store for $93.90 including shipping, or quite higher than equivalent competitors products. The Android box is also listed on GearBest, but still shown as "out of stock".

Jean-Luc started CNX Software in 2010 as a part-time endeavor, before quitting his job as a software engineering manager, and starting to write daily news, and reviews full time later in 2011.