The vast majority of octa-core Android TV Boxes sold on the market comes with 2GB RAM, but Amlogic S912 based R-Box Pro TV box was interesting with its 3GB RAM option (aka R-Box Pro 3G), as I wondered if I would see any noticeable improvements during my tests with the extra RAM. We've already confirmed the the hardware comes with 3GB RAM using 2x 1GB + 2x 512MB RAM chips configuration in the first part of the review last month, and it's now time to check out whether this translates to anything in Android, as well as go through the usual hard-to-get features to work like automatic frame rate switching and HD audio pass-through.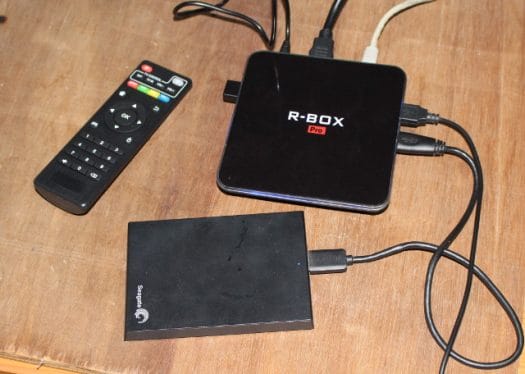 First Boot, Firmware Update, and First Impressions
One positive with the device is the four USB ports, so this time I did not need an USB hub at all, and connected a USB HDD, two RF dongles for an air mouse and gamepad, as well as a USB keyboard to take screenshots. I completed the hardware setup with Ethernet and HDMI cables, and plugged the power supply to boot the device. Boot time is rather slow compared to competitors at about one minute.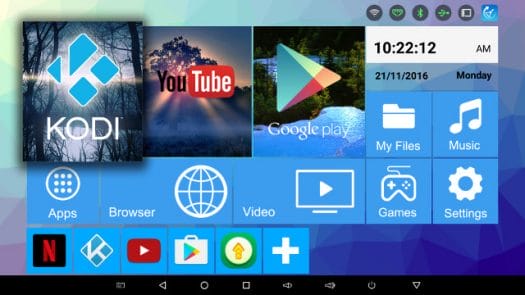 The launcher used is exactly the same as on Rikomagic MK22, and the list of apps is also quite similar with IPTV apps such as Mobdro, Netflix, FilmOn Live, and UkTVNow.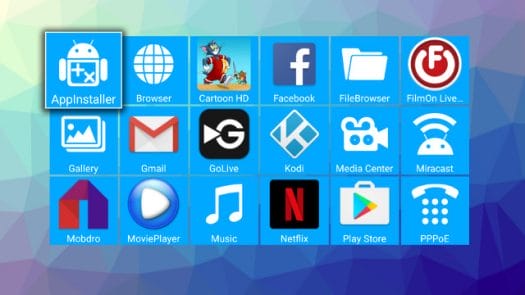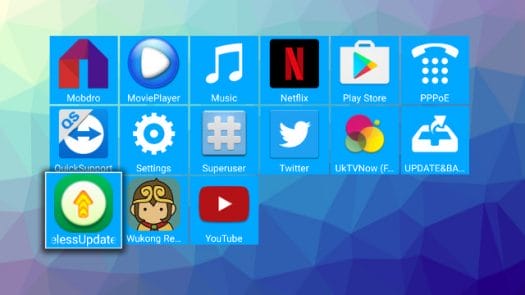 The setup is also exactly the same, so if you want to find out more about the interface and setup options you can read Rikomagic MK22 review, while you'll find more details about the IPTV apps (Mobdro / Filmon) in MXQ Plus / M12N TV box review.
I had no troubles with the settings when configuring WiFi and Ethernet, and the system kept the video output resolution I set (3840x2160p60) even between reboot. Part of the 16GB flash is used for the operating system, and the user still get 11.38 GB to play with, and at the end of the review after installing apps and some copying files, I only had used 3.26 GB.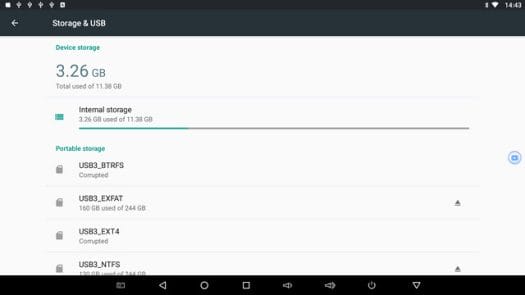 You can also see exFAT and NTFS file systems are supported as usual, and a FAT32 micro SD card could also be mounted.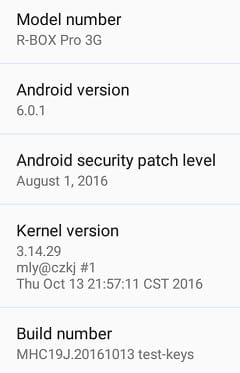 The "About Media" box section shows R-BOX Pro 3G runs Android 6.0.1 with Linux 3.14.29, no surprise here. The firmware is rooted. I received the box early October, and when I first boot up the device the firmware was dated in September, so I checked for firmware update. They've done something pretty stupid as they've included both UPDATE&BACKUP and WirelessUpdate apps in the firmware, which is sure to confuse customers. But basically UPDATE&BACKUP app is not configured and trying to get an OTA firmware update will results in "Check Failed! Check Your OTA Servier Argent" (sic), while WirelessUpdate app appears to be configured, but can't get any update firmware from the server, probably because they did not bother to copy any firmware… Finally, I could find new firmware on GeekBuying, but again on for "USB Burning Tool" with IMG extension, so I decided to try some new SD card method with Amlogic IMG firmware in Linux and Windows, and I finally managed to flash the firmware without using Amlogic USB Burning Tool. It took me nearly a full Saturday to make it work, but at least now I know how to do.
Nevertheless, this is 2016, and OTA firmware update is now working on most TV boxes, even some cheaper ones, so manufacturers should not expect end users to work with tools reserved to factory workers…
I had no problems using both Google Play and Amazon Underground to install apps. The remote control worked well enough up to 8 meters, and I could turn on and off the box with it.
Power handling is properly implemented with power off and standby modes, but the latter is pretty much useless based on the power consumption values I got on my power meter (with all USB devices connected as shown in top photo):
Power Off – 0.0 watt
Standby – 6.4 watts (USB HDD still on, Box LED is red)
Idle – 6.2 watts (Box LED is blue)
The case top and bottom temperatures were  respectively 41 and 51 °C max after Antutu 6.x benchmark, and after 15 minutes playing Riptide GP2, they rose to 42°C and 60°C respectively. The game performance was constant over time, and about the same as on other Amlogic S912 with highest resolution settings, i.e. not perfect, but playable.
Since one of the first thing I do with a new box is to check for new firmware, not having OTA firmware update, nor a simple SD card or USB flash drive ZIP firmware is not a good way to start. Sadly, even after the frustration of flash a new firmware, I had sluggishness issues with some apps show the "App is not responsive window" aking to wait or kill the app a bit more often than I'm comfortable with, and as we'll see below my Kodi experience was one of the worse with 4K videos and audio pass-through. I certainly did not feel any benefit of having 3GB RAM over 2GB RAM with this device, as I was hoping the extra read/write buffer for the storage might improve the performance, but the opposite happened, likely because of sub-optimized firmware.
4K and Audio pass-through in Kodi 17.0 and DRM Info
The firmware I used for review (October 13, 2016) comes with Kodi 17.0-Alpha3 built on July 31, 2016 with TVaddons installed. I connected to my video samples SAMBA share and started testing some 4K videos:
HD.Club-4K-Chimei-inn-60mbps.mp4 (H.264, 30 fps) – OK

sintel-2010-4k.mkv (H.264, 24 fps, 4096×1744) –  OK
Beauty_3840x2160_120fps_420_8bit_HEVC_MP4.mp4 (H.265) –  OK
Bosphorus_3840x2160_120fps_420_8bit_HEVC_MP4.mp4 (H.265) – OK
Jockey_3840x2160_120fps_420_8bit_HEVC_TS.ts (H.265) – OK
MHD_2013_2160p_ShowReel_R_9000f_24fps_RMN_QP23_10b.mkv (10-bit HEVC) – OK
phfx_4KHD_VP9TestFootage.webm (VP9) –

Won't play, stays in UI

BT.2020.20140602.ts

(

Rec.2020

compliant video; 36 Mbps; 59.97 Hz) – OK
big_buck_bunny_4k_H264_30fps.mp4 –

Started well, but after 30 seconds or so the image intermittently froze from time to time

big_buck_bunny_4k_H264_60fps.mp4 – Not smooth, and audio delay (hardware does not support this type of video)
Fifa_WorldCup2014_Uruguay-Colombia_4K-x265.mp4 (4K, H.265, 60 fps) – OK (although video did not seem as sharp as usual)
Samsung_UHD_Dubai_10-bit_HEVC_51.4Mbps.ts (10-bit HEVC / MPEG-4 AAC) – OK
Astra-11479_V_22000-Canal+ UHD Demo 42.6 Mbps

bitrate.ts

(10-bit H.265 from DVB-S2 stream) –  OK
Ducks Take Off [2160p a 243 Mbps].mkv (4K H.264 @ 29.97 fps; 243 Mbps; no audio) –

Not smooth

tara-no9-vp9.webm (4K VP9 YouTube video @ 60 fps, Vorbis audio) –

Won't play, stays in UI

The.Curvature.of.Earth.4K.60FPS-YT-UceRgEyfSsc.VP9.3840×2160.OPUS.160K.webm

(4K VP9 @ 60 fps + opus audio) –

Won't play, stays in UI
Most people probably don't have VP9 videos, but considering one of the key selling on Amlogic S912 over Amlogic S905 is hardware video decoding support for VP9, it's quite an unexpected issue, especially it is working on other Amlogic S912 TV boxes I tested so far.
Unsurprisingly, automatic frame rate switching is not working either…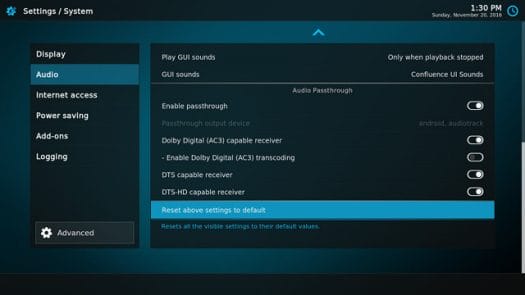 I continued testing Kodi with HDMI pass-through to Onkyo TX-NR636 AV receiver was quite a disaster:
AC3 / Dolby Digital 5.1 – Audio OK (Dolby D 5.1), but video not smooth
E-AC-3 / Dolby Digital+ 5.1 – OK
Dolby Digital+ 7.1 – PCM 2.0
TrueHD 5.1 – PCM 2.0
TrueHD 7.1 – PCM 2.0
Dolby Atmos 7.1 – PCM 2.0
DTS HD Master – Black screen and no audio
DTS HD High Resolution – Black screen and no audio
DTS:X – Black screen and no audio (not supported by Onkyo TX-NR636, but should normally be heard as DTS-HD MA)
The box supports Widevine Security Level 3 DRM, which should allow for SD playback of some premium video services, but not HD or UHD.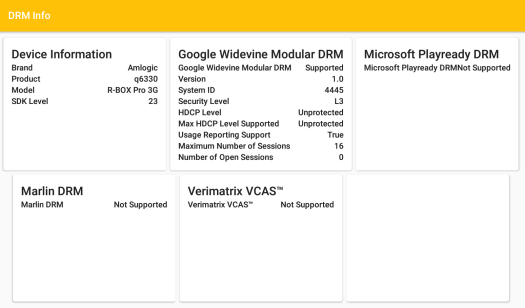 WiFi and Internal Storage Benchmark
I've copied a 278 MB file between the internal storage and a SAMBA server using ES File Explorer in both direction in order to estimate WiFi performance. R-Box Pro support 802.11n and 802.11ac WiFi, so I tested both on different routers, and the system achieved 1.4 MB/s throughput using 802.11n, and 2.0 MB/s for 802.11ac on average.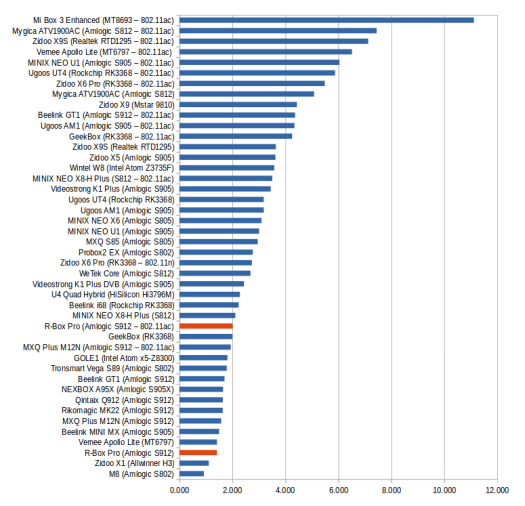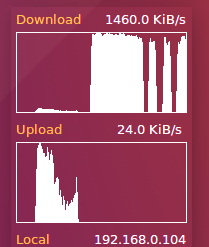 The chart makes is clear that neither 802.11n nor 802.11ac performance is very. I must note than in the case of 802.11ac download performance was much higher than upload performance averaging about 3.4 MB/s. The chart on the right shows both Download (Upload from TV box – top) and Upload (Download from TV box – bottom) shows the traffic shape for 802.11ac transfer. 802.11ac download shows the performance is not stable, but at least there are no stalls, but the upload shows mostly constant throughput with several 3 stalls during transfer, so the connection does not appear to be entirely stable.
I measure Internal storage performance with A1SD bench, and the eMMC flash used in R-Box Pro delivered 39.28 MB/s read speed, and 19.31 MB/s write speed. Not the best, but those values should be enough to have responsive firmware in most conditions. So the slow loading apps issue if most probably due to a firmware/software issue then a problem with the hardware itself.
R-Box Pro 3G System Info and Antutu Benchmark
The board name is q6330, exactly the same as Rikomagic MK22, so I'd expect the firmware between those models to be very similar. R-Box manufacturer releases different firmware with their 2GB and 3GB RAM version however. CPU-Z also reports Amlogic S912 is an octa-core Cortex A53 clocked at 1.51 GHz with a Mali-T820MP GPU. 3 GB RAM is detected, or more exactly 2810 MB taking into account the hardware buffers), with 11.38 GB storage available to the user.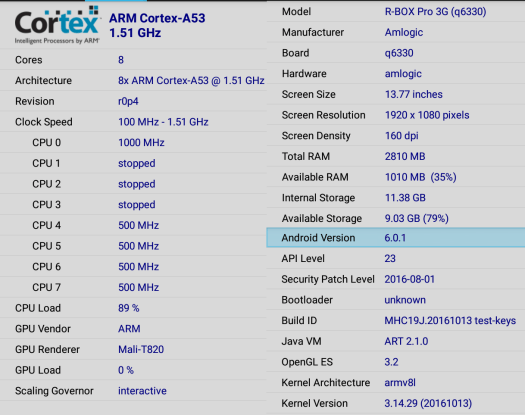 I ran Antutu 6.x to verify the performance, and 39,846 points is about what we've come to expect from Amlogic S912 TV boxes, with some devices getting as high as 42,000+ points.

Conclusion
I was intrigued with R-Box Pro 3G because of its 3GB RAM, but I ended getting the worse Amlogic S912 TV box of the six models I've reviewed so far.  OTA firmware is not working, the company does not seem to have a webpage for firmware, so I had to look on the Internet to find something on GeekBuying, with only IMG firmware requiring some Windows tools, or building your own parser in Linux in order to flash it. Clearly not user friendly. Kodi 17.0-alpha3 is installed in the box, and the list of issues is impressive: Vp9 videos can't play, some 4K H.264 @ 30 fps video won't play smoothly, automatic frame rate switching is not working either, and I only managed to get audio pass-through in Kodi work for a Dolby Digital 5.1 with some DTS-HD videos just showing a black screen. WiFi performance is rather weak both using 802.11n and 802.11ac WiFi, and the apps are not always loading very fast, leading the system to ask whether to wait or kill the apps. I'm pretty sure I missed some issues, but needless to say the company has a lot of work to do to make it a worthwhile device.
Kingnovel provided R-Box Pro 3G for review, and resellers & distributors can contact the company via their website. Individuals should probably not buy the device at this stage, but you can still purchase it for about $70 and up on GeekBuying,and Aliexpress. Note that the 2GB RAM version is often sold side-by-side with the 3GB RAM version, and price starts at $66.

Jean-Luc started CNX Software in 2010 as a part-time endeavor, before quitting his job as a software engineering manager, and starting to write daily news, and reviews full time later in 2011.