MINIX NEO U9-H is the successor of MINIX NEO U1 media hub with an upgrade from four to eight cores with Amlogic S912 processor, as well as added support for VP9 and HDR. The company sent me a sample, and I've already checked out NEO U9-H hardware in the fist part of the review, so I'll report by testing results in Android 6.0 and Kodi 17 in the second part. Since the user interface & many of the features have not changed, I'll refer to MINIX NEO U1 review from time to time.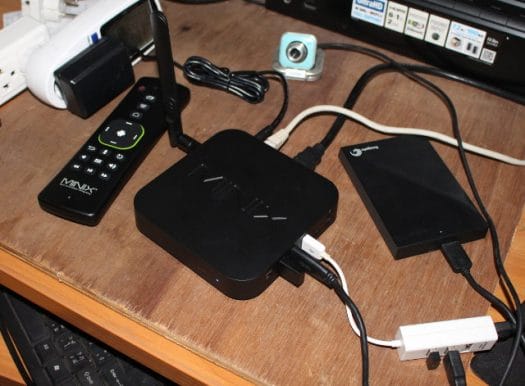 First Boot, OTA Firmware, Settings and First Impressions
I connected the MINIX A3 air mouse RF to one of the USB port, a USB 3.0 hard drive to another, and a USB hub to the last one with Tronsmart Mars G01 gamepad, a USB keyboard to take screenshots for the review, and a USB webcam. There's also micro USB port, which you could use with the provided USB OTG adapter, but I have not used it. Last I also added USB powered speakers to the USB hub, and connected them to the 3.5mm audio jack. I also connected HDMI and optical audio cable to Onky TX-NR636 AV receiver, and an Ethernet cable to a Gigabit Ethernet swtich. Finally, I added the provided 5V/3A power supply, and pressed the power button on to start it all up. A typical boot takes around 30 seconds, and the first time, you'll be asked to select between MINIX METRO or Launcher3 "Homes".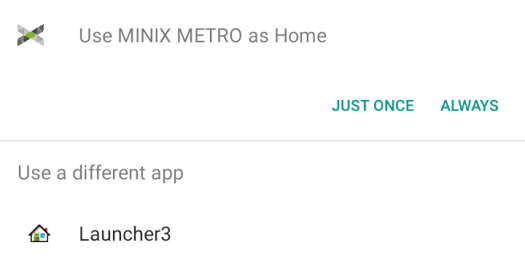 I prefer MINIX METRO (below) as it's more suited to larger screens, especially when you sit several meters from the TV. It's the same launcher which I already described in MINIX NEO U1, except possibly for the weather indicator in the time/date window, and the mass storage devices ' Label is shown on the top right corner. I'd wish the WiFi, Ethernet, Bluetooth,and VPN icons on the top left were clickable, but they are not.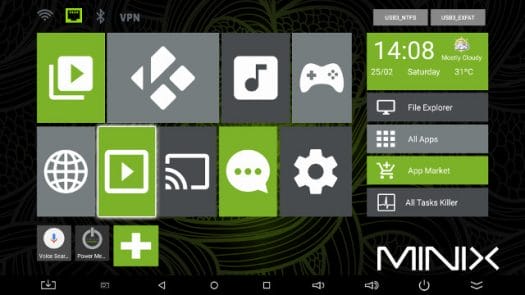 Launcher3 is basically the launcher you'd get with stock Android plus MINIX background image. You'll also notice the larger mouse pointer which makes it convenient to use several meters away.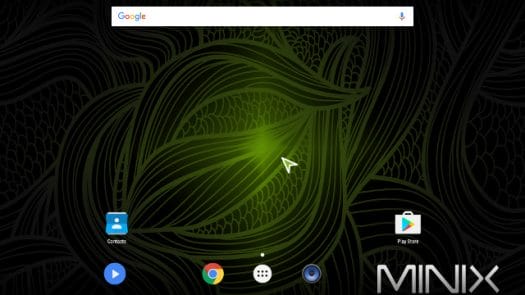 The box comes with some pre-installed apps like ES File Explorer, Kodi, YouTube, Google Play, AirDroid, MINIX Power Menu & System update apps, YouTube, Skype, and so on.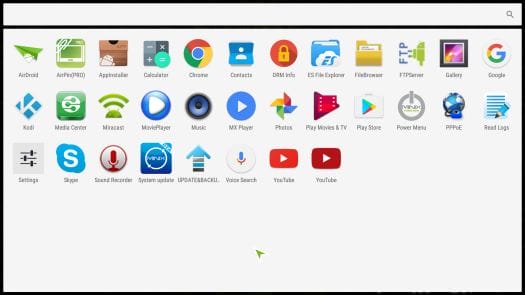 MINIX has supported OTA firmware updates in all of their devices, so I tried with System Update app, but I could not test it there was no update to MHC16G20170216 firmware at the time.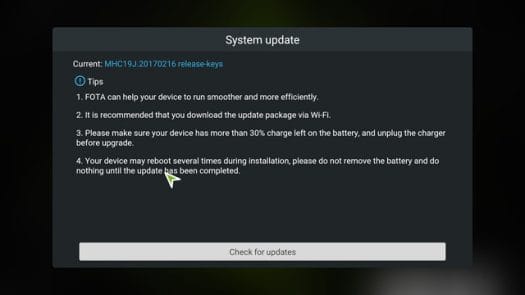 If you want to get an idea of how long you may expect to get firmware update, you can look at the forum for older products such as MINIX NEO X8-H. Eleven firmware updates have been released with the first "stock" firmware released on November, 2014 and the last (FW011) firmware released in January 2017, so it has been supported for over 2 years so far.
The Settings app is the same as with other Amlogic devices, and similar to MINIX NEO U1, so I'll focuses on different and/or specific features.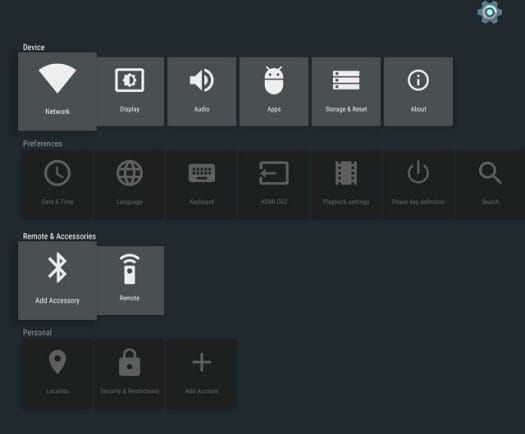 Once you enter the Display menu, you'll find some typical features as well as "Force RGB output" which may solve color / pink screen issues with some older TV, and HDR specific to Amlogic S905X/S912 processor.

If you enter the Audio settings, you'll get options to select PCM, HDMI or SPDIF audio (pass-through), as usual, but there's also the Device Manager menu to select audio input and output devices.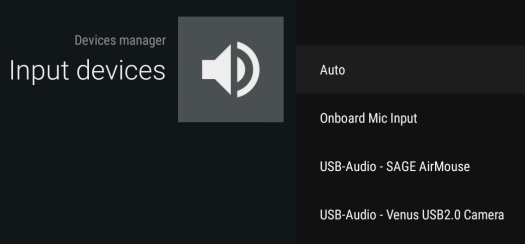 In my setup I had three input device to choose from: on-board Mic input (3.5mm mic jack), USB-Audio – SAGE AiR Mouse (MINIX A3), and USB-Audio – Venus USB 2.0 camera, which will be important for voice commands, and video conferencing.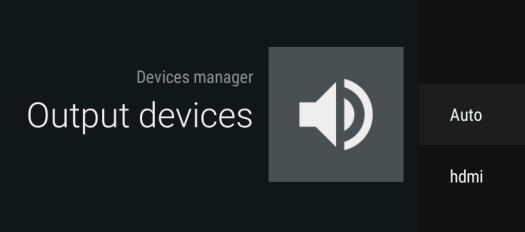 The output devices selection will be less useful for most people, as you can only select Auto or HDMI, as 3.5mm audio jack and S/PDIF are all outputted at the same time, and, only USB devices such as a USB sound card will show up.

You also have the same HDMI CEC, Playback settings and power key definition (standby or power off) as in MINIX NEO U1. There are three options for HDMI self-adaptation (automatic frame rate switching):
OFF – no processing
Level 1 – 23.976fps videos are processed under 1080p60Hz mode;
Level 2 – Switching TV's output according to source video fps
If you go to Advanced Settings you'll reach Android Marshmallow settings, and the main difference compared to competing Amlogic TV box, but already present on MINIX NEO U1 are "MCU settings" where you can enable autostart (no need to press power button), RTC alarm, and upgrade the MCU firmware.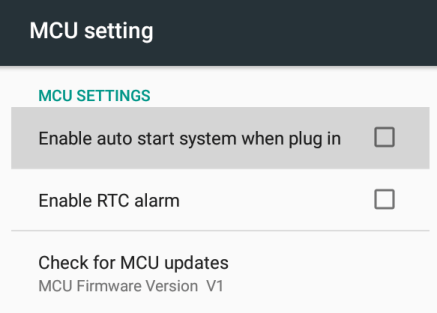 If we go into the Storage & USB section, we'll find out a 10.89GB partition is available to the user, with about 1 GB used.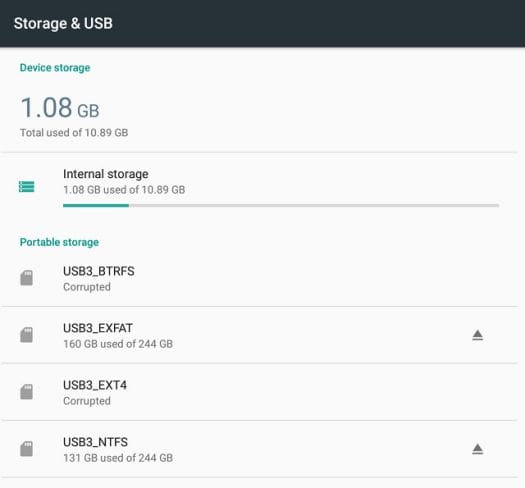 The system could also mount both NTFS and exFAT partitions, but not EXT-4.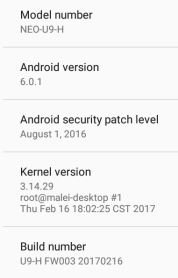 If we go into About MediaBox, we'll see the model number is indeed NEO-U9-H, and that it runs Android 6.01 on top of Linux 3.14.29 with the Android security patch dated on August 1st, 2016. The firmware is not rooted, but if that's something you need I'm pretty sure a method will show on the forums in due time, although I'd prefer a switch in Android option to root and unroot the box as needed.
I shortly testing MINIX IR remote control and it worked at least for up to 10 meters. However, I really recommend getting MINIX A3, or if you don't need voice input, MINIX A2 Lite air mouse, as it makes a big difference when using various Android apps. If you already own a box with MINIX A2 Lite air mouse, don't worry that it will interface with MINIX A3 and control two devices at the same time, as my A2 Lite would not work with my A3 USB dongle. Voice input works fine as tested with Voice Search app. Press the microphone key on the remote to enable it, and you can now use "OK Google", as you'd do on your smartphone. Just make sure Audio device input is set to the remote control. If you want to turn off the microphone, simply press the microphone key on the remote control. MINIX NEO A2 worked well up to 10 to 12 meters, and I could even see the mouse cursor at that distance.
I could install all apps I needed through Google Play, and the free version of Riptide GP2 via Amazon Underground. However, when I tried the free version of Riptide GP: Renegade it to "update your Amazon App to Amazon Underground to start experiencing actually free". I had already isntall it, but clicked on Update Now anyway, and after update I had the exact same error message.

That's probably an issue with Amazon itself than with the box.
Power handling appears to be implemented exactly the same way as MINIX NEO U1, so you can go into standby, reboot, or power off the device with the remote control, or the power button. You can also power the device back on using either the IR remote control or MINIX A3 air mouse.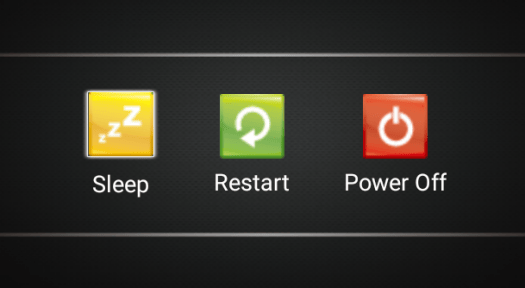 Power consumption is also similar to the previous model, as measured with or without hard drive using a power meter:
Power off – 0.1 Watt
Standby – 0.4 to 1.1 Watts (most of the time on 0.4)
Idle – 3.0 Watts
Power off + USB HDD – 0.1 Watt
Standby + USB HDD – 1.2 Watts with the HDD LED off. Be patient it may take about one minute to reach this power level with a hard drive connected.
Idle + USB HDD – 5.0~5.4 Watts
As expected, MINIX NEO U9-H dissipate power well thanks to its large heatsink. I measured 36°C and 37°C respectively on the top and bottom of the case after Antutu 6.0, and the temperature went up to 44°C and 49°C after playing a 2-hour 1080p H.264 video in Kodi, and 47°C and 54°C after playing and Beach Buggy Racing & Riptide GP2 for around 30 minutes. I quickly went to CPU-Z after exiting the game, and found the CPU temperature was 71°C.
So my first experience with MINIX NEO U9-H was even better than the very good one I had with MINIX NEO U1, since some of the bugs found the first firmware for the previous model, e.g. device stuck in standby mode, video output falling back from 4K @ 60 Hz to 1080p60 from time to time…, could not be reproduced with the new model.
Video & Audio Playback with Kodi 17.1-RC1, DRM Info
MINIX recommends the use of their XBMC MINIX Edition fork of Kodi for MINIX NEO U1, but with their new model, the company told me Kodi 17 worked well in U9-H, so I just use the pre-installed version: Kodi 17.1-RC1.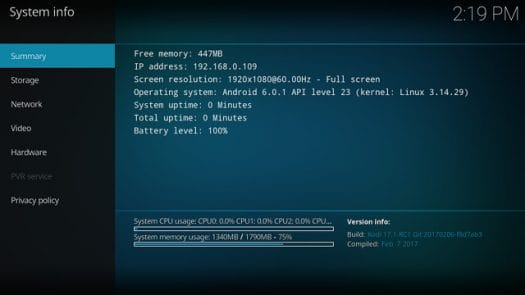 I'm tested various video container formats, and video/audio codec playing files from a SAMBA share via (Gigabit Ethernet), unless otherwise noted.
Linaro media samples and some Elecard H.265 samples could also play fine except for VP8 1080p sample:
H.264 codec / MP4 container (Big Buck Bunny) – 480p/720p/1080p – OK
MPEG2 codec / MPG container – 480p/720p/1080p – OK
MPEG4 codec, AVI container 480p/720p/1080p – OK
VC1 codec (WMV) – 1080p – 480p/720p/1080p – OK
Real Media (RMVB), 720p / 5Mbps – OK
WebM / VP8 480p/720p – OK; 1080p: Not perfectly smooth (Note: software decode)
H.265 codec / MPEG TS container – OK
I also enabled automatic frame rate switching in Kodi and Android settings (HDMI Self-adaption level 3), and it worked very well, which I think is a first amond the 8 or 9 Amlogic S912 I've tested so far.
Next up are some videos with various bit rates:
ED_HD.avi

– Not smooth at all
big_buck_bunny_1080p_surround.avi (1080p H.264 – 12 Mbps) – First time: image freezes after a few seconds; second try: OK
h264_1080p_hp_4.1_40mbps_birds.mkv (40 Mbps) – OK
hddvd_demo_17.5Mbps_1080p_VC1.mkv (17.5Mbps) – Not perfectly smooth
Jellyfish-120

-Mbps.mkv

(120 Mbps video without audio) – OK
So the Jellyfish video plays better than in MINIX NEO U1 (Amlogic S905), but some other problems have showed up with other videos.
I've then checked out audio capabilties of the TV box with PCM (stereo) output, as well as HDMI and S/PDIF pass-through in Kodi. I also tested PCM (downmix) with MX Player to make sure those DTS and Dolby licenses are indeed valid for any apps. I could configure Kodi to pass-through AC3, E-AC3, DTS, TrueHD, and DTS-HD.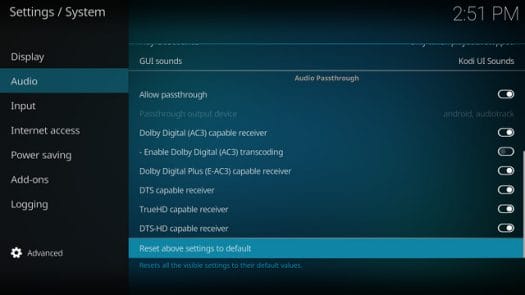 MINIX NEO U1 did not support DTS-HD when it launched in December 2015 (firmware updates have fixed that), but MINIX NEO U9-H passed most tests just fine.
Video
PCM 2.0 Output
(Kodi)
PCM 2.0 Output
(MX Player / Video Player app)
HDMI Pass-through
(Kodi)
S/PDIF Pass-through
(Kodi)
AC3 / Dolby Digital 5.1
OK
OK
OK (Dolby D 5.1)
OK (Dolby D 5.1)
E-AC-3 / Dolby Digital+ 5.1
OK
OK
OK (Dolby D 5.1)
OK (Dolby D 5.1)
Dolby Digital+ 7.1
OK
OK
OK (Dolby D+ 7.1)
OK (Dolby D+ 7.1)
TrueHD 5.1
OK
No audio
OK (TrueHD 5.1)
Audio Formats Not Supported over S/PDIF, and will show as PCM 2.0 or Dolby D 5.1 depending on whether AC3 transcoding is enabled in Kodi
TrueHD 7.1
OK
No audio
OK (TrueHD 7.1)
Dolby Atmos 7.1
OK
Switch to AC3 audio track (beep), as TrueHD is not supported
TrueHD 7.1*
DTS HD Master
OK
OK
OK (DTS-HD Master)
OK (DTS 5.1)
DTS HD High Resolution
OK
OK
OK (DTS-HD HR)
OK (DTS 5.1)
DTS:X
OK
OK
DTS-HD Master*
OK (DTS 5.1)
* My AV receiver (Onkyo TX-NR636) does not support Atmos nor DTS:X, so the fallback to respectively TrueHD and DTS HD Master is normal. So overall HDMI and optical S/PDIF pass-through is working well with my test samples, downmixing from Dolby Digital and DTS to stereo audio works, and the only problem is the lack of downmixing of Dolby TrueHD / Atmos audio in video apps that respect Dolby & DTS licenses.
4K video can now be played pretty well in Kodi, almost as well as with MX Player:
HD.Club-4K-Chimei-inn-60mbps.mp4 – OK

sintel-2010-4k.mkv – OK
Beauty_3840x2160_120fps_420_8bit_HEVC_MP4.mp4 (H.265) – OK
Bosphorus_3840x2160_120fps_420_8bit_HEVC_MP4.mp4 (H.265) – OK
Jockey_3840x2160_120fps_420_8bit_HEVC_TS.ts (H.265) – OK
MHD_2013_2160p_ShowReel_R_9000f_24fps_RMN_QP23_10b.mkv (10-bit HEVC, 24 fps) –

Not smooth at all, and the problem gets worse when automatic frame rate switching is enabled.

phfx_4KHD_VP9TestFootage.webm (VP9) – OK

BT.2020.20140602.ts

(

Rec.2020

compliant video) – OK,

but it played for about 2 seconds, then buffered for a few more seconds before resuming playback normally

big_buck_bunny_4k_H264_30fps.mp4 – OK
big_buck_bunny_4k_H264_60fps.mp4 – The video plays in slow motion (4K H.264 @ 60 fps is not supported by S912 VPU)
Fifa_WorldCup2014_Uruguay-Colombia_4K-x265.mp4 (4K, H.265, 60 fps) – OK
Samsung_UHD_Dubai_10-bit_HEVC_51.4Mbps.ts (10-bit HEVC / MPEG-4 AAC) – OK
Astra-11479_V_22000-Canal+ UHD Demo 42.6 Mbps

bitrate.ts

(10-bit H.265 from DVB-S2 stream) – OK
暗流涌动-4K.mp4 (10-bit H.264; 120 Mbps) – Plays at around 2 fps (as expected since it uses software decode as S912 does not support 10-bit H.264)
Ducks Take Off [2160p a 243 Mbps].mkv (4K H.264 @ 29.97 fps; 243 Mbps; no audio) – USB hard drive playback:

Not smooth

tara-no9-vp9.webm (4K VP9 YouTube video @ 60 fps, Vorbis audio) – OK

The.Curvature.of.Earth.4K.60FPS-YT-UceRgEyfSsc.VP9.3840×2160.OPUS.160K.webm

(4K VP9 @ 60 fps + opus audio) – Plays,

but not always perfectly smooth as with all Amlogic S912 TV boxes

.
It's all good, except for one 10-bit H.265 video that won't play smoothly at all. Other problems are related to limitation of Amlogic S912 processor like the lack of support for 10-bit H.264, and 4K H.264 is limited to 30 fps, and very high bitrate videos (~240 Mbps) cannot be played smoothly.
Sintel and AMAT ISO blu-ray files and 1080i MPEG videos could play just fine. Lower resolution Hi10p (10-bit H.264) could play, but 1080p was not that smooth:
Commie] Steins;Gate – NCED [BD 720p AAC] [10bit] [C706859E].mkv – OK for video, audio and subtitles
[1080p][16_REF_L5.1][mp3_2.0]Suzumiya Haruhi no Shoushitsu BD

OP.mkv

– OK for audio and susbtitles, but the video was not smooth
While my TV (LG 42UB820T) does not support 3D, but I played some stereoscopic 3D videos to find out if they could be decode:
bbb_sunflower_1080p_60fps_stereo_abl.mp4 (1080p Over/Under) – OK
bbb_sunflower_2160p_60fps_stereo_abl.mp4 (2160p Over/Under) – Stays in UI
Turbo_Film-DreamWorks_trailer_VO_3D.mp4 (1080p SBS) – OK
Some movies fron my library with various container/codec combination such as VOB, IFO, MKV, AVI, MP4 and MKV could all play just fine. However, I noticed some micro audio cuts in some videos with AC3 and HDMI audio pass-through enabled. I could not reproduce the issue with all videos, and using optical S/PDIF instead of HDMI solved the issue. Finally, I could play a complete 2-hour video. You'll be all sample mentioned above here.
I've decided not to report Antutu Video Tester in my reviews, since Antutu appears to have stopped development, and the app has been removed from Google Play.
DRM Info results are however quite interesting.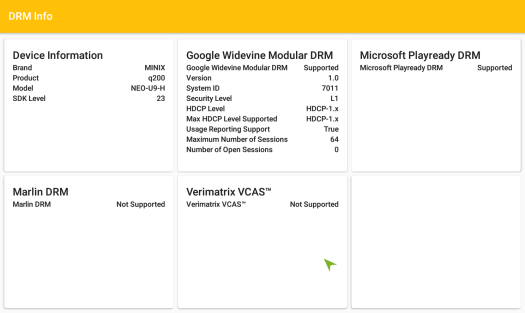 MINIX NEO U9-H supports both Widevine K1 and Microsoft Playready DRM, which means you could get full HD and 4K UHD resolution for some premium apps. However, it is not a certified Netflix device, so if you install Netflix app from Google Play, you'd still be limited to standard definition. However, as previously reported, you should be able to install a Netflix apk that allows HD resolution for any Widevine L1 capable device. I don't have a Netflix account, so I have not tested myself. YouTube is working fine up to 1080p.
Network Performance (Wi-Fi and Ethernet)
I've transfered a 278MB file between a network share (SAMBA) and the internal flash for three times using ES File Explorer, and averaged the results in order to evaluate WiFi performance, testing both 802.11ac and [email protected] GHz. Results are sadly underwhelming. [Update: WiFI performance is OK, but WiFi + SAMBA performance suffers. That's likely an Amlogic Android SDK issue. See comments]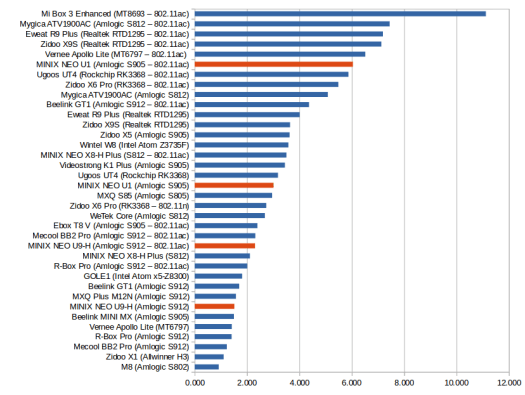 802.11ac performance was 2.3 MB/s on average, and 802.11n achieved 1.5 MB/s both of which are below average, but consistent with the performance I got with other Amlogic S912 devices. The chart however makes it worse than it really is, because download speed was 5.6 MB/s for 802.11ac, and 2.1 MB/s for 802.11n, with upload transfer rate being much lower, and causing the average to be rather low. Note that WiFi results may vary a lot depending on your setup.
I repeated the same file transfer, but with a 885MB file, for Gigabit Ethernet, and the average performance (10.05 MB/s) is somewhat OK, but I got the same behavior as with MINIX NEO U1 with the transfer much faster for download (16.4MB/s) , and slower for upload (7.64 MB/s).
Since in most case the eMMC flash is the bottleneck for file transfers over Gigabit Ethernet, I also ran iperf -t 60 -c server_ip -d to test raw dual duplex performance, and it's not too bad:

Client

connecting

to

192.168.0.113

,

TCP

port

5001

TCP

window

size

:

246

KByte

(

default

)

--

--

--

--

--

--

--

--

--

--

--

--

--

--

--

--

--

--

--

--

--

--

--

--

--

--

--

--

--

--

[

6

]

local

192.168.0.104

port

39786

connected

with

192.168.0.113

port

5001

[

ID

]

Interval

Transfer

Bandwidth

[

4

]

0.0

-

60.0

sec

6.08

GBytes

870

Mbits

/

sec

[

6

]

0.0

-

60.0

sec

2.35

GBytes

336

Mbits

/

sec
Miscellaneous Tests
Bluetooth
MINIX NEO U9-H advertises itself properply as NEO U9-H, and not some other funny code, and I had no problems pairing it with Vernee Apollo Lite Android smartphone, and could transfer a few photos. I could also connect X1T bluetooth earbuds and used it while watching some YouTube videos. I skipped Sixaxais app testing (for PS3 gamepads) since the firmware is not rooted.
Storage
My USB hard drive has four partitions for NTFS, EXT-4, exFAT and BTRFS, and only the NTFS/exFAT partitions could be mounted. A FAT32 micro SD card could also be mounted
| | | |
| --- | --- | --- |
| File System | Read | Write |
| NTFS | OK | OK |
| EXT-4 | Not mounted | Not mounted |
| exFAT | OK | OK |
| BTRFS | Not mounted | Not mounted |
| FAT32 | OK | OK |
USB storage performance was tested with A1 SD bench app, and read performance was very good (for a USB 2.0 port) with both file systems, but as usual exFAT is very slow to write to @ 6.66 MB/s.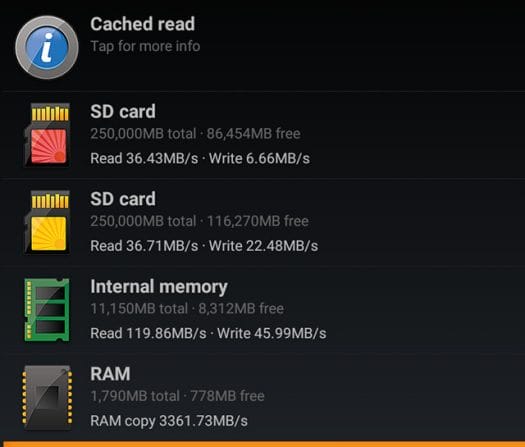 The results were very good for the internal storage with 119.86MB/s read speed and 45.99 MB/s write speed. Note that the read speed is cached, meaning it should be faster than if read directly on the storage device itself, but probably not that different considering theoretical read speed is 285 MB/s for the flash, probably lower for the eMMC controller in Amlogic S912.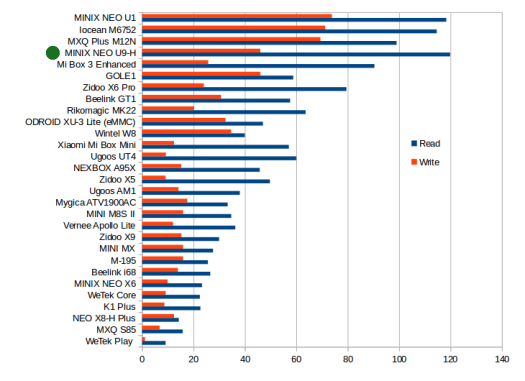 Overall I found that applications started fast, and I had no slowdown or "app not responding" due to I/O access to the eMMC flash.
USB Webcam
I connected the UVC webcam to the box shown in the first picture of this review, logged in to Skype, and successfully run the Echo/Service audio call test, and made a video calls. I had problems last year for MINIX NEO U1 on Google Hangouts, but NEO U9-H works perfectly well with Google Hangouts.
Gaming
Amlogic S912 is know a well known platform, as gaming works just as well as on other devices, if not better since cooling is well implemented. First, I played Candy Crush Saga with NEO A2 air mouse, and switch to Tronsmart Mars G01 wireless gamepad to play Beach Buggy Racing using maximum graphics settings. Both games played perfectly smoothly. As with other Amlogic S912, Riptide GP2 is a bit more demanding, playing very smoothly with default settings, the framerate felt lower with maximum graphics settings, probably around 25 fps most of the time, with some drops to ~15 fps from time to time.
I also played both 3D racing games for a total of 30 minutes, and performance was constant throughout, meaning the large heatsink is doing its job in preventing CPU and/or GPU throttling.
MINIX NEO U9-H Benchmarks
CPU-Z correctly reports an octa-core Cortex A53 processor @ up to 1.51 GHz with a Mali-T820 GPU. The model number is NEO-U9-H (q200), with 10.89 GB internal storage, 14790 MB RAM, and a framebuffer resolution set to 1920×1080.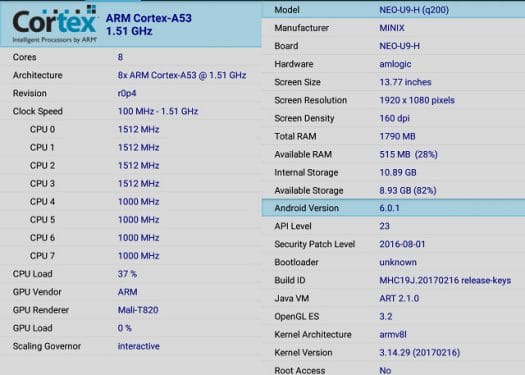 The first time I ran Antutu 6.x, the device achieved about 38,500 points quite lower than 41,000+ points I got in most other Amlogic S912 TV boxes. I ran it a short time after boot, so maybe there was background tasks at the time, I retried later, I got a 40,543 points, more in line with other competing TV boxes.



I also ran Vellamo 3.x benchmark to double check for issues.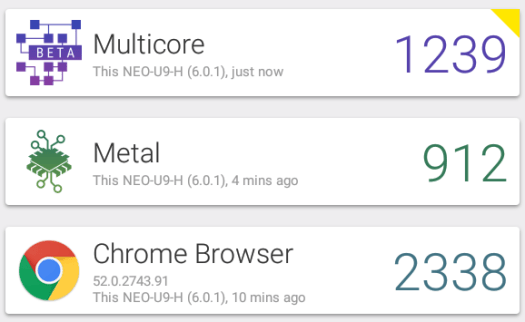 MINIX NEO U9-H achieved 1,239 points, 912 points and 2,338 points for respectively multicore, metal and Chrome Browser tests, which compares to 1,130, 1,012 points and 2,758 points (Not Chrome Browser, Stock Browser). Multicore results has a yellow mark because it failed one of the test, just like M12N, but not other Amlogic S912 boxes:
Sysbench issue with Finepar: Invalid CPU mode
Conclusion
MINIX did again a good job with MINIX NEO U9-H thanks to very good hardware, stable & responsive firmware implementation, working smoothly at all times thanks to good thermal design. 4K video playback works well, I think it's the first time I see automatic frame rate switching work on Amlogic S912 processor, and audio pass-through is working fine with TrueHD and DTS-HD. The first version of the firmware also has less bugs than the one I reviewed on MINIX NEO U1 media hub, and slightly better performance. NEO U9-H also adds new features such as HDR, 4K VP9 decoding, Dolby & DTS license used for audio downmixing in all apps, and DRM Widevine Level 1 + Microsoft PlayReady. The only real downside compared to NEO U1 is that WiFi performance is not quite as good, despite using the same Ampak wireless module.
PROS
Stable and responsive Android 6.0 OS
Video Output – HDMI 2.0 up to 2160p 60Hz; 24/25/30/50/60 Hz refresh rates supported; HDR should be supported too (not tested)
Very good Kodi 17 support with 4K H.265 (10-bit), VP9 and H.264 video playback,automatic frame rate switching
Dolby 5.1, Dolby+7.1, DTS HD and TrueHD audio pass-through working via HDMI and S/PDIF (for supported formats).
Dolby & DTS license means those audio formats work in all apps.
Well implemented power handling with off/standby/reboot mode, managed via an upgradable MCU, low off and idle power consumption
Widevine L1 and MicroSoft PlayReady DRM suppored
USB webcam working with Skype and Google Hangouts
OTA firmware upgrade with frequent update expected (based on previous models history)
CONS (and bugs)
Some videos with AC3 have micro audio cuts when HDMI pass-through is enabled, at least on my AV receiver. The problem goes away via optical S/PDIF
TrueHD dowmixing to stereo audio did not work in MX Player and Video Player apps.
WiFi performance is below average for both 802.11n and 802.ac, but similar to other Amlogic S912 TV boxes. Your mileage may vary. [Update: See comments' section. WiFi performances looks, but combining SAMBA + WiFi is problematic. Likely an Amlogic Android 6.0 SDK issue]
List of apps shown in chronological order instead of alphabetical
A few videos do not play smoothly in Kodi but should: VP8 @ 1080p, one 10-bit HEVC video with no audio, "elephant dream" sample, "HD DVD" sample.
Potential buffering issue with some rare videos – Starts fast, plays for 1 or 2 seconds, buffers for 10 seconds then play again normally
If you're going to spend the money on MINIX NEO U9-H, I really recommend you add NEO A2 Lite or NEO 3 air mouse, with the latter adding microphone input. Both air mice have the same design, feel comfortable in your hand, and work well as remote control, air mouse, and keyboard, as long as it's for typing short texts like search query, user name / password, etc…
If you already own MINIX NEO U1, there's probably little reason to upgrade, as performance will feel similar, except if you need 4K VP9, HDR, Widevine L1, or/and Microsoft PlayReady DRM support.
MINIX NEO U9-H media hub + NEO A3 air mouse sell for $159.90 / 149.90 GBP on Amazon US and Amazon UK, and are listed on GeekBuying, GearBest, and other online retailers with sales starting officially on March 3rd outside of Amazon.

Jean-Luc started CNX Software in 2010 as a part-time endeavor, before quitting his job as a software engineering manager, and starting to write daily news, and reviews full time later in 2011.