U5PVR Deluxe is an set-top box with digital TV tuners that runs Android TV 5.1, and support 2.5″ and 3.5″ hard drive. I've received a model with a dual DVB-T/T2 tuner, and already posted "U5 PVR Deluxe Android Set-Top Box Review – Part 1: Specs, Unboxing, Teardown, and SATA HDD Assembly" a few weeks ago, where I described the hardware, and I inserted a one terabytes 3.5″ hard drive. I've now had time to test the device, but it took much longer than expected due to a partial firmware update issue, which forced me to redo many of the tests. There are also some undocumented features, so if you want to make the most of the device, be prepared to spend time in the forums.
U5PVR Connections, OTA Firmware Update, and Setup Wizard
The box have one USB 3.0 ports, and three USB 2.0 ports, so most people won't need an extra USB hub, and for the review, I connected a USB 3.0 hard drive to the former, as well as two RF dongles for my air mouse and gamepad, and a USB keyboard to take screenshots.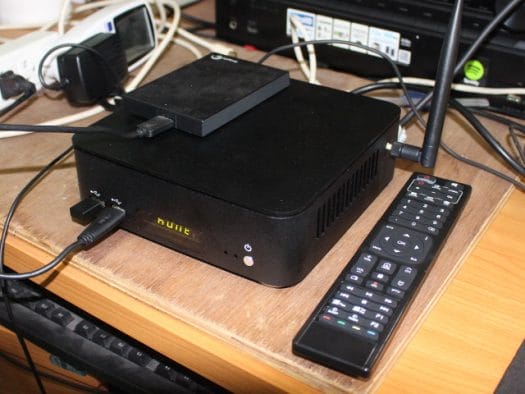 I also connected Ethernet and HDMI cables, as well as my terrestrial TV antenna to the RF coaxial input of the device. You'll probably want to connect the RF output to your TV if it comes with a DVB-T2 tuner, but I don't have a cable for that so I skipped.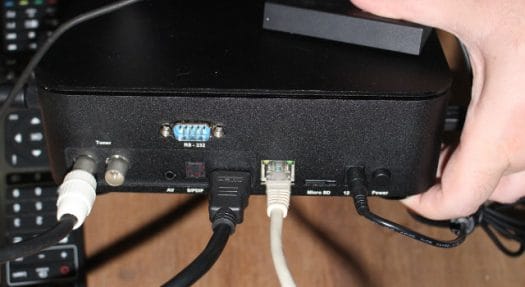 Finally I connected the 12V power supply, and pressed the power switch on the back panel to start the device up.
My box had a firmware dated 31st of March 2017 without OTA support, so I went to the forums to find the latest firmware dated May 4th. I downloaded the file, and proceeded with the firmware update, and everything seems to work with the Android logo and progress bar, as well as a slightly different UI, so I kept proceeding with the review at this stage. But later, as I had used the remote control to take screenshots, and found out all files were there by empty. So I contacted the company via their Google+ community, and found out my firmware was still stuck at March 31st. Noooo! The company gave me a new firmware file dated May 29th, which I first copied to my SATA hard drive to complete the update, but after going through the procedure, no change, so I repeated the steps by copying the file to one of the partition of my USB hardware, and it went through probably. They also told me that I could install the Linux part via OTA, which I did.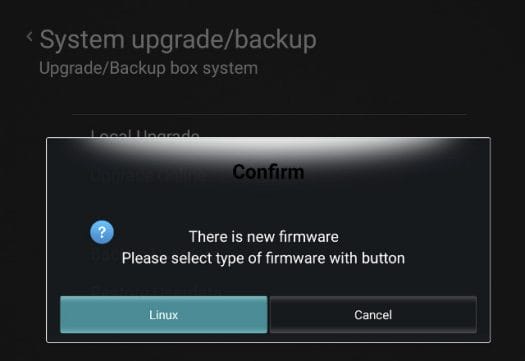 But wait a minute.. Linux? What is it for exactly on this box? Answer:
Plex media Server accessible via BoxIPAddress:32400/web using ID : u5pvr; password : u5pvr
Transmission server accessible via BoxIPAddress:9091 using ID : u5pvr password : u5pvr
FTP Server using u5pvr as username and password
Second TVHeadEnd server accessible via BoxIPAddress:9981 using ID : u5pvr password : u5pvr
SSH using root username with u5pvr password.
Install various other Linux program like Webserver, Audio streaming server, Rclone for Google drive. Asterisk voice server etc…. Similar to Synology NAS
They call this "Android Over Linux (AoL) " and it allows to run both Android TV and Debian apps. I've quickly tried to login to SSH, and you indeed access to an ARM Debian machine:

1

2

3

4

5

6

7

8

9

10

11

12

13

14

15

16

17

18

19

20

21

root

@

192.168.0.116

's password:

Linux localhost 3.18.24_hi3798cv2x #6 SMP Fri Mar 31 19:34:03 KST 2017 armv7l

Welcome to U5PVR Debian GNU/Linux 8 jessie (eddylab)

root@u5pvr-debian:~# uname -a

Linux u5pvr-debian 3.18.24_hi3798cv2x #6 SMP Fri Mar 31 19:34:03 KST 2017 armv7l GNU/Linux

root@u5pvr-debian:~# cat /etc/issue

root@u5pvr-debian:~# apt-get --version

apt 1.0.9.8.4 for armhf compiled on Dec 11 2016 09:54:13

 Pkg:  Debian APT solver interface (Priority -1000)

*Pkg:  Debian dpkg interface (Priority 30)

 S.L: '

deb

' Standard Debian binary tree

 S.L: '

deb

-

src

'

Standard

Debian

source

tree

 

Idx

:

Debian

Package

Index

 

Idx

:

Debian

Translation

Index

 

Idx

:

Debian

dpkg

status

file
That's all nice and convenient, but for user who don't know what installing "Linux" does, it somewhat expose them to hackers with a default username and password. U5PVR should not be accessible directly from the Internet, but it's still not ideal. Asking users to set usernames and password right after installation would be beneficial. People who know can easily change the default password as they wish.
The support guy on G+ (William Tedy) also went on with some other Android features that I was not all aware of, and you may read about them on Google+ as the list is rather long, and due to time constraints I won't test it all, especially Wio GPS board is looking at me with its big beautiful eyes (antennas) asking why I'm not taking care of it yet….
Nevertheless, I don't expect people to have the same problems as I had with firmware update since boxes selling now come with OTA firmware enabled. For the very first boot, you'll be asked to Select a Home app. Going with Home Screen will bring you to the default launcher, while Setup Wizard will guide you through the first time setup.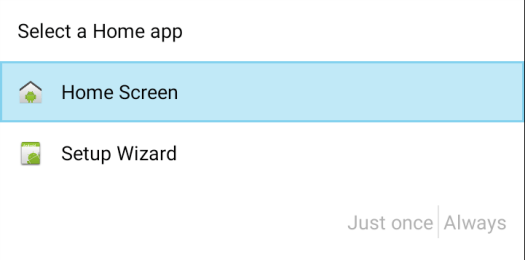 I've selected Setup Wizard and Just once to check how useful it would be. You're first welcomed and asked to select your language.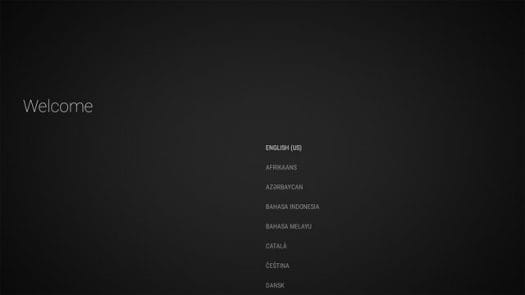 Then you can select you network. If you are using Ethernet with DHCP, you don't need to change anything, but if you prefer WiFi you can configure it here.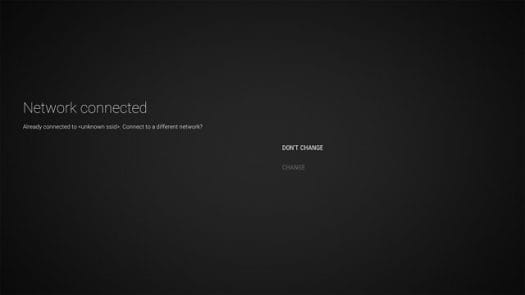 The next Windows will let you sign-in to your Google account. That's where I found out the air mouse would not always work here, as while I could type the text, clicking on Next would do nothing, and I had to use the IR remote control, or switch to remote mode on the air mouse instead.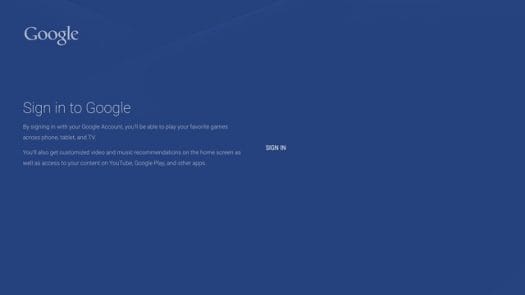 Once the Google Account is completed, the Setup is finished. So it was only minimal, and you may still have to setup the rest of the device in the Settings and Live TV app.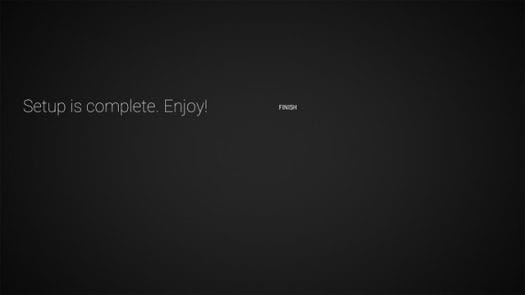 U5PVR Android TV, Settings, and First Impressions
You'll then be directed to the launcher, and to my surprise it was Android Leanback launcher, and as we'll see below the box is running Android TV, as opposed to just Android as on most TV boxes on the market.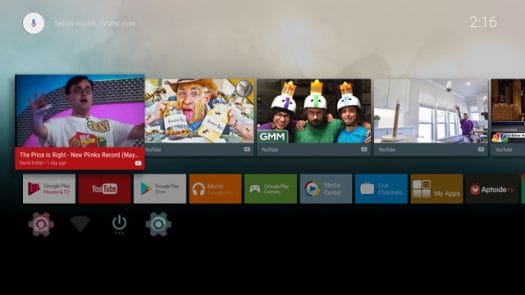 I had a pretty bad first impression of Leanback launcher, as it included some "recommended" videos that I did not care at all for, including some with fairly disgusting thumbnails. The screenshot above is for the older firmware, and it seems the company has now disabled recommendations and it just shows "Some recommendations are hidden. To enable, go to Settings". I'll show how to enable/disable this a little later. The new firmware also have some extra icons and different pre-installed apps.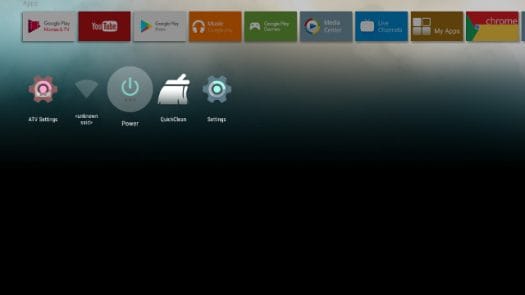 There's a row of icons with some common apps which can be deleted, added, and moved as required, and the last row included two settings app: ATV settings (Amlogic settings app) and Settings (Android settings), as well as Network, QuickClean and Power icons. The former shows "unknown SSID" as I'm using Ethernet.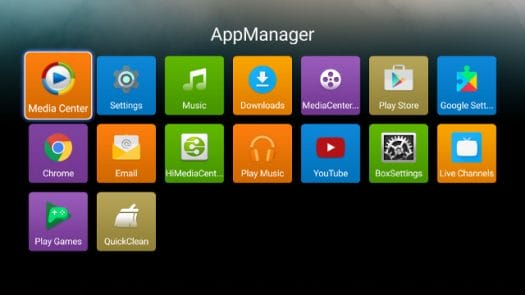 The list of pre-installed apps is shown above, and you'll notice Kodi is not there. We'll see why later…
The ATV settings app is shown below.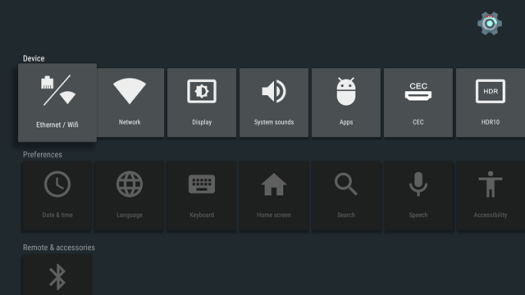 After scrolling the top row to the right.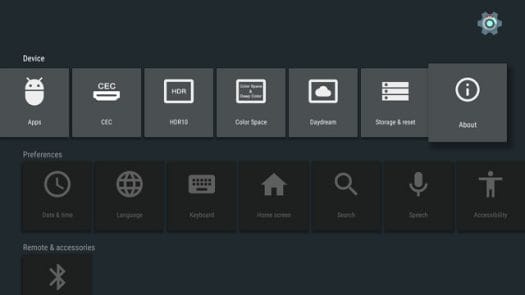 If you've ever used an Amlogic TV box it should look similar. Options are pretty much the same as on other boxes except there's a Ethernet/WiFi menu on top of the network menu, as you can use both Ethernet and WiFi at the same time.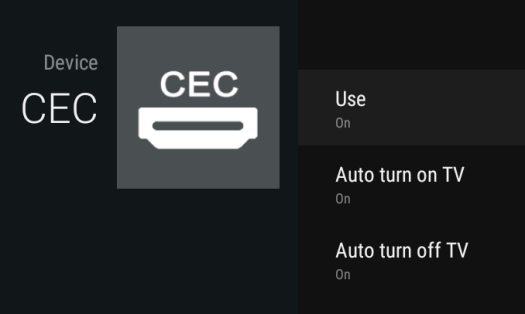 HDMI CEC is enabled by default, which may not be the best idea, as it may confuse some people, who don't understand why their TV will turn off when they turn off the box. The HDR10 option just enable and disable HDR support, something I cannot test since I'd need a new 4K UHD TV with high dynamic range support.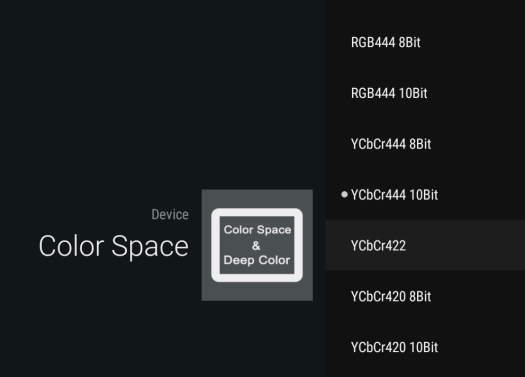 The Color Space menu will allow you to switch between RGB444, YCbCr444, YCbCr422, etc… It's mostly useful in case you have some strange colors, or even a pink screen due to interoperability issues between the TV and the box. I did not need to use this.
The second row has a Home Screen menu, which you can enter to change Leanback launcher behavior via two menu: Recommendation row and app and games row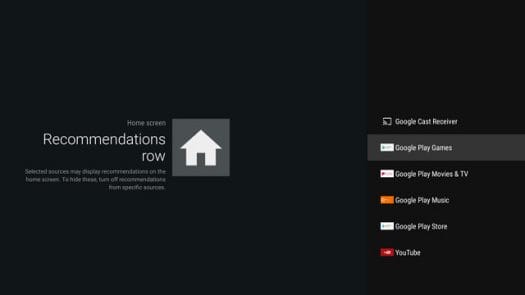 I just disabled everything so I don't need to get annoyed by videos thumbnails in the launcher. You can always enable sources that are useful to you, and disable others.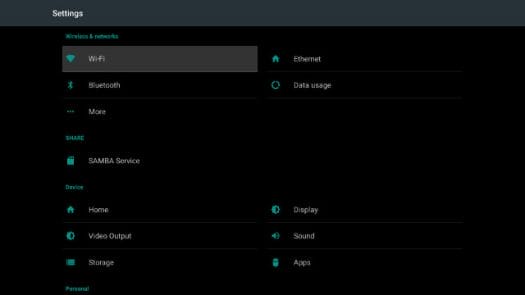 The Settings icon redirects to Android TV settings with pretty much typical options. SAMBA Service has been added and enabled by default without password, but you can add your own password if needed.
The Home menu allows you to switch between Leanback and Live TV app for the launcher. Beside starting live TV automatically, we'll see the later is perfectly usable as a launcher since you can access apps from it. Which launcher would prefer depends on your main use case. If you mainly like to watch online videos from YouTube and other services, then Leanback might be good for you, while if you are mainly watching live TV over DVB-T/T2, live TV may be a better choice.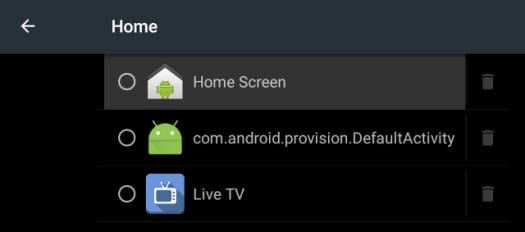 Since I lost all screenshots taken with the remote control due to the firmware issue, I only have storage data at the end of the review. We can still see 10.99 GB space is available to the user out of the 16GB flash, and at the end of the review, I still had 8.04 GB available.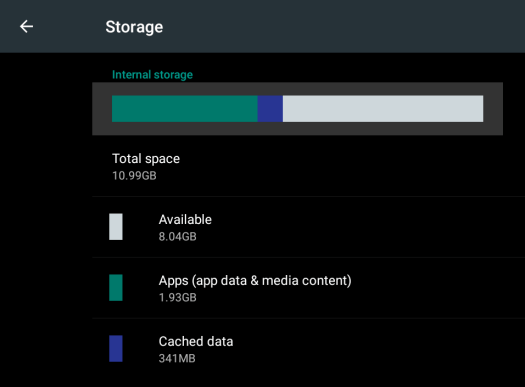 The bottom of the settings also has some extra menus for System Upgrade and Advance options (Color Space, and HDR mode selection: SDR/Dolby/HDR10/Auto).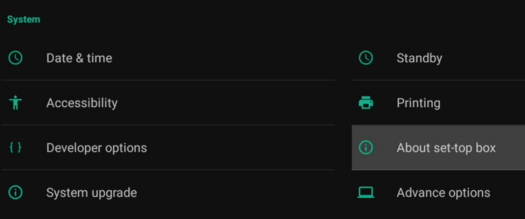 The About set-top box section shows the model number is "BADA" and it runs Android 5.1.1 on Linux3.18.24 for Hisilicon Hi3798 CV2x processor. The Build numbers shows the firmware is also running "Internal Linux".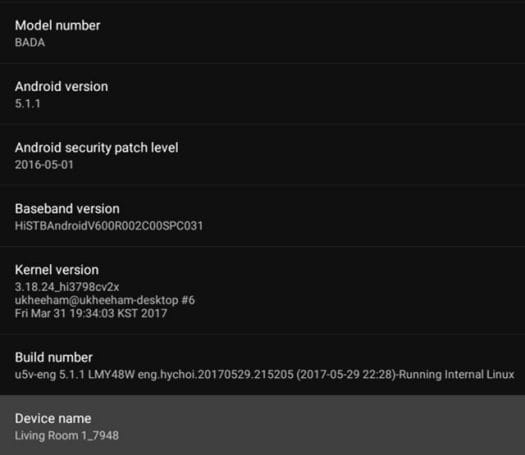 Google Play Store is different on Android TV, and more suitable to the TV experience thanks to larger icon and fonts.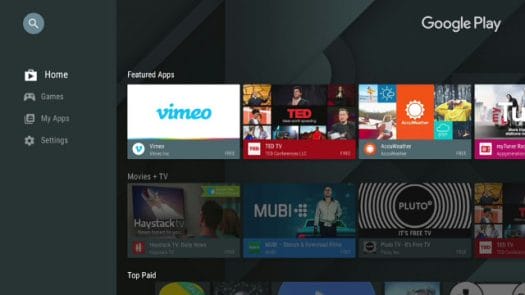 The downside of that is that the store will filter apps, and only show apps made for the big screen and compatible with Android TV.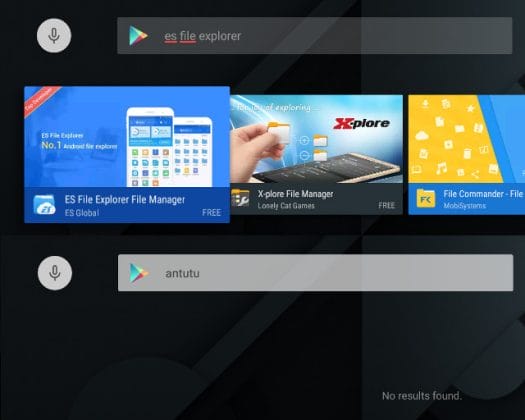 So for example, I could install ES File Explorer, and Kodi, while Antutu would not show in the list. I find it ironic that ES File Explorer is considered TV-friendly, as it's a total pain to use with the remote control… But nevertheless, I tried to use alternative app stores such as Amazon Underground, but since I could not find half the apps I needed there, I eventually installed most app through APKPure app, which is great to work around all sort of limitations including geolocalization ones, as it just installs the APK. What you gain in convenience, you may lose in terms of security, so only install apps you trust.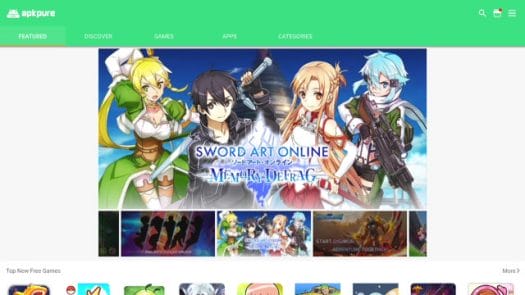 The IR remote control works well and I tested range up to 10 meter. I could also use the IR learning function to program some of my TV keys (volume, power…). As with other TV boxes with tuners, using the IR remote control is not really optional, as you'll need the keys in the live TV app. I've also noticed Android TV did not always accept clicks from my MINIX NEO A2 Lite air mouse, so I had to revert to remote control mode.
Power handling is a bit different from other devices. The remote control only allows you to go in and out of standby, and if you want to go into power off mode, you'll need to use the mechanical switch at the back, after going into standby. You can only reboot by using the Power button in the launcher.
I measured U5PVR power consumption with a power meter in different configuration:
Power off (SATA HDD) – 0.1 Watt
Standby (SATA HDD) – 10.1 Watt
Idle (SATA HDD) – 10.3 Watts
Power off (SATA & USB HDD) – 0.1 Watt
Standby (SATA & USB HDD) – 11.0 Watts
Idle (SATA & USB HDD) – 11.2 Watts
That standby power consumption is pretty, but there's a good reason for it: U5 PVR continue to act as a NAS when in Standby mode contrary to product based on Realtek RTD1295 like Zidoo X9S or EWEAT R9 Plus. So you can still access SAMBA, copy files through FTP, and perform BitTorrent download with Transmission BT…
U5PVR enclosure stays cool at all times. I measured just 33°C and 39°C max on the top and bottom of the case with an IR thermometer after playing a 2-hour video with Kodi 17.3, and after about 15 minutes playing Riptide GP2, the temperature went up to just 34°C and 44°C. The frame rate in the game was typical of other devices based on Mali-450MP, i.e. playable but not ultra smooth with max settings, and performance was constant during my test of the game.
So while I had various issues with my first use of U5PVR, those were mostly due to the older firmware when I initially tested the box (I don't expect firmware update issues anymore in the retail device), and my lack of familiarity with Android TV since it was my first device with the OS. I was pleasantly surprised to find a Debian rootfs in the device making a versatile NAS system, and U5PVR support team was helpful in helping me resolve the issues, and make me learn more about their device.
Audio & Video Testing, YouTube, and DRM Info
As we've seen in the section above, Kodi was not pre-installed in the firmware, so I decided to install the latest version (Kodi 17.3) from the Play Store, and ran some test from a SAMBA share – except otherwise indicated – with 4K videos:
HD.Club-4K-Chimei-inn-60mbps.mp4 (H.264, 30 fps) – OK

sintel-2010-4k.mkv (H.264, 24 fps, 4096×1744) – OK
Beauty_3840x2160_120fps_420_8bit_HEVC_MP4.mp4 (H.265) – OK
Bosphorus_3840x2160_120fps_420_8bit_HEVC_MP4.mp4 (H.265) – OK
Jockey_3840x2160_120fps_420_8bit_HEVC_TS.ts (H.265) – OK
MHD_2013_2160p_ShowReel_R_9000f_24fps_RMN_QP23_10b.mkv (10-bit HEVC) – OK
phfx_4KHD_VP9TestFootage.webm (VP9) – OK

BT.2020.20140602.ts

(

Rec.2020

compliant video; 36 Mbps; 59.97 Hz) –

Not perfectly smooth

big_buck_bunny_4k_H264_30fps.mp4 –

Not smooth at all most of the time

big_buck_bunny_4k_H264_60fps.mp4 – Slideshow (image updated every 3 seconds. Not support by hardware)
Fifa_WorldCup2014_Uruguay-Colombia_4K-x265.mp4 (4K, H.265, 60 fps) –

Not smooth after a while

Samsung_UHD_Dubai_10-bit_HEVC_51.4Mbps.ts (10-bit HEVC / MPEG-4 AAC) – OK (and for this video in particular, I noticed colors were much more vivid than on other TV boxes I've recently tested)
Astra-11479_V_22000-Canal+ UHD Demo 42.6 Mbps

bitrate.ts

(10-bit H.265 from DVB-S2 stream) –

Visual defects from time to time

暗流涌动-4K.mp4 (10-bit H.264; 120 Mbps) – ~1 fps and lots of artifacts and (software decode, not supported by VPU)
tara-no9-vp9.webm (4K VP9 YouTube video @ 60 fps, Vorbis audio) –

Choppy at times

The.Curvature.of.Earth.4K.60FPS-YT-UceRgEyfSsc.VP9.3840×2160.OPUS.160K.webm

(4K VP9 @ 60 fps + opus audio) – Plays,

but not 100% perfect
So there's a good reason Kodi is not pre-installed in the box, as it's not working very well, and later I also realized H.264 1080p would not play smoothly. The developers told me they are working on hardware video decoding for Kodi 18 Leia, so in a few months Kodi might be more usable.
There was no point in continuing testing Kodi at this stage,so instead I reverted to Media Center app which can play files from storage devices , UPnP, NFS, and "LAN" (i.e. SAMBA). The user interface is not really beautiful, almost retro, but it does the job.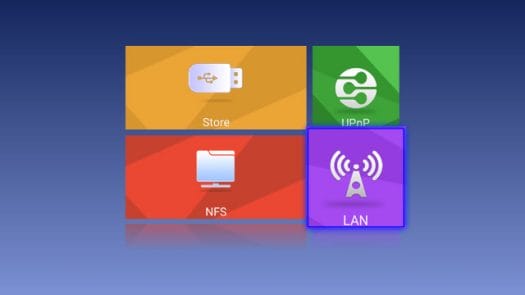 I repeated the test 4K video tests, and results are way better:
HD.Club-4K-Chimei-inn-60mbps.mp4 (H.264, 30 fps) – OK

sintel-2010-4k.mkv (H.264, 24 fps, 4096×1744) – OK
Beauty_3840x2160_120fps_420_8bit_HEVC_MP4.mp4 (H.265) – OK
Bosphorus_3840x2160_120fps_420_8bit_HEVC_MP4.mp4 (H.265) – OK
Jockey_3840x2160_120fps_420_8bit_HEVC_TS.ts (H.265) – OK
MHD_2013_2160p_ShowReel_R_9000f_24fps_RMN_QP23_10b.mkv (10-bit HEVC) – OK
phfx_4KHD_VP9TestFootage.webm (VP9) – OK

BT.2020.20140602.ts

(

Rec.2020

compliant video; 36 Mbps; 59.97 Hz) – OK
big_buck_bunny_4k_H264_30fps.mp4 – OK
big_buck_bunny_4k_H264_60fps.mp4 – Almost smooth, and audio delay (H.264 @ 4K60fps not supported by VPU)
Fifa_WorldCup2014_Uruguay-Colombia_4K-x265.mp4 (4K, H.265, 60 fps) – OK
Samsung_UHD_Dubai_10-bit_HEVC_51.4Mbps.ts (10-bit HEVC / MPEG-4 AAC) – OK
Astra-11479_V_22000-Canal+ UHD Demo 42.6 Mbps

bitrate.ts

(10-bit H.265 from DVB-S2 stream) – OK
暗流涌动-4K.mp4 (10-bit H.264; 120 Mbps) – Back screen with audio only at first, then massive artifacts. (Hi10p codec not supported by VPU)
Ducks Take Off [2160p a 243 Mbps].mkv (4K H.264 @ 29.97 fps; 243 Mbps; no audio) – Network: not always smooth; HDD: OK
tara-no9-vp9.webm (4K VP9 YouTube video @ 60 fps, Vorbis audio) – OK

The.Curvature.of.Earth.4K.60FPS-YT-UceRgEyfSsc.VP9.3840×2160.OPUS.160K.webm

(4K VP9 @ 60 fps + opus audio) – The video plays better than other boxes I've used, as it is always smooth.,

but no audio (Vorbis likely not supported)
Automatic frame rate switching also worked, but it's not enabled by default, so you'd need to go to Settings->Video Output, and check "Output format adaptation for 2D stream" to enable it. Again I also noticed some videos looked quite better due to more vivid colors than on other TV boxes I tested.
I also tested 720p/1080p videos (Big Buck Bunny) with various codecs taken from Linaro media samples and Elecard:
H.264 codec / MP4 container (Big Buck Bunny) – 1080p – OK
MPEG2 codec / MPG container – 1080p – OK
MPEG4 codec, AVI container – 1080p – OK
VC1 codec (WMV) – 1080p – OK
Real Media (RMVB), 720p / 5Mbps – OK
WebM / VP8 – 1080p – OK
H.265 codec / MPEG TS container – 1080p – OK
No problem at all here. I continued the review with videos with various bitrates:
ED_HD.avi

(MPEG-4/MSMPEG4v2 – 10 Mbps) –

Very choppy and slow, audio delay

big_buck_bunny_1080p_surround.avi (1080p H.264 – 12 Mbps) – OK
h264_1080p_hp_4.1_40mbps_birds.mkv (40 Mbps) – OK
hddvd_demo_17.5Mbps_1080p_VC1.mkv (17.5Mbps) – OK
Jellyfish-120

-Mbps.mkv

(120 Mbps video without audio) – OK
Only Elephant Dream video (ED_HD.avi) failed to play, as the system don't seem to support Microsoft MSMSPEG4v2 very well.
I also test audio capabilities with HDMI audio pass-through via Onkyo TX-NR636 AV receiver, as well as stereo ouput (PCM 2.0) for people getting audio through their TV's stereo speakers. HDMI audio pass-through needs to be enabled via Settings->Sound->HDMI Output set to RAW, as Auto mode did not work for me.
| | | |
| --- | --- | --- |
| Audio Codec in Video | PCM 2.0 Output | HDMI Pass-through |
| AC3 / Dolby Digital 5.1 | OK | OK |
| E-AC-3 / Dolby Digital+ 5.1 | OK | OK |
| Dolby Digital+ 7.1 | OK | OK |
| TrueHD 5.1 | No audio | OK |
| TrueHD 7.1 | No audio | OK |
| Dolby Atmos 7.1 | No audio | Dolby True HD 7.1* |
| DTS HD Master | OK | OK |
| DTS HD High Resolution | OK | OK |
| DTS:X (not supported by Onkyo TX-NR636) | OK | DTS HD Master |
* My AV receiver is supposed to work with Dolby Atmos, and I have the latest firmware, but somehow it will only show Dolby True HD 7.1, despite the developers having successfully tested Atmos on (apparently the same) Onkyo TX-NR636 AV receiver.
Audio results are pretty good, unless you try to play videos with TrueHD audio tracks only using stereo downsampling.
No problems found with Blu-Ray ISOs (Sintek-4k.iso & amat.iso), and MPEG2 1080i videos. Hi10p will play with video artifacts, and showing subtitles with a not-so-beautiful font. U5 PVR is supposed to support 3D video, but it's not something I can test due to a lack of compatible hardware. I was still able to decode 1080p SBS and Over/Under 3D videos with the box. 4K 3D stereoscopic videos are not supported, as on all other devices I've tested so far.
I could several videos from my libraries with MKV, AVI, XViD/DViX, MP4, and FLV, but IFO files would not play at all with Media Center displaying the message
Video Problem – Can't play this video
The Youtube app is the one designed for Android TV.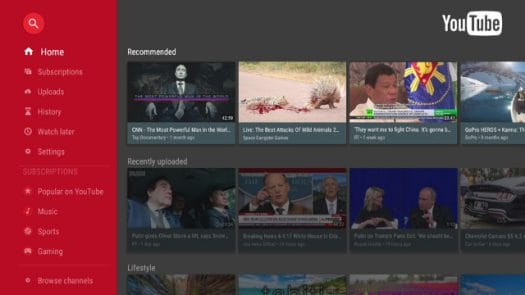 I had no problem playing various videos, and for the very first time I've got a device that can play 4K videos (2160p) in YouTube.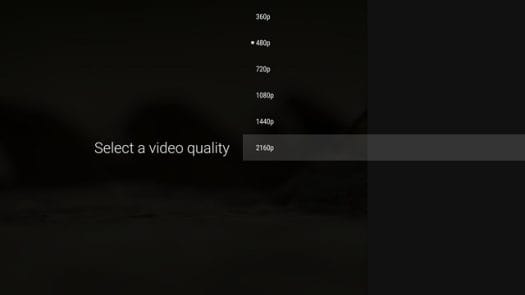 What you won't get from other Android TV TV boxes is DRM support, as there is none at all.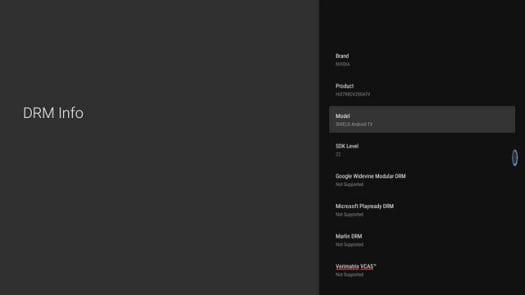 Live TV app & DVB-T/T2 Tuner
The Live TV app to watch live TV over DVB or ATSC looks the same as on U4 Quad Hybrid, the previous model from the company, which I have already reviewed, so I won't detail the settings in much detils yet again. U5PVR can support DVB-C/T/T2, DVB-S/S2 and ATSC depending on the model you've purchased. The model I have for review comes with a dual DVB-T/T2 tuner.
The initial setup will let you select the country, since since Thailand is still not in the list, I selected Vietnam instead just like I did with the previous model, before starting the scan.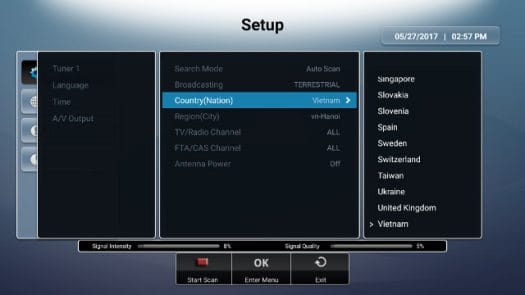 For some unknown reasons, the signal from my roof antenna is shown to be rather weak in this box, and I only got 9 channels instead of the 26 channels I got in Mecool KIII Pro.
I even repeated the scan later on, and only got 6 channels. Hopefully, this is just an issue with my sample, and not a design problem.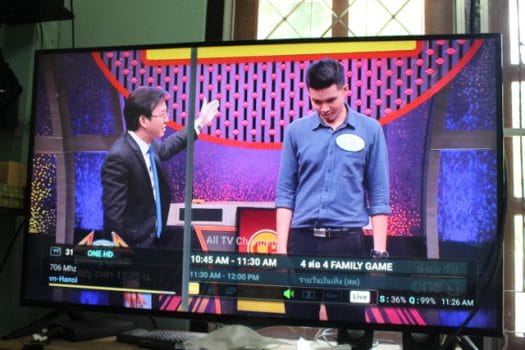 You can bring up the menu in Live TV app by pressing the Menu button on the remote control.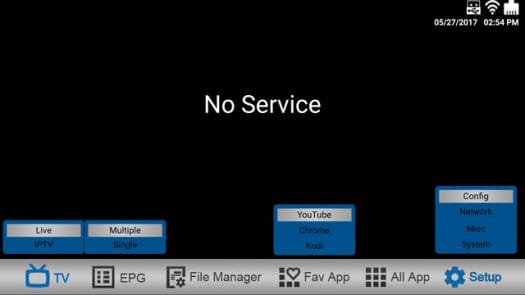 The TV section will give you access to Live (DVB) TV, and IPTV for channels from the Internet. The latter is empty, but you could import your own. EPG will allow you to select between single or multiple channel views of the electronic program guide. Fav App and All App section is what makes the app suitable as the default launcher since you can start the app to watch live TV, but also easily access other apps from it. Finally you have the Setup menu basically the same as on U4 Quad Hybrid to configure live TV and various system settings.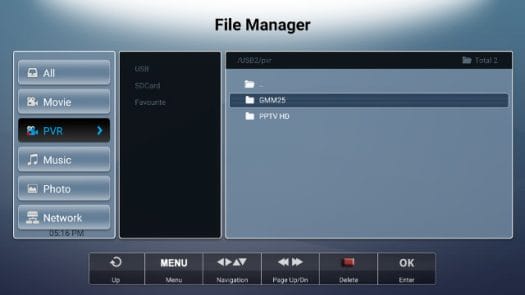 The File Manager will allow you to browse your storage and networked devices, including videos recorded with the PVR section.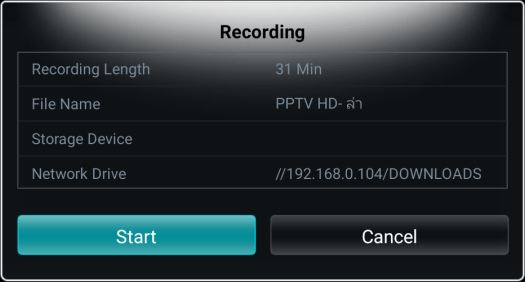 I started playing with the PVR function by pressing the Record key on the remote control to manually start a recording. The interesting part is that you can select between Storage deviuce (SATA or USB drive connected to U5PVR), or Network Drive to record to SAMBA. I tried the later and it works very well. If you buy U5PVR Slim model without hard drive support, it could be a really nice option to record to your own NAS. Note that I had to press Start several times, as the system would often start recording, and stop it a few seconds later. After several tries, I could record normally…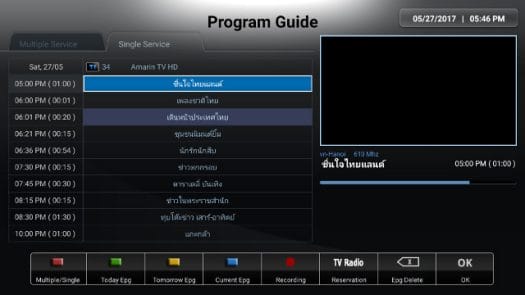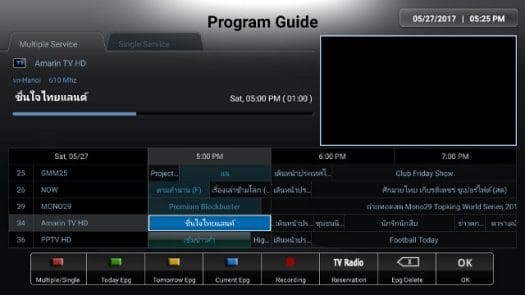 I'd assume few people will use manually recording hower, as the EPG is a much better to schedule timers to record or start programs. The two screenshots above show Single Service and Multiple Service views of the EPG.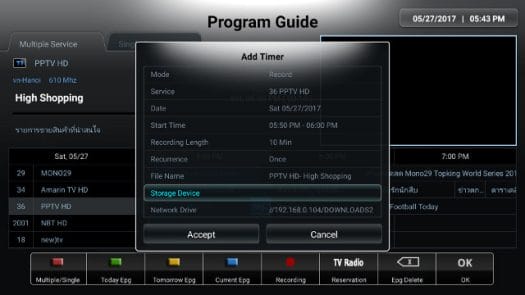 Once you've select a program you can press the Record key in this menu to add a timer to a storage device or SAMBA/NFS, select recurrence type, and so on.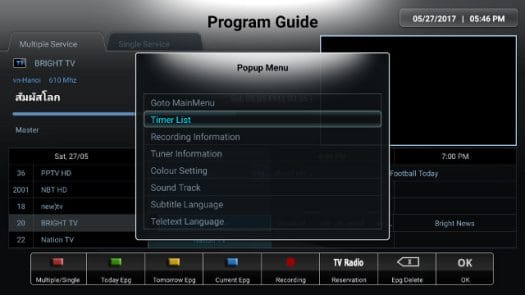 If you have several Timer set,you cn access the list by going to EPG, then pressing the Menu key to show up a Popup menu with various options, and select Timer List.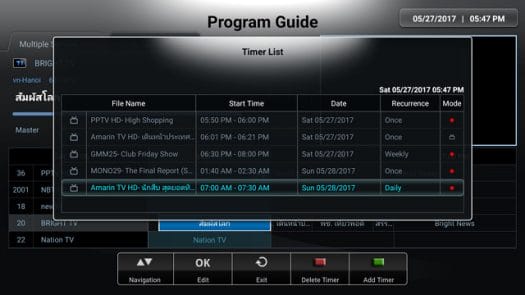 You'll be able to edit, delete and add timer there.
PVR function worked well for me, as it can record in the background (e.g. you can watch YouTube, browse the web and son), and even watch any other channels during recording thanks to the dual demodulator in the box. However, recording from standby mode did not work for me.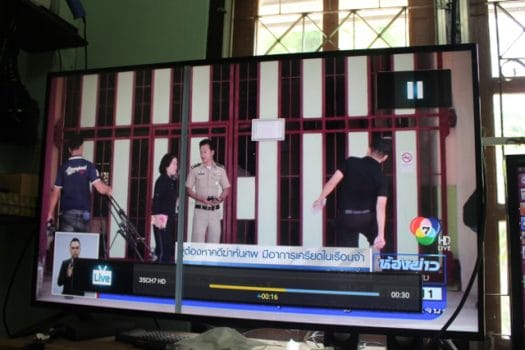 Timeshifting is working as long as a USB drive is connected. If I only connect my SATA HDD, it will show no storage device is connected.
It's also possible to stream live TV to your computer or smartphone using TVheadEnd with Kodi 17.x (See Stream Live TV to Your Computer or Smartphone with U4 Quad Hybrid Android TV Box, Kodi and TVheadend for details), Plex, or Android TV's Live Channel.
If you want to watch recordings on other device, you can do so easily by going to the pvr directory using SAMBA, or use UPnP or Plex server running on the box.
If you use the former, you'll find the video to be nicely sorted with a directory for each channel, and the recorded file name with the name of the program and time.
Storage & Network Performance
I'm using A1 SD bench app to evaluate storage performance, as the eMMC flash used is rather fast with ~100 MB/s and ~60 MB/s read and write speeds respectively.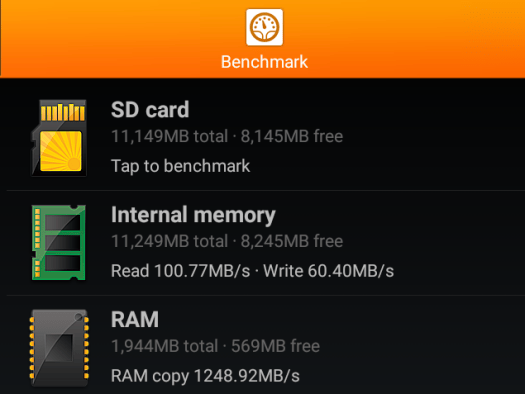 However, the USB and SATA partition were not detected at all bythe app, maybe because of Android TV has a different way of presenting those. I also had constant problems when connecting a USB 3.0 hard drive to the USB 3.0 port on the front panel, as the partition would not show, or sometimes just a short time, and boot may also fail when the USB 3.0 HDD is connected. I did not have such problems when moving the USB 3.0 HDD to a USB 2.0 port, and NTFS, EXT-4, exFAT, and FAT32 file systems are supported.
I tested SATA performance from Debian instead using iozone3 benchmark in an SSH terminal:

iozone

-

e

-

I

-

a

-

s

100M

-

r

4k

-

r

16k

-

r

512k

-

r

1024k

-

r

16384k

-

i

0

-

i

1

-

i

2

                                         

      

random

   

random

    

bkwd

   

record

   

stride

                                  

 

             

kB

 

reclen

   

write

 

rewrite

   

read

   

reread

   

read

    

write

    

read

  

rewrite

     

read

  

fwrite

frewrite

   

fread

 

freread

         

102400

      

4

   

45506

   

64341

   

68269

   

70575

     

973

    

1697

                                                        

 

         

102400

     

16

  

107781

  

130786

  

172651

  

173290

    

3786

    

6654

                                                        

 

         

102400

    

512

  

151962

  

148841

  

198319

  

197843

   

62109

  

101312

                                                        

 

         

102400

   

1024

  

155767

  

178346

  

199588

  

203163

   

89620

  

124863

                                                        

 

         

102400

  

16384

  

146509

  

141092

  

195083

  

194298

  

192792

  

128801

     

It's working pretty well with up to 195 MB/s sequential read speed, and up to 155 MB/s sequential write speed, which should allow you to record videos, and use the NAS function at the same time with good performance.
I then testing NAS performance over Gigabit Ethernet by copying files over SAMBA and FTP to the SATA drive I installed in the box.

A 13MB/s file copy is not very good performance, as running the same SAMBA transfer test on Zidoo X9S – a TV box with similar NAS features but using RTD1295 processor and OpenWrt – yielded a 50 MB/s transfer rate, so there's some work to do on U5PVR.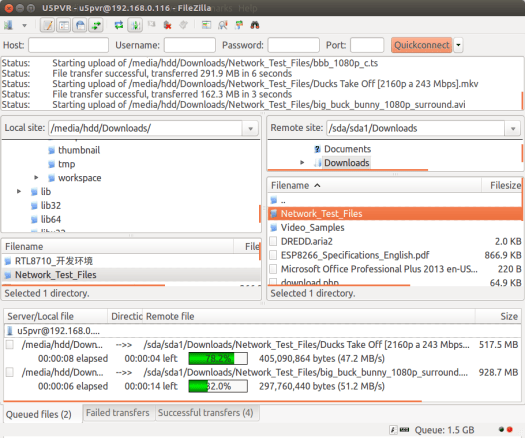 FTP is much faster, and basically maxes out Gigabit Ethernet bandwidth @ about 104 MB/s.
If you plan on using the box as a NAS, you should really use Gigabit Ethernet for higher and constant performance. But I've also switched to testing 802.11ac WiFi performance, by copying a 278MB file between the box's flash and a SAMBA server back and forth. At l least that's the theory… While I could copy a file from SAMBA to the internal flash @ 3.61 MB/s, copying from the flash to SAMBA was much slower (500 KB/s), but would never complete as ES File Explorer would simply crash after a while.
So instead I reverted to using iperf to test WiFi performance
--

--

--

--

--

--

--

--

--

--

--

--

--

--

--

--

--

--

--

--

--

--

--

--

--

--

--

--

--

--

Server

listening

on

TCP

port

5001

TCP

window

size

:

85.3

KByte

(

default

)

--

--

--

--

--

--

--

--

--

--

--

--

--

--

--

--

--

--

--

--

--

--

--

--

--

--

--

--

--

--

[

 

4

]

local

192.168.0.104

port

5001

connected

with

192.168.0.112

port

44384

[

ID

]

Interval

      

Transfer

    

Bandwidth

[

 

4

]

 

0.0

-

60.0

sec

  

472

MBytes

 

66.0

Mbits

/

sec
Client

connecting

to

192.168.0.112

,

TCP

port

5001

TCP

window

size

:

85.0

KByte

(

default

)

--

--

--

--

--

--

--

--

--

--

--

--

--

--

--

--

--

--

--

--

--

--

--

--

--

--

--

--

--

--

[

 

3

]

local

192.168.0.104

port

33694

connected

with

192.168.0.112

port

5001

[

ID

]

Interval

      

Transfer

    

Bandwidth

[

 

3

]

 

0.0

-

60.0

sec

  

982

MBytes

  

137

Mbits

/

sec

The results are quite weaker than for example Yundoo Y8's WiFi performance with over 200 Mbit/s in both direction.
U5PVR / HiSilicon Hi3798C V200 Systen Info & Benchmarks
I had to run CPU-Z before running any benchmarks. Hilison Hi3798C V200 is detected as a quad core Cortex A53 processor @ 400 MHz to 1.60 GHz with a Mali-T720 GPU. The manufacturer and model as shown as NVIDIA SHIELD Android TV since they likely spoofed the popular box to get more apps working with all features including YouTube 4K.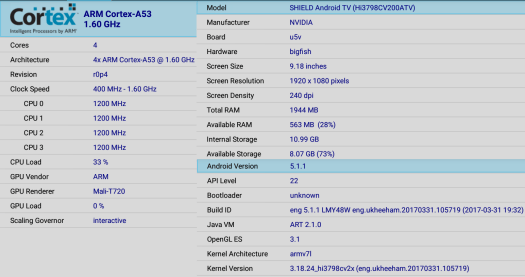 I ran Antutu 6.x, and results as pretty good for this kind of system with 41,337 points, quite higher than both Amlogic S905X (33K) and Amlogic S905 (38K) devices.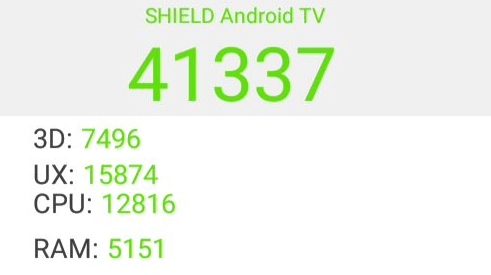 Conclusion
I did not have the best of start with U5PVR Deluxe, due to firmware update working partially at the beginning, but the more I used it, the more I liked it. The TV box is one of the rare device with Android TV operating systems, it also runs Debian making running server services a breeze for people familiar with Linux, and Live TV app does it job, despite a low strength signal on my sample at least.
PROS
Rare TV box with Android TV OS, albeit only Android 5.1.1 version
Debian rootfs running in parallel with Plex Server (with some limitations), FTP, Transmission BT, SSH.. pre-installed. Other packages can be installed with apt
Excellent video playback in Media Center with automatic frame rate switching, vivid colors
HDMI audio pass-through working for Dolby, DTS, True HD, and DTS HD. Dolby Atmos is also supposed to work.
Live TV App with EPG, PVR function to SATA, USB, NFS and SAMBA, Timeshifting, and broadcasting over the network via TVHeadEnd
Dual DVB-T/T2 tuner allowing for watching and recording at the same time. Support for SmartCard for model with DVB-S2 tuner.
YouTube 4K support
Internal bay for 2.5″ and 3.5″ SATA drive; NTFS, EXT-4, exFAT, and FAT32 support
IR remote control with IR learning function and useful shortcuts
OTA firmware update
CONS / Bugs
Android TV limitations: Play Store can only find a few apps (workaround: apkpure), clicks with air mouse not always working
Kodi is currently not well supported
Problems with USB 3.0 port. HDD partitions cannot be mounted, and device may not boot at all.
Audio – TrueHD / Atmos down-mixing is not working, Vorbis audio not supported with Media Center app
Video – IFO/VOB files (DVD rips) cannot be played in Media Center app
Live TV app – Manual recording does not always start; recording from standby mode not working (minor); antenna signal weak in my box
No DRM support at all
Underwhelming WiFi performance
Steep learning curve to make use of all features, nothing is explained in user guide, so spending time reading in the forums or G+ to learn is probably a must.
I'd like to thank Shenzhen Vivant for sending a review sample. You can purchase U5PVR on Aliexpress for $229.99 including shipping via DHL for the DVB-T2/DVB-S2 version, not the dual DVB-T2 tuner reviewed here. However, you can purchase the dual DVB-T/T2 tuner, dual ATSC tuner, and DVB-S2+ATSC tuner separately on Aliexpress for $30 to $35.

Jean-Luc started CNX Software in 2010 as a part-time endeavor, before quitting his job as a software engineering manager, and starting to write daily news, and reviews full time later in 2011.