Last year I reviewed K1 Plus T2 S2, an Android TV box powered by Amlogic S905 quad core processor with DVB-T2 and DVB-S2 tuner support, which worked with some caveats. VideoStrong has now send me an updated model with Amlogic S912 octa-core processor, which I presented in the post entitled Mecool KIII Pro Hybrid Android STB Review – Part 1: Specs, Unboxing and Teardown, where I listed the specifications, and showed photos of the device and the boards (main board + tuner board). I've now had time to play with the device, and in many respects the user experience is very similar to the one I got with KI Plus T2 S2 models, but there are also some tweaks, and a few bugs which I'll report in the second part of the review below.
KIII Pro Hybrid TV Box Setup, Settings, & Power Consumption
The four USB ports are really convenient, as I could connect a USB hard drive, an air mouse, a wireless game pad, and a USB keyboard without the need for a USB hub. I also connected the usual Ethernet and HDMI cable, plus the cable from my Satellite dish to the DVB-S2 F connector, and the cable from my roof antenna to the DVB-T2 coaxial connector.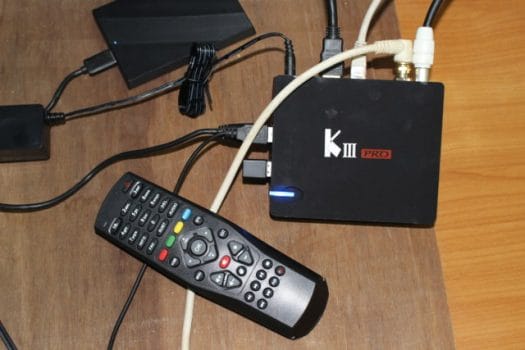 Once we connect the power, the device boots automatically, and usually takes under 30 seconds to do so. The launcher is pretty much the same as KI Plus TV box.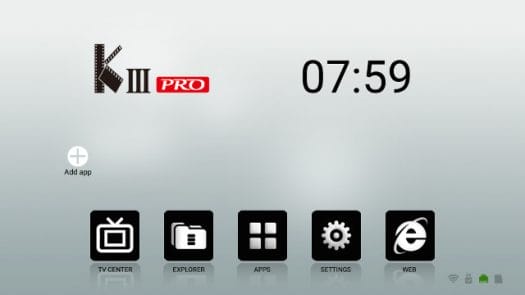 So I won't go through it in details again, and will only comment on one change. Kodi is gone and been replaced by something called "TV Center". So I clicked on it, and it showed a famous Chinese proverb "The installation isn't installed!".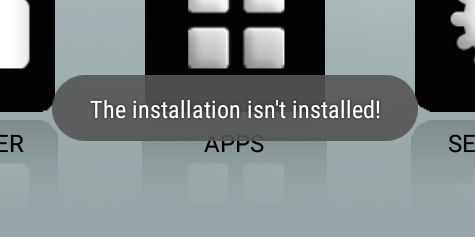 So I went to the list of apps, and click on TV CENTER, which will do the installation of this mysterious app.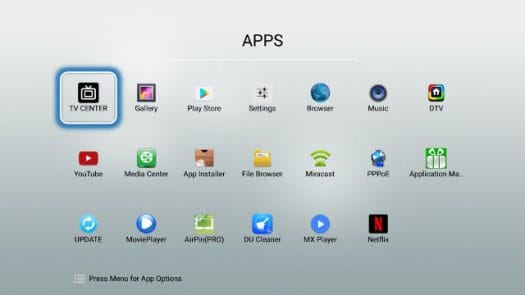 Once it's done I can click on TV Center, and the user interface looks familiar.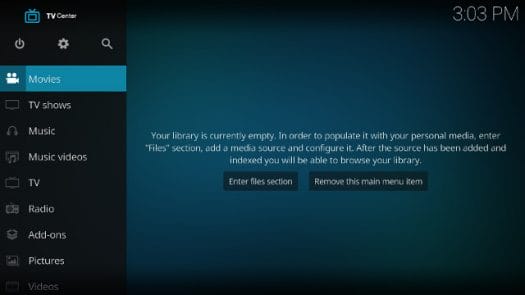 So that means they made some modifications to Kodi 17, and change the name to comply with the trademark requirements.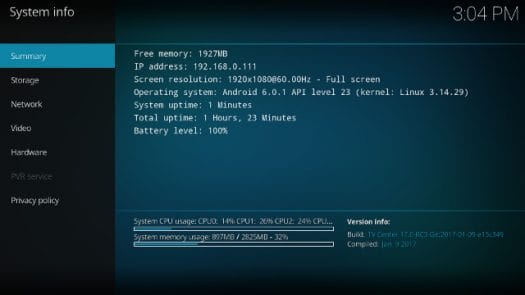 The TV Center installation also automatically added some add-ons as shown in the screenshot below.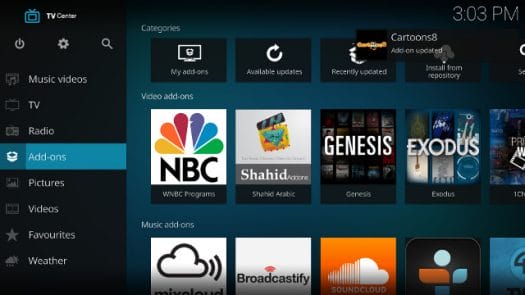 The Setting app is exactly the same as for other recemt Amlogic TV boxes, and there's nothing specific to DVB, so I'll mostly skip it (If you want to see check out Qintaix Q912 review), except to show Storage & USB section that reveals 634 MB is used out of 16.00 GB. That's obviously a fake number, and it should be around 11 to 12 GB, but the company may have chosen to do so to avoid some customer's complains that there's not 16GB storage, as they don't understand the OS take places on the flash.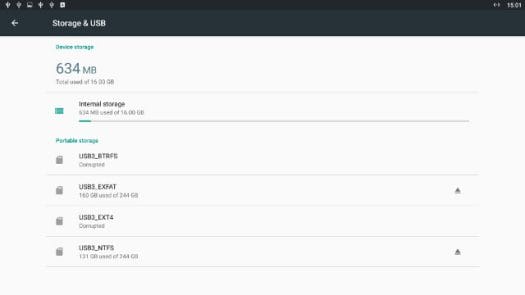 It also shows NTFS and exFAT file systems are supported, but not EXT-4, nor BTRFS.
The About section shows the model is indeed KIII pro running Android 6.0.1 on top of Linux 3.14.29. The firmware is rooted by default.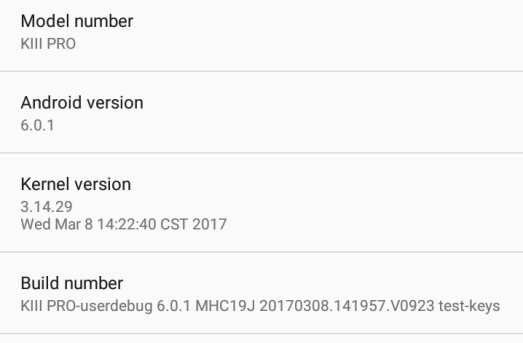 OTA update appears to be supported, but at the time of the review, there was no update available.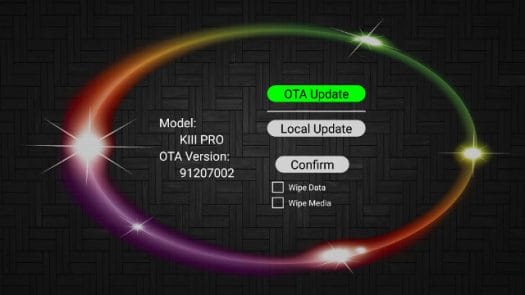 I tested the provide IR remote by adding two AA batteries, and it works well up to 10 meters. For most other TV boxes, I'd recommend to use an air mouse, bu in the case of KIII Pro, you'll need to keep using the remote control in order to support DTV app for DVB-S2/DVB-T2 properly, maybe switching to an air mouse or wireless keyboard + touchpad for some other Android apps. One recurring issue in most TV boxes is still present in KIIIPro however: the mouse cursor is rather small when you set your TV to 4K resolution.
I could install all apps I needed through Google Play, and Amazon Underground without issues.
The set-top box has only two power modes: off or on, and there's no standby mode. I can turn the device on or off using the IR remote control or the power button.
Power consumption is pretty high in power off, as I tested different options with or without the USB hard drive, but I found a lot of variability with testing:
Power off – Test 1: 5.1 Watt; Test 2: 2.2 Watts; Test 3: 3.1 Watts
Idle – 7.2 Watts, then 4.3 Watts (2nd try)
Power off + HDD – Test 1: 5.1 Watt; Test 2: 2.2 Watts; Test 3: 3.1 Watts
Idle + HDD – 9.3 Watts then 8.1 Watts (2nd try)
The good news is that USB ports are turned off in power off mode, so at least the extra power consumption does not come from those ports.
Temperature is a little higher than other boxes, but I've not encounter massive CPU throttling during my tests. After playing a 2-hour video the maximum top and bottom temperatures as measured with an IR thermometer were respectively 53°C and 57°C, while after playing Riptide GP2 for about 15 to 20 minutes the temperatures were 51°C and 57°C, but I did not notice any lower framerate in the game as the time went on. I quickly started CPU-Z after quitting the game, and the reported temperature in the app was a high 89°C, so in some conditions performance degradation due to high temperature might be possible, I just did not experience it during my tests. FYR, room temperature was around 30 °C during testing.
KIII Pro Android firmware feels very much like any other Amlogic S912/S905X TV boxes, and it was responsive without any critical bugs. The only small annoyances were the somewhat loud music during the boot animation, the small cursor at 4K resolution, and the relatively high power consumption in power off mode.
Video & Audio Tests with TV Center (Kodi), and DRM Info
As we've seen in the section above, Kodi is not installed per se, but instead the box comes with an installer for a fork of Kodi 17.0-RC3 called TV Center.
I enabled "Adjust display refresh rate" in Kodi settings,and started by playing 4K video over Ethernet from a Linux SAMBA share:
HD.Club-4K-Chimei-inn-60mbps.mp4 –

Not always smooth



sintel-2010-4k.mkv – OK
Beauty_3840x2160_120fps_420_8bit_HEVC_MP4.mp4 (H.265) – OK
Bosphorus_3840x2160_120fps_420_8bit_HEVC_MP4.mp4 (H.265) – OK
Jockey_3840x2160_120fps_420_8bit_HEVC_TS.ts (H.265) – OK
MHD_2013_2160p_ShowReel_R_9000f_24fps_RMN_QP23_10b.mkv (10-bit HEVC, 24 fps) – OK
phfx_4KHD_VP9TestFootage.webm (VP9) – OK

BT.2020.20140602.ts

(

Rec.2020

compliant video) – OK
big_buck_bunny_4k_H264_30fps.mp4 – OK
big_buck_bunny_4k_H264_60fps.mp4 – The video plays in slow motion and audio delays (NB: 4K H.264 @ 60 fps is not supported by S912 VPU)
Fifa_WorldCup2014_Uruguay-Colombia_4K-x265.mp4 (4K, H.265, 60 fps) – OK
Samsung_UHD_Dubai_10-bit_HEVC_51.4Mbps.ts (10-bit HEVC / MPEG-4 AAC) – OK
Astra-11479_V_22000-Canal+ UHD Demo 42.6 Mbps

bitrate.ts

(10-bit H.265 from DVB-S2 stream) – OK
暗流涌动-4K.mp4 (10-bit H.264; 120 Mbps) – Plays at around 1 to 2 fps (expected since it relies software decode as S912 VPU does not support 10-bit H.264)
Ducks Take Off [2160p a 243 Mbps].mkv (4K H.264 @ 29.97 fps; 243 Mbps; no audio) – USB hard drive playback:

Not smooth as on all other Amlogic TV boxes

.
tara-no9-vp9.webm (4K VP9 YouTube video @ 60 fps, Vorbis audio) – OK

The.Curvature.of.Earth.4K.60FPS-YT-UceRgEyfSsc.VP9.3840×2160.OPUS.160K.webm

(4K VP9 @ 60 fps + opus audio) – Plays,

but not always perfectly smooth as with all Amlogic S912 TV boxes.
4K video capabilities are pretty much the same as on other Amlogic S912 TV boxes, except for HD.Club-4K-Chimei-inn-60mbps.mp4 that was worse than usual. Automatic frame rate switching is not working again as is the case on most other S912 boxes, except MINIX NEO U9-H.
Next up I enabled HDMI audio pass-through in Kodi, and since TrueHD is not part of the list, I also enabled Dolby Digital (AC3) transcoding.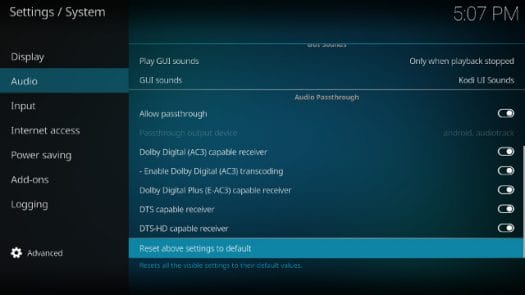 Here are the results of my tests with Onkyo TX-NR636 receiver.
Video
PCM 2.0 Output
(Kodi)
PCM 2.0 Output
(MX Player / Video Player app)
HDMI Pass-through
(Kodi)
AC3 / Dolby Digital 5.1
Audio OK, but video not smooth at all
OK
Audio OK (Dolby D 5.1), Video not smooth
E-AC-3 / Dolby Digital+ 5.1
OK
OK
OK (Dolby D 5.1)
Dolby Digital+ 7.1
OK
Video not smooth, and audio cuts
No audio
TrueHD 5.1
OK
No audio
Dolby D 5.1 (transcoding)
TrueHD 7.1
OK
No audio
Dolby D 5.1 (transcoding)
Dolby Atmos 7.1
OK
No audio
Dolby D 5.1 (transcoding)
DTS HD Master
OK
No audio
No audio and black screen
DTS HD High Resolution
OK
OK
No audio and black screen
DTS:X
OK
No audio
No audio and black screen
That's pretty bad if you plan to use HDMI audio pass-through, except for Dolby Digital 5.1 / AC3. The first video has often problem on Amlogic TV boxes in Kodi, but most AC3 video should work fine. A good news is that AC3 is working via MX Player, so if you receive live TV channels with AC3 audio through the DTV app, it should be able to decode AC3 audio properly, something that was not possible in K1 Plus T2 S2.
I also played a 2-hour video to check for stability. The first time, TV CEnter app crashed with the message "Unfortunately TV Center has stopped" after about 5 minutes, and my second attempt was not completely trouble free either, as the video stopped at around the 50 minutes marked, and the system went back to TV Center UI, but I could select the video again, was offered to resume from 49:21, and it could play until the end.
KIII Pro supports Widevine Level 3 DRM. That means no Netflix HD like on most competing Android media players.
DTV App for DVB-S/S2 and DVB-T/T2
Now to the most important features of KIII Pro hybrid set-top box: DVB-T/T2 and DVB-S/S2 tuner support. The box is using the same DTV app as on K1 Plus T2 S2 with only minor modifications. The first time you launch the app, you should get the following message indicating there aren't any channels yet, and asking you to scan for channels.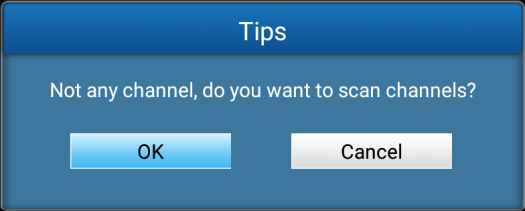 Once you agree, you'll be ask to select DVB S/S2 or DVB T/T2.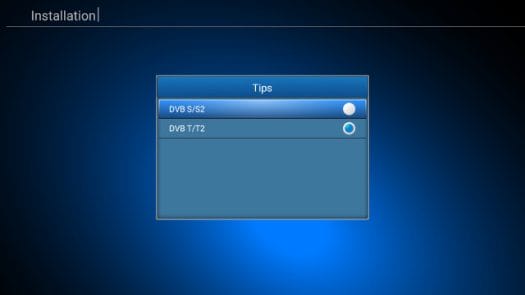 I've gone with the latter first, and I'll redirect you to the post entitled "How to Configure DVB-S2 and DVB-T2 Tuners in K1 Plus Android DTV Receiver" since the procedure is the same. I got 26 channels for my T2 scan, but somehow I got 30 channels on K1 Plus T2 S2. So I went to check the settings, and this time the Area Setting was already set to Thailand, either automatically, or it was done before sending the device.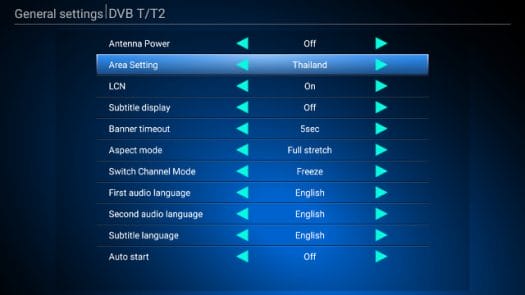 Anyway I could watch both HD and SD channels without any problems, and signal strength are quality are both at 100% or close to it all the time.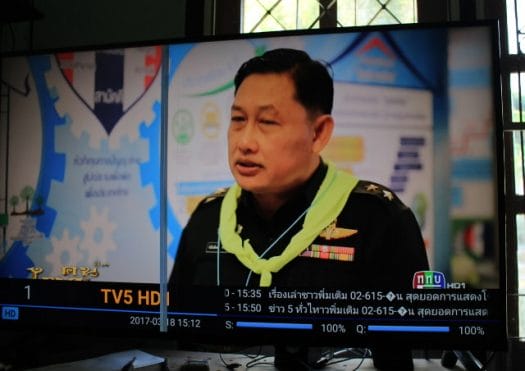 The EPG looks exactly the same, and it still has problems with Thai encoding or font.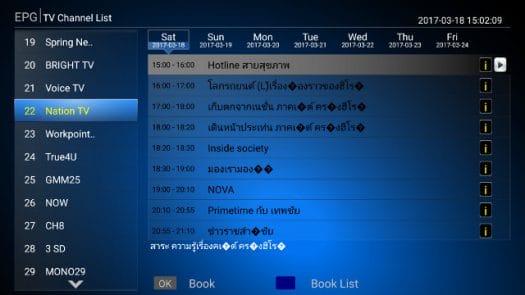 But before testing other features, let's configure our satellite dish. Press the Menu key on the remote control, select Installation,

and then DVB S/S2.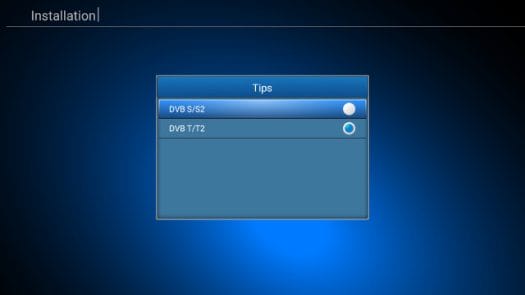 You'll be able to select your satellite from a list, or define your own as I showed in K1 Plus T2 S2 setup guide and review. I did not show Motor Settings last time, so I've taken two screenshots one showing DiSEQc 1.2 support…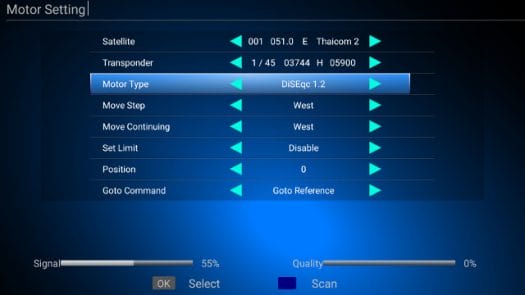 … and the other USALS support. I have not tested either since I don't own a motorized satellite dish.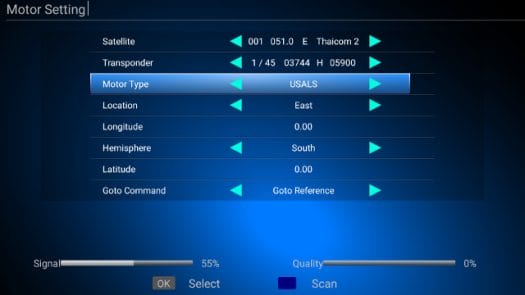 Once you are happy with the setting go to Multi Scan menu to see your satellite list, and press the Blue button on the remote control to start scanning.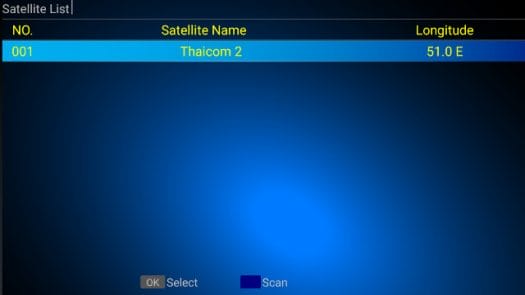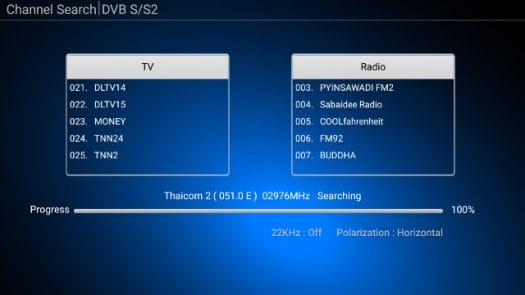 I got 25 TV channels and 7 radios after selecting a Blind Scan and FTA (free-to-air) channels only. Last year, I got 55 TV channels and 5 radio with the same "Thaicom2" satellite. Go figure… Signal strength and quality are quite lower in my case at around 55% and 50% respectively. There are some channels without signal, just as with K1 Plus T2 S2.
One nice improvement is that you don't need to select between DVB-T2 or DVB-S2 when you start DTV app, as all your channels are shown in the list.
I tried EPG scheduling to start playback or record video, and it works exactly like before.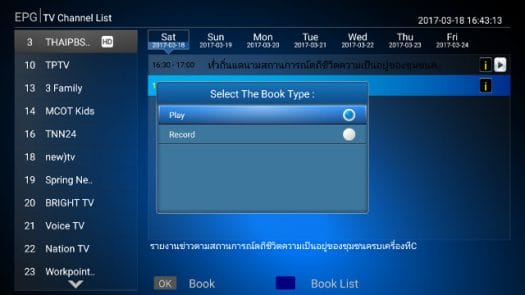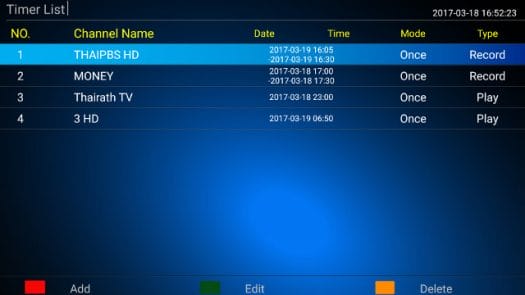 So I setup a few "timers, and watched a DVB-T2 channel live, and one minute before a schedule recording on MONEY channel (DVB-S2) the following window overlaid the video: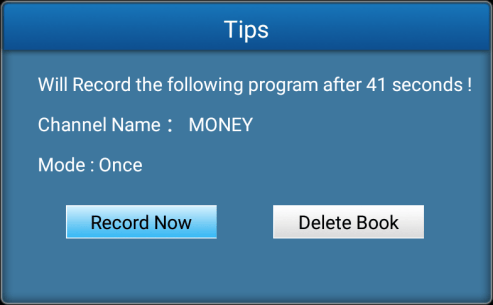 I did not press any button, and one the count down expire, it switched to MONEY channel automatically (good), and I got the message "recording complete" (bad). I could reproduce this bug several times. I noticed if I schedule a recording on a channel, and stay on that channel it will work fine.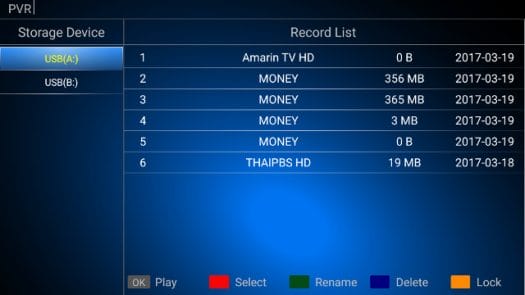 You can see the list of recording above on my USB hard drive with some started manually (REC key on remote), and several scheduled. All the 0 bytes videos are due to the bug described above. So schedule does not work 100% reliably. However I noticed different current times (shown in top right of EPG) with different channels, for example it was 13:10 on a DVB-T2 channels, and 13:18 on a DVB-S2 channel, so this might explain some of the issues.. Please note that if you schedule program, and turn off the box, it won't automatically start to record, and some comments in case try to run DTV app in the background and do other things. The DTV app must run in foreground in other to record videos.
I was more lucky with TimeShifting. Pressing the play/pause key on the remote control, will ask you to select a storage device, and you'll be able to pause and play live TV within a default 5 minutes period, but this is adjustable in the settings. Note that you need external storage, as this won't work from the flash.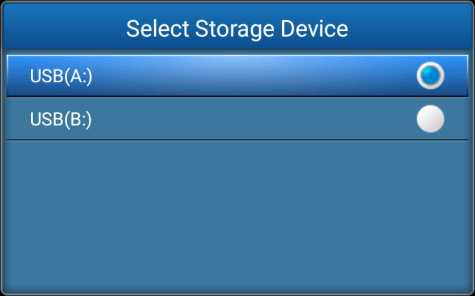 Advanced users will be able to access CCcam, BISS, and PowerVU setting, by pressing the Menu key, selecting Installation and DVB S/S2, and from there enter 111111 on the remote (6 times character 1) to access Smart Data Manager menu.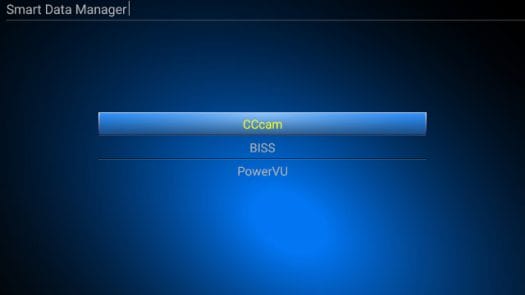 I have not done a video again since it's so similar to the previous model, with just a few minor changes to the user interface, and if you want to check out DTV app into more details, I invite you to watch K1 Plus T2 S2 video review.

Networking (WiFi & Ethernet)
I've checked WiFi performance by transferring a 278 MB file between a SAMBA share and the internal flash (and vice versa) using ES File Explorer. I've only tried 802.11ac (connected @ 265 Mbps) , and again performance was asymmetric with the download @ 3.70 MB/s and upload @ 1.44 MB/s, and average @ 2.1 MB/s which makes it similar to other recent Amlogic TV boxes.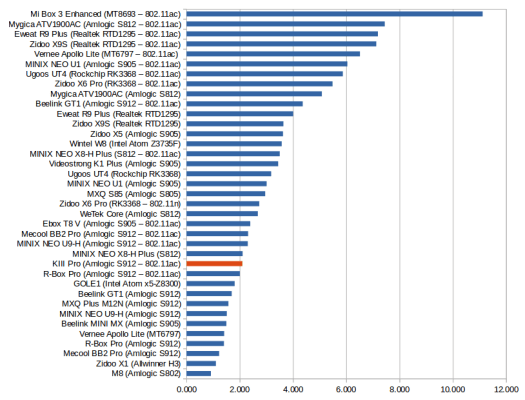 However, last time I reviewed MINIX NEO U9-H which had disappointing WiFi results with the same tests, as it was much slower than MINIX NEO U1 despite ahving the same WiFi module and overall system setup. MINIX them showed me their own tests with different routers showing similar performance between NEO U1 and NEO U9-H, so Amlogic may have completely blown up their SAMBA implementation in their Android 6.0 SDK (NEO U1 runs Android 5.0, U9-H runs Android 6.0).
For that reason, I also tested 802.11ac download speed using iperf "download" test:

Client

connecting

to

192.168.0.114

,

TCP

port

5001

TCP

window

size

:

 

128

KByte

(

default

)

--

--

--

--

--

--

--

--

--

--

--

--

--

--

--

--

--

--

--

--

--

--

--

--

--

--

--

--

--

--

[

ID

]

Interval

      

Transfer

    

Bandwidth

[

5

]

local

192.168.0.104

port

5001

connected

with

192.168.0.114

port

54493

[

 

4

]

 

0.0

-

60.0

sec

 

1.51

GBytes

  

216

Mbits

/

sec

That's 216 Mbps (~27 MB/s) with a raw TCP transfer, and while SAMBA is not supposed to be the fastest network protocol, performance should not drop as low as 3.7 MB/s (over 7 times slower) for the SAMBA download unless something is really wrong.
I also tested Gigabit Ethernet with iperf but using a dual duplex test, and performance is fine.

Client

connecting

to

192.168.0.112

,

TCP

port

5001

TCP

window

size

:

 

255

KByte

(

default

)

--

--

--

--

--

--

--

--

--

--

--

--

--

--

--

--

--

--

--

--

--

--

--

--

--

--

--

--

--

--

[

 

6

]

local

192.168.0.104

port

52550

connected

with

192.168.0.112

port

5001

[

ID

]

Interval

      

Transfer

    

Bandwidth

[

 

4

]

 

0.0

-

60.0

sec

 

5.92

GBytes

  

847

Mbits

/

sec

[

 

6

]

 

0.0

-

60.0

sec

 

2.12

GBytes

  

304

Mbits

/

sec

Doing a SAMBA download over Gigabit Ethernet gets a 885 MB file transfer in 59 seconds (15 MB/s) to the internal flash, which is pretty much normal. So it looks like the issues occur when combining WiFi with SAMBA. SAMBA performs fine with Ethernet, and WiFi raw TCP transfer speed is OK.
Storage
KIII Pro supports exFAT, NTFS, and FAT32 file systems, but not EXT-4 and BTRFS. Benchmarks with A1SD bench shows you should avoid exFAT to record videos with the DTV app, as write speed is rather low (1.35 MB/s), and the write speed (156.09 MB/s) is just incorrect as it is what triggered the "Cached read" in the screenshot below.
That means your only option is to use NTFS for external storage if you want to support larger video files. Performance is good at 44.43 MB/s for read speed, and 16.74 MB/s write speed.
The eMMC flash ("SD card" in screenshot) performance is not outstanding, but at 41.34 MB/s (read) and 18.29 MB/s (write) is good enough for the system to boot fast, and feel responsive at all times.
KIII Pro Benchmarks
CPU-Z correctly reports an octa-core ARM Cortex A53 processor @ up to 1.51 GHz with an ARM Mali-T860 GPU. Model KIII Pro is using q20x board, and the pp shows with 2825 MB total RAM, and 11.87 GB internal storage (the real value, but the 16GB shows in Android settings).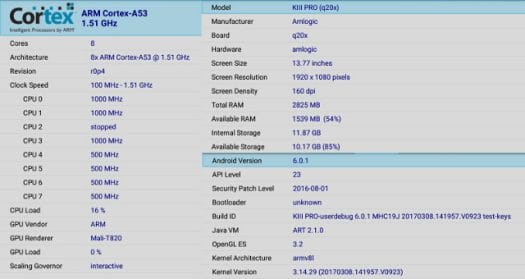 Since I've reviewed so many Amlogic S912 TV boxes, and only ran Antutu 6.x benchmark to make sure there was no hidden issue, and the 40,330 points achieved by the TV box is within the normal range.

Conclusion
KIII Pro comes with typical performance and flaws of other Amlogic S912 TV boxes, with Android 6.0 firmware working well, TV Center (Kodi 17 fork) playing 4K videos relatively well, supporting DD 5.1 pass-through, but not the full range of audio codec, and lacking support for automatic frame rate switching. The device is however unique thanks to its dual tuner with DVB-T/T2 and DVB-S/S2 inputs, and the DTV app is about the same as on the previous model (K1 Plus T2 S2), but merges channels from both sources instead of having to choose at launch. Sadly some of the same bugs and shortcomings linger such as font encoding issues, and inablity to run PVR process in the background.
PROS
Stable and Responsive Android 6.0 firmware
Decent 4K video playback in TV Center (Kodi fork)
Support for Dolby Digital 5.1 (AC3) HDMI pass-through and downmixing in all apps
DVB-S/S2 & DVB-T/T2 support via DTV app with timershifting, EPG, and PVR support
Good 802.11ac WiFi and Ethernet performance
OTA firmware update (App is there, but not fully tested as no new firmware available during the review)
CONS (and Bugs)
DVB issues and shortcomings:

DVB S/S2 signal strength and quality is only around 50 to 55% (on my setup and for others too), which could lead to problems get signals for some channels
Thai font encoding issues
In some conditions, scheduled recordings will start on time, but stop immediately resulting in an empty video.
PVR function does not work in background, so the DTV app must be on the foreground at all time, and the box cannot be turned off when using schedules/timers.

HDMI audio pass-through not working (in TV Center) for Dolby Digital+ 7.1, TrueHD and DTS / DTS-HD
Automatic frame rate switching is not working in Kodi
Potential instability issues with TV Center – The 2-hour video test failed twice: 1st time: crash after 5 minutes; 2nd time the video stopped after about 50 minutes, but I could resume. N.B.: I did not experience other crashes while testing video samples.
Mediocre WiFi + SAMBA performance like in other S905X/S912 TV boxes with Android 6.0.
Relatively high power consumption (2.2 to 5.1 Watts) in power off mode
While I have not noticed obvious CPU or GPU throttling during my tests, temperature does get high (89 °C reported in CPU-Z)
Minor issues – Very small mouse pointer @ 4K resolutions, loud music during boot logo
Finally, I also have a user-friendliness remark. If you are just going to use TV Center and DTV app, the provided IR remote control will do, but if you are going to also use other Android apps, I normally recommend to replace the IR remote control with an air mouse. It's not really possible/practical with KIII Pro, as DTV app has been designed around the IR remote control with keys such as MENU, PVR, REC, EPG… That means you'll need juggle with both the IR remote control and an air mouse in order to fully enjoy all capabilities of the device. It would be really nice if VideoStrong could come up with an (optional) air mouse with keyboard that also supports DTV app.
Resellers and distributors may inquire Videostrong via their Alibaba page to purchase KIII Pro in quantities. Individuals can purchase KIII Pro Android set-top box on GearBest ($117.99), Aliexpress ($141 and up), Banggood ($133.99), and other online retailers.

Jean-Luc started CNX Software in 2010 as a part-time endeavor, before quitting his job as a software engineering manager, and starting to write daily news, and reviews full time later in 2011.