U4 Quad Hybrid is an Android 4.4 satellite, cable and terrestrial TV receiver powered by HiSilicon Hi3796M V100 quad core Cortex A7 supporting video decoding for H.264 and H.265 up to 4K @ 30 Hz. I've already taken a few pictures of the device and the board and tuner, shown how to easily configure another device or computer to stream live TV from this Android TV box, so today, I'll write more about the Android and DVB parts both in terms of features and performance in the full review.
First Boot, Settings and First Impressions
I've started by connecting USB peripherals and cables: USB 3.0 hard drive to USB 3.0 port, USB keyboard, and RF dongles for MINIX NEO A2 Lite air mouse and Tronsmart Mars G01 gamepad, as well as Ethernet and HDMI cables, and the terrestrial and satellite antenna cables. The DVB-T2 connector is using an F-connector, so I had to buy a male F-connector to female coaxial adapter to connect the coax cable for DVB-T2. Connecting the power will immediately start the device, and boot time usually takes 30 seconds, plus about 20 seconds to load the channel database, as after the first setup (scanning channels) is done, the box will automatically start with the latest viewed channels. I've recently noticed some people don't know about apps and all that, and can be confused by having to browse to icon to launch the app, so it's definitely a plus if you setup the box for – usually older – people not familiar with technology. You can then easily get back to the launcher (eOn center) by pressing the Home or Exit button on the remote control.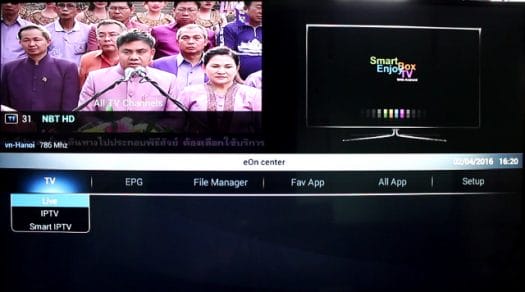 The interface preview the TV channels on the top left corner, and feature a menu on the center with 6 sections:
TV – Live (DVB-T2/C/S2), IPTV (for your own playlist), and Smart IPTV (activation code required)
EPG – Multiple or Single day electronic program guide
File Manager – eOn file manager with access to All drives, Movie, PVR, Music, Photo and Network shares
Fav App – YouTube and Chrome by default, but this can be customized
All App
Setup – Config, Network, Misc and System
IPTV requires you to load your own channel list, and Smart IPTV appears to be a paid service. I have not tried either, as I've already spent a lot of time on the device.
Since I received my device in January, my firmware was outdated, so one of the first things I did was to download the latest firmware from the forums dated 2016/03/19, and updated the firmware by USB (Setup->System->Firmware->Upgrade-Usb Upgrade) with a USB flash drive. This version of the firmware should now support Network Upgrade (aka OTA), but I have not been able to confirm it yet since no new release has been posted. Anyway that part was quite straightforward.
Once of the first thing you'll have to do is to go to Setup->Config to scan channels for DVB-S2 and/or DVB-T2/C. I've done so for DVB-T2, but unfortunately I've never been able to go back to the Config menu after that, as it just redirects me to Live TV with the message "local connected!". That means I have not tried DVB-S2 at all, and there seems to be a serious bug in the firmware here.
So I won't be able to go through the Config options, but the other three options were still accessible:
Network – WiFi, Ethernet, and 3G (via external USB dongle)
Misc – OSD, Access Control, PVR (for PVR and time-shifting), File Player, Preference (power mode and function key configuration), Iptv (activation code)
System – Firmware, Back up (for channel data), and Reset(Channel, myiptv, EPG data, timers, or Factory reset)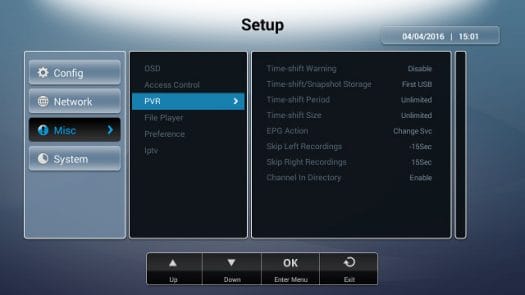 WiFi and Ethernet configuration worked well, but I have not tried 3G. You can also go to All App->Settings to access Android Kitkat settings with most of the most interesting or unusual configurations options being:
Wireless & Network

Wi-Fi
Ethernet – DHCP, Fixed IP, PPPoE
3G – Connection mode, module type, IP address
Bluetooth – This is not working, showing the message: "Turning Bluetooth on" without actually managing to do that.
More… Portable hotspot and VPN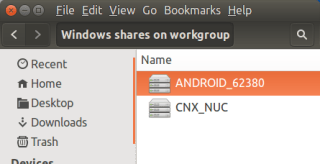 Share – SAMBA Service. Allows U4 Quad Hybrid to be used as a NAS running a network share with or without password. You can access the internal storage, as well as any USB devices connected to U4 Quad Hybrid.
Device

Sound

HDMI Output (Close, Auto, LPCM or RAW)
SPDIF Output (Close, LPCM or RAW)
HBR Degrade Output (Auto, RAW 5.1, RAW 7.1)
Dolby Night Mode – On/Off

Display

UI Size – 720p (default) or 1080p
Custom display format – 2160p 24Hz/25Hz/30Hz, 1080p 50/60Hz, 1080i 50/60Hz, 720p 50/60Hz, PAL, NTSC
Image Settings – Brightness, Chrome, Contrast, Saturation

Video Output – Video aspect ratio (Auto, 4:3, 16:9), Maintain aspect ratio (Extrude, Add black side), Output format adaption for 2D stream (enabled/disabled)

System

Standby – HDMI System (On/Off), HDMI Suspend Time (5, 10, 15 or 30 minutes)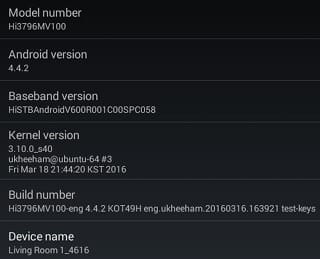 You can also change video output with the remote control "Video Format" key that can cycling through all video output. I had to use it quite often as the system would always revert to 1080i60, even though I had selected 2160 30Hz. I've used the 720p user interface for the complete review.
The company decided to have a poor split of the flash with a 0.97GB internal storage partition, and a 4.75GB data partition. So even through I got plenty of space in the data partition, the internal storage partition got quickly filled up, and I had to remove some apps as I reviewed the device. You'd really wish people would start shipping firmware with tiny "app" partition, and even use a single unified partition, as this has been a regular, often documented issue.
The Device info section shows Hi3796MV100 model running Android 4.4.2 on top of Linux 3.10.0_s40. The device name "Living Room 1_4616" is used for UPnP.
The IR remote control works OK with a range of about 8 meters, but at first I thought the IR learning function did not work, until I found out that the "Set" key is not the "Learn" key, but instead the smaller button close to the power button on the TV zone of the remote control. The IR remote control is a must to play with the DVB app, so if you want to use an air mouse, you'll likely want to jungle around with two input devices as needed.
You can watch the video below to see a mini review of the DVB part, as well as walk through the interface and settings if you want to find out more.
Usually I don't test a TV box where the Google Play Store is not working well, but I made an exception for U4 Quad Hybrid since I've had the box for over two months, and while I could install several apps, Candy Crush Sage, Antutu, Buggy Beach Buggy Racing, and other apps were "incompatible with my device", so installing apps was quite frustrating, as I had to sideload a few apks.
Installing Amazon Underground was also a challenge, as the user agent was not set to Android in Firefox, Chrome, nor Browser++ browser, so I decided to download the apk directly, and after three tries I could finally install Amazon Underground in order to load Riptide GP2 game. For some reasons typing in Amazon Underground was painfully slow, and I managed. The while process took 2 hours from deciding to install Amazon Underground to successfully installing the game.
Power handling is fine but power consumption in idle and standby mode is on the high side. I tested this with and without USB hard drive:
Power off (long press on remote control ) – 0.4 Watt
Standby (short press on remote control) – 9 Watts
Idle – 9 Watts
Power off + HDD – 0.4 Watt
Standby – 10 Watts
Idle + HDD – 11 Watts
Power is fine at 0.4 Watt, even with the hard drive connected. The power consumption is still high in standby mode simply because the system runs as a server, so video is still processed in the background, and in idle mode video is also playing in the top right corner of the user interface.
The box is also getting hotter than most other I've recently reviewed with respectively 56 and 55 C at the top and bottom of the case after running Antutu 6.0 or playing Riptide GP2. It does not seem to affect the system performance, as I could play the game with constant performance over 15 minutes.
I don't usually get a good impression when a products make me waste my time, and since one of the first thing I normally do is to install apps with Google Play Store, I was not exactly happy with the box since I had to sideload about half of the apps for testing, and some benchmark could not run properly as we've seen above. Video output selected by the user is also not remembered by the system, and after the first config for DVB-T2, I was unable to access the "Config" menu to do the same for DVB-S2. Apart from that the performance was decent, and I liked the extra options such as easy to use live TV streaming using free-to-air channels, and built-in SAMBA server functionality.
Video Playback with MX Player
U4 Quad Hybrid comes pre-loaded with a version of Kodi 15.2, and I started using it to play a 2-hour video (1080p / H.264) over SAMBA, and it worked well enough. But as later I wanted to start going through my list of video samples, Kodi became unusable. I could get the to main screen normally, as I wanted to go to Video menu all I got was a black screen, and I could hear the usual tick in the background as I pressed the remote control. I tried to clear the cache, then clear data, but no luck. So I switched to ES File Explorer and MX Player to play videos from the USB hard drive. After testing was complete, I discovered internal storage space was really tight, uninstalled some apps, and I could access the files again, but none of my 4K videos would play. So I'll only present the results for MX Player today.
Linaro media samples, Elecard H.265 videos, and a low resolution VP9 video:
H.264 codec / MP4 container (Big Buck Bunny) – 480p/720p/1080p – OK
MPEG2 codec / MPG container – 480p/720p/1080p – OK
MPEG4 codec, AVI container 480p/720p/1080p – OK
VC1 codec (WMV) – 480p/720p/1080p – OK
Real Media (RMVB), 720p / 5Mbps – OK (Software decode)
WebM / VP8 480p/720p/1080p – OK
H.265 codec / MPEG TS container (360p/720p/1080p) – OK
WebM / VP9 (no audio in video) – OK (software decode)
I could not find an option for automatic frame rate switching, so you may get micro stutter if the refresh rate does not match. However, the "Video Format" key makes it relatively easy to switch resolution or framerate even if the video is already playing.
I've also played other video with various frame rates:
ED_HD.avi

(MPEG-4, 10 Mbps) – Slow motion at first and the image freezes soon. Massive audio delay
big_buck_bunny_1080p_surround.avi (1080p H.264 – 12 Mbps) – OK
h264_1080p_hp_4.1_40mbps_birds.mkv (40 Mbps) – Not smooth
hddvd_demo_17.5Mbps_1080p_VC1.mkv (17.5Mbps) – Very good
Jellyfish-120

-Mbps.mkv

(120 Mbps video without audio) – Not smooth
I've also tested audio format with MX Player using either downmixing (Device->Sound->HDMI Output->LPCM) or HDMI audio pass-through (Device->Sound->HDMI Output->RAW) with Onkyo TX-NR636 receiver.
| | | |
| --- | --- | --- |
| Audio Codec used in Video | PCM Output | HDMI Pass-through |
| AC3 / Dolby Digital 5.1 | OK | OK |
| E-AC-3 / Dolby Digital+ 5.1 | OK | OK |
| Dolby Digital+ 7.1 | OK | OK |
| TrueHD 5.1 | OK | No audio (PCM 2.0) |
| TrueHD 7.1 | OK | No audio (PCM 2.0) |
| Dolby Atmos 7.1 | Continuous beep | No audio (PCM 2.0) |
| DTS HD Master | No audio | OK |
| DTS HD High Resolution | No audio | OK |
| DTS:X | No audio | DTS HD Master |
So if you need to watch videos with TrueHD you'll need to disable pass-through and listen to stereo audio, and DTS will only work through an AV receiver…
Time for some 4K videos:
HD.Club-4K-Chimei-inn-60mbps.mp4 – OK

sintel-2010-4k.mkv – OK
Beauty_3840x2160_120fps_420_8bit_HEVC_MP4.mp4 (H.265) – Slow motion
Bosphorus_3840x2160_120fps_420_8bit_HEVC_MP4.mp4 (H.265) – Slow motion
Jockey_3840x2160_120fps_420_8bit_HEVC_TS.ts (H.265) – Slow motion
MHD_2013_2160p_ShowReel_R_9000f_24fps_RMN_QP23_10b.mkv (10-bit HEVC) – Won't play

BT.2020.20140602.ts

(

Rec.2020

compliant video) – Artifacts, and frequent audio cuts
big_buck_bunny_4k_H264_30fps.mp4 – OK
big_buck_bunny_4k_H264_60fps.mp4 – Slow motion, then white screen with only audio (Hi3796M V100 processor does not support 4K @ 60 Hz, so that's expected).
Fifa_WorldCup2014_Uruguay-Colombia_4K-x265.mp4 (4K, H.265, 60 fps) – Slow motion (same comment as above)
Samsung_UHD_Dubai_10-bit_HEVC_51.4Mbps.ts (10-bit HEVC / MPEG-4 AAC) – Plays with wrong color
So unless you only plan to play 4K videos @ 30 Hz or less using H.264 codec, you should not buy U4 Quad Hybrid as a 4K media player, since 4K video playback capabilities are pretty poor compared to more recent processors such as Amlogic S905.
My Blu-ray samnples (Sintel-Bluray.iso & amat.iso) would not play, but I think it's MX Player that does not support ISO files, and Hi10p videos would exhibit the usual artifacts, the subtitles are not rendered in MX Player, and only audio is really playing fine. My two 1080i MPEG2 video samples could all play just fine however.
LG 42UB820T 4K UHD television has been used for testing in all my recent review in the last year or so. And while 3D is not supported by the TV, I still played a few 3D videos to check 3D decoding capabilities of the device:
bbb_sunflower_1080p_60fps_stereo_abl.mp4 (1080p Over/Under) – Not smooth
bbb_sunflower_2160p_60fps_stereo_abl.mp4 (2160p Over/Under) – Blackscreen
Turbo_Film-DreamWorks_trailer_VO_3D.mp4 (1080p SBS) – MX Player exits when I try to play the video
3D-full-MVC.mkv (Full-frame packed MVC 3D MKV) – Plays fine (but looks like normal 2D video)
ISO-full3D-sample.iso (Full-frame packed MVC 3D ISO) – Software decode, slow motion.
Videos from my library (VOB/IFO, MKV, AVI, MP4, XViD/DViX, and MKV) all play fines, except I could not click on the .ifo file, and I had to selecrt the .vob to start DVD rips.
Antutu Video Tester 3.0 is a convenient tool to quickly evaluation how good a platform is at playing videos. I ran the app three times, and it would always get stuck after 73% while playing a 1080p flv video using sorensen and mp3 codecs, which means I did not get any score.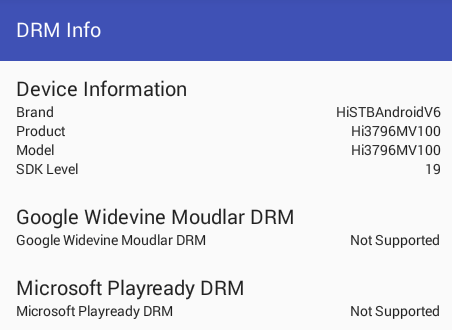 DRM info reports that neither Widevine nor Playredy are enabled in the device.
You can reproduce the tests in this section by getting the videos in the comments' section of my video samples post.
Live TV (DVB-T2) in U4 Quad Hybrid
I've already done through the settings in the first section of this post, so show what you can expect of live TV on the box. When you start the device, you'll get the latest select TV channels with an info overlay.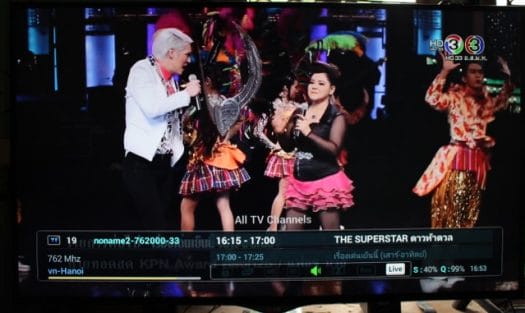 Just one remark about scanning for channel, while there are many countries in the list, mine was not listed, so I selected a neighboring country (Vietnam). This worked OK, and explains why you can see vn-Hanoi on the bottom left. The user interface can handle Thai script properly so that's an advantage over K1 Plus DVB T2/S2 set-top box. Watching live TV works well, and switching between channels is fairly fast.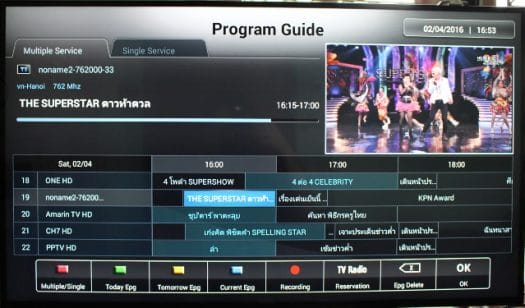 Press the EPG key on the remote control will start the Program Guide window showing the list of program over the near future for 5 channels, while playing the current live channel on the top right of the user interface. This works fine, but you'll have to go through all channels so that the system can load the complete EPG, though that's not really a limitation from the device. [Update: actually the app should be able to get EPG data for channels from the same DVB stream].

Switching to "single service" view shows the list of programs for single channel, and IMHO is more user-friendly to use.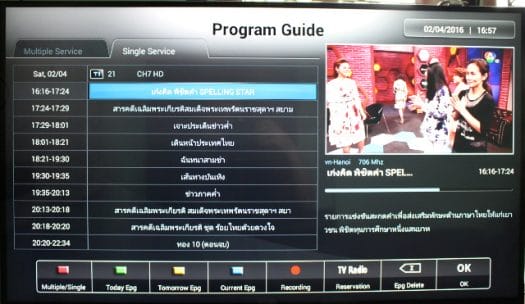 You can select a program, and press "TV Radio" key on the remote to schedule viewing or recording in the "Add Timer" Window.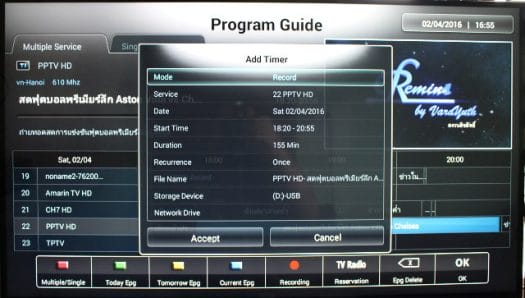 You can also select the recurrence (once, daily, weekly), adjust the file name, and storage device. There's also an option to record directly to a network drive, which can be really convenient if you use a NAS. Scheduling works well with scheduling conflicts properly handled with an error message, and you can also press the Record key on the remote control to start recording on demand.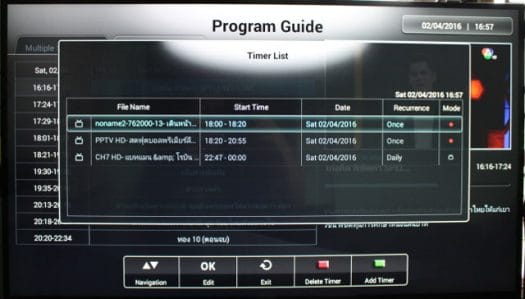 You can also press the Menu from the EPG menu or while watching the video to activate a windows with various options, including the timer list as shown above. You'll then be able to edit, delete or add timer as needed.
I could play the recordings from the box itself, but also from my computer (Ubuntu) with VLC and Kodi 16, but not with Totem video player. The recordings are located in the root of your drive, with the channel name as the directory name.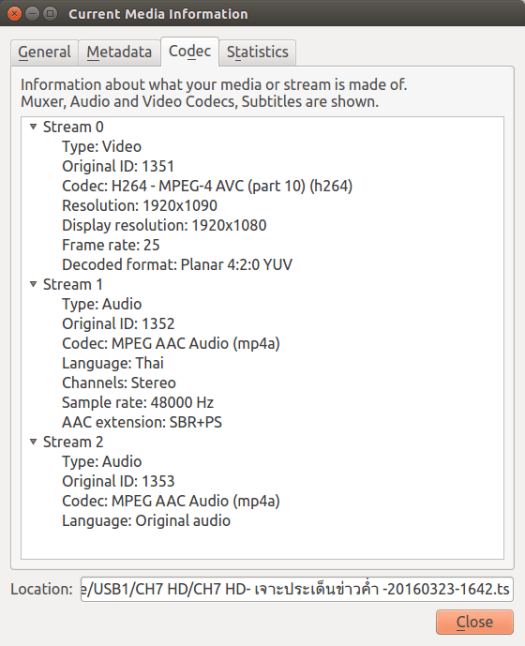 Time-shifting is also possible with the device by simply pressing the Play/Pause key on the remote control. It worked during my testing, but when I shot the video (embed higher in this post) it did not seem to work well.
While running nmap to check the open ports on the device, I discovered that port 8888 is open, and gives access to OSCam webinterface which should allow you great flexibility in managing your DVB channels.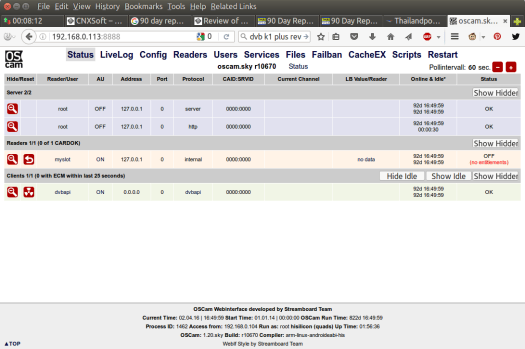 So the box has some pretty powerful features, but not always documented in the user's manual (which in muy case on in Korean only), and you can learm more how to make use of all features by checking out U4 Quad Hybrid / HomeworX5000 forums.
Network Performance (Wi-Fi and Ethernet)
I evaluate WiFi & Fast Ethernet performance by transferring a 278MB file between a SAMBA share and the internal storage for several times in both directions using ES File Explorer, and averaging the results. U4 Quad Hybrid WiFi transfer averaged 2.2 MB/s.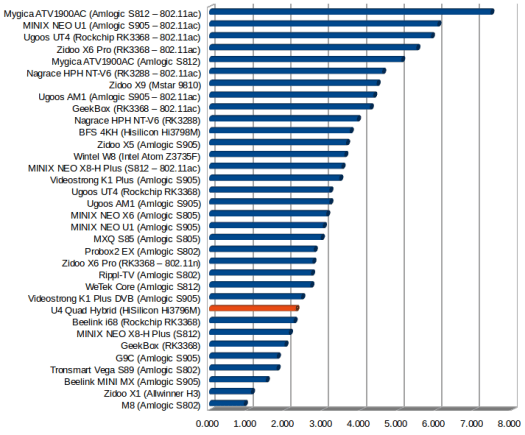 That's quite below average, but as usual your mileage may vary. I also noticed large variation between the transfer, as transferring the fiel could take just above one minute to close to three minutes. The Conky chart on my computer (SAMBA server) also shows the variation during the transfer.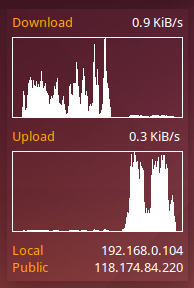 Ethernet is limited to 100Mbps, but at least it's working pretty well with an average of 8.1 MB/s or the fastest of any boxes only supporting Fast Ethernet.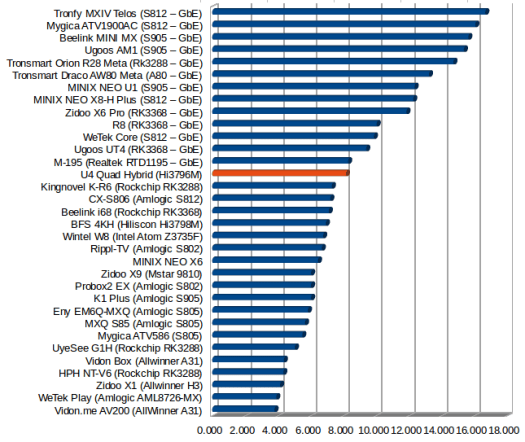 I did not run iperf since it could not be installed from Google Play, and I did not feel like side-loading it.
Miscellaneous Tests
Bluetooth
As per the specs, there's no built-in Bluetooth. The menu is still present in the settings however, so I inserted by own Bluetooth 4.0 USB dongle, and I was able to enable Bluetooth. I could transfer pictures with my phone, and connect to Makibes F68 smartwatch over Bluetooth LE.
Storage
My USB 3.0 hard drive was finally happy to meet a USB 3.0 port, after so many USB 2.0 ports. Out of the four partitions, only the NTFS and EXT-4 partitions could be mounted, but not could be mounted exFAT nor BTRFS. A micro SD card using FAT32 could be also mounted.
| | | |
| --- | --- | --- |
| File System | Read | Write |
| NTFS | OK | OK |
| EXT-4 | OK | OK |
| exFAT | Not mounted | Not mounted |
| BTRFS | Not mounted | Not mounted |
| FAT32 | OK | OK |
With all Amlogic S905 TV boxes on the market failing to support writing, it was also good to run A1 SD bench app over a USB 3.0 connection, and performance is indeed very good with close to 90MB/s read speed, and 88MB/s EXT-4 write speed, 59MB/s NTFS write speed.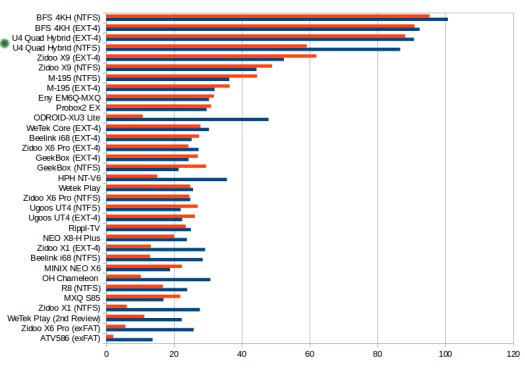 One possible explanation for the lower NTFS write speed could be fragmentation, and that might also explain the slightly lower overall performance compared to BFS 4KH, another HiSilicon TV box (Hi3798M) that I reviewed about a year ago. That's a shame that the good USB performance is starved by the 100 Mbps Ethernet speed, but at least that means you should be able to record live TV to your hard drive, while copying files or watching video from the box.
Internal storage performance is also quite good with 34.88 MB/s and 25.62 MB/s as reported by A1 SD Bench.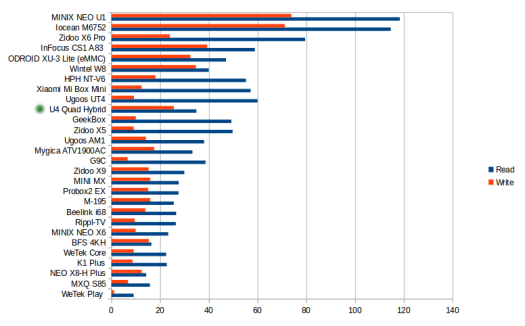 Gaming
I skipped my usual tests with Candy Crush Saga and Beach Buggy Racing since they could not be installed with Google Play, and instead only played Riptide GP2 using Tronsmart Mars G01 wireless gamepad. The game was playable although not quite as smooth as I would have expected, especially considering the resolution was set to 1280×720. However, the performance was constant during the 15 minutes I played the game.
U4 Quad Hybrid Benchmarks
That's not really a surprise that CPU-Z does not know HiSilicon Hi3796M V100 processor, but at least it detected a quad core Cortex A7 processor running between 600 and 1,500 MHz with an ARM Mali-450MP GPU. The model is called Hi3798MV100, the brand HiSTBAndroidV6, and the board bigfish. The latter can be useful if one day source code is released…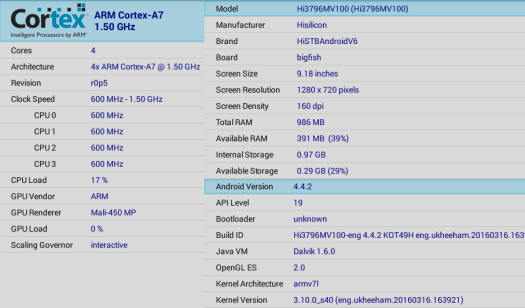 I sideloaded Antutu 6.0.4 apk and could run the benchmark, but sadly the 3D graphics benchmark while working was continuously looping, so I had to interrupt and it's not part of the score, which partially explains why the device gets a low 14,356 points. But even with 3D graphics, the score should still be below 20,000 points, which should be expected for a processor with such specifications.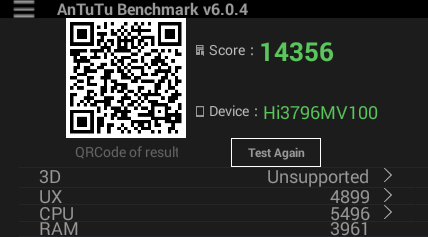 Vellamo 3.0's multicore, metal, and browser scores were respectively 1130, 530, and 864 points, which should roughly correspond to Amlogic S805 performance.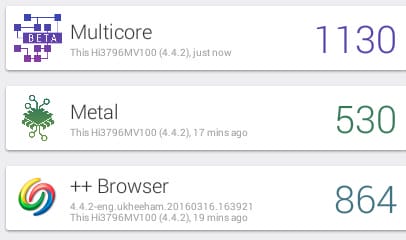 Comparing it to some other recent devices with Cortex A9, and Cortex A53 based processors, we can see the device is a notch lower.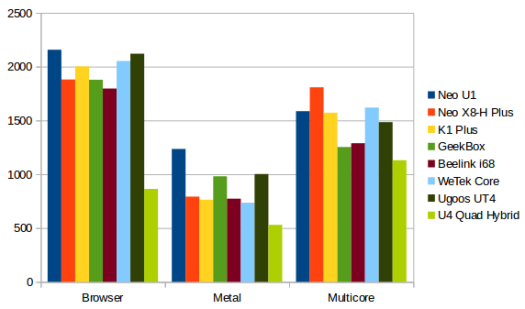 Since 3D graphics tests in Antutu did not work, it's good to also run 3DMark Ice Storm Extreme, where the device got 1,802 points. Please note that the benchmark started with the warning: "You may have insufficient memory".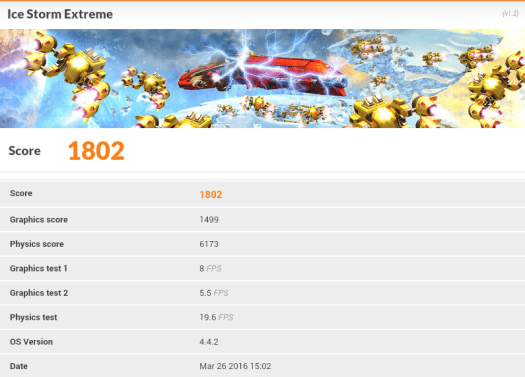 So again quite slower than more recent devices. For example, K1 Plus TV box gets 4308 points in that same benchmark (Amlogic S905 with penta core Mali-450 GPU).
Conclusion
U4 Quad Hybrid is a decent device to watch live TV via a satellite dish , cable, or a terrestrial antenna, and features like time-shifting, PVR, easy-to-use streaming server, SAMBA server, bring some added value to the competition. While not as fast as more recent devices, the fast internal and USB storage, as well a good Fast Ethernet performance still mean the device is responsive, and performs well. That is if you ignore various bugs such as Google Play not working very well (many incompatible apps), tiny internal storage partition, failure to remember user set video output, problems with apps (black screen in Kodi UI, benchmarks failing to run), Config menu inaccessible, lack of TrueHD pass-though support etc… The company has a support forum, and they publish new firmware regularly so hopefully most of the bugs will be fixed overtime.
PROS
Firmware is usually stable and responsive
Good Live TV app with PVR, Time-shifting, easy-to-use streaming server, web interface, etc…
Fast internal storage, very fast external storage (USB 3.0) with support for FAT32, NTFS and EXT-4.
Good Fast Ethernet performance
1080p video playback and 4K H.264 up to 30 fps working OK in MX Player
DTS HD audio pass-through
Well integrate remote control with IR learning function
Bluetooth is working (via external USB dongle)
Power handling properly implemented
Frequent firmware updates (OTA should be working now), and support forum.
CONS
Google Play store is not working well (many incompatible apps)
Bug in user interface preventing from access Config after DVB scanning is done.
DTS downmixing and Dolby TrueHD audio pass-through are not working
Small internal storage partition (0.97 GB)
Kodi 15.2 user interface black screen issue (could be related to small partition)
None of my 4K H.265 video samples could play properly in the device (even @ 30 fps) using MX Player
Wi-Fi performance varies a lot, and usually on the low side (no complete stalls though)
Lack of DRM support
CPU/GPU Performance a little low considering price point.
Shenzhen Vivant Technology sent the device for review, and distributiors and resellers can contact them to purchase in quantities or inquiries. U4 Quad Hybrid is also sold through Aliexpress for $119.99 shipped by DHL, or for $106.69 with shipping by China Post. There's also a DVB-S2 + ATSC version for the same price.

Jean-Luc started CNX Software in 2010 as a part-time endeavor, before quitting his job as a software engineering manager, and starting to write daily news, and reviews full time later in 2011.