Last year – and even in 2016 – , there was a fair amount of new retro gaming news, with products such a Nintendo SNES Classic Edition or GameShell Portable Retro console, as well as community supported firmware such as RetrOrangePi 4.0. GearBest asked me if I wanted to review something a little different: Pandora's Box 5S (aka Pandora's Key 5S) arcade game console with 999 games most (all?) designed for two players.
This looked fun, and I was particularly interesting in checking out the hardware design, and hacking potential, e.g. if there could be a way to replace the board or firmware with your own. So in the review, I'll focus mostly on the teardown, before shortly testing out the system and a few games.
Pandora's Box 5S Unboxing
The device comes ins a large package (~70 x 24 x 16cm), so I'm surprised customs did not ask any questions, and it just went through without any issues.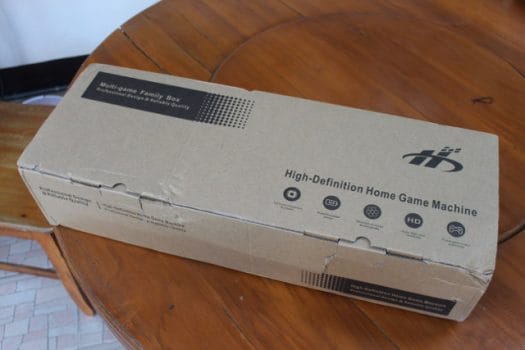 Once we open the package, we can see a bunch cables and accessories.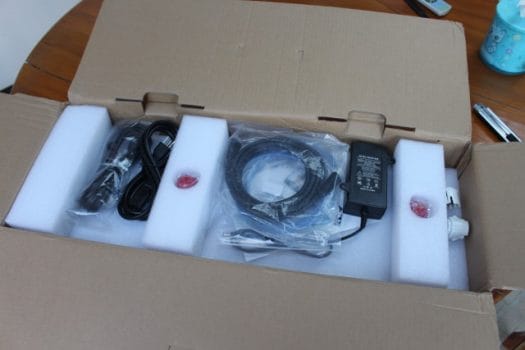 Those includes a bilingual (English/Chinese) user manual, 12V/3A power supply and power cord, VGA cable, HDMI cable, USB cable, as well as two spare gaming buttons (is that a bad or good sign?).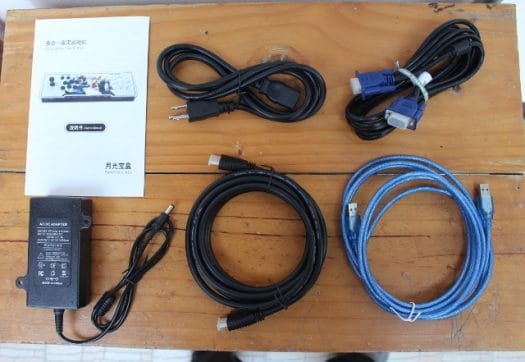 Once we've removed all those from the package, we can take out of arcade game console itself with two sets of joystick, play/pause, player, and A/B/C/D/E/F buttons.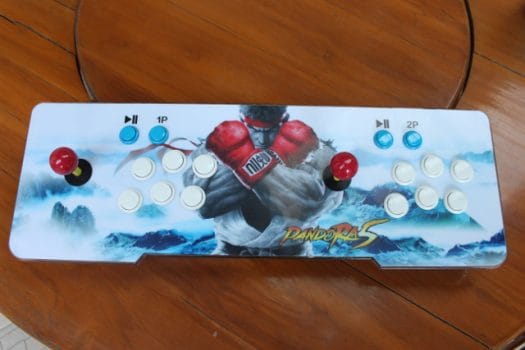 The rear panel comes with an ON/OFF switch, the power jack, HDMI and VGA video output, an audio jack, a volume rocker, a CFG button, and two USB ports.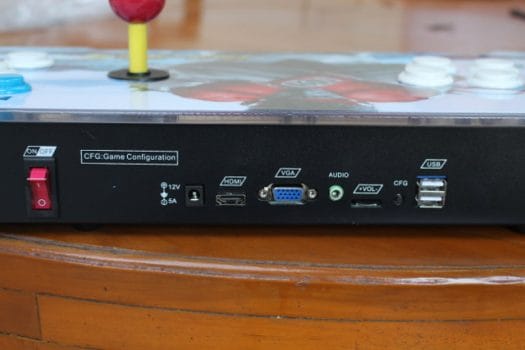 Pandora's Box 5S Teardown
Opening the device is very easy: Loosen the three screws on the front of the device…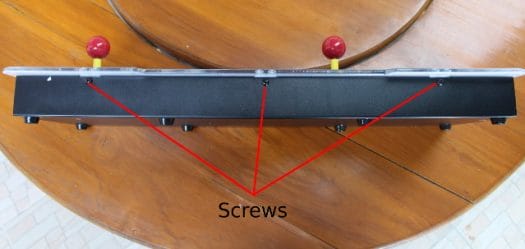 .. and open it up like a car's engine cover. I used a chopstick to keep it open.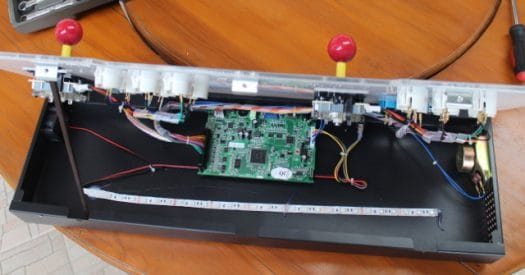 There's plenty of space inside the case, with the mainboard in the middle, and RGB LED strip, fan, and speaker on the sides, and fairly neat cabling.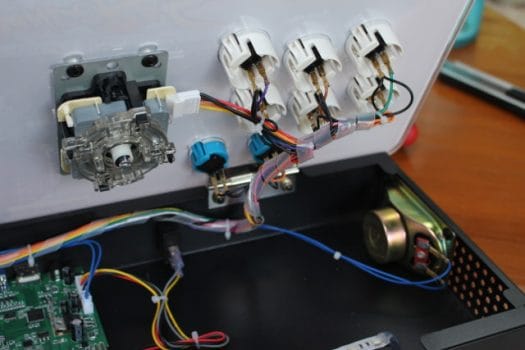 The right side is used to other player 2 buttons and joystick, and is fitted with the single speaker for the system…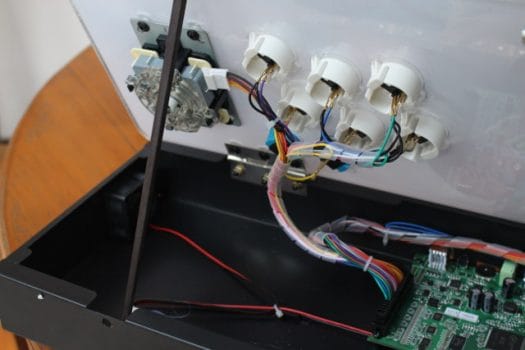 … while the left side comes with player 1's inputs, and a fan.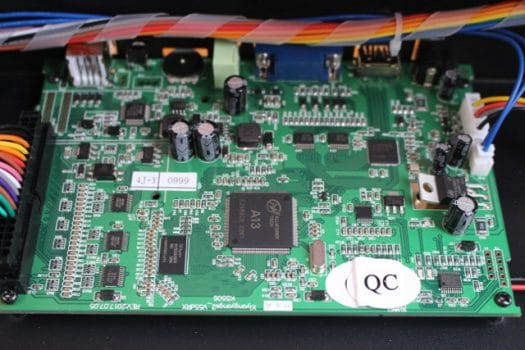 The main board – Xiyangyangs2_V55dRX – is powered by Allwinner A13 Arm Cortex A8 processor combined with 256MB (2 Gbit) SKhynix H5TQ2G63GFR DDR3. Other chips include three HC245 3-state octal bus transceivers, some STMicro 78422 IC…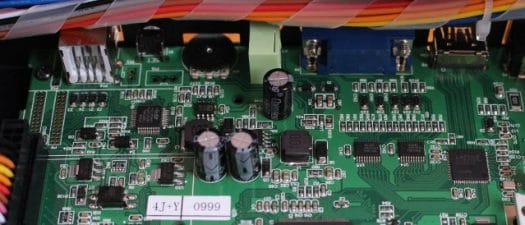 … an STMicro STM32F103C8T6 Arm Cortex M3 MCU likely used to handle I/Os from the volume rocker, buttons, and joysticks, a Lattice SII9022-ACNU HDMI 1.4a transmitter with 24-bit RGB input, and two more HC245 chips.
Where's the storage chip? There's none, and instead we'll find an 8GB micro SD card with the firmware under the QC stickers. This should allow to mess around with the firmware, and potentially use it for other applications. If we have a quick look into the content, we can see the system calls /usr/init at boot time:

 

export

PATH

=

/

bin

:

/

sbin

:

/

usr

/

bin

:

/

usr

/

sbin

:

/

usr

/

local

/

bin

:

/

usr

/

export

LD_LIBRARY_PATH

=

/

lib

:

/

usr

/

lib

:

/

usr

/

local

/

lib

 

export

QWS_DISPLAY

=

LinuxFb

:

/

dev

/

fb0

export

QTDIR

=

/

root

/

real210

/

qt3

 

 

then a program called "emulotar" in /usr/emu.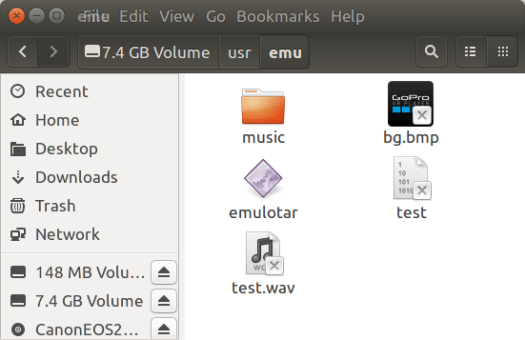 We'll find some audio and photo files in that directory, but those are not used by the games. Instead you'll find game data in /usr/sd/ with game data (roms) stored in zip files, and some avi videos stored in movies folder. Both need to be accessed as root.
If you'd like to use the enclosure and buttons, and replace the board with something more powerful, you may want to check Grant Likely's open source arcade control panel that appears to be using very similar buttons and joysticks, but with a custom wooden enclosure, as well as DragonBoard 820c board combined with STM32F3-Discovery board. ARMDevices.net has a video about his console that was showcased at Linaro Connect.
Pandora's Box 5S Mini Review
Time to put everything back together and start playing. So I connected the device to the HDMI port of my TV, and the latter reported "Mode Not Supported". Oh well, switching to VGA worked. Audio is going through the internal speaker, so I tried to connected my USB powered speakers to the USB port and 3.5mm audio jack of the console, and no audio from those external speakers, only from the internal speaker. Never mind, I could still play a few games as you'll find out in the video below.
The fan is not exactly quiet, but you may not really mind with the game audio, and noise made by kids or friends may cover it up… I go through the full list of the games at the end of video. I found at least two games I used to play when I was a younger self: Mortal Kombat and Bomberman.
This should be a lots of fun for kids and adults alike. Just keep in mind that not all HDMI TV may support the game, so make sure you have a monitor or TV with VGA input as a backup. I was also unable to use anything else than the internal speaker for audio. I tried it on my other LG TV, and HDMI worked with audio, but the picture is not centered, and the left side is cropped out.
I'd like to thank GearBest for sending Pandora Box 5S for review, and if interested, you can purchase it for $124.99 shipped. There are other Pandora's Box 5S or Pandora's Key 5S hardware around, but it's often different hardware, some kind of DIY expansion, or a similar model as the one reviewed above but for a single player.

Jean-Luc started CNX Software in 2010 as a part-time endeavor, before quitting his job as a software engineering manager, and starting to write daily news, and reviews full time later in 2011.