That's it, we've already reached the last day of 2018, and it's time to have a look back at what happened during the past year. On the mini PC front, Gemini Lake based mini PCs took over from Apollo Lake with some performance improvements, but I expected the price point to be a bit lower than it is today.  Apart from further developments with regards to mobile processors, it feels 2018 was an off-year for processors, such as the ones found in TV boxes and development boards, with mostly more of the same. Allwinner and Rockchip did not release any really interesting processor, and Amlogic only launched S905X2 and S905Y2 which are mostly evolutions of their previous generation with an OpenGL 3.x capable GPU and USB 3.0. Rockchip RK3399 stood out this year, as despite being launched in 2016, it suddenly became popular again with many RK3399 SBCs coming to market, and RK3399Pro was announced – but not launched yet – with an NPU.
2018 was also the year where RISC-V open source ISA really took off, at least in terms of availability of hardware and progress of software development, as we may have to wait a little longer before seeing actual commercial products based on RISC-V processors.
Topics related to artificial Intelligence, machine learning, and deep learning were also a key feature of this year with most recent mobile processor coming with an NPU (Neural Processing Unit), and various low power solutions for developers launched such as GAPDUINO board, Intel's Neural Compute Stick 2, or Orange Pi AI Stick.
In the Internet of Things space, we got a few more Arm based WiFi SoC for the IoT such as RDA5981 and Winner Micro W600, but none of them appear to compete with Espressif ESP8266 / ESP32 solutions at least in the maker community. I got my first hands-on experience with LPWAN, specifically LoRaWAN, thanks to MatchX LoRagateway and RakWireless RAK811 tracker, and played with Mesh Networking using Particle Mesh.
I'd like to thanks Karl and Linuxium for helping with reviews, and Blu for his insightful highly technical guest posts.
Top 10 Posts of 2018
I've compiled a list of the most popular posts of 2018 in terms of  pageviews from Google Analytics data combining both "normal" and "AMP" (Accelerated Mobile Pages) traffic, as the latter become a more important sources of traffic especially at the end of the year where several articles where picked up by Google News.
Here's the list in reverse order.
CNX Software Statistics for 2018
892 posts were published this year, a bit lower than last year (981) since I was on the move for two months this year. Let's see how stats evolved in 2018.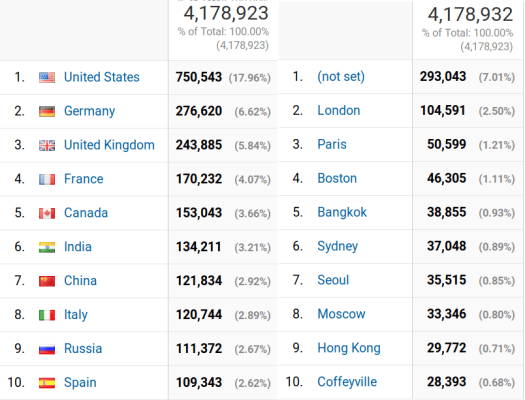 The top three countries are still the US, Germany, and the United Kingdom in the same order as last year, but France overtook Canada. Russia, and China made it to the top ten at the cost of the Netherlands and Australia. Last year, London, Paris, and Bangkok were the top three city, and in 2018 it's mostly more of the same except Bangkok got pushed into fourth position overtaken by Boston.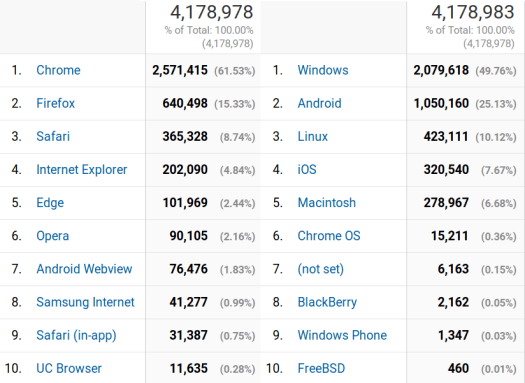 Chrome share decreased very slightly from 62.03% to 61.53%, and so did Firefox and Safari, but somehow Internet Explorer increased the share from 3.47% to 4.84%. The differences are pretty small, so we could consider the browser share of traffic to be mostly stable year-on-year.
The situation is pretty much identical for operating systems with Windows being the top OS with around 50% of the traffic, Android coming into second with a quarter, followed by Linux at 10%, all of which are numbers comparable to last year.

I would have expected mobile to further gain ground this year, but again traffic share between desktop (66.80% vs 66.40%) and mobile (28.32% vs 28.44%) is incredibly stable compared to 2017.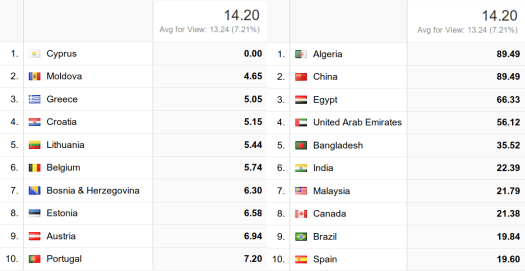 The table above shows the average page load time for all pages (14.1 seconds) which got slightly faster this year, as well as the average page load time for the top 10 and the bottom 10 countries with over 5,000 pageviews. Cyprus has incomplete data, but overall Europe seems a good place to be despite the site being hosted in the United States. Some of the top bottom countries are quite surprising with Canada, Spain and Malaysia having fairly low average page load time. China is less of a surprise for a website hosted outside of the mainland.
Looking ahead to 2019
We should see the launch of at least two new potentially interesting Arm processors with Rockchip RK3399Pro, and Amlogic S922X in the first half of 2019, and hopefully Allwinner will come up with something new as well. Intel Tremont is expected to follow Goldmont Plus microarchitecture found in Gemini Lake and Denverton processors, and at least one Intel Hybrid "Foveros" processor may be launched. I'd also expect some more development around RISC-V, and we'll have to follow what will happen around MIPS architecture which will be open sourced in Q1 2019.
Arm based laptops may be come more popular with the latest Snapdragon 8cx processor, albeit they'll almost certainly be quite expensive, and hoping for more mobile to desktop convergence news now that some smartphones have some ridiculous amount of RAM, and software support for desktop modes on mobile devices further improves.
2019 should be an interesting year for wireless standard, as I'd expect Bluetooth 5 and WiFi 802.11ax (WiFi 6) to become more common, and we'll also see the launch of WiFi 802.11ay products and the first deployments of the highly anticipated 5G networks.
I'll conclude with a family photo to wish everybody a prosperous, healthy, and happy new year 2019!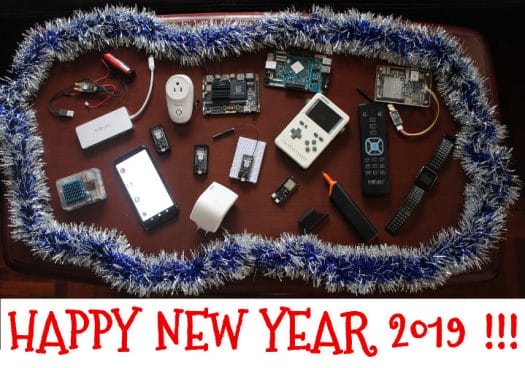 Jean-Luc started CNX Software in 2010 as a part-time endeavor, before quitting his job as a software engineering manager, and starting to write daily news, and reviews full time later in 2011.