Four years ago, we wrote about PragmatIC's ultrathin and flexible plastic electronics circuit, with news that an ultra-cheap ARM Cortex M0 MCU made of plastic materials was coming soon.
In this case, "soon" means about four years, but Arm has now finally announced PlasticArm, an ultra-minimalist, fully functional Cortex-M0-based SoC, with 128 bytes of RAM and 456 bytes of ROM that, with 18,000 gates, is twelve times more complex than previous state-of-the-art flexible electronics.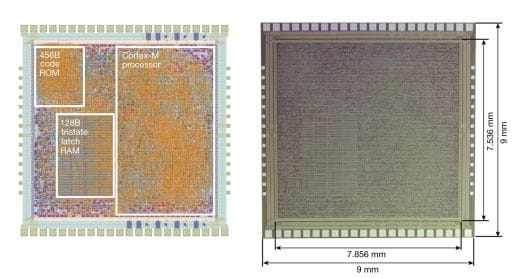 PlasticArm specifications are similar to a standard Cortex-M0+ core with some notable exceptions:
Cortex-M core in PlasticARM
ARMv6-M architecture
ISA – 16-bit Thunb and subset of 32-bit Thumb
32-bit data access and address width
86 instructions
2-stage pipeline
Architectural register file mapped to RAM external to the CPU (instead of inside the CPU)
Runs code from other Cortex-M CPUs
0.8-μm process
There are two main advantages of PlasticArm. First, It's flexible and integrated into paper, plastic, or metal foil substrates. It's also much cheaper to mass-produce with Arm saying it would cost less than 1/10th the cost of silicon in 2017. That means ultra-low-cost PlasticArm microcontrollers would become commercially viable in new use cases include flexible smart sensors, smart labels, and intelligent packaging. Arm especially sees great potential in the healthcare sector and for the reduction of food waste.
The manufacturing process and other details are explained in a white paper in Nature magazine:
PlasticARM is fabricated using a commercial 'fab-in-a-box' manufacturing line, FlexLogIC, and its die micrograph is shown in Fig. 1d. The process uses an n-type metal-oxide TFT technology based on indium−gallium−zinc oxide (IGZO) and generates the FlexIC design on a 200-mm-diameter polyimide wafer. The IGZO TFT circuits are made using conventional semiconductor processing equipment adapted and configured to produce devices on a flexible (polyimide) substrate with a thickness of less than 30 μm. They have a channel length of 0.8 μm, and a minimum supply voltage of 3 V.
Three test programs have been run successfully on the microcontroller tot test all features and instructions. Each program was pre-programmed/hardwired into the ROM before fabrication, and compiled with the standard armcc compiler using the CPU flag set to 'cortex-m0plus'. That means at this stage the ROM is really "read-only memory", and programmable once, but eventually, programmable ROM may become available. It's also really slow at this time, as the paper reads PlasticARM is fully functional up to 29 kHz at 3V and 40 kHz at 4.5V.
We probably still have a few years before us because flexible Arm microcontrollers become available as more research is needed to lower power consumption and improve the solution as a whole.
Via Twitter.

Jean-Luc started CNX Software in 2010 as a part-time endeavor, before quitting his job as a software engineering manager, and starting to write daily news, and reviews full time later in 2011.