With the Star64 and VisionFive 2 single board computers, we've already got two hardware platforms based on the StarFive JH7110 quad-core RISC-V processor, but somehow we did not get the detailed specifications of the new processor, and some details such as the presence of AI accelerators or exact PCIe specifications were lacking.
Some documentation for the StarFive JH7110 processor has been released and answers some of those questions. It's actually an SoC with six RISC-V cores, of which four 64-bit RISC-V cores run the main OS, plus a 64-bit RISC-V monitoring core, and a 32-bit RISC-V real-time core. The AI accelerators found in the JH7100 (Neural Network Engine and NVDLA) appear to be gone for good, and there are two 1-lane PCIe 2.0 interfaces up to 5 Gbps each.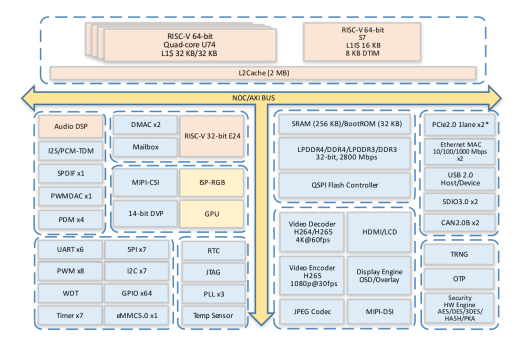 StarFive JH7110 specifications:
CPU sub-system

Quad-core 64-bit RISC-V SiFive U74 (RV64GC) processor @ up to 1.5 GHz with 32KB D-Cache, 32KB I-cache
Single-core 64-bit RISC-V SiFive S7 (RV64IMAC) monitor core with 16KB I-cache, 8KB DTIM
Single-core 32-bit RISC-V SiFive E24 (RV32IMFC) real-time control core with 16KB I-cache
Up to 2MB L2 cache

GPU – Imagination BXE-4-32 GPU with support for OpenCL 1.2, OpenGL ES 3.2, Vulkan 1.2
Video Decoder – H.265, H.264 4K @ 60fps or 1080p @ 30fps, MJPEG
Video Encoder – H.265/HEVC Encoder, 1080p @ 30fps
Memory

BUS RAM up to 256KB
Up to 8GB DDR4/3, LPDDR4/3 at 2133/2800 Mbps

Storage

2x SDIO/eMMC 5.0 host controllers
QSPI controller for up to 16MB SPI flash, up to 2GB SPI NAND flash

Display interfaces

1x HDMI 2.0 up to 4Kp30
RGB656, RGB888 up to 1080p30
MIPI DSI up to 2.5 Gbps or 1080p30
1x DPI (Parallel RGB Display)

Camera interfaces

1x MIPI CSI-2 interface up to 6 lanes of 1.5 Gbps; support for 1x 4D1C or 2x 2D1C MIPI sensors up to 4Kp30
1x DVP sensor input interface

Audio

32-bit audio DSP used for traditional audio/voice data algorithm processing
8-channel TX and RX I2S/PCM TDM
4x sets of I2S/PCM I/F with DMA support
2x sets of SPDIF I/F, RX and TX modes
4-channel PDM input for digital MIC
DAC output with PWM interface

Networking – 2x Gigabit Ethernet with RMII/RGMII
USB – USB 3.0 host/device (multiple with one PCIe interface), USB 2.0 host/device
PCIe – 2x PCIe 2.0 x1 up to 5 Gbps per lane (Note one of the PCIe 2.0 interface is multiplexed with USB 3.0)
Other peripherals

6x UART, 7x I2C, 7x SPI
2x CAN 2.0B Bus up to 1 Mbps
7x 32-bit timers, 1x 32-bit WDT reset output
1x temperature sensor
3x GPCLK outputs
2x INTC
8x PWM outputs
64x GPIO

Security

Encryption: AES; DES/3DES; HASH; PKA
Compliant with TRNG
256-bit random number generation
512 x 32-bit (2 KB) of OTP for key data on-die storage

Clock sources

24 MHz for USB, GMAC, and system main clock source
32.768 kHz for RTC clock source

Voltages

0.9V core voltage
1.8V/2.5V/3.3V I/O voltage

Boot modes

Boot Rom
QSPI NOR/NAND Flash
SD card/eMMC
UART/USB/SD card update

Package – 17 x 17 mm, 0.65 mm ball pitch, FCBGA package with 625 balls
Supported operating systems include Linux, VxWorks, and other RTOS.
Target applications for the StarFive JH7110 processor include single board computers, home NAS, routers with software routing, Smart Home appliances, industrial robots, drones, and video surveillance applications. The documentation website comes with a product brief and a datasheet, and a hardware design reference plus a software developer guide are also in the works.

Jean-Luc started CNX Software in 2010 as a part-time endeavor, before quitting his job as a software engineering manager, and starting to write daily news, and reviews full time later in 2011.