Amlogic S928X Cortex-A76/A55 will soon power some 8K TV boxes running Android TV from SDMC and others, and we now have detailed specifications as a "Quick Reference Manual" dropped in my inbox last night.
While like most Amlogic processors, the S928X is designed for TV boxes, the penta-core SoC may end up in affordable yet powerful single board computers with features such as HDMI 2.1a, Gigabit Ethernet, PCIe 2.0 or USB 3.0.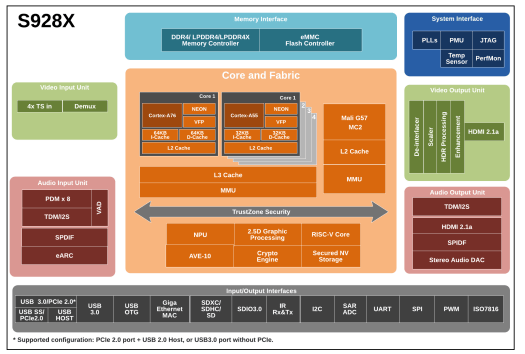 Amlogic S928X specifications:
CPU sub-system

1x Arm Cortex-A76 core and 4x Arm Cortex-A55 cores in big.LITTLE configuration
NEON and Crypto extensions
Private L2 cache and unified system L3 cache
Build-in RISC-V core for system control processing

GPUs

Arm Mali-G57 MC2 3D GPU with support for OpenGL ES 3.2, Vulkan 1.2, and OpenCL 2.0
2.5D graphics processor for scaling, alpha, rotation, and color space conversion operations

VPU

Amlogic Video Engine (AVE) with dedicated hardware decoders and encoders
Decoding

AV1 MP-10 @ L6.1 up to 8Kp60
VP9 Profile-2 @ 6.1 up to 8Kp60
H.265 HEVC MP-10 @ L6.1 up to 8Kp60
AVS3 Phase 1 up to 8Kp60
AVS2-P2 Profile up to 8Kp60
H.264 AVC HP @ L5.2 up to 4Kp60
MPEG-4, WMV/VC-1, AVS, MPEG-2, MPEG-1 up to 1080p60
MJPEG and JPEG unlimited pixel resolution decoding (ISO/IEC-10918)
Support multi-video decoder up to 4x 4Kp60

Encoding

JPEG image encoding up to 4Kp60
H.265 video encoding up to 4Kp60 with low latency
H.264 video encoding up to 4Kp60 with low latency

8th Generation Advanced Amlogic TruLife Image Engine with support for Dolby Vision (optional), HDR10+, HDR10, HLG, and HDR Vivid processing

AI accelerator – Up to 3.2 TOPS Neural Network Accelerator (NNA) with Tensor Processing Unit (TPU) architecture, supports TensorFlow and Caffe
Memory and Storage Interface

Up to 8GB RAM DDR4-3200/LPDDR4/4X-4266 SDRAM
SDSC/SDHC/SDXC card and SDIO interface with 1-bit and 4-bit data bus width supporting spec version 2.x/3.x/4.x DS/HS modes up to UHS-I SDR104
eMMC and MMC card interface with 1/4/8-bit data bus width fully supporting spec version 5.1 HS400 with HW CQ

Video Output – HDMI 2.1a transmitter including both controller and PHY supporting CEC, Dynamic HDR, and HDCP 2.2/2.3, up to 8Kp60 max resolution output with support for eARC, VRR, QMS, QFT, ALLM, DSC & SBTM (Source-Based Tone Mapping)
Audio

Support for MP3, AAC, WMA, RM, FLAC, Ogg Vorbis, Opus, SRS Truvolume, Dolby Audio (optional), DTS (optional), and programmable with 7.1/5.1 down-mixing
Low-power VAD
Built-in SPDIF input/output up to 192KHz 16/24/32bit stereo
3x built-in TDM/PCM/I2S ports with TDM/PCM mode up to 48kHz x 32bits x 32ch or 192kHz x 16bits x 16ch and I2S mode up to 384kHz x 32bits x 16ch
Digital microphone PDM input with programmable CIC, LPF, HPF, support up to 8 DMICs
Built-in stereo audio DAC

Digital Television Interface

4x serial transport stream (TS) or 2x serial and 1x parallel TS input interface with built-in demux processor for connecting to external digital TV tuner/demodulator
Built-in PWM, I2C, and SPI interfaces to control tuner and demodulator
Integrated ISO 7816 smart card controller
Integrated I/O Controllers and Interfaces

Networking

Integrated IEEE 802.3 10/100/1000M Ethernet MAC with RGMII interface
WiFi and Bluetooth via PCIe/SDIO/USB/UART/PCM
Network interface optimized for mixed WIFI and BT traffic

USB  –  1x USB XHCI OTG 2.0, 2x USB 2.0 host, 1x USB 3.0 (5 Gbps) multiplexed with PCIe 2.0
PCIe –  1x PCIE 2.0 up to 5Gbps (multiplexed with USB 3.0)
Other peripherals

Multiple PWM, UART, I2C, and SPI interfaces with slave select
Programmable IR remote input/output controllers
10-bit SAR ADC with 4 input channels
GPIOs

Misc

General-purpose timers, counters, DMA controllers
24 MHz crystal input
Embedded debug interface using ICE/JTAG
Integrated Power On Reset(POR) module

Security

Trustzone-based Trusted Execution Environment (TEE)
Secure boot
Crypto Engine

AES/block cipher with 128/256-bit keys, standard 16 bytes block size and streaming ECB, CBC, and CTR modes
TDES block cipher with ECB and CBC modes supporting 64-bit keys for DES and 192-bit keys for 3DES.
SM4 block cipher with ECB, CBC, CTR modes
RSA block cipher with 4K-bit keys
Hardware crypto key-ladder operation and for transport stream encryption
Built-in hardware True Random Number Generator (TRNG), CRC, and SHA-1/SHA-2/HMAC SHA engine
Hardware ECC
TS descrambler/scrambler and TS demux

Built-in 4k bits One-Time-Programming memory for key storage
Pre-region/ID memory security control and electric fence
Hardware-based Trusted Video Path (TVP), video watermarking, and secured contents (needs SecureOS software)
Secured IO and secured clock

Package – 17 x 16 mm, FCBGA
The block diagram is a little confusing with regard to USB 3.0, and the rest of the document makes it clear it's either USB 3.0 or PCIe 2.1, and there's no extra dedicated USB 3.0 port. The Amlogic S928X processor also has IP blocks for artificial intelligence and machine learning with a 3.2 TOPS and a VAD. It won't be suitable for smart displays though since the only video output interface shown in the document is the HDMI 2.1 port, and there isn't any camera port either.
As far as software support is concerned, we are just told about a standard development environment utilizing a GNU/GCC Android toolchain, but we already know S928X will support Android 13 from the previous announcements. It does not look like Linux will be supported, at least not by Amlogic themselves, since it's not the target market. For some specific use cases, It could still be a potential Rockchip RK3566 competitor with fewer interfaces, but an additional big Cortex-A76 core, 8K support, and a faster AI accelerator.

Jean-Luc started CNX Software in 2010 as a part-time endeavor, before quitting his job as a software engineering manager, and starting to write daily news, and reviews full time later in 2011.