QC802 is one of the cheapest RK3188 mini PCs available on the market, as it sells for just $76 on Kimdecent aliexpress store ($73 after you get an Aliexpress coupon). AndroidPC.es got one sample, and posted a review in Spanish. I'll post a summary in English of this review, but first let's have quick look at the specs:
SoC – Rockchip RK3188 quad core Cortex A9 @ 1.6 Ghz + Mali-400MP4 GPU
System Memory – 2GB DDR3
Storage – 8 GB internal flash + micro SD slot (up to 32GB)
Connectivity – Wi-Fi 802.11 b/g/n + Bluetooth 2.1
Video Output – HDMI (male)
USB – 1x USB Host 2.0, 2x micro USB ports including one for power, one USB Host (or OTG?)
So the specs are comparable to other devices.
QC802 Unboxing Pictures
The package contains the device itself, a 5V/2Apower supply, an HDMI cable, a micro USB to USB cable for power, a micro USB to USB adapter and a user manual.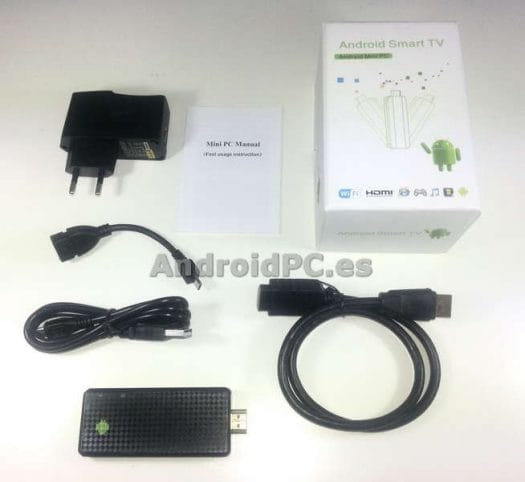 There's also an unboxing video.
The picture of the device shows the 2 microUSB ports, the microSD slot, the full USB port, and HDMI output. They also mention there's a recovery button to reflash the firmware in case of issue.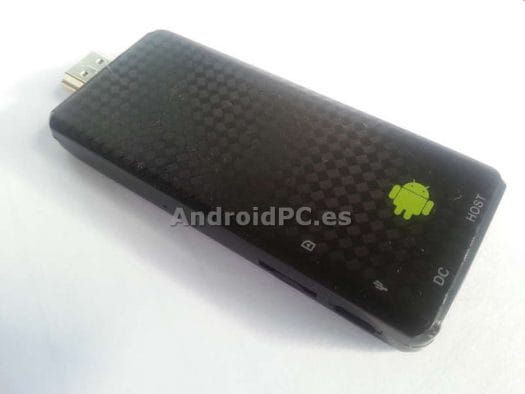 First Boot and First Impressions
After connecting your input devices to the USB posts, the device to your TV's HDMI port, and connected the power adapter, you should see a standard Android Home Screen after a few seconds.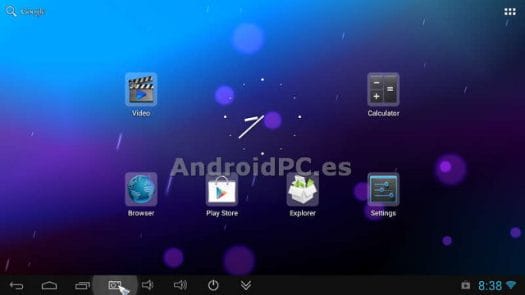 Volume -/+, power, and full screen icons are all available in the status bar, so that's a positive. AndroidPC.es guys mentioned that the power button will actually fully turn off your device, and not only the display signal.
Looking into the settings menu, the device runs Android 4.1.1 on top of Linux kernel 3.0.36+, but Android 4.2 firmware is expected soon. Out of the 8GB NAND flash, 1GB is reserved for apps, and the rest of data.
They found Google Play to work well on the device, and only failed to install one app called Mitele (incompatible device), a Spanish video-on-demand service.
The device is not rooted, but apparently you can do that by downloading a Windows program called ZhuoDaShi-2.2.17. I'd assume standard RK3188 root procedure may also work.
Wi-Fi and Bluetooth Tests
QC802 uses Realtek RTL8188EUS, and features an internal antenna fixed to the casing. Performance was found to be pretty good, but there was some disconnections from time to time, but apparently the issue could be fixed with an app called Wifi Fixer to make sure the connection is always active.
They also tested Bluetooth with Bluetooth File Transfer app, and found no issues transfer between their smartphone and the device in either direction.
Benchmarks
They ran Antutu, Nenamark 2, Vellamo and Epic Citadel benchmarks on the device.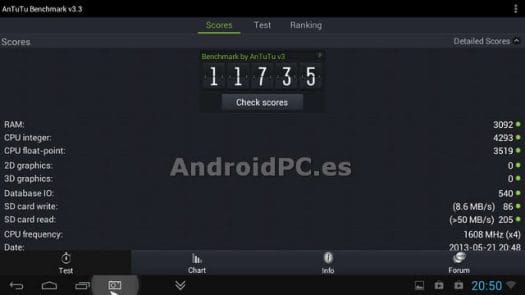 The Antutu score (11,735) is quite lower than other RK3188 mini PCs I've used which normally achieve close to 15,000 with the stock ROM (e.g. MK908), and around 17,000 with custom ROMs. However, a closer look at the score shows 0 points for 2D and 3D tests so something clearly went wrong with this benchmark. The CPU and RAM scores are about the same as MK809 and T428.
Other benchmarks provide expected results: Nenamark 2 renders at 60.0 fps (the maximum achievable), Vellamo 1500 (HTML5) / 548 (Metal), and the device gets 4,053 pts in 3Dmark.
Video Playback

Video tested (from samplemedia.linaro.org) could all play:

H.264 codec / MP4 container (Big Buck Bunny), 720p/1080p – Audio/Video OK
MPEG2 codec / MPG container, 720p/1080p – Audio/Video OK
MPEG4 codec, AVI container 720p/1080p – Audio/Video OK
VC1 codec (WMV), 720p/1080p – Audio/Video OK
Real Media (RMVB) 720p RV8/RV9/RV10 – Video OK (No audio in test files)
WebM 480p/720p/1080p – Audio/Video OK.
They could also play Bluray video at about 10Mbps and 20 Mbps, as well as a MOV file @ 14 Mbps from a USB mass storage device. However, I don't know the storage source (network, USB, or flash).
They also streamed flash videos from the Android web browser smoothly.
Conclusions
Pros:

Price
2GB RAM improve fluidity between apps. (cnxsoft: One of the main advantage of having 2GB RAM over 1GB RAM to me, is that you can switch from one application to the other without have to fear Android will kill your app. This is especially true for games).
RK3188 performance makes everything very responsive.
Good performance of the GPU.
Cons:
The firmware still needs adjustment, and an update will be available soon.
The wifi signal enters low power mode when not in use.

Jean-Luc started CNX Software in 2010 as a part-time endeavor, before quitting his job as a software engineering manager, and starting to write daily news, and reviews full time later in 2011.