Zidoo X5 is TV box running Android 5.1 powered by Amlogic S905 processor like so many competing products on the market. I've already listed the full specs and taken pictures of the Zidoo X5 case and hardware, so today we'll see how the device performs against the many Amlogic S905 mini PCs I've reviewed so far, and if it fixes some common bugs.
First Boot and First Impressions
Before starting the media player I've connected all cables and made sure to fill the two USB ports with a bunch of peripherals including a 1TB hard drive, keyboard, webcam, and so on. There's no power button, and the device boots immediately once you connect it to the mains, with a standard boot time being around 40 seconds.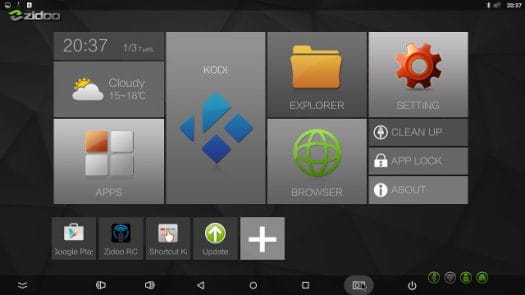 The company has used the exact same Zidoo launcher as in their X6 Pro TV box, however they've decided to use a 1280×720 framebuffer, instead of 1920×1080 framebuffer all other S905 devices I tested. I did not actually noticed it until I check the screenshot in my computer.
The settings are exactly the same as on MINIX MX, so I invite you to check MINIX MX review if you want to find more details about the settings.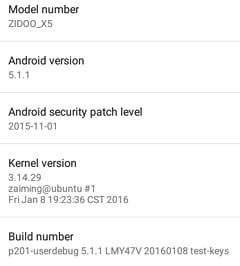 If we have a look at the About section, we'll see that ZIDOO_X5 uses the same Android 5.1.1 + Linux 3.14.29 version as others, which is rather normal since all device are based on Amlogic SDK. The firmware is NOT rooted, and OTA firmware update should work, but I did not get the chance to test it since I already have the latest version "v1.0.9".
Zidoo has also taken the good habit of providing a unified partition in their firmware so you don't get out of space when trying to install apps, and there's still a few GB available. The partition is 4.76 GB large, and there was 3.35 GB available once the review was completed with dozen of apps, and several large files.
The company did not fix the HDMI issues such as the video output resolution reverting back to 1080p50, even if automatic selection is off and I have manually set it to 4K 60Hz. The box did not support Onkyo TX-NR636 for HDMI-CEC, with "This remote device does not support CEC" message showing up again, but I have the same problem for all Amlogic S905 TV boxes. If you plan to use 4K video output with a mouse or air mouse, the mouse pointer is very tiny, and I lost track of it several times during use, and I'm only about 1 to 1.5 meters from the screen, so if you sit 3 to 4 meters away in your sofa it could be a challenge…
The first time I logged in to Google Play, I had a white background for a while, before getting back to the launcher. The second time and thereafter however, everything worked pretty well, and I could install all apps for testing. I also decided to install Riptide GP2 through Amazon Underground while Google Play was installing the dozen apps I requested, and that was a mistake, as the system was barely usable, with Amazon Underground exiting frequently, it was impossible to input text, but finally I managed. That means that the device will become sluggish during write operating as they have used a low-end flash.
The remote control is working fairly well, and up to 10 meters where it started to miss a few key presses.The IR learning function also worked for me, just like with Zidoo X6 Pro, where I could record my TV remote control power and volume buttons.
Something funny also happened after a while, as ES File Explorer would always autostart when booting the device. I found an option to automatically start apps in the list of apps, and made sure it was disabled, but ES File Explorer still keeps on loading at boot time.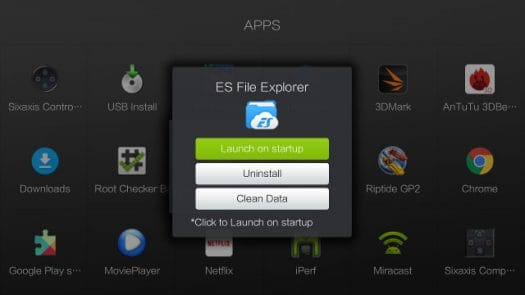 One thing I'm really happy about is power control with four options available: Power off, Standby, Reboot, and Auto power off. The last schedules power off or standby mode between 30 minutes and 48 hours in 30 minutes increments. Power consumption numbers are also very good:
Power off – 0 Watt
Standby – 0.4 Watt
Idle – 2.1 ~ 2.4 Watts
Power off + HDD – 0 Watt
Standby + HDD – 0.4 Watt
Idle + HDD – 4.3 ~ 5.24 Watts
Many devices still consume about 1 watt in power off or standby mode, so Zidoo X5 will save a few kilowatts per year.
Temperature is also under control, and cooling seems adequate as after 15 minutes playing Riptide GP2 the game was still smooth, and maximum temperatures on the top and bottom covers of the device were respectively 47 and 54 C as measured with an IR thermometer.
Overall I found the firmware to have similar issues as G9C with the firmware rather stable most of the time, but becoming almost unusable when there are many write operations such as when installing apps, with slowdowns, and apps frequently exiting. The tiny mouse pointer when resolution is set to 3840×2160 also made me feel like the company possibly never or seldom tested 4K…
Video Playback with ZDMC (Kodi) 15.3 and MoviePlayer
Zidoo has their own port of Kodi which they call ZDMC, which would be the right thing to do to respect Kodi's trademark, however the device's package still feature Kodi, and the app itself is called Kodi, and the company gave it the name Kodi 15.3.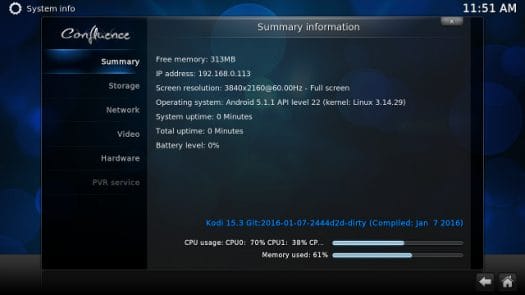 I've played all samples from a SAMBA share over a Fast Ethernet connection, unless otherwise stated. I enabled automatic frame rate switching both in the Android settings (Play back settings->HDMI self-adaption) and Kodi/ZDMC settings (Video->Playback->Adjust display refresh rate: On start / stop).
It started pretty well with some 720p/1080p video samples from Linaro media library:
H.264 codec / MP4 container (Big Buck Bunny) – 1080p – OK
MPEG2 codec / MPG container – 1080p – OK
MPEG4 codec, AVI container 1080p – OK
VC1 codec (WMV) – 1080p – OK
Real Media (RMVB), 720p / 5Mbps – Black screen
WebM / VP8 – OK
H.265 codec / MPEG TS container (1080p) – OK
WebM / VP9 (no audio in video) – OK
RMVB is normally handled by software, so it's a little odd that we got a black screen here.
Th next step was to test HDMI audio-passthrough, by setting "Digital sounds" to HDMI in Android settings, and adjusting Kodi's parameters for Onkyo TX-NR636 A/V receiver.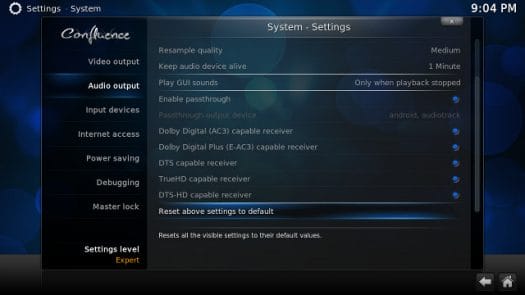 The player does however has some shortcomings despite the proper options for TrueHD and DTS-HD:
AC3 / Dolby Digital 5.1 – OK
E-AC-3 / Dolby Digital+ 5.1 – OK
Dolby Digital+ 7.1 – No audio with E-AC3 enabled in Kodi; Dolby Digital 5.1 with E-AC3 disabled
TrueHD 5.1 – OK
TrueHD 7.1 – Properly detected (TrueHD 7.1), but I could hear short audio cuts 2 or 3 times
Dolby Atmos 7.1 – TrueHD 7.1
DTS HD Master – OK
DTS HD High Resolution – OK
DTS:X – DTS HD MA (my A/V receiver does not support it, so it's the best to expect).
Overall it's pretty good, but audio is something that needs to work 100% perfectly or it's really annoying. It's quite possible Zidoo's implementation works very well with other AV receiver, or I was unlucky with some of my test files.
Sadly, things got pretty bad when I started to play 4K videos:
Beauty_3840x2160_120fps_420_8bit_HEVC_MP4.mp4 (H.265) – OK
HD.Club-4K-Chimei-inn-60mbps.mp4 – OK

big_buck_bunny_4k_H264_30fps.mp4 – Plays 1 or 2 seconds, then Kodi exits
Samsung_UHD_Dubai_10-bit_HEVC_51.4Mbps.ts (10-bit HEVC / MPEG-4 AAC) – Kodi exits

BT.2020.20140602.ts

(

Rec.2020

compliant video) – Kodi exits
Fifa_WorldCup2014_Uruguay-Colombia_4K-x265.mp4 (4K, H.265, 60 fps) – OK
I've tried again to play 1080p video, and I had the same problem, so I tried to clear the cache, but it did not help. Even rebooting did not always fix things up, and I tried to disabled audio pass-through just it case, but no luck, and I finally gave up on Kodi.
So instead I decided to use the company's Explorer app to browse files on SAMBA, and while it found my server and shares, it would not let me enter my credentials. There's also an option to add a server manually with username and password, but the app would say "the server already exists".
So I reverted to play 4K videos from a USB hard drive launching MoviePlayer app from Explorer:
Beauty_3840x2160_120fps_420_8bit_HEVC_MP4.mp4 (H.265) – OK
Bosphorus_3840x2160_120fps_420_8bit_HEVC_MP4.mp4 (H.265) – OK
Jockey_3840x2160_120fps_420_8bit_HEVC_TS.ts (H.265) – OK
HD.Club-4K-Chimei-inn-60mbps.mp4 – OK

sintel-2010-4k.mkv – Video OK but not audio
phfx_4KHD_VP9TestFootage.webm – 3 to 4 fps per second

BT.2020.20140602.ts

(Rec.2020 compliant video) – OK most of the time, but I noticed short audio cuts once or twice
big_buck_bunny_4k_H264_30fps.mp4 – OK
big_buck_bunny_4k_H264_60fps.mp4 – Slow motion and large audio delay (Not supported by S905)
Fifa_WorldCup2014_Uruguay-Colombia_4K-x265.mp4 (4K, H.265, 60 fps) – Video OK but not audio
Samsung_UHD_Dubai_10-bit_HEVC_51.4Mbps.ts (10-bit HEVC / MPEG-4 AAC) – OK
Astra-11479_V_22000-Canal+ UHD Demo 42.6 Mbps

bitrate.ts

(10-bit H.265 from DVB-S2 stream) – OK, except the video will freeze on a specific scene for a few seconds (It's mostly likely related to a VPU silicon bug affecting Amlogic S905 processor before Revision C)
暗流涌动-4K.mp4 (10-bit H.264) – "Unsupported"
So overall it's not too bad, and the lack of DTS and Dolby license on Amlogic S905 vs S905-H explains why some videos do not have audio. Kodi handle downsampling to stereo audio by software, so if you are a Kodi user, and Zidoo fixed the "exit bug" it would not be an issue for you.
Finally, I went back to Kodi to play a 2-hour 1080p H.264 video over Ethernet, and it went without issues.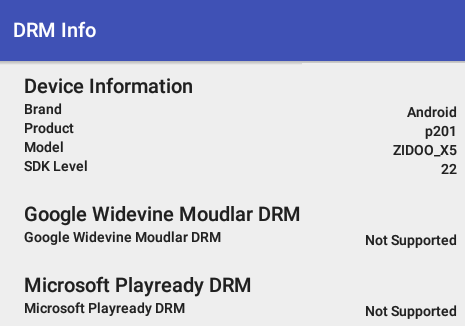 DRM Info reports both Widewine and Playready DRM are completely missing.
If you want to get the videos samples I use for my reviews, you can download them from my video samples page and especially its comments' section.
WiFi performance
I usually transfer a 278MB file a network (SAMBA) share and the internal flash several times and in both directions in ES File Explorer to have an idea about WiFi performance, but at first I had a stable but incredibly slow connection…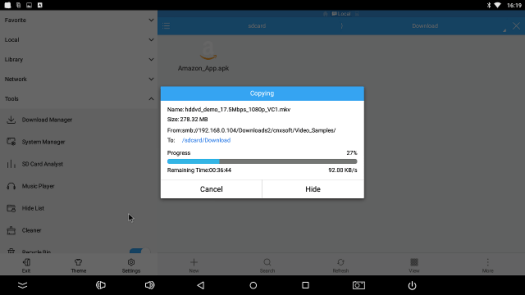 Usually it would take one to three minutes, but with Zidoo X5 the transfer rate was pretty constant at around 100 KB/s, and it would have taken about 45 minutes to complete… I tried another access point, but I had the same results. So I checked the signal strength in case the antenna was physically disconnected, but everything looked very good.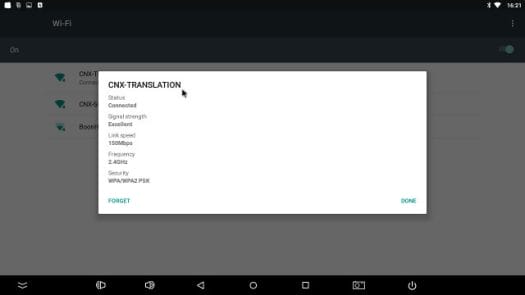 I did a final check switching back to Ethernet to find out if there was an issue with my setup, but the transfer was quite fast at 8 MB/s.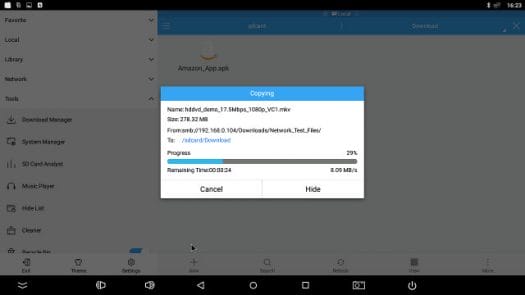 So it looked like there was a serious issue with Zidoo X5's WiFi. But this morning before publishing this review, I tried again, and the problem has gone away, with an average transfer speed of 3.6 MB/s making the device one of the best for 802.11n WiFi.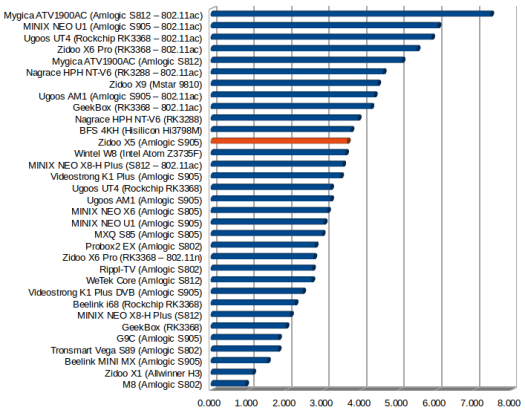 Storage
When I asked whether I should wait for a new firmware, the company told me " We have no plan to update the firmware for now. The firmware running on x5 is stable and robust.", so I was expecting them to have finally fixed the "10 MB bug" for USB storage devices incorrectly reporting 10MB free space, and that I first reported last August on ATV1900AC device but I was clearly too optimistic…
| | | |
| --- | --- | --- |
| File System | Read | Write |
| NTFS | OK | No (10 MB free space) |
| EXT-4 | Not mounted | Not mounted |
| exFAT | OK | No (10 MB free space) |
| BTRFS | Not mounted | Not mounted |
| FAT32 | OK | OK |
All file systems are located on different partition of a USB hard drive, except FAT32 located on a micro SD card.
The internal storage has a good read speed of around 50 MB/s, but write speed is a little on the low side averaging around 9 MB/s, but during my testing it went between 6 and 11 MB/s, and that probably explains the slowdowns when installing apps in the background.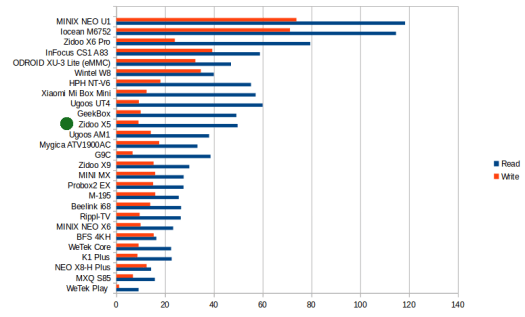 Gaming Performance & Stability
You'd think all device with the same processor should have about the same performance when it comes to 3D graphics, but with Amlogic S905 products I've seen some wide variation in terms of performance likely due to the graphics drivers used, and performance degradation over time due to the system overheating, and the processor and/or GPU throttling (reducing their operating frequency) to stay within a safe temperature range.
Zidoo X5 is doing a pretty good job, at least with Riptide GP2. The default graphics settings were automatically set to maximum "resolution", the game was smooth, and performance constant over time (15+ minutes). There's however an explanation for this. As mentioned above the framebuffer resolution is set to 1280×720 instead of 1920×1080 for competing products, and one of the advantage is that the 3D games will play at a higher framerate and be more responsive.
Zidoo X5 Benchmarks
CPU-Z shows the model was ZIDOO_X5 with p201 board. The latter can be useful information for people who like to try alternative "ROMs". Total RAM is 807MB as the rest if used for the GPU and VPU, and screen resolution is confirmed to be 1280×720.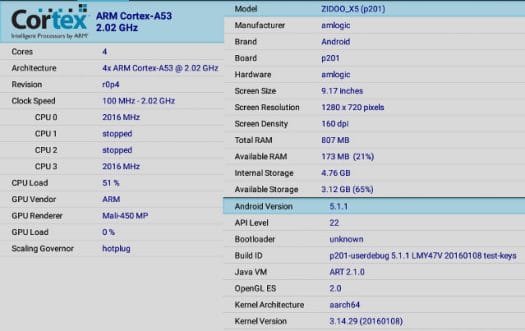 The device achieved 35,742 points in Antutu 6.0.1 benchmark, which is comparable to other Amlogic S905 devices (35,000 to 38,000 points), but I was expecting slightly higher 3D graphics score due to the lower resolution.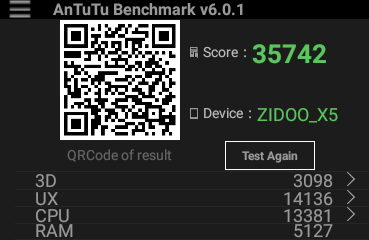 Conclusion
Zidoo X5 might have some potential, but 3 months after the first Amlogic S905 devices were launched, I was expecting fewer issues.
PROS
Recent Android 5.1 OS firmware
Video Output – HDMI 2.0 up to 2160p 60Hz; 24/25/30/50/60 Hz refresh rates supported
Close to perfect power handling (On. standby, reboot, schedule off) with low power consumption in power off (0 watt) and standby mode (0.4 watts)
Performance is good and stable over time (no noticeable throttling)
3D games are very smooth (due to 1280×720 resolution)
Kodi/ZDMC – Dolby 7.1, and DTS HD audio pass-through is working (most of the time) as is automatic frame rate switching.
4K video playback in MoviePlayer app
Some small extra features: autostart app, scheduled power off, …
10/100M Ethernet performance is solid.
OTA firmware update
CONS
Kodi/ZDMC is not very stable, as the app would often exit by itself, especially when playing 4K videos, and audio pass-through may have audio cuts in some files.
10 MB free space bug on some USB device is still not fixed, resulting in some USB drives being read-only.
HDMI will often revert to 1080p50 when booting, even if you've selected another resolution and refresh rate, and disabled automatic selection.
Some slowdowns due to slow write speed of the eMMC flash, especially noticeable when installing apps in the background
Complete lack of DRM support
No Dolby and DTS licenses, which can be an issue if you don't use Kodi.
Irregular WiFi performance – Very good at times, and very slow (100 KB/s) at other times.
Mouser pointer to small to be usable when 2160p video output is selected
Framebuffer resolution set to only 720p
I got the sample directly from Zidoo, and if you are interested in purchasing the device in quantities, you can contact the company via Zidoo X5 product page. If you only need one or a few samples, it can be bought for $59 on GeekBuying and Banggood, as well as Amazon US ($79), and some other e-retailers.

Jean-Luc started CNX Software in 2010 as a part-time endeavor, before quitting his job as a software engineering manager, and starting to write daily news, and reviews full time later in 2011.