Beelink MINI MX Amlogic S905 Android media player has similar features, and costs about the same as K1 Plus TV box I reviewed last week, so it would be interesting to compare both. While specifications are similar there are some differences. For example, MINI MX lacks AV output, and only features two USB ports against four for K1 Plus, but it supports Gigabit Ethernet which could be an advantage while playing high bitrate 4K videos, as well a Bluetooth 4.0. I've already provided pictures and torn down MINI MX, so today is time for the full review and a comparison with K1 plus.
First Boot, Settings and First Impressions
I connected my USB 3.0 hard drive to one of the USB port, and a USB hub to tghe other port with a USB webcam, a USB keyboard, and two RF dongles for a gamepad and an air mouse. I also inserted the usual HDMI, optical audio and Ethernet cables, and connected the 5V/3A power supply. The boot usually takes a little over 50 seconds, only a little slower than K1 Plus (48 seconds).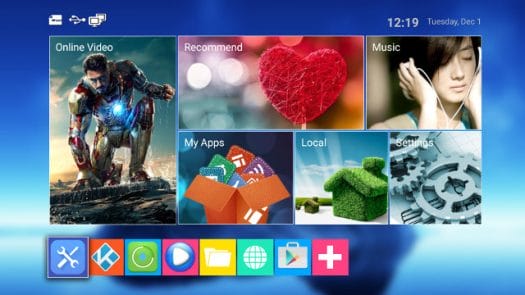 I think I've seen this launcher before, although don't quite remember on which device exactly. It includes 6 large icons, with 4 of those (Online Video, Recommend, Music, and Local) being some folders for apps, and My Apps providing access to all installed app, and Settings to the usual Amlogic settings app. There are also customizable shortcuts on the bottom of the screen, and status icons and date & time on the top.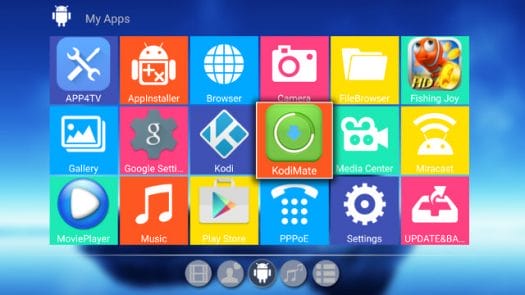 The list of pre-installed app is pretty standard, except APP4TV app linking to some streaming apps like Netflix or Hulu, and KodiMate which will install some add-ons for Kodi. More on this latter.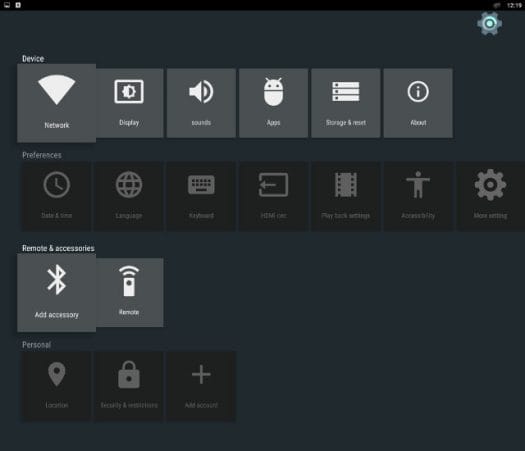 The settings app is exactly the same as on K1 Plus, except for the add accessory option to add Bluetooth devices. Apart from that, the list of the main options remain the same:
Network – WiFi, Ethernet, and VPN configuration
Display

Screen resolution: Auto, 480p-60Hz, 576p-50Hz, 720p 50/60Hz, 1080i 50/60Hz, 1080p 24/50/60Hz, 4K2K 24/25/30/50/60Hz or SMPTE
Screen position
Screen rotation (middle port, force land, original)

Sound – System sound (On/Off), and Digital sounds (Auto detection, PCM, HDMI or SPDIF)
Preferences – HDMI CEC (But not working: "This remote device does not support CEC"), and Play back settings with "HDMI self-adaption" On/Off.
Remote & accessories – Add accessories for Bluetooth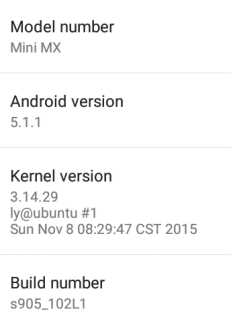 WiFi, Ethernet and Bluetooth all worked OK, and I could set video output to 4k2k 60Hz. However, the same problem (as in K1 Plus) occur, with the video output sometimes falling back to 1080p50.
More Settings will lead you to Android 5.x Android settings with all standard options including Bluetooth, Printing, Language & input, etc… The internal storage is comprised of a unified partition (wrongly reported as being 8GB large), and with around 4.25GB free space, just like one KI Plus
Going int to "About Mediabox" section shows MINI MX "model number" running Android 5.1.1 on top of Linux kernel 3.14.29, and the firmware build was s905_102L1. You can also go to a System update menu in this section, and the good news is that it's working, and I got the firmware updated to s905_103L1, while NOT getting my data and apps wiped out. But unfortunately it was only released after I finished testing, so I did not test Dec 4 firmware in details. Nevertheless that's a big plus against K1 Plus here. The firmware is also rooted by default.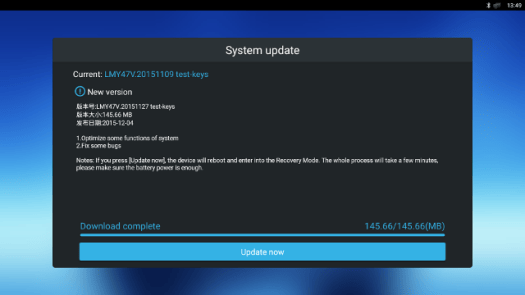 I could use the provided infrared remote control up to 10 meters, but it's quite directional, so you have to make sure you point it to the device, especially once you start getting over 5 meters away. There's no IR learning function in this remote, and HDMI-CEC is not working either. I did not use the remote control very long, and fully switch to MeLE F10 Deluxe for the rest of the review, especially since the status bar can be shown and hidden easily.
I could install most apps required for the review from the Google Play Store, except Antutu Video Tester, which I normally side-load anyway. Applications that require telephony / SMS, GPS or limited to specific country can't be installed, and that's fine. I also installed Riptide GP2 from Amazon Underground since I got it for free over there.
If you want to see some details about the settings I did not cover here, you can watch the user interface walk-though video.
The device can be cleanly powered on and off with the remote control. Standby mode is not implemented, which mean you'll need to wait 50 seconds or so each time you boot the device. There's no power button on the unit.
I've also done some powered measurements with in power on and idle states both with a USB hard drive connected and without:
Power off – 1.0 Watt
Idle – 2.2 Watts
Power off + HDD – 1.0 Watt
Idle + HDD – 3.3 Watts
MINI MX seems to consume a little less than K1 Plus in power off mode (1.3W), and much lower in idle mode, where I could not K41 Plus to get below 6 Watts in idle mode. It's not perfect though, as there's still some residual power used in power off mode, and the best device will just show 0 or 0.1 Watt while powered off.
Beelink MINI MX stays quite cool, as I measured 39°C and 44°C on the top and bottom of the case after running Antutu 5.7.1, and after playing Riptide GP2 for about 15 minutes (although not with maxed out graphics settings), the maximum temperature went up a little to 45°C and 48°C.
The firmware is stable, but feels sluggish at times, where I may have to wait 1, 2 or 3 seconds before I can move the mouse pointer, and it miay take 5 to 8 seconds to go back the launcher after exiting an application.
Video Playback on Beelink MINI MX
Kodi 15.2 is pre-installed in the device without add-ons, and this time I had no problem with an incorrect resolution being reported, even when settings the resolution to 4K 60 Hz.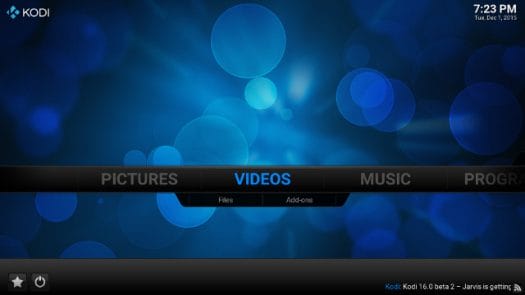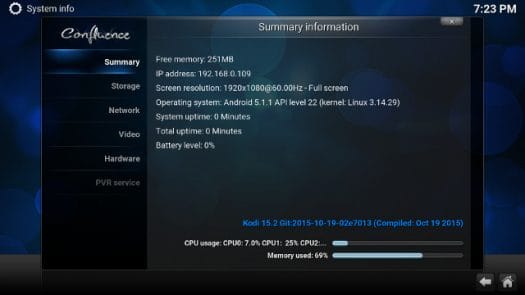 As mentioned before I noticed an app called KodiMate in the firmware, so I started it.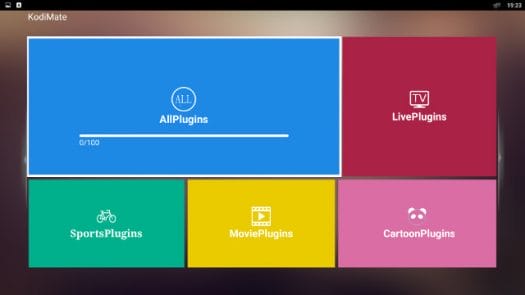 Lots of plugins for Kodi apparently. So I clicked on AllPlugins and it downloaded some files, and installed Kodi add-ons, including the infamous Navi-X or 1 Channel add-ons, which are banned on Kodi forums.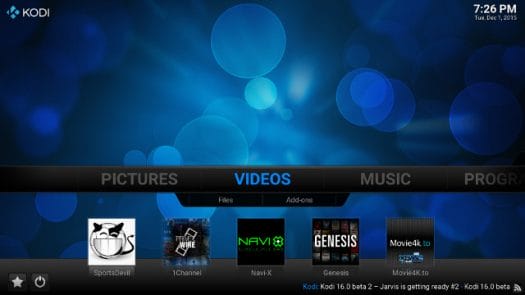 I guess they've done that to avoid getting caught at the customs, as the box is shipped without any piracy add-ons, but the user can easily install them at home.
One Kodi developer informed me that Kodi was not ready for Amlogic S905, but I still gave it a try in case Netxeon or their partners worked on Kodi. Unless otherwise noted, all videos are played over Ethernet from a SAMBA share.
I started with Linaro media samples, Elecard H.265 samples, and low resolution VP9 video, and I was pleasantly surprised not to get the letterbox issues as in K1 Plus.
H.264 codec / MP4 container (Big Buck Bunny) – 480p/720p/1080p – OK
MPEG2 codec / MPG container – 480p/720p/1080p – OK
MPEG4 codec, AVI container 480p/720p/1080p – OK
VC1 codec (WMV) – 1080p – 480p/720p/1080p – OK
Real Media (RMVB), 720p / 5Mbps – OK
WebM / VP8 480p/720p/1080p – OK
H.265 codec / MPEG TS container – 360p and 720p OK, 1080p some massive audio delay or AV sync issue, and not very smooth
WebM / VP9 (no audio in video) – OK
Not too bad actually, although H.265 hardware decode does not seem implemented. But then I tested with audio video samples in Kodi, and MX Player, and things started to get bad in Kodi for some reasons, and DTS and Dolby are not supported by the system, except if you use audio pass-through.
Video
PCM Output
(Kodi)

PCM Output
(MX Player)

HDMI Pass-through
(MX Player)
S/PDIF Pass-through
(MX player)
AC3 / Dolby Digital 5.1
Audio OK, video not smooth
No audio
OK (Dolby D 5.1)
OK (Dolby D 5.1)
E-AC-3 / Dolby Digital+ 5.1
Audio OK, video not smooth
No audio
OK (Dolby D 5.1)
OK (Dolby D 5.1)
Dolby Digital+ 7.1
OK
No audio, and slowmo video
No audio
Audio Formats Not Supported over S/PDIF
TrueHD 5.1
Audio OK, video in slow motion
No audio
OK (TrueHD 5.1)
TrueHD 7.1
Audio OK, video in slow motion
No audio
OK (TrueHD 7.1)
Dolby Atmos 7.1
Audio OK, video not smooth
No audio
Continuous beep and Dolby D 5.1 shows in AVR
DTS HD Master
Audio OK, video not smooth
No audio
DTS 5.1 only
DTS 5.1
DTS HD High Resolution
Audio OK, video not smooth
No audio
DTS 5.1 only
DTS 5.1
I still tried 2 4K videos in Kodi 15.2:
Beauty_3840x2160_120fps_420_8bit_HEVC_MP4.mp4 (H.265) – Plays at 3 to 4 fps
big_buck_bunny_4k_H264_30fps.mp4 – Starts in slow motion, and then play with massive artifacts
I wanted to show it in video, but I shot the video about an upgrade to 103L1 firmware which also includes Kodi 16.0 Beta. The artifacts are gone, but Kodi is crashed/exited for both videos.
So I've just switched to ES File Explorer + MX Player for the remainder of the test, starting with 4K videos:
HD.Club-4K-Chimei-inn-60mbps.mp4 – OK from USB HDD, but buffering a lot from network.

sintel-2010-4k.mkv – OK, but no audio.
Beauty_3840x2160_120fps_420_8bit_HEVC_MP4.mp4 (H.265) – OK
Bosphorus_3840x2160_120fps_420_8bit_HEVC_MP4.mp4 (H.265) – OK
Jockey_3840x2160_120fps_420_8bit_HEVC_TS.ts (H.265) – OK from USB HDD, but gets stuck while streaming from network
MHD_2013_2160p_ShowReel_R_9000f_24fps_RMN_QP23_10b.mkv (10-bit HEVC) – OK
phfx_4KHD_VP9TestFootage.webm (VP9) – Will stop after a few seconds while playing from SAMBA share

BT.2020.20140602.ts

(Rec.2020 compliant video) – OK from USB HDD, but stopping after a short while while playing from network.
big_buck_bunny_4k_H264_30fps.mp4 – OK
big_buck_bunny_4k_H264_60fps.mp4 – Audio/video synchronization issues, and the video is not very smooth
Fifa_WorldCup2014_Uruguay-Colombia_4K-x265.mp4 (4K, H.265, 60 fps) – OK, but no audio.
Samsung_UHD_Dubai_10-bit_HEVC_51.4Mbps.ts (10-bit HEVC / MPEG-4 AAC) – Very good USB HDD, but won't play at all from network (Black screen only)
Astra-11479_V_22000-Canal+ UHD Demo 42.6 Mbps

bitrate.ts

(10-bit H.265 from DVB-S2 stream) – Plays fine most of the time OK, but it will freeze and the same exact point every time for several seconds. (tested on USB drive only).
The results are very similar between Video Player – as tested with K1 Plus -, and MX player. I'm a little disappointed that the Gigabit Ethernet connection does not improve playback from the SAMBA share, so there must be a another bottleneck.
I've also tested some other videos with various bitrates
ED_HD.avi

– Not very smooth at all, and no audio
big_buck_bunny_1080p_surround.avi (1080p H.264 – 12 Mbps) – Video OK, but no audio
h264_1080p_hp_4.1_40mbps_birds.mkv (40 Mbps) – OK, but the video buffered once
hddvd_demo_17.5Mbps_1080p_VC1.mkv (17.5Mbps) – Could be smoother, and no audio
Jellyfish-120

-Mbps.mkv

(120 Mbps video without audio) – Not 100% smooth, but no buffering while playing from network… Same results on USB drive
The last one is interesting… That 120 Mbps video is the video with the higher rate in my video test files, but the network can cope fine, although video decoding not being optimal. The videos is a 1080p H.264 video at 24 fps without audio.
Just like Video Player, MX Player can't handle Blu-ray ISO files reporting "can't play this link". My two 1080i video samples could play fine, and the two hi10p video had the usual issues, and MX Player lacks support for subtitles:
[Commie] Steins;Gate – NCED [BD 720p AAC] [10bit] [C706859E].mkv – Audio OK, some video artifacts, and no subtitles
[1080p][16_REF_L5.1][mp3_2.0]Suzumiya Haruhi no Shoushitsu BD

OP.mkv

– Audio OK, more artifacts, and no subtitles
Although LG 42UB820T UHD television does not support 3D, I've still tested some stereoscopic 3D videos check decoding:
bbb_sunflower_1080p_60fps_stereo_abl.mp4 (1080p Over/Under) – OK
bbb_sunflower_2160p_60fps_stereo_abl.mp4 (2160p Over/Under) – MX Player exits immediately
Turbo_Film-DreamWorks_trailer_VO_3D.mp4 (1080p SBS) – OK
I've also tested some longer movies, or video clips, and MX Player does not support IFO files, but I had no troubles with VOB, MKV, AVI, MP4 and MKV video, except for the lack of DTS/Dolby support with PCM output, as I did not get audio at all when these codecs were used.
Previously I also tested a 2-hour video in Kodi 15.2, and it plays all the way without issues, except that there was some stutter when the camera was panning, probably due to the lack of automatic frame rate switching support.
MINI MX got 891 points in Antutu Video Tester 3.0, or a little lower than the 906 point in KI Plus, but still without many unsupported videos.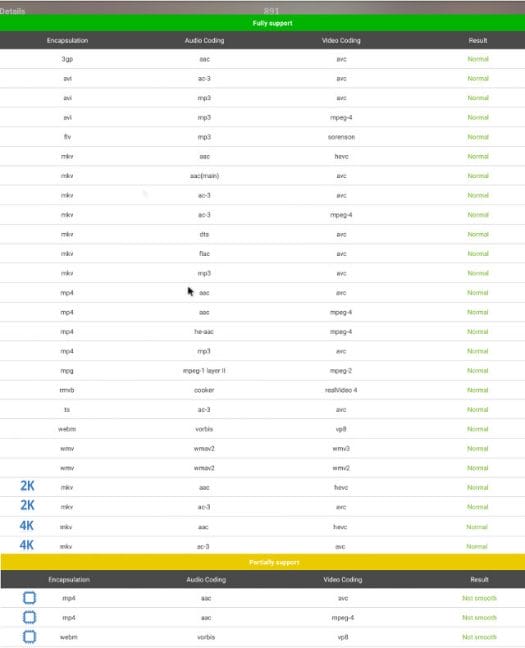 I've also included the result from DRM Info, which shows Widewine nor PlayReady are installed, and the former may be any issue for some video streaming apps such as Netflix.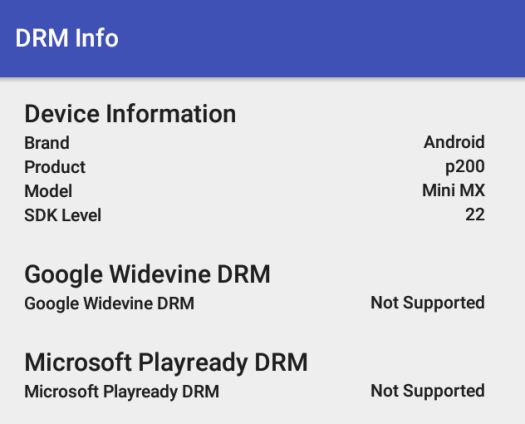 If you want the video samples used in my reviews, please visit "Where to get video, audio and images samples" post and comments section.
Network Performance (Wi-Fi and Ethernet)
MINI MX could transfer a 278MB file @ 1.5MB/s on average between the flash and a network share (SAMBA), which makes the device only of the worst performer.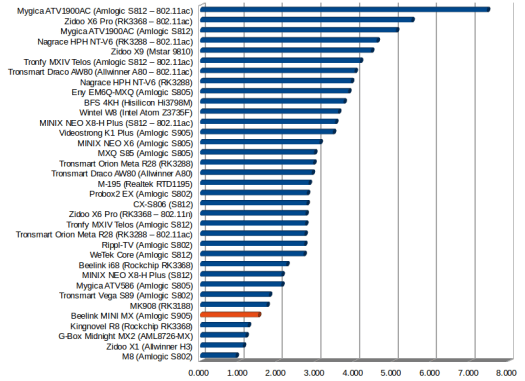 Gigabit Ethernet, tested with a large file, was much better in both direction (flash to SAMBA, and SAMBA to flash) with an average transfer rate of 15.7 MB/s, one of the best in all devices I've tested.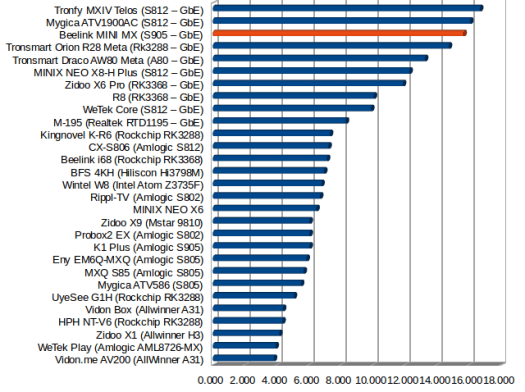 However since with Gigabit Ethernet, this test is also impacted by the internal storage read and write speeds, it's always good to test raw performance with iperf. I'm using a full duplex transfer for 1 minutes with the command line "iperf -t 60 -c server_ip -d". But most of the time, it seems to kill Ethernet connectivity, so the test would not complete, and I was unable to browse the web anymore. So I rebooted, and it went a little further but full duplex is not handled very well with an excellent 894 Mbit/sec in one direction, but only 16 Mbit/sec in the other.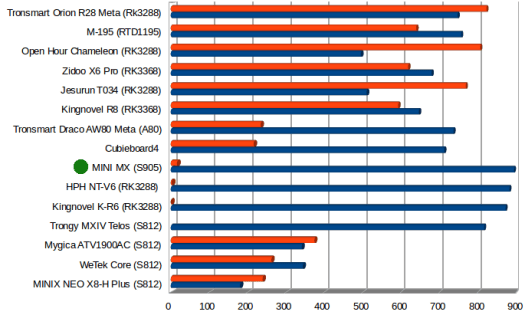 You can also check iperf output:

Client

connecting

to

192.168.0.110

,

TCP

port

5001

TCP

window

size

:

 

187

KByte

(

default

)

--

--

--

--

--

--

--

--

--

--

--

--

--

--

--

--

--

--

--

--

--

--

--

--

--

--

--

--

--

--

[

 

7

]

local

192.168.0.104

port

36813

connected

with

192.168.0.110

port

5001

[

 

7

]

 

0.0

-

60.0

sec

 

6.25

GBytes

  

894

Mbits

/

sec

[

 

5

]

 

0.0

-

2204.7

sec

  

121

MBytes

  

462

Kbits

/

sec

There's again a problem with the timings showing 2204.7 seconds instead of 60 seconds.
Miscellaneous Tests
Bluetooth
Contrary to Videostrong KI Plus, Beelink MINI MX does support Bluetooth, and it worked pretty well, as I could transfer photos over Bluetooth with my smartphone, listen to YouTube music videos via a Bluetooth headset, and pair No.1 D3 smart watch with the device. Since the firmware is rooted, I could also successfully use a PS3 Bluetooth game controller with Sixaxis.
Storage
The same "10 MB free space bug" found in Amlogic Android Lollipop SDK also occurred here with the NTFS & exFAT partitions on my USB hard drive. My FAT32 micro SD card could be mounted fine, and I got access to all the space..
| | | |
| --- | --- | --- |
| File System | Read | Write |
| NTFS | OK | No (10 MB free space) |
| EXT-4 | Not mounted | Not mounted |
| exFAT | OK | No (10 MB free space) |
| BTRFS | Not mounted | Not mounted |
| FAT32 | OK | OK |
That means I had to skip USB storage benchmarks, and only ran A1 SD bench app on the internal. with the app reporting 27.62MB/s read speed and 15.95 MB/s write speed. A pretty decent results for a low cost TV box.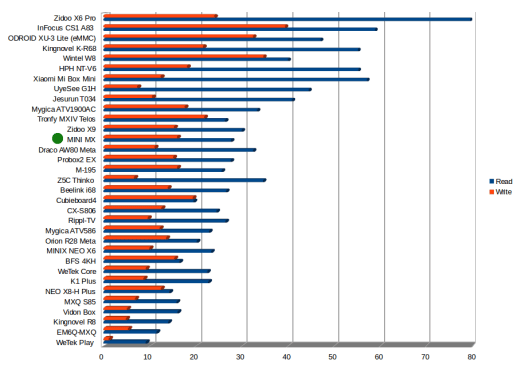 And that makes me scratch my head as to why I regularly experience some slowdowns, and it may take over 5 seconds to get back to the home screen…
Gaming
In my last review I said I had never seen Candy Crush Saga on any devices, except the lower end ones based on single or dual core Mali-400 GPU, but for some reasons, I had some serious stability problems with the game on the platform. As I ran the game, the volume was a little high, so I tried to lower it, but the system would not react at all, and the game exited, or crashed, 4 times. So I tried to reboot, and could finally start to play, but I had some moments where the pointer should be stuck, the audio would cut, and finally the game exited…
Somehow Beach Buggy Racing was much better, even with the graphics quality set to the maximum "high resolution". It played quite smoothly, but with some very short freezes (<0.5 second) from time to time.
Riptide GP2 was also interesting, and while it was very playable with default settings, it would just exit/crash when I tried to set the quality settings to the maximum, 100% reproducible. So I set it to one bar less, and the game could run for a while, before exiting as I tried to play… So I went back to default setting and I could play 4 to 5 races for about 15 minutes. When I exited the app manually, it took 8 to 9 seconds to go back to the launcher.
Beelink MINI MX Benchmarks
CPU-Z still detects a quad core Cortex A53 processor @ up to 2.02 GHz with a Mali-450MP GPU, with the board being called "p200".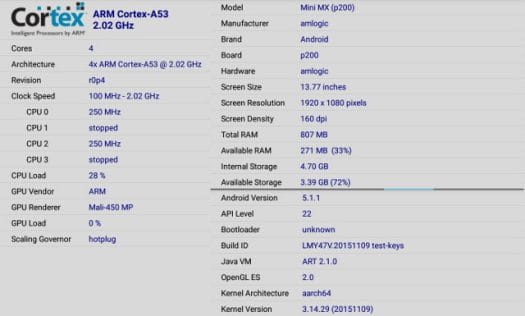 The Antutu 5.7.1 score was 28,390 points or about the same as K1 Plus.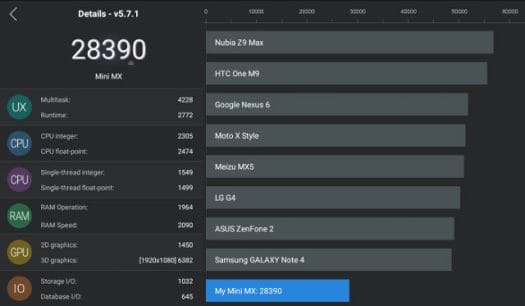 Conclusion
While the firmware is mostly stable, I did experience some slow downs that didn't seem related to a slow flash, and games were somewhat unstable for some reasons. This review also confirmed that Kodi 15 nor 16 is ready for Amlogic S905, but that does not stop manufacturer from pre-loading their half-baked version, so I had to test video with MX Player, which was much better, and similar to K1 Plus. Gigabit Ethernet performance was pretty good, but somehow it did not help with videos played from the network, while WiFi performance was very poor. So while MINI MX has potential, Beelink/Netxeon still have some work to do to make it a usable device.
PROS
Recent Android 5.1 OS firmware
Video Output – HDMI 2.0 up to 2160p 60Hz; 24/25/30/50/60 Hz refresh rates supported
Good 4K H.265 (10-bit) and H.264 video playback in MX Player (USB HDD only, not from network)
Good Gigabit Ethernet performance
Dolby 5.1 and DTS audio pass-through is working.
Proper power handling
OTA firmware update is working.
Built-in Bluetooth works fine
Very good price/performance ratio, provided issues are fixed
CONS
The firmware experiences slowdowns at times, and it may take 5 to 9 seconds to go back to the launcher after exiting an app.
Pre-installed Kodi 15.2 (102L1 firmware) or 16.0 Beta (103L1 firmware) are not really usable
HDMI – Dolby Digital 7.1+, TrueHD / Atmos, DTS HD audio pass-through not working; CEC not working; Video output resolution set in settings is not always used at next power on.
Gigabit Ethernet does not seem to help with playing videos over SAMBA
Missing DTS and Dolby support for PCM output
No DRM installed, even Widewine Level 3 required for SD playback on relevant apps.
Poor WiFi performance
Stability issues with games including Candy Crush Saga
USB hard drive partitions (NTFS / exFAT) reported as having 10MB free only, basically rendering the partitions read-only.
Both Beelink MINI MX and Videostrong K1 Plus have issues, many of them overlap in both devices as their firmware is based on the same Amlogic SDK, and the products are been rushed to market. I can't really recommend any device right now, but working OTA firmware updates for MINI MX does bring some peace of mind. You'd also have to consider whether you need Gigabit Ethernet and Bluetooth (lacking on K1 Plus, but present on MINI MX), or AV output and more USB ports as found on K1 Plus. I understand two issues – DRM and DTS & Dolby support – can't be fixed with firmware upgrades, so I'd wait if you need either or both.
I'd like to thanks GearBest again for providing Beelink MINI MX sample for review. If you'd like to go ahead and purchase the device, you could do from their shop for $40.89 including shipping. You can also find the TV box on some other e-retailed such as GeekBuying ($44.99), eBay, Amazon US ($55), and others.

Jean-Luc started CNX Software in 2010 as a part-time endeavor, before quitting his job as a software engineering manager, and starting to write daily news, and reviews full time later in 2011.