Videostrong KI Plus is one of the first Amlogic S905 TV boxes to be launched on the market, and it also happens to be one of cheapest model selling for around $45 on various sites, and it's even available for $39.99 on GearBest for Black Friday / Cyber Monday. I've posted the specifications and pictures of the device previously, and after updating the firmware, I've finally completed the review.
First Boot, Settings and First Impressions
As usual, I've connected a whole bunch of cables and peripherals to the device to make the power supply can handle it, including a USB hard drive, a USB webcam, a USB keyboard, a USB hub with two RF dongles for Tronsmart Mars G01 gamepad and MeLE F10 Deluxe air mouse, as well as a HDMI, optical audio and Ethernet cables, and a speaker connected to the 3.5mm AV jack and powered by one of the USB port of the device. Turn on the power, and the device will boot automatically (no need to press the power button), with a typical boot taking around 48 seconds.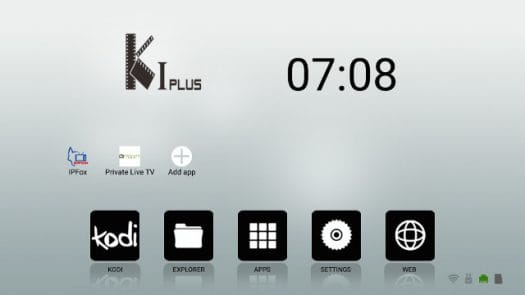 The launcher is quite basic, which can be advantage for a TV interface, with the time, a list of customizable shortcuts which including IPFox and Private Live TV by default, and 5 icons on the bottom for Kodi 15.2, Explorer file manager, the list of apps, settings, and a web browser. There are also some icon on the bottom right for networking and storage. IPFox asks you to scan a QR code to buy something, and Private Live TV will download an IPTV plugin and work out of the box with various TV channels including Sky Sports F1…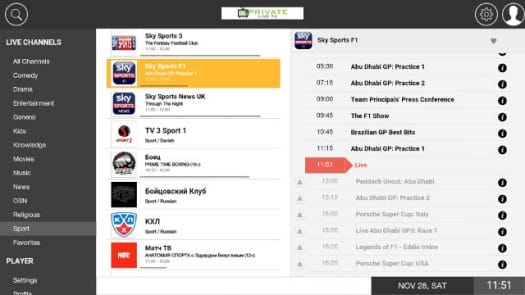 I quickly tried one of the streams and it worked OK.
The settings' user interface is basically the same as found as on Android 5.1 Amlogic S812 TV boxes such as WeTek Core, minus some features like automatic frame rate switching.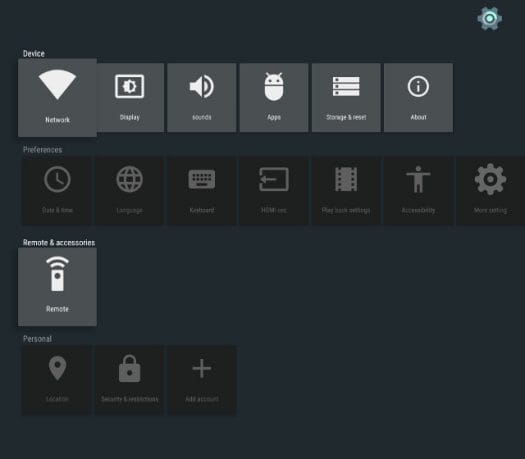 The most interesting settings include:
Network – WiFi, Ethernet, and VPN configuration
Display

Screen resolution: Auto, 480p-60Hz, 576p-50Hz, 720p 50/60Hz, 1080i 50/60Hz, 1080p 24/50/60Hz, 4K2K 24/25/30/50/60Hz or SMPTE
Screen position
Screen rotation (middle port, force land, original)

Sound – System sound (On/Off), and Digital sounds (Auto detection, PCM, HDMI or SPDIF)
Preferences – HDMI CEC (But not working: "This remote device does not support CEC"), and Play back settings with "HDMI self-adaption" On/Off. I don't really understand what that means…
I had no problem to connect to my WiFi router, and setting video to 4k2k 60Hz also worked perfectly via Onkyo TX-NR636 AV receiver or LG UHD TV. However, the box did not always keep my video output settings, often falling back to 1080p50. I only tested the AV port by connecting it to my speakers, and it worked fine with both HDMI audio and stereo audio outputted at the same time.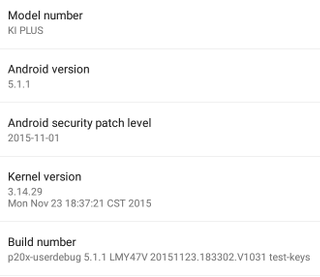 You can get to Lollipop Android settings by selecting More Settings. Bluetooth is not built-in into the device, and is completely missing from the settings, so even if you decided to connect a Bluetooth USB dongle it would not work. All other usual settings appear to be here including Printing, Language & input, accessibility and so on. A single 4.66GB partition is used for both app and data with around 4.21GB free space.
The "About Mediabox" section reports KI Plus model running Android 5.1.1 on top of Linux kernel 3.14.29. There's also a link to the Update&Backup app in this section, but OTA firmware update is not enabled. The sample was sent to my by a manufacturer (Videostrong), and they probably rely on their customers to handle this. This firmware is not rooted by default.
The IR remote control work pretty well, and I could use it reliably as far as 10 meters. The IR learning function is also doing its job and I could program with TV's remote control Volume, power, and TV input keys. I have no used the remote that much since I prefer using MeLE F10 Deluxe remote control in Android that's much more user friendly that IR remotes. Since the status and notification bars are missing, I had to use the Home key on the IR remote during testing…
Google Play Store did not work well at all the first time, with most application being incompatible with this device. That's why I delayed the review, and after installing a new firmware, everything works pretty well. Applications that require telephony, Bluetooth, and GPS can't be installed, but that's fine, as well as the ones which can't be installed where I live (country limitations). Finally I installed Amazon Underground to load and play Riptide GP2 3D racing game.
Power handling has been implemented correctly as I could cleanly power off the device with either the power button on the unit and the remote control. The remote control can also be used to power on the device. There's no standby mode, so the device will fully boot each time you turn it on.
For those interested in power consumption, I've done some measurements both without USB devices, and one USB hard drive in two modes:
Power off – 1.3 Watt
Idle – 3.2 ~ 3.4 Watts
Power off + HDD – 1.3 Watt
Idle + HDD – 6.1 ~ 7.4 Watts
There's still some residual power used in power off mode, but at least the USB ports are turned off.
Temperature is under control most of the time, except possibly when playing games. I measured 42°C and 53°C on the top and bottom of the enclosure after running Antutu 5.7, but after playing Riptide GP2 for about 15 minutes the temperature went up to 50°C and 62°C, and I noticed a lower frame rate in the game.
After updating the firmware, the first impressions were quite good, as despite its low cost, the system was responsive, and stable, which everything from networking to video output working fine, except for video output changing randomly? after a power on.
Video Playback on KI Plus
I usually playing videos from a network share over Ethernet and using whatever Kodi version is pre-installed on the device. So far none of manufacturers have used Kodi from Google Play, and Videostrong is no exception. So I have some Kodi 15.2 app in the device with various add-ons.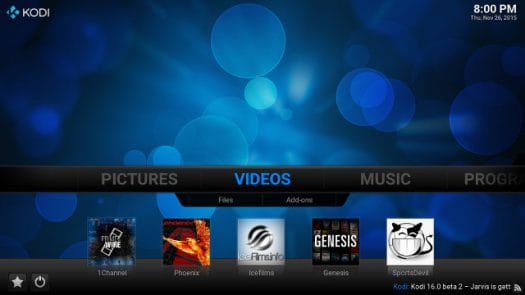 For some reasons, the resolution is shown as 1280×720 @ 60Hz in the System information when the video output is set to 4k2k-60Hz, and despite the framebuffer being set to 1920×1080 as we've seen with some of the screenshots above.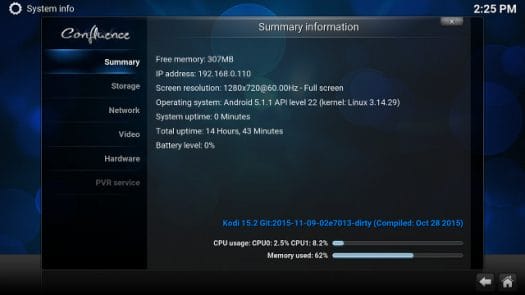 But when I went ahead with testing videos samples found on linaro website, I realized something was clearly wrong:
H.264 codec / MP4 container (Big Buck Bunny) – 480p/720p/1080p – Letterboxed
MPEG2 codec / MPG container – 1080p – Letterboxed
MPEG4 codec, AVI container 1080p – Letterboxed
VC1 codec (WMV) – 1080p – Letterboxed
Real Media (RMVB), 720p / 5Mbps – OK
WebM / VP8 – OK
H.265 codec / MPEG TS container (1080p) – Letterboxed
WebM / VP9 (no audio in video) – OK
So while all videos could play, most of them would be letterboxed.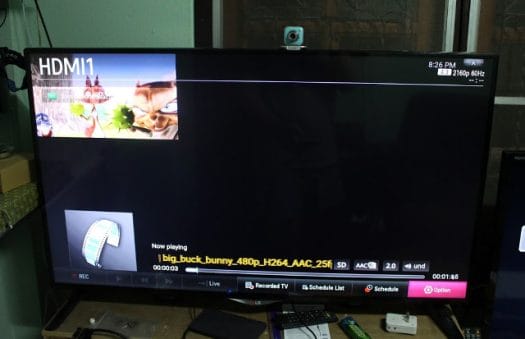 So with this bug in mind, and my contacts telling me either Amlogic had not spent much resources on Kodi this time, or that many patchsets were still submitted to Kodi to fix Amlogic S905 support, I decided to give up on Kodi on this device, and instead do all my testing with Video Player app in Android. That means you'll either need to wait for Kodi 16, or go with the daily builds.
Later, I still decided to give Kodi a try with the "reliability" test, playing a 2-hour 1080p movie… and I worked just fine, with a some 3800 skipped frame reported by Kodi's log overlay maybe because the mismatch between video output and video frame rate. So I was confused, until I saw the video output bug kicked in to force video out to 1080p50, and the System info reported 1920×1080 @ 50Hz…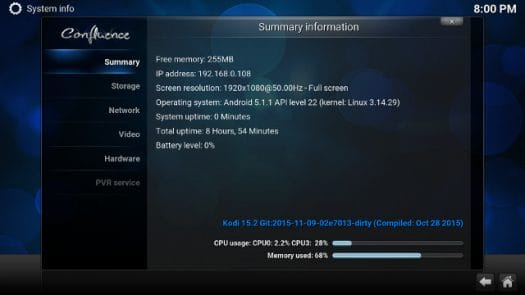 So that means Kodi 15.2 pre-loaded in the box works at 1080p resolution, but has a bug at 4K. VideoStrong should provide a 4K TV to their developers…
I did not re-test the videos at 1080p in Kodi 15.2, as I'm expecting 2 to 3 more Amlogic S905 TV boxes, and I'll ahve plenty of opportunities to test Kodi on Amlogic S905, so instead I'll report results in Video Player, using Ethernet, unless otherwise stated.
Linaro samples, plus Elecard H.265, and a low res VP9 video:
H.264 codec / MP4 container (Big Buck Bunny) – 1080p – OK
MPEG2 codec / MPG container – 1080p – OK
MPEG4 codec, AVI container 1080p – OK
VC1 codec (WMV) – 1080p – OK
Real Media (RMVB), 720p / 5Mbps – OK
WebM / VP8 – OK
H.265 codec / MPEG TS container (1080p) – OK
WebM / VP9 (no audio in video) – OK
I started to see some issues, when I switched to some higher bitrate videos :
ED_HD.avi

– Blackscreen
big_buck_bunny_1080p_surround.avi (1080p H.264 – 12 Mbps) – Video OK, but no audio
h264_1080p_hp_4.1_40mbps_birds.mkv (40 Mbps) – OK
hddvd_demo_17.5Mbps_1080p_VC1.mkv (17.5Mbps) – Could be smoother, and no audio
Jellyfish-120

-Mbps.mkv

(120 Mbps video without audio) – Not very smooth (played from USB hard drive, as Fast Ethernet could not handle this file).
The audio issues are probably due of the lack of DTS and Dolby licenses, and I could confirm it in the audio test below.
Video
PCM Output
HDMI Pass-through
S/PDIF Pass-through
AC3 / Dolby Digital 5.1
No audio
OK (Dolby D 5.1)
OK (Dolby D 5.1)
E-AC-3 / Dolby Digital+ 5.1
No audio
OK (Dolby D 5.1)
OK (Dolby D 5.1)
Dolby Digital+ 7.1
No audio
No audio
Audio Formats Not Supported over S/PDIF
TrueHD 5.1
No audio
OK (TrueHD 5.1)
TrueHD 7.1
No audio
OK (TrueHD 7.1)
Dolby Atmos 7.1
No audio
Continuous beep and Dolby D 5.1 shows in AVR
DTS HD Master
No audio
DTS 5.1 only
DTS 5.1
DTS HD High Resolution
No audio
DTS 5.1 only
DTS 5.1
So if you don't have AV receiver you are out of luck to get any audio, unless you use Kodi, which may not work that well right now, or some other app that also decoded DTS and Dolby by software.
One of the main selling point of Amlogic S905 SoC is support for 4K video including 10-bit HEVC, and it's doing a pretty good job, as long as you play from a USB hard drive:
HD.Club-4K-Chimei-inn-60mbps.mp4 – OK from USB HDD, but buffering a lot from network.

sintel-2010-4k.mkv – OK, but no audio.
Beauty_3840x2160_120fps_420_8bit_HEVC_MP4.mp4 (H.265) – OK
Bosphorus_3840x2160_120fps_420_8bit_HEVC_MP4.mp4 (H.265) – OK
Jockey_3840x2160_120fps_420_8bit_HEVC_TS.ts (H.265) – OK from USB HDD, but buffering often from network
MHD_2013_2160p_ShowReel_R_9000f_24fps_RMN_QP23_10b.mkv (10-bit HEVC) – OK
phfx_4KHD_VP9TestFootage.webm (VP9) – 3 to 4 fps

BT.2020.20140602.ts

(Rec.2020 compliant video) – OK from USB HDD (first time ever!), but buffering from network, or even stopping in some instances.
big_buck_bunny_4k_H264_30fps.mp4 – OK
big_buck_bunny_4k_H264_60fps.mp4 – Audio/video synchronization issues, and the video could be a little smoother
Fifa_WorldCup2014_Uruguay-Colombia_4K-x265.mp4 (4K, H.265, 60 fps) – Excellent video decoding, but no audio…
Samsung_UHD_Dubai_10-bit_HEVC_51.4Mbps.ts (10-bit HEVC / MPEG-4 AAC) – Perfect from HHD, but buffering a lot from SAMBA share.
Astra-11479_V_22000-Canal+ UHD Demo 42.6 Mbps

bitrate.ts

(10-bit H.265 from DVB-S2 stream) – Most of the time OK, but it will freeze and the same exact point every time for several seconds. (tested on USB drive only)
You can watch a demo with most of these files via the post entitled "H.264 & H.265 4K Video Playback on Amlogic S905 Android TV Box". While VP9 and H.264 @ 60 fps are not supported by current revision of S905 processor, I understand a new revision of the silicon should support VP9.
Video Player reports "can't play this video" when I try to play Blu-ray ISO files such as Sintel-Bluray.iso and amay.iso, so I think it's just not supported by the app. 1080i MPEG2 video samples (GridHD.mpg & Pastel1080i25HD.mpg) played OK, but Hi10p had the same artifacts issues as on Kodi on Amlogic S812, and lacked the subtitles.
I've played some stereoscopic 3D videos to see if the system could decode them (my TV does not support 3D):
bbb_sunflower_1080p_60fps_stereo_abl.mp4 (1080p Over/Under) – OK
bbb_sunflower_2160p_60fps_stereo_abl.mp4 (2160p Over/Under) – Audio only (Would require a dual 4K decoder)
Turbo_Film-DreamWorks_trailer_VO_3D.mp4 (1080p SBS) – OK
Lack of DTS/Dolby support was the main issue when I played several H.264, DViX/XVid, VOB, MKV, and MP4 movies, as many did not play audio at all, and Video Player app can not handle FLV videos, nor IFO files (although VOB is OK).
I installed Antutu Video Tester 3.0 manually, and the score (906 point) is pretty good, although not quite as high as on Amlogic S812 devices (1,000+ points).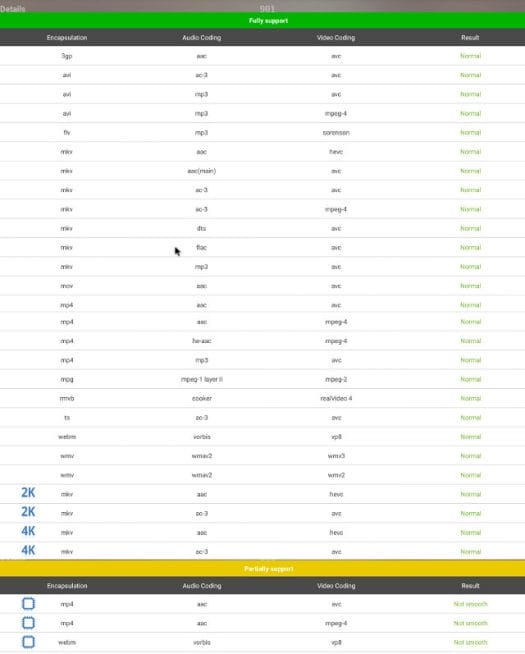 If you are using premium video streaming applications such as Netflix, it might be important to check whether the level of DRM support, or whether any DRM is actually installed. This could easily be checked thanks to DRM Info app.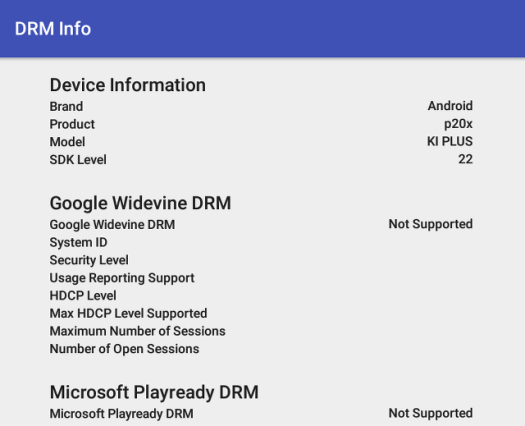 And sadly, even the basic Widewine security Level 3 is not installed. As a reminder, Widewine Level 1 is required for HD and UHD video playback.
Visit "Where to get video, audio and images samples" post and comments section for links to video samples.
Network Performance (Wi-Fi and Ethernet)
A 278MB file is transferred between a SAMBA share and the internal storage three times using ES File Explorer in order to test WiFi and Fast Ethernet performance. But during the first test, I only did it twice because the transfer rate was stable but stuck at 130 KB/s during the whole transfer, and it took over 30 minutes for each transfer. Clearly the worst result ever, and at the time my phone could transfer the same file at over 2MB/s. But I tried again, before publishing the results, and the results are much better @ 3.45 MB/s , but I can't explain what happened…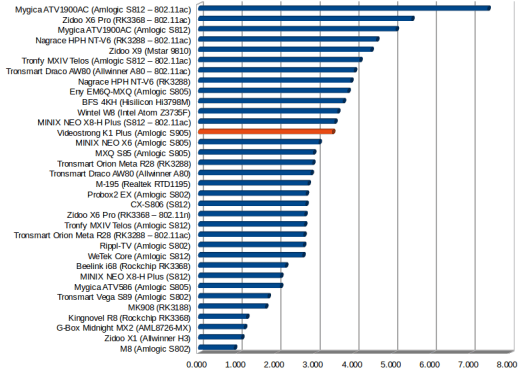 Amlogic S905 SoC can support Gigabit Ethernet, but K1 Plus is only fitted with Fast Ethernet components, and file transfer performance is under average at about 6MB/s (48 Mbps).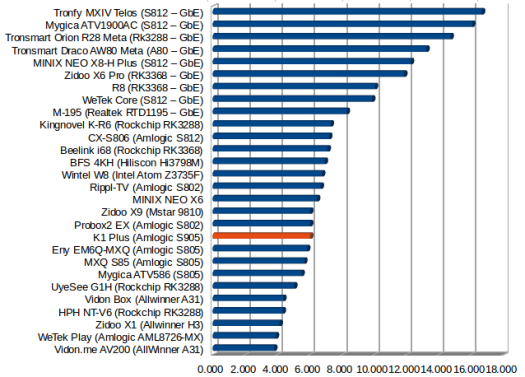 It looks better while using iperf with "-t 60 -c 192.168.0.104 -d" to test dual duplex transfer for 60 seconds, with a very good Fast Ethernet performance.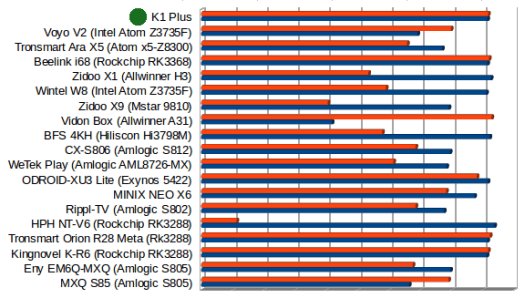 iperf output:

Client

connecting

to

192.168.0.110

,

TCP

port

5001

TCP

window

size

:

 

238

KByte

(

default

)

--

--

--

--

--

--

--

--

--

--

--

--

--

--

--

--

--

--

--

--

--

--

--

--

--

--

--

--

--

--

[

 

6

]

local

192.168.0.104

port

45160

connected

with

192.168.0.110

port

5001

[

ID

]

Interval

      

Transfer

    

Bandwidth

[

 

6

]

 

0.0

-

60.0

sec

  

655

MBytes

 

91.6

Mbits

/

sec

[

 

4

]

 

0.0

-

60.1

sec

  

657

MBytes

 

91.8

Mbits

/

sec
Miscellaneous Tests
Bluetooth
Bluetooth is not support by KI Plus.
Storage
FAT32 (micro SD card), NTFS, & exFAT (USB hard drive) partitions could all be mounted, but the same bug as on Amlogic S812's Android 5.1 firmware meant the free space was wrongly reported as 10MB, making the NTFS and exFAT partition basically read-only.
| | | |
| --- | --- | --- |
| File System | Read | Write |
| NTFS | OK | Not really (10 MB free space) |
| EXT-4 | Not mounted | Not mounted |
| exFAT | OK | Not really (10 MB free space) |
| BTRFS | Not mounted | Not mounted |
| FAT32 | OK | OK |
I had to skip USB storage benchmarks, but I could still check out the internal storage with A1 SD bench app, which reported 22.71MB/s read speed and 8.67 MB/s write speed.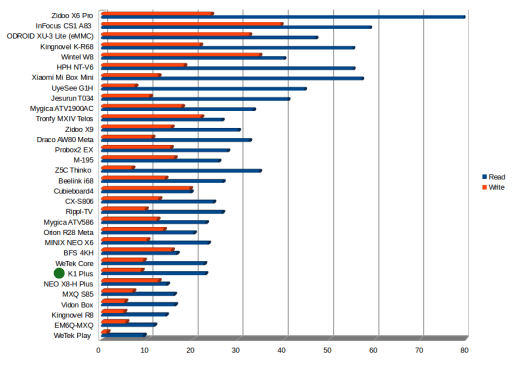 Clearly not the best performance, but it was to be expected for a $40 products, and I have not found it to affect the performance of the device much.
Gaming
I have never seen Candy Crush Saga on device expect when using SoC with Mali-400 GPU, and it played without issue on K1 Plus ising an air mouse. Beach Buggy Racing felt a little sluggish, and once I boosted the graphics settings to "high resolution" it started to become choppy, and at time the game seems to be slow to respond to gamepad inputs. Riptide GP2 was about the same story, but it started pretty well, then set the graphics setting to high resolution, and the game was quite not as smooth, and the game even exited/crashed once. Furthermote, I noticed the frame rate to get worse, the more I played, so the GPU must be throttling when the SoC gets hot, leading to performance degradations. So Amlogic S905 does not seem the best platform for gaming, and better stick with the more powerful Amlogic S812 or Rockchip RK3288 SoCs.
K1 Plus Benchmarks
Before running any benchmarks, let's see what CPU-Z detects…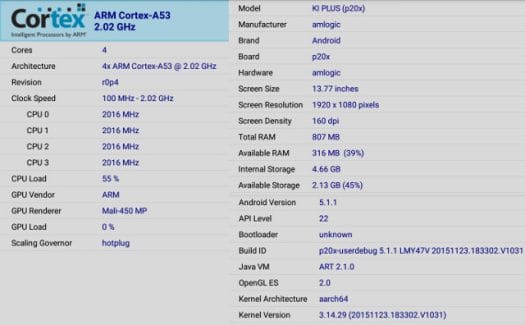 The app does not know Amlogic S905 processor, but it probably detects an ARM Cortex A53 quad core processor clocked between 100 MHz and 2.02 GHz, coupled with an ARM Mali-450MP GPU. The model is called KI Plus (p20x), the board p20x, the UI resolution is set to 1920×1080, there's 807MB total RAM in the system, and 4.66GB internal storage. It's running an aarch64 Linux kernel version 3.14.29 as reported previously.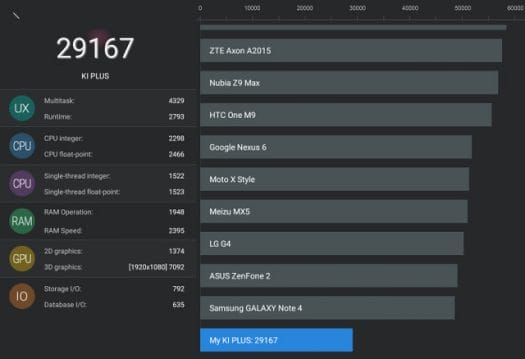 I had already run Antutu 5.7.3 to compare Amlogic S905 and Rockchip RK3368 performance, but following the firmware update, I ran it again, and it yielded a marginally higher score of 29,167 points.
Please also find Vellamo 3.0 and 3DMark Ice Storm Extreme results below for reference.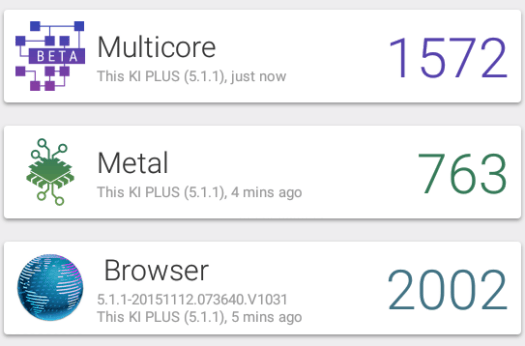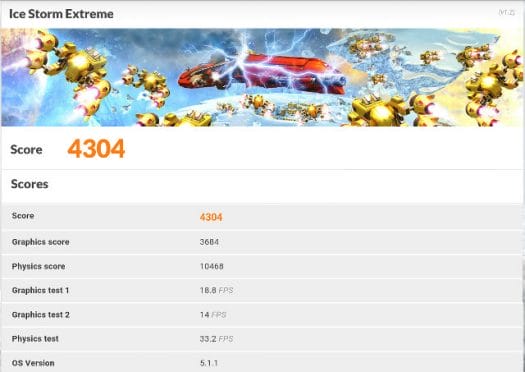 Conclusion
It's quite amazing that you can now get an Android TV box with 4K video playback and HDMI 2.0 support for about $40. However, there's still work to be done, as while their a good based with a reasonably good user interface, and surprisingly smooth video playback at 2160p resolution using Video Player app, the pre-installed Kodi 15.2 version was unusable at 4K resolution with most videos letterboxed, DTS and Dolby licenses are missing, there's no DRM installed at all, and various other bugs need to be fixed.
PROS
Recent Android 5.1 OS firmware that is both responsive and stable
Video Output – HDMI 2.0 up to 2160p 60Hz; 24/25/30/50/60 Hz refresh rates supported; AV port (tested with speakers)
Impressive 4K H.265 (10-bit) and H.264 video playback in Video Player app
Dolby 5.1, DTS and TrueHD audio pass-through is working.
Proper power handling
IR remote support IR learning function, and has a good range (>10 meters)
4x USB ports
Very good value for money (once issues can be resolved)
CONS
Pre-installed Kodi 15.2 version does not work well for 2160p video output is selected (1080p output looks better); automatic frame rate switching is not working either.
HDMI – Dolby Digital 7.1+, DTS HD and Atmos pass-through not working; CEC not working; Video output resolution set in settings is not always used at next power on.
Missing DTS and Dolby support for PCM output
No DRM installed, even Widewine Level 3 required for SD playback on relevant apps.
WiFi performance may be erratic (TBC), very good sometimes, and near stall speed at others.
3D games such as Beach Buggy Racing and Riptide GP2 are not playing very smoothly, and performance may degrade with play time (and higher heat).
No option to show status and notification bars, no Download icon in app list.
Lacks Bluetooth support
USB hard drive partitions (NTFS / exFAT) reported as having 10MB free only, basically rendering the partitions read-only.
There are also IPTV apps that depending on your point of view can be PROS or CONS, and OTA firmware update is missing, but this may be due to Videostrong being a manufacturer, and not a brand, so they rely on their customer to handle firmware updates with their own servers and branding.
Videostrong was kind enough to send this first Amlogic S905 box sample for review, and if you are a distributor or resellers, you could contact the company via their Alibaba product page. Individual can purchase K1 Plus (aka Ki Plus) on retail sites starting at $39.99 including shipping on GearBest, GeekBuying, eBay, Amazon US, Aliexpress and others.

Jean-Luc started CNX Software in 2010 as a part-time endeavor, before quitting his job as a software engineering manager, and starting to write daily news, and reviews full time later in 2011.