VideoStrong has launched K1 Plus TV box powered by Amlogic S905 processor last year, and I had the chance to review their model last November. But here I am reviewing K1 Plus again. Why? That's because the company's has several K1 Plus models: the "standard" version that's just like any Android TV boxes, and the DVB version with DVB-S2, DVB-T2/C, or DVB-T2/C + DVB-S2 combo, and the latter is the one I'm reviewing today. K1 Plus DVB combo teardown revealed that the main board was exactly the same as K1 Plus "standard", and that only a tuner card was added. So I'll have a two part review with the first part checking if they fixed any of the bugs found on K1 Plus "Standard" with "November 2015" firmware in the new "January 27, 2016 DVB" firmware, and the second part will focus on testing DTV app with DVB-S2 and DVB-T2, PVR and time-shifting.
K1 Plus "Standard" vs K1 Plus DVB Firmware
The launcher used in DVB firmware is exactly the same as in the standard version.
I listed some pros and cons in my conclusion of K1 Plus "standard" review. Let's check out the cons, and find out if they've been fixed or improved:
Pre-installed Kodi 15.2 version does not work well when 2160p video output is selected (1080p output looks better); automatic frame rate switching is not working either.
HDMI – Dolby Digital 7.1+, DTS HD and Atmos pass-through not working; CEC not working; Video output resolution set in settings is not always used at next power on.
Missing DTS and Dolby support for PCM output
No DRM installed, even Widewine Level 3 required for SD playback on relevant apps.
WiFi performance may be erratic (TBC), very good sometimes, and near stall speed at others.
3D games such as Beach Buggy Racing and Riptide GP2 are not playing very smoothly, and performance may degrade with play time (and higher heat).
No option to show status and notification bars, no Download icon in app list.
Lacks Bluetooth support
USB hard drive partitions (NTFS / exFAT) reported as having 10MB free only, basically rendering the partitions read-only.
The pre-installed version of "Kodi" is still 15.2 with some add-ons, but the build date has changed from 2015-11-09 to 2015-12-07, so there may have been some improvements.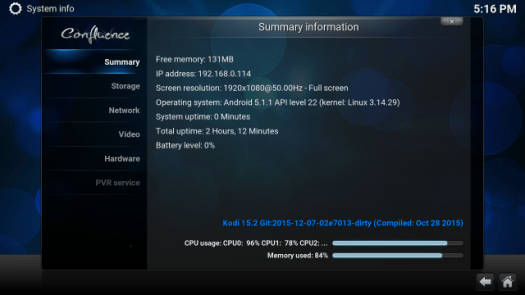 First I had to be careful to check output resolution is to 2160p @ 60 Hz, because the system will always revert to 1080p50 (as shown in the screenshot above), which remains a bug yet to be fixed. All videos were shown in Letterbox mode in K1 Plus "standard", and i's nice to see this have been fixed:
H.264 codec / MP4 container (Big Buck Bunny) – 1080p – OK
MPEG2 codec / MPG container – 1080p – OK
MPEG4 codec, AVI container 1080p – OK
VC1 codec (WMV) – 1080p – OK
Real Media (RMVB), 720p / 5Mbps – OK
WebM / VP8 – OK
H.265 codec / MPEG TS container (1080p) – OK
WebM / VP9 (no audio in video) – OK
4K video are also fairly well supported:
HD.Club-4K-Chimei-inn-60mbps.mp4 – OK

sintel-2010-4k.mkv – OK
Beauty_3840x2160_120fps_420_8bit_HEVC_MP4.mp4 (H.265) – OK

BT.2020.20140602.ts

(Rec.2020 compliant video) – Stays in UI
big_buck_bunny_4k_H264_30fps.mp4 – OK
Fifa_WorldCup2014_Uruguay-Colombia_4K-x265.mp4 (4K, H.265, 60 fps) – OK
Samsung_UHD_Dubai_10-bit_HEVC_51.4Mbps.ts (10-bit HEVC / MPEG-4 AAC) – stays in UI
Astra-11479_V_22000-Canal+ UHD Demo 42.6 Mbps

bitrate.ts

(10-bit H.265 from DVB-S2 stream) – Stays in UI
Unfortunately none of the 10-bit H.265 videos are playing. But it's still a big progress since Kodi was pretty unusable in the standard version.
Last time I tested HDMI audio pass-through with Video Player, and this time I did it with Kodi, and sadly it's not really usable.
AC3 / Dolby Digital 5.1 – Audio OK (Dolby D 5.1), video not smooth
E-AC-3 / Dolby Digital+ 5.1 – OK (Dolby D 5.1) most of the time, but two small audio cuts occurred during playback
Dolby Digital+ 7.1 – PCM 2.0 only
TrueHD 5.1 – PCM 2.0 only
TrueHD 7.1 – PCM 2.0 only
Dolby Atmos 7.1 – PCM 2.0 only
DTS HD MA – DTS 5.1 only, and two short audio cuts during playback
DTS HD HR – DTS 5.1 only, and one short audio cut during playback
That's especially announcing since WeTek fixed HD audio pass-through in Amlogic S8xx and S9xx and confirmed it to work in both WeTek Core, and WeTek Play 2S at the beginning of the month, and even released the source code. But maybe Kodi is not a priority for Videostrong, and/or Chinese New Year holidays may have made February a slow month in China..
Since the company is not using Amlogic S905-H processor there was no way DTS and Dolby downsampling to PCM (stereo) would work with other apps, and I could confirm that MX Player would not output any audio from playing such files over PCM output.
I played a 2-hour 1080p video over WiFi from a SAMBA share, and it worked just fine.
At least Widewinve DRM is now support (Level 3), and that a small step in the right direction. So overall video output and playback support have improved, but it's not quite at the level of the competition.
Wifi was quite stable overall, but performance had it's up and downs and the average throughput was lower than K1 Plus "standard".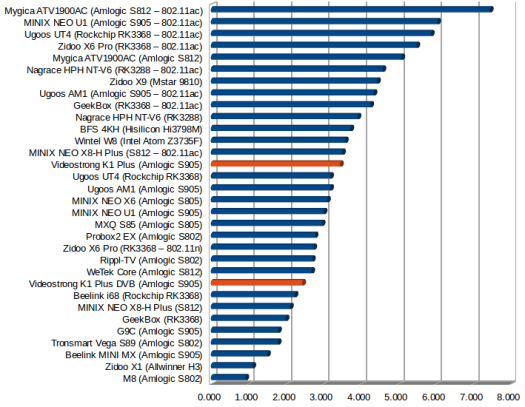 Bear in mind that WiFi performance can be extremely volatile, and when I tested K1 Plus DVB, the transfer time for a 278 MB file varied between 1m15s and 2m22s during my several attempts.
I also had some new issues with both Google Play and Amazon Underground. I could browse app and select them for installation with the former, but after a few minutes I realized that none of 16 apps I selected would install, as it was waiting for WiFi connection, and I was using Ethernet… So I switched to WiFi, and I could complete the installation. Amazon Underground failed to install for unknown reasons, but the patented bug fixing method called "Good Night SleepTM" resolved the issue, and the app could install the next morning.
Once I managed to get Amazon appstore running, I could install Riptide GP2 racing game, which I played for 15 minutes both to test 3D graphics performance, and stability. I basically had the same issue as with K1 Plus, with the games crashing if I adjusted the graphics settings higher, poor performance with "high resolution" (MAX-4) settings, and the game became less and less playable over time, with some micro freezes (around second) occurring from time to time. Temperatures measured with an IR thermometer on the top and bottom of the case were respectively 56 and 64C after around 15 minutes. I also went to CPU-Z to check aml_thermal after the game, and the reported temperature was 86C, which seems pretty high.
All other Amlogic S905 TV boxes I've tested before have the 10MB USB hard drive bug, meaning I can only read from my USB hard drive, or copy files smaller than 10MB, because the size is incorrectly detected. Since K1 Plus DVB has a PVR function it's very important for it to work. Sadly it still has the same bug, so I'll have to use a 64GB flash drive (properly detected) in order to record live TV or use timeshifting. I first discovered this bug in August 2015 on Mygica ATV1900AC, so 6 months later I would have expected it to be fixed, especially since I'm not the only one to have the issue.
Videostrong had two months (end of November until end of January) to fix the bug found in my first review, and I have to say I'm very disappointed with the progress done so far, with most critical bugs still there, and the only positives being a somewhat working Kodi (with several caveats) and DRM support. Oh yes, and there's still no way to show the status and notification bars, so you'd have to hack the system by changing systemui.apk and build.prop, as explained by Karl in his review of Eny EM95 TV box.

DTV app for DVB-T2 and DVB-S2 Free-to Air channels
The main selling points of K1 Plus DVB box is the combo tuner, and you'll need to start DTV app to get access to live channels.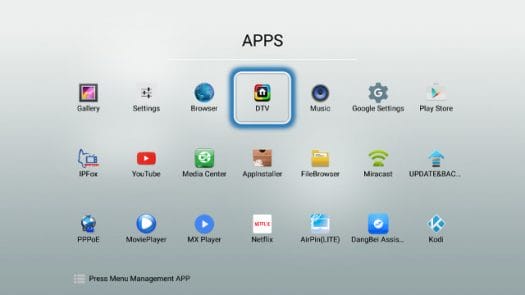 Once you've connected your satellite dish for DVB-S2, and terrestrial antenna for DVB-T2, you'll be ready to configure the syste,. Since there are a few steps involved I've already explained how to scan DVB-T2 and DVB-S2 channels on K1 Plus Amlogic receiver. My configuration is using a simple fixed satellite dish, but there are options to control a motorized satellite dish, and/or multiple satellite dishes via DiSEqC.
Once the system is configured, you'll need to select whether you want to use DVB-S2 or DVB-T2 each time your start the app, but you can press the DTV button on the remote to quickly restart the app and change the tuner selection.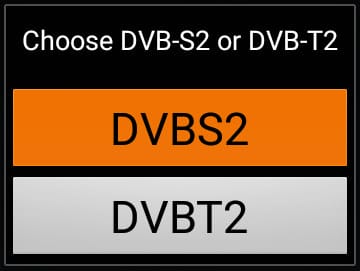 Live TV is working pretty well, and switching between channels does work quite fast for both DVB-S2 and DVB-T2, although for the first couple of seconds the video is not 100% smooth.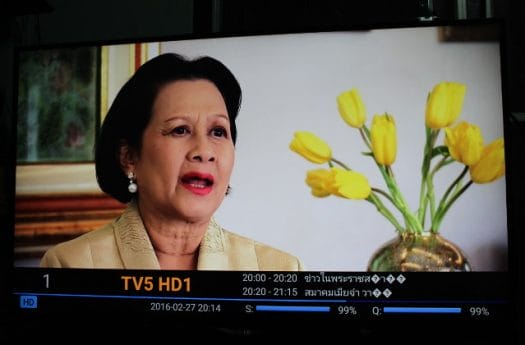 If you are using languages with accents or complex languages there may be issues, as you can see is the case for Thai language in the overlay info window above. The Electronic Program Guide (EPG) can be accessed with the corresponding remote control key, and it is working, although sometimes it's pretty slow to get the data, and with the same font rendering issues.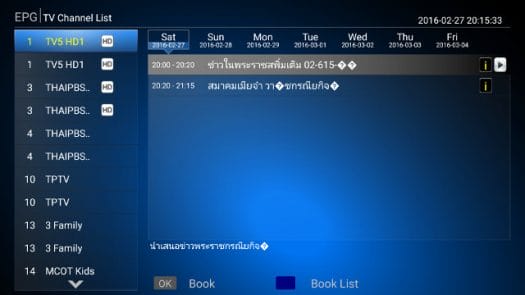 And once you are in the EPG, you can select a program and press OK to either schedule to box to Play or Record a program, with the icon R or P showing on the right side of the screen once you've done the selection.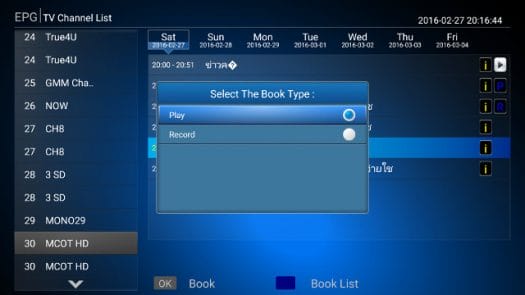 You can consult the schedule list (Book List) by pressing the Blue button, and the system appears to handle programming conflicts too.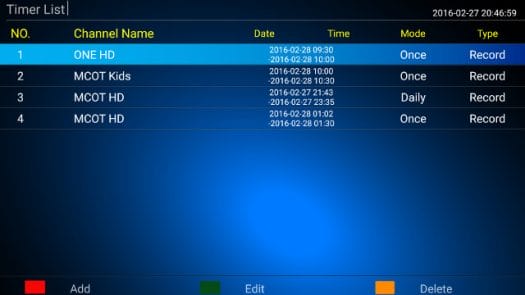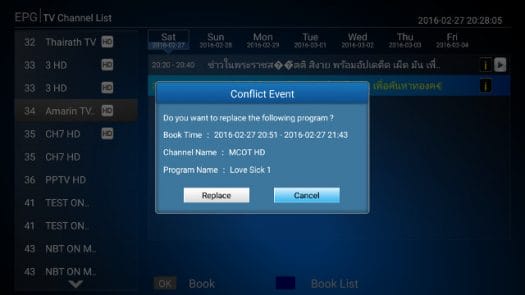 Scheduling works well, as long as you let the DTV app running in the foreground. If you use a web browser or play games in Android, the scheduled recording or play time will be start automatically. Same thing is you schedule a program on DVB-T2, and you are currently watching live TV with DVB-S2, it will not switch automatically. The device must be running all the time, since there's only on or power off, if you plan to schedule recordings. Power consumption is relatively low at around 10 watts with storage, but it's still annoying. So I don't find the K1 Plus set-top box to be user-friendly from that point of view.
You can also record manually by pressing the PVR key on the remote control. Recording works pretty well, and videos can be found in DTVRecordFiles of your storage device both with .ts (the videos) and .amdur files. You can play the video directly from the DTV app by going to the Menu and selecting Record list, or from media players on your Android device, and the results is usually satisfying. However, I also copied some files to my computer, and I could play them with some artifacts at the beginning in VideoLAN (VLC), but not at all in Totem video player.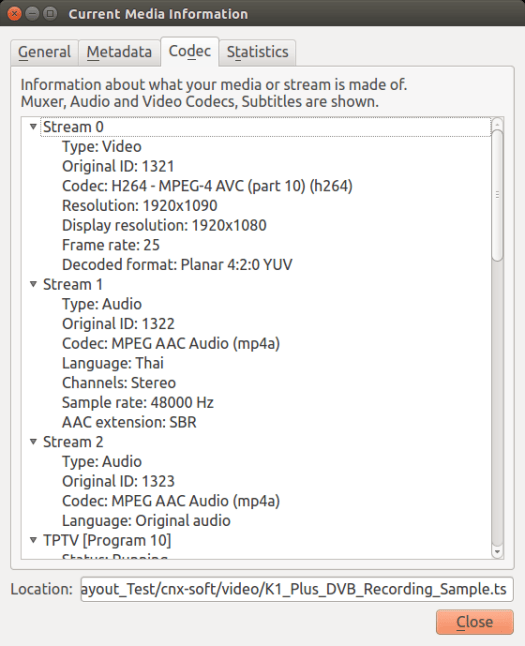 The video were recorded at 1080p at 25 fps using H.264 AVC codec, and they've properly recorded both audio tracks (AAC). Here's a short sample.
Timeshifting can be enabled with the Play/Pause key on the remote, and working reasonably well with possibly some artifacts when enabling the function, with a default recording time of 5 minutes, but the length is configurable in the PVR options.
There's also a hidden "Smart Data Manager" menu which you can enabled by pressing the Menu key, going into Installation, and pressing 111111 in the remote.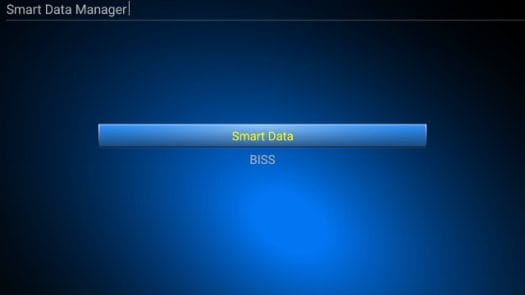 This will give you access to "Smart Data" and "BISS" but it's not something I have tried.
You can check the video review to have a better understanding of the digital TV capabilities and performance of K1 Plus DVB. bear in mind that I could only tried SD and HD channels, since I have not found 4K UHD channels, even test channels, in my location.
Conclusion
K1 Plus DVB Android set-top box is one of the few Android TV boxes on the market with a combo DVB-S2 & DVB-T2 tuner, and I'm glad Videostrong brought this type of product to market. However, I'm very disappointed by the progress made on the firmware front between my review of K1 Plus standard with a firmware released in November, as they've almost fixed none of the issues I reported at the time. Kodi has improved a little (10-bit H.265 is not working though), Widevine DRM Level 3 has been enabled, but 3D games (Riptide GP2) still crash when graphics settings are set to high, 3D graphics performance is quite poor compared to other Amlogic S905 devices, it overheats leading to CPU/GPU throttling, the system feels sluggish at times with apps loading slowly, I still can't use my USB hard drive (10MB bug), the user's interface does not provide access to status and notifications bar, and so on… So it feels like either Videostrong does not have the resources for development, they don't really care (or really think the firmware is good enough), or they are incompetent…
However, the DVB part is not that bad, as least compared to some other Amlogic Android DVB boxes I've tested in the past such as HD18T or ATV586. Most features work reasonably well, and I could use both DVB-S2 and DVB-T2 parts, but there are still some bugs such as artifacts at the beginning of recording videos or Timeshifting, and (Asian) font rendering issues. The system integration is also inexistent, meaning that the TV box and DTV app must be running at all times for scheduling to work, there's no background process handling this, and you can't simply use other Android apps, and expect to get a pop-up when the recording/playback start time has been reached. You also have to chose between DVB-S2 or DVB-T2, as you can't record a program on DVB-S2, while watching a program on DVB-T2 for example. The idea behind having a combo tuner is great, and it works, but the implementation is not as user-friendly and good as one may have expected.
I'd still like to thank Videostrong for giving me the opportunity to review both their K1 Plus "standard" and K1 Plus DVB combo, and resellers and distributors can contact the company via their Alibaba page for further request and/or purchase in quantities. K1 Plus DVB-S2/T2 Android TV box is currently sold for around $76 on GearBest and GeekBuying.

Jean-Luc started CNX Software in 2010 as a part-time endeavor, before quitting his job as a software engineering manager, and starting to write daily news, and reviews full time later in 2011.