After skipping MXQ-4K TV box review due to severe issues with video playback, Zidoo X1 II is actually the first device powered by Rockchip RK3229 processor that I've fully tested. I've already taken pictures of the box, and opened it up to check the board in Zidoo X1 II unboxing and teardown post, and confirmed 4K videos could play pretty well from my USB hard drive using Zidoo Media Center after disabling Media Scanner process. So today, I'll review other parts of the firmware, as well as video playback with ZDMC 16.0, Zidoo's fork of Kodi 16.0.
First Boot, Settings and First Impressions
The device only has two USB ports, and I used one for a USB hard drive, and the other for RF dongles for MINIX NEO A2 Lite air mouse, a USB keyboard, and the RF dongle for Tronsmart Mars G01 gamepad via a USB hub. I also connect HDMI & Ethernet cables before powering up the device by plugging in the 5V/2A power supply. A typical boot take around 24 seconds which is quite impressive for a $50 device, and faster than most other devices I've tested.
The company is now using ZIUI launcher in all their devices, and it's exactly the same as in my reviews for Zidoo X5 and Zidoo X6 Pro. Since RK3229 is a lower-end processor with a Mali-400MP2 GPU, they've decided to use a 1280×720 user interface, instead of the now usual 1920×1080 interface, for better performance. Bear in mind that it does not affect the resolution of videos, which are always played at the video output resolution. Speaking of which, the system automatically detected LG 42UB820T 4K UHD TV and set the resolution to 3840×2160 @ 60 Hz.
Another difference is that while now most new devices are running Android 5.1, and soon Android 6.0, Zidoo X1 II is running Android 4.4. That means the settings now have the old black background, and some interesting options include:
Wireless & Networks – Wi-Fi, Bluetooth, Ethernet, Data usage, and a "More" section with five sections: Airplane mode, Tethering & portable hotspot, VPN, Mobile networks, and VPN. The mobile phone options can useless, as there's no support for 3G dongles.
Device

USB – Connect to PC
Sound – Volume for media, notifications, and alarms, as well as the Sound Devices Manager to select between Default Output, Spdif Passthrough, or HDMI Bitstream
Display

Daydrean
Font size
Screen Scale
HDMI Mode:

Auto
4096x2160p @ 60Hz (YCbCr420), 50Hz (YCbCr420), 30Hz, 25Hz, or 24Hz
3840x2160p @ 60Hz (YCbCr420), 50Hz (YCbCr420), 30Hz, 25Hz, or 24Hz
1920x1080p @ 60 Hz, 50Hz, 30Hz, 25Hz, 24Hz
1280x720p @ 60 or 50 Hz
720x576p/i @ 50 Hz
720x480p @ 60 Hz

Storage – Unified 5.75 GB internal storage partition. I still had 2.82 GB free at the end of the review with all apps and copied files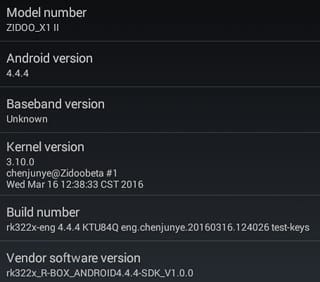 All other usual options are still present including Location, Language & input, Date&time, Accessibility, Printing, and so on.
All features worked well including Ethernet, Wi-Fi, and Bluetooth. I've never seen HDMI output revert to some other video output and/or refresh rate as on Amlogic S905 platforms. Zidoo devices are shipped with some black edges on the sides to compensate for overscan, so if your HDMI monitor supports underscan, you'll have to adjust the "Screen Scale" to 100% to make sure all the screen's real estate is used.
The "About device" section reports "Zidoo_X1 II" model number runs Android 4.4.4 runs on top of Linux 3.10.0. The firmware is not rooted.
The IR remote works OK, but range is limited to 6 to 7 meters, as at around 8 meters I started to get missed key presses. The IR learning function is also working well, and I could set the remote to memorize my TV's remote control volume and power keys. I still used NEO A2 air mouse for most of the review, as it's much more user friendly in Android, and to type username, passwords, and so on.
Google Play Store worked very well, so I could install all apps required for review, and I did not need to waste my time side-loading apks. I also installed the free version of Riptide GP2 via Amazon Underground.
Power handling has been nicely implemented, although currently without the sleep timer available on other Zidoo boxes. A long press on the power key on the remote control will show a configuration menu allowing you to set the behavior of the power key: Power off directly, Standby directly, or Ask me. I've used "Ask me" option, and a short press on the key will shows three options: Power off, Standby, and Reboot. Once you select an option a 5 second counter will start, permitting you to change your mind by pressing any key, before completing the action. The remote control can also be used to turn on the device from power off or standby mode.
I've also measured power consumption with and without USB hard drive (HDD) in three power modes:
Power off – 0 Watt
Standby – 1.1 Watt
Idle – 3.3 Watts
Power off + HDD – 0 Watt
Standby + HDD – 1.3 Watt
Idle + HDD – 5.0 Watts
So the system do not draw power in power off, and overall power consumption is quite low, as expected for a Cortex A7 processor based device.
The TV box stays rather cool, and I measured 38°C and 47°C max on respectively the top and bottom of the enclosure after running Antutu 6.1.2, and after about 15 minutes playing Riptide GP2 the temperature went up to 45°C and 53°C. Performance was also stable throughout, and the system does not appears to be throttling, or at least not in a noticeable way.
I have to say I was pleasantly surprised by Zidoo X1 II performance, and the experience was stable and fluid most of the time, except for the occasional slowdown when installing apps in the background from time to time, and a few random reboots which still happened three to four times during testing.
Video Playback in ZDMC / Kodi 16.0
As mentioned in the introduction, I could play 10-bit H.265, 10-bit H.264 videos from a USB harddrive using Media Center apps, but only after disabling Media Scanner. Otherwise, I would have frequent slow-downs and audio cuts, and the system was continuously scanning my driver. The 100Mbit connection does not allow playback for some of the videos with very high bitrate, so playing from an hard drive is the only practical way, unless you copy the videos to internal storage (limited to up to 5GB depending on the installed app) before playing them back. But in this review, I'll test ZDMC (Kodi 16 fork) from a SAMBA share over Ethernet, except for high bitrate videos where I'll revert the the hard drive, and prefix the result with "HDD".
I also set "Adjust display refresh rate" to "On start / stop" in Kodi to test automatic refresh rates, and for some reasons if I set the video output to 3840×2160 @ 60 Hz, the refresh will match the video, but if it was set to 3840×2160 @ 30 Hz, it would play all videos @ 30 fps.
I've first played some videos part of Linaro media samples, Elecard H.265 samples, and low resolution VP9 video:
H.264 codec / MP4 container (Big Buck Bunny) – 480p/720p/1080p – OK
MPEG2 codec / MPG container – 480p/720p/1080p – OK
MPEG4 codec, AVI container 480p/720p/1080p – OK
VC1 codec (WMV) – 1080p – 480p/720p/1080p – OK
Real Media (RMVB), 720p / 5Mbps – Looks OK, but the first few seconds of the video are not shown
WebM / VP8 480p/720p/1080p – OK
H.265 codec / MPEG TS container – OK
WebM / VP9 (no audio in video) – OK (software decode)
The first few seconds are likely missing for all videos (not only the real media ones) due to automatic refresh rate, but I did not notice it. If I disable "adjust display refresh rate" option I can see the full video. It's just a small issue however. I also noticed there's no option to adjust the video zoom (using the video icon on the bottom OSD), as it will show the 3D settings most of the time, which is more annoying.
I then switched to videos with various bitrates:
ED_HD.avi

(H.264 / 10 Mbps) – OK
big_buck_bunny_1080p_surround.avi (1080p H.264 – 12 Mbps) – OK
h264_1080p_hp_4.1_40mbps_birds.mkv (40 Mbps) – OK
hddvd_demo_17.5Mbps_1080p_VC1.mkv (17.5Mbps) – Could be smoother, and no audio
Jellyfish-120-Mbps.mkv (120 Mbps video without audio) – HDD: OK
The next steps was to test audio capabilities using PCM (stereo downmixing), and HDMI pass-through in Kodi.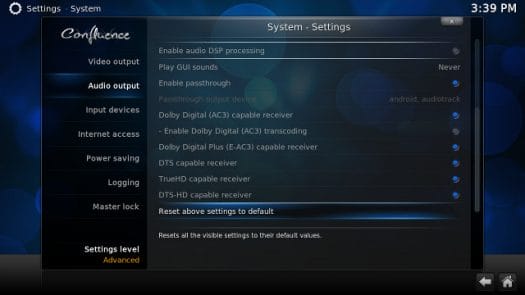 I also added the results I got with Media Center in the table with the results.
Video
PCM Output
(Kodi/ZDMC)
PCM Output
(Media Center)
HDMI Pass-through
(Kodi/ZDMC)
HDMI Pass-through
(Media Center)
AC3 / Dolby Digital 5.1
Audio OK but wrong aspect ratio (1:1)
Audio OK but wrong aspect ratio (1:1)
Audio OK but wrong aspect ratio (1:1)
Audio OK but wrong aspect ratio (1:1)
E-AC-3 / Dolby Digital+ 5.1
OK
OK
OK
OK
Dolby Digital+ 7.1
OK
OK
OK
OK
TrueHD 5.1
OK
OK
OK
OK
TrueHD 7.1
OK
OK
OK
OK
Dolby Atmos 7.1
OK

Continuous beep

Doby TrueHD 7.1 ch. B (with some audio cuts)

Doby TrueHD 7.1 ch. B

DTS HD Master
OK
OK
DTS HD MA 7.1 ch, but with

some audio cuts

OK
DTS HD High Resolution
OK
OK

DTS 5.1 only

DTS 5.1 only

DTS:X
OK
OK
DTS HD Master
DTS HD Master
So that means if you just connect the box to your TV, and play videos with Kodi, audio should be fine, but with other players, videos with Dolby Atmos audio may not play properly. If you connect it through an A/V receiver you may experience some audio cuts, at least with my model (Onkyo TX-NR636), and DTS HD HR 7.1 channel audio is only passed-through as DTS 5.1 ch.
4K videos did not play quite as well with Media Center, but the results are not that bad:
HD.Club-4K-Chimei-inn-60mbps.mp4 – OK

sintel-2010-4k.mkv – OK, after the first few seconds of dropped frames and audio cuts.
Beauty_3840x2160_120fps_420_8bit_HEVC_MP4.mp4 (H.265) – OK
Bosphorus_3840x2160_120fps_420_8bit_HEVC_MP4.mp4 (H.265) – OK
Jockey_3840x2160_120fps_420_8bit_HEVC_TS.ts (H.265) – OK
MHD_2013_2160p_ShowReel_R_9000f_24fps_RMN_QP23_10b.mkv (10-bit HEVC) – OK (however, the system hung when I attempted to stop the video).
phfx_4KHD_VP9TestFootage.webm (VP9) – 3 to 4 fps

BT.2020.20140602.ts

(

Rec.2020

compliant video; 36 Mbps) – Network: Not very smooth, and audio loss after a while. HDD: OK
big_buck_bunny_4k_H264_30fps.mp4 – OK
big_buck_bunny_4k_H264_60fps.mp4 – The video is not very smooth and massive audio delay (4K H.264 @ 60 fps not supported by RK3229 VPU)
Fifa_WorldCup2014_Uruguay-Colombia_4K-x265.mp4 (4K, H.265, 60 fps) – OK
Samsung_UHD_Dubai_10-bit_HEVC_51.4Mbps.ts (10-bit HEVC / MPEG-4 AAC) – Network: Video not smooth, and audio loss. HDD: OK
Astra-11479_V_22000-Canal+ UHD Demo 42.6 Mbps

bitrate.ts

(10-bit H.265 from DVB-S2 stream) – OK
暗流涌动-4K.mp4 (10-bit H.264; 120 Mbps) – HDD: Video will freeze from time to time (very short), and many audio cuts

Ducks Take Off [2160p a 243 Mbps].mkv (4K H.264 @ 30 fps; 243 Mbps; no audio) – HDD: Not smooth (and part of Rockchip marketing materials)
Two Blu-ray video samples (sintek-4k.iso, and amat.iso) could play well, as were the MPEG2 1080i videos. 10-bit H.264 is a selling point of RK3229, but the two Hi10p anime videos had the same issues as usual with video artifacts, but audio and subtitles working fine.
I discovered that my A/V receiver will display a 3D icon when 3D MVC videos are played, so even through my TV does not support those, I can still find out when 3D signals are outputted correctly.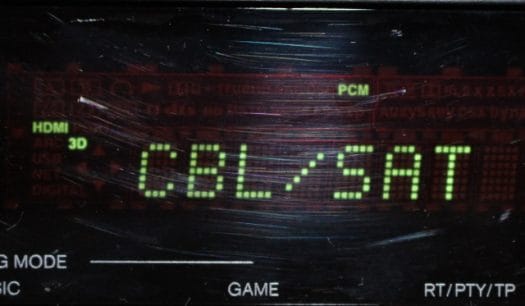 3D stereoscopic videos (Over/under and SBS) won't show that 3D icon however, but I still played then to check whether the system could decode them:
bbb_sunflower_1080p_60fps_stereo_abl.mp4 (1080p Over/Under) – stays in UI, audio only
bbb_sunflower_2160p_60fps_stereo_abl.mp4 (2160p Over/Under) – stays in UI, nothing happens
Turbo_Film-DreamWorks_trailer_VO_3D.mp4 (1080p SBS) – OK
3D-full-MVC.mkv (Full-frame packed MVC 3D MKV) – OK, with 3D icon shown on Onkyo receiver
ISO-full3D-sample.iso (Full-frame packed MVC 3D ISO) – OK, with 3D icon shown on Onkyo receiver
Various VOB/IFO, MKV, AVI, MP4, XViD/DViX, and MKV videos could play fine, and I also play a 2-hour video over SAMBA using WiFi instead of Ethernet, and the video plays smoothly until the end.
I planned to get the Antutu Video Tester 3.0 score, but after 3 unsuccessful tries, including one reboot, and with twice the progress stuck at 91% after reaching 100%. But many of the video did not seem very smooth, but I would not expect a good score anyway here.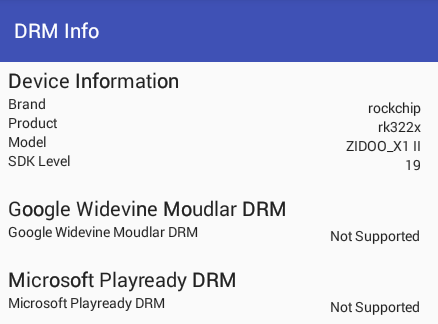 DRM info app could not detect any DRM solution installed in the TV box.
Download links to video samples used in this review can be found in the comments section of that post.
Network Performance (WiFi and Ethernet)
I test both WiFi and Fast Ethernet by copying a 278 MB file between a SAMBA share and the internal storage using ES File explorer several times and average the results. Zidoo X1 II has a slightly under average WiFi transfer rate in my environment averaging only about 2.74 MB/s. That's still good enough to stream HD videos in most cases.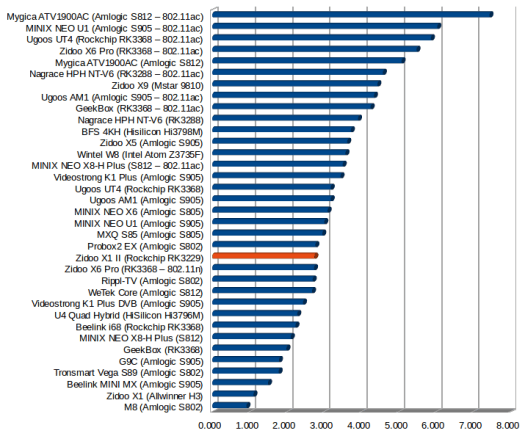 Ethernet is even more disappointing as it copied the file at 5.4 MB/s on average. That's still much better than WiFi, but compared to other devices, it's clearly in the bottom part.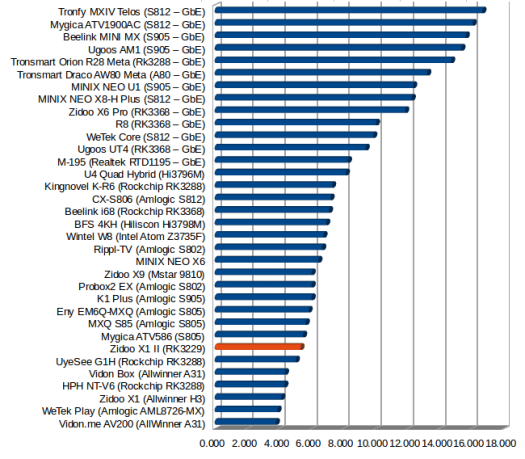 However, it's not because of the Ethernet configuration, as a full duplex iperf test shows about 90 Mbps in both direction, so the bottleneck must be somewhere else.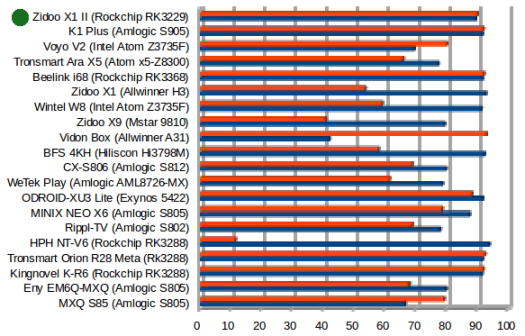 Command line used in Android:

iperf

-

t

60

-

s

server_ip

-

d

iperf output:

Client

connecting

to

192.168.0.114

,

TCP

port

5001

TCP

window

size

:

 

178

KByte

(

default

)

--

--

--

--

--

--

--

--

--

--

--

--

--

--

--

--

--

--

--

--

--

--

--

--

--

--

--

--

--

--

[

 

6

]

local

192.168.0.104

port

54705

connected

with

192.168.0.114

port

5001

[

ID

]

Interval

      

Transfer

    

Bandwidth

[

 

6

]

 

0.0

-

60.0

sec

  

640

MBytes

 

89.4

Mbits

/

sec

[

 

4

]

 

0.0

-

60.1

sec

  

644

MBytes

 

90.0

Mbits

/

sec
Miscellaneous Tests
Bluetooth
Bluetooth support is another advantage of Zidoo X1 II over the cheaper MXQ-4K TV box. I could transfer some pictures over Bluetooth with my smartphone, and get fitness data from Makibes F68 smartwatch with the corresponding app over Bluetooth 4.0 LE. However, I never managed to find my Bluetooth headset with the device, and a skipped Sixaxis PS3 game controller test since the firmware is not rooted.
Storage
Zidoo X1 II only failed to mount the BTRFS partition, and all other partitions on my USB hard drive could be mounted successfully, as well as FAT32 micro SD card.
| | | |
| --- | --- | --- |
| File System | Read | Write |
| NTFS | OK | OK |
| EXT-4 | OK | OK |
| exFAT | OK | OK |
| BTRFS | Not mounted | Not mounted |
| FAT32 | OK | OK |
I used A1 SD bench custom location to test USB throughput for NTFS (/mnt/usb_storage/USB_DISK0/udisk0), EXT-4 (/mnt/usb_storage/USB_DISK0/udisk1), and exFAT (/mnt/usb_storage/USB_DISK0/udisk0), and all had decent read speed close to 30 MB/s, but write speed was rather slow for NTFS and especially exFAT.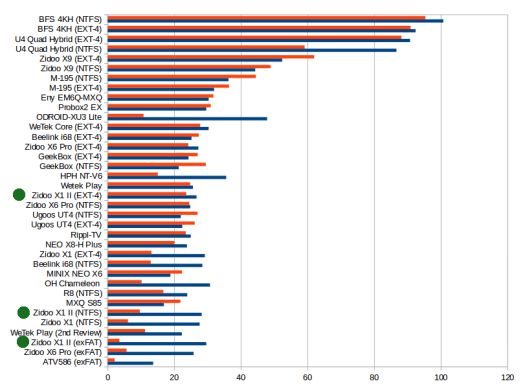 It looks like exFAT is the file system to avoid in Android if you want decent write speeds in any TV box.
The eMMC speed was also good, but the read speed (78.64 MB/s) is likely not valid due to cached read. Write speed was 8.65 MB/s, and should lead to slow down when many concurrent write operation are occurring at the same time. Measuring random write / IOs would also be useful, but it's not something A1 SD benchmark generates.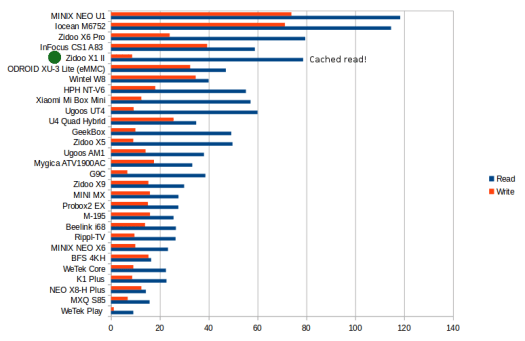 Despite the flawed benchmark results, the eMMC should still have a decent read speed considering the fast boot time.
Gaming
Candy Crush Saga was perfectly playable with the air mouse, but it was laggy once as an app was getting installed in the background.
Beach Buggy Racing was set to "maximum resolution" in the settings, likely due to the 1280×720 framebuffer resolution, and the game was extremely smooth all the time. Riptide GP2 had the same settings, and rendered smoothly for the 15 minutes or so I played it. So performance is OK at this resolution and steady.
Zidoo X1 II Benchmarks
CPU-Z results are toughly the same as for MXQ-4K with a Rockchip RK3066 processor (wrongly) detected with four Cortex A7 core clocked between 408 MHz and 1.46 GHz and a Mali-400MP GPU. Internal storage was much bigger since the company implemented a single partition for both apps and data.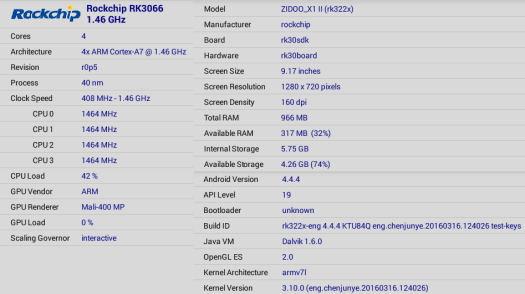 The Antutu 6.1.2 score was also higher with 21,345 points against 19,912 points in MXQ-4K, mostly thanks to higher CPU results maybe because of better cooling, allowing multi-threaded benchmark to run at full capacity.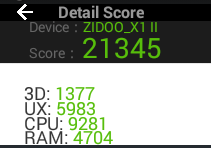 I had some problems with Vellamo and the Browser test would not run properly (many time outs) as shown with the yellow mark on the top right. Multicore score was 1,244 and Metal 707, and comparable to Amlogic S805 devices such as MXQ S85 TV box with respectively 1,319 and 551 points.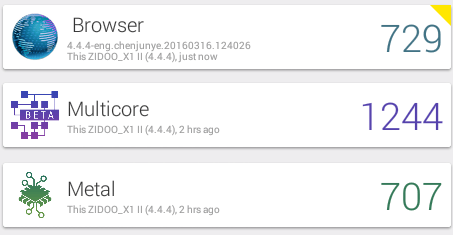 3DMark Ice Storm Extreme benchmark score of 2,195 points is also comparable to the 2,308 points in MXQ S85 TV box, but bear in mind that the latter was using 1920×1080 resolution, so the Mali-400MP2 in Rockchip RK3229 is quite weaker than the Mali-450MP GPU used in Amlogic S805 processor.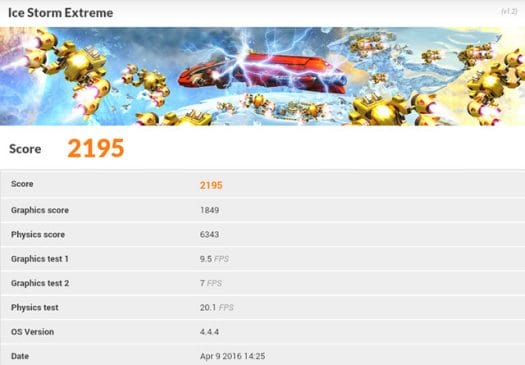 Conclusion
In my experience, while Zidoo provides regular firmware updates, they also launch their product a little too early, with too many bugs, and sometimes poor thermal design. But with Zidoo X1 II, although there are still a few bugs, the firmware features and performance are already quite good, and I did not notice any performance drop off over time. Most part of the hardware are around average including networking and storage, but it still work well enough to play games, and 10-bit H.264 and H.265 4K video playback is very good for a $50 device, at least once you disable Media Scanner if you have connected an hard drive.
PROS
Firmware is relatively stable and smooth to operate
4K 10-bit HEVC/H.265 and 10-bit H.264 is working very well with Zidoo Media Center, and fairly well with ZDMC/Kodi 16.0.
3D MVC videos are supported
Video Output – 4096×2160 / 3840×2160 up to 60Hz, 1080p 24/25/30/50/60, etc.. Automatic frame rate switching is working
HD audio pass-through working for TrueHD and DTS HD Master (with some concerns due to short audio cuts I noticed).
Fast boot time
File systems support – NTFS, EXT-4, exFAT, and FAT32
Proper power handling (remote on/off, 0 watts in power off mode, USB ports off in standby, etc…)
Unified 5.75 GB partition for both apps and data
OTA firmware update, and frequent firmware releases to be expected
CONS
Some random reboots may occur from time to time (not very often though)
Videos may not play smoothly without hack (Disable Media Scanner) if you connect an hard drive
Impossible to easily adjust video zoom level in ZDMC/Kodi (3D menu shown by default)
Some audio cuts may occur when using audio pass-through (at least with Onkyo TX-NR636 receiver)
VP9 up to 4K @ 30 fps is allegedly supported by the processor, but not implemented in the box.
CPU/ GPU performance does not match the one of recent low cost processors such as Amlogic S905 or Rockchip RK3368.
Networking (WiFi and Ethernet) performance slightly below average, albeit still usable
Older Android 4.4 operating system
System could not find my Bluetooth headset (file transfer and BLE smartwatch are OK)
Shape and color of case may not be to everybody's taste
The review sample was provided by Zidoo, and distributors or resellers may want to contact the company via the product page for inquiries or order in quantities. Zidoo X1 II can also be purchased for $49 on GeekBuying, Banggood, or Aliexpress.

Jean-Luc started CNX Software in 2010 as a part-time endeavor, before quitting his job as a software engineering manager, and starting to write daily news, and reviews full time later in 2011.