FOSDEM is the "Free & Open Source Software Developers' European Meeting" takes place the first week-end of February every year in Brussels, Belgium. It turns out there's an event in Asia called FOSSASIA Summit that's about to take place in Singapore on March 22-25.
There are some differences however, as while FOSDEM is entirely free to attend, FOSSASIA requires to pay an entry fee to attend talks, although there are free tickets to access the exhibition hall and career fair. There are also less sessions as in FOSDEM, but still twelve different tracks with:
Artificial Intelligence

Blockchain

Cloud, Container, DevOps

Cybersecurity

Database

Kernel & Platform

Open Data, Internet Society, Community

Open Design, IoT, Hardware, Imaging

Open Event Solutions

Open Source in Business

Science Tech

Web and Mobile
Since the event is spread out over four days, it should be easier to attend the specific sessions you are interested in.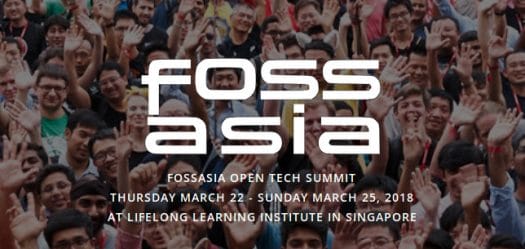 I've created my own virtual schedule, but since talks about IoT and hardware only take place on Sunday, some selected talks may not be fully relevant to this blog. It should still give an idea of what the event has to offer.
Thursday, March 22
13:05 – 13:15 – OpenTech, Business, Government by Teo Ser Luck, MP
13:15 – 13:30 – AI, Cloud, and the Conversational Web by Michael Christen, Founder SUSI AI
13:30 – 13:50 – Daimler and Open Source by Jonas von Malottki (Senior Manager Daimler)
Daimler uses Free and Open Source software within several of its products and thrives to support and collaborate with the Open Source community. Automakers are becoming software companies, and just like in the tech industry Open Source is the way forward. At the keynote Daimler will outline its engagement in the Open Source community and plans for the future. Daimler is the first German automaker that joined the development of Automotive Grade Linux to help build the next generation connected car platform. The company is also a member of the Linux Foundation and Hyperledger.
13:50 – 14:15 – Real-world Machine Learning with TensorFlow and Cloud ML by Kaz Sato, Developer Advocate at Google
We will explore examples of business that have adopted TensorFlow and Cloud ML to solve their real-world problems: a cucumber farmer in Japan who was able to build a deep learning-based cucumber sorter by himself, a used car auction service using TF for classifying car models and parts, and a food manufacturer that has been able to increase productivity significantly in their baby food factory.
14:15 – 15:05 – AI, Machine Learning, Cloud, and the Conversational Web: Where is it all going?
At the leadership opening panel of the FOSSASIA Summit we bring technologists, developers and digital journalists together who will help us to understand what where we are heading with this rapid change. Where are opportunities, where are challenges? Panelists will provide insights from their personal perspective and their daily work. What will distinguish us from machines in future? What do we need to learn to stay ahead of the competition? What tools and technologies are most promising? Does everyone need to be a coder in future? And how can Open Technologies help us?
15:05 – 15:20 – How FOSSASIA Scales Up and What Comes Next by Hong Phuc Dang, Founder FOSSASIA
The FOSSASIA developer network is one of the largest communities in the Open Source world today and we are proud to have a positive impact and improving people's lives with Open Technologies. It took us years to develop approaches and processes to scale projects and we are constantly reviewing and working hard on improving ourselves. So, what is next?What do we want to do next, what do we want to do better and how do we want to help more people, train developers, create better software and hardware and do good?
15:20 – 15:30 – Codeheat Award (Panel)
Codeheat (In the Heat of the Code) is an annual coding contest for FOSSASIA projects. The contest runs between September and January. Grand prize winners attend the FOSSASIA OpenTechSummit in Singapore and receive the award officially in an award ceremony.
15:30 – 15:40 – The Summit 2018 Overview (Panel)
Which tracks and sessions do we have at the FOSSASIA Summit from Thursday (March 22) till Sunday (March 25)? In 12 tracks attendees can learn about the latest Open Source technologies and discuss topics from development to deployment and DevOps. We are bringing together some of the core track organizers and MCs to give you a super quick wrap up of what will happen over the next few days
15:40 – 16:00 – Open Tech Get Together with Coffee and Snacks and Exhibition Tour
Join us for an Open Tech get together with coffee and snacks, meet speakers and developers and dive into the exhibition to explore companies and projects with us. This gathering is hosted by the FOSSASIA core team and our friends from Open Tech.
16:00 – 17:55 – Clouduboy – Create JS Games for Microcontrollers by Istvan Szmozsanszky
Tech Speaker MozillaExplore, tinker, play – learn how to create your very own retro pixelart games for the Arduboy, a tiny Arduino-based pocket-sized game console reminiscent of Gameboy's glory days. Best thing? Thanks to Clouduboy you can now do this entirely in your browser, all in JavaScript with the language and techniques you already know (and love)!
Friday, March 23
09:30 – 10:25 – BigQuery Codelab by Jan Peuker, Product Technology Manager Google
A hands-on coding workshop with Google's interactive global scale data analysis tool BigQuery if you have never seen it before (but have a little experience with SQL ideally).
10:30 – 10:55 – Rise of Kubernetes and the Cloud Native Computing Foundation by Chris Aniszczyk, CTO Cloud Native Computing Foundation
We will discuss the lessons we have learned with containers so far, including how Google (and other Internet scale companies) have been developing and using containers to manage applications for over decade. His session will address the old world of node first development vs. the new world of cloud native computing; along with discussing properties of a cloud native computing architecture – container packaged, dynamically managed and micro-services oriented – and the benefits it can provide developers and end users.
Furthermore, we will cover the formation of the Cloud Native Computing Foundation (CNCF) along with the contribution of its first hosted project: Kubernetes.
11:00 – 11:50 – Making Money with FOSS (Panel)
Commercial Opportunities with Open Source
13:00 – 14:25 – Extract, Analyze & translate Text from Images with Cloud ML APis by Sara Robinson, Developer Advocate at Google
Extract, Analyze & translate Text from Images with Cloud ML APis. Topics of this session are: Vision + NLP + Translation APIs
14:30 – 14:55 – Anatomy of a KVM Guest by Prasad Pandit, Developer at Red Hat
KVM, kernel based virtualization, turns the Linux kernel into an hypervisor to provide full virtualization services. There is great deal of work that happens in the background to create a guest environment and provide various services securely.
In this session we'll peek into the background to understand how a KVM x86 guest environment comes to be, how/where do various emulated peripherals fit in and how do they interacts with each-other, the hypervisor and the hardware. We'll also see examples of the the KVM Virtualization deployments and the value it has brought to businesses.
15:00 – 15:25 – Hacking with x86 Windows Tablet and mobile devices on Linux by Kenji Shimono, Linux Hacker Mobile Netwalker Laboratory
Tablet devices are attractive mobile computer devices, they are inexpensive, lightweight, and come with display, touchscreen, battery and more. They can be purchased for about US$ 40~ now (used Tablets). But most only run iOS, Android, Windows only, no Linux Distribution on Tablet.
In this session, I will talk about Installing and using an Intel Atom tablet, and install grub2 bootloader and Linux.
15:30 – 15:55 – HPXCL: Asynchronous integration of GPU computing with HPX many task processing by Madhavan Seshadri, Software Developer, Stellar Group
Developing massively parallel systems is restricted by the complex tasks which need to be managed by the programmer. GPU computing provides the opportunity to parallelize data parallel algorithms while CPU can run the sequential code.
HPX is an open-source, general purpose C++ library for developing parallel and distributed applications with a broad community usage. This talk aims to discuss the development of HPX Compute language (HPXCL) API for the integration of GPU computation with asynchronous many task execution library HPX.
This development is currently spearheaded by the Stellar Group Community which is a consortium of global researchers.
16:00 – 16:25 – Meilix Generator – your own custom distribution for Internet Kiosks by André Rebentisch, Organizer Open Tech Summit Europe
Meilix Generator is a new tool to build your own custom Internet kiosk for your business. For convenience the kiosk is based on Linux and runs with the lightweight LXQT desktop environment.
16:30 – 16:55 – Inclusion and development – the Meilix Internet kiosk by Tarun Kumar, developer at FOSSASIA
An internet kiosk is a special use case. A single computer is shared by an indefinite number of users. Lots of security concerns arise. In Asia and elsewhere multiple non-latin languages have to be supported. We decided to create a custom lightweight distribution, Meilix and a generator web app that allows you to preconfigure an ISO with the wallpaper and desktop settings in place.
17:00 – 17:25 – UniLinux — Unikernelized Linux by Tiejun Chen, Staff Engineer at VMWare
Unikernel is a novel software technology that links an application with OS in the form of a library and packages them into a specialized image that facilitates direct deployment on a hypervisor. Comparing to the traditional VM or the recent containers, Unikernels are smaller, more secure and efficient, making them ideal for cloud environments. There are already lots of open source projects like OSv, Rumprun and so on. But why these existing unikernels have yet to gain large popularity broadly? We think Unikernels are facing four major challenges:
Compatibility with existing applications
Lack of production support (e.g. monitoring, debugging, logging)
Lack of compelling use case
Lack of standard to Unikernels.
In my presentation, I will review our investigations and exploration of if-how we can convert Linux as Unikernel to eliminate these significant shortcomings, where I name this as UniLinux, and some potential but valuable use cases to Unikernels like IoT, Serverless and IO-intensive applications.
17:30 – 17:55 – Made Easy – Desktop Application Installation by Sudhir Verma, Associate Software Engineer at Red Hat
Development Suite is a curated, integrated set of desktop tools. Desktop tools combine different components that are required by the developer to get an integrated development platform configured and running on your desktop. It is packaged in an easy-to-use installer and the components can be easily integrated and installed via the interactive web application that runs on MacOS and Windows.
Saturday, March 24
09:30 – 09:55 – Open Event Server: Decoupling and Demystifying by Saptak Sengupta, Software Developer at Zomato
I am going to talk about why and how we moved from a single flask application to a decoupled application having separate API endpoints and frontend. I would also go through the entire server side codebase and explain how exactly to use the API endpoints.
10:00 – 10:25 – Open Build Service in Debian by 李健秋 Andrew Lee, Software Engineer at Collabora
It is impressive how much time and resources a team can save by using the OBS to manages their packages creation and distribution. OBS is a generic system to build and distribute packages from sources in an automatic, consistent and reproducible way.
Andrew Lee will cover the benefits of using OBS, explain some of it features and workflow for all your packaging and releasing needs, like automatically build package from scratch on multiple target distros and architectures, easy access through QA to the developer's repo to generate new images with the changes for testing before integration into the production repo, vcs-like workflow as branch code, send merge requests and review submissions and flexible to connect additional resources to empower the backend worker(builders) even with different architectures. At the end tips on how to setup and optimize OBS will be provided.
10:30 – 11:25 – Open Build Service in Debian (workshop) with Héctor Orón Martínez, Senior Engineer at Collabora
In this workshop we intend to run over different configuration options and example cases to be able to manage several distributions with OBS. This is an extention (workshop) for the OBS in Debian presentation.
11:30 – 11:55 – Database Lightning Talk with Ricky Setyawan, Principal Sales Consultant at Orac
13:00 – 14:55 – Machine Learning Workshop by Dunman high school students
Participants will learn how a basic artificial neural network (ANN) functions and implement a basic 'hello world' ANN to reinforce their understanding.
15:00 – 16:55 – Helping students to learn Math better with Python by Tamim Shahriar, Engineering Manager at Grab
Traditionally in classroom, math has been taught using chalk-blackboard fashion. With the advent of technology, some teachers started using multimedia, especially graphics/animation to explain students the different mathematical phenomena. But I strongly believe, if students could code themselves, it would be much more helpful for them to internalize mathematics – from very basic to advance stuffs. In this workshop, I am going to show some simple python programs that students (grade 6 to grade 10) can write which helps them to understand different mathematical concepts.
17:00 – 17:40 – Everything as Code by Seth Vargo, Developer Advocate at Google
As organizations adopt cloud technologies, the need for codification and automation quickly becomes apparent. No longer can engineers create individual servers by shell commands or click through a GUI to provision machines. To add more complexity to the equation, many cloud vendors offer proprietary services that need to be integrated into applications. This new cloud-based world demands automation across the entire stack.
This talk discusses some patterns and open source tools for codifying machines as code, infrastructure as code, and security as code using tools like Packer, Chef, and Terraform.
18:00 – 18:25 – Blockchain and the emerging token economy by Floyd DCosta, CoFounder Block Armour
Blockchain technology gaining mainstream adoption and the emergence of the token economy.
18:30 – 18:55 – Software Defined Radio: Exploring the Spectrum by Matt Ranostay, Senior Software Engineer at Konsulko Group
Technology in recent years has allowed hobbyists to explore the radio spectrum around them for very low cost. This talk will be a discussion on how one can get started in SDR including what hardware to buy and an overview on what Open Source Software exists for use.
Some topics that will be talked about are antenna design, SDR cards, GNURadio, and how to improve signal reception. Some of the radio spectrum applications that will be discussed are:
AIS – Automatic Identification System for marine traffic
ADS-B – Automatic Dependent Surveillance-Broadcast for air traffic
Weather and satellite telemetry signals
Improving security and preventing data leaks from RF signals
Sunday, March 25
10:00 – 10:25 – BlueBorne: Beware of Bluetooth! by Huzaifa Sidhpurwala, Engineer at Red Hat
In Sept. 2017, the Red Hat Product Security Team was notified of a security flaw affecting bluetooth stacks of Linux, Android, IOS and Windows operating systems. This was probably the first cross-platform security flaw of its kind. The impact was evident by the fact that the attacker did not even need to be paired to the victims device in order to exploit it. This talk briefly discusses the security flaw, the exploit mechanism and how such flaws can actually cause much more damage than what is initially evident.
10:30 – 10:55 – Making WiFi Great by Daniel J Blueman, Principal Software Engineer at Numascale
Making WiFi Great analyses the performance limitations commonly found in WiFi networks, revealing secrets and best practise, and takes the participant through practical steps on how to optimise their network, complete with concrete examples and experience.
11:00 – 11:25 – The future of our data by Frank Karlitschek, Founder Nextcloud
We are heading into a world were the files of most users are hosted by 4 big companies. This is the case for most home users, companies but also education and research institutions. If we want to keep our sovereignty over our data, protect our privacy and prevent vendor lock-in then we need open source self hosted and federated alternatives. The internet and the web use a distributed and federated architecture. Now we have to make sure that cloud services follow the same model.
A new challenge is the increasing blending of application hosting and storage as seen at Office 365 and Google Suite. This has the danger to lead to a very strong vendor lock-in.
This talk will discuss the ongoing trends in this areas and possible solutions. It will also give an overview of newest Nextcloud features and the long term roadmap to provide an alternative to centralised services.
11:30 – 12:10 – What is Android Things by Denis Neklyudov, Developer Expert Android & IoT at Google
Introduction to IoT world with Google technologies
12:15 – 12:25 – Cloud and Your FOSS Customize Own Distro by Ko Ko Ye, Founder Ubuntu Myanmar LoCo Team
Cloud – OpenStack, Juju Charms and Desktop Own OS Customization and Differences
13:00 – 13:25 – Shenzhen: A Case Study Alternative to Western-style Innovation by Bunnie Huang, Freelancer Chibitronics PTE LTD

The classic "Western" IP bargain — socially-sanctioned, time-limited monopolies in exchange for taking creative and technological risks — is an age-old concept dating from 15th century Venice. Since then, the Internet was invented, changing the metric for innovation from attribution to virality. The age-old IP bargain has struggled to keep up with this transformation. This talk examines Shenzhen as a culturally isolated petri dish for innovation that exploded symbiotically with the Internet. I will share my observations on the trends and practices that are evolving in an ecosystem that is unbiased by the Western IP bargain.
13:30 – 13:55 – Our Smart Home – from Dream to Reality by Dumi Loghin, Research Fellow School of Computing, NUS
With the advent of Artificial Intelligence, the proliferation of high-quality, complex open-source software and the availability of cheap IoT devices, building your own smart home is not just a dream, but can be a reality.
In this talk, I would like to share with the audience the design of a smart home based entirely on open-source platforms. I will start with the hardware that I have designed to overcome some of the limitations of commercially available devices. Next, I will cover the integration of my hardware devices with the server system which is based on the open-source Home Assistant project. Lastly, I will talk about the configuration of a voice-based personal assistant based on the open-source Mycroft.AI software and the widely-known Raspberry Pi hardware kit.
Through this talk, I want to share my knowledge and I hope to enable more people to start making great things in Singapore, and across the world.
14:00 – 14:25 – SDR LTE As IoT Cubic Satellites Communication by Teng-Ying Tai, CEO MoGaMe Mobile Entertainment
In this paper, we propose a communication method based on Software Defined Radio and LTE, which includes Modulation / Demodulation, Orthogonal Frequency Division Multiplexing (OFDM), eSIM chip, and International Mobile Subscriber Identity (IMSI). So that the communication mode will be able to multiplex the operation and serve multiple satellites, the construction of LTE satellite station and proprietary frequency to apply to the IoT cubic satellite group on the communication. The operation mode can be used on non/synchronous LTE satellite station, and satellite communication authentication with IMSI code for IoT cubic satellite. If the LTE signal is accessible, and authorized to talk, the data will be sent through. The LTE ground station will be the gateway, and downlink to the ground. This method proposed in this paper is applied to LTE ground station, and LTE satellite equipment (UE), with a view to construct IP network of satellite.
14:30 – 14:55 – Real Time Monitoring System using Wireless Sensor Network for Mine Safety by Divya Tadi, Electrical and Electronics Engineer at BVRIT Hyderabad College
The safety of miners is a major problem today. Due to several critical issues like working environment and also the after effect of it is making the miner's health and life is vulnerable. Mining activities release harmful and toxic gases in turn exposing the associated workers into the danger of survival.
A real time monitoring system using wireless sensor network and multiple sensors would be developed to sense, monitor and give early warning to the miner's to avoid fatalities.
This Monitoring system:
keeps a track on surrounding environmental parameters such as temperature, humidity and multiple toxic gases and displays it.
Sends an early warning, which will be helpful to all miners present inside the mine to save their life before any casualty occurs.
Uses Zigbee technology to establish wireless sensor network.
Uses wireless networking standard IEEE 802.15.4 suitable for operation in harsh environment.
Will contain Arduino which is an open source hardware and software, based on micro controller and several components like boards (Xbee module and Zigbee USB interfacing board), LCD (Liquid crystal display), different sensors like MQ7, MQ4, DTH-11 Sensor and other small electronic components.
15:00 – 15:25 – The dark Side of Internet of things by Dipesh Chander Monga, Tech Speaker at Mozilla
With the advent of Internet of things, monitoring and controlling everything such as coffee maker, lights, TV, Fridge,etc. over the internet has become a child's play. But are we really making our lives simpler or diving ourselves in a vast ocean which is getting deeper and deeper? In today's world where the security of our data of a major concern, the number of websites are always tracking what we search for, what we watch, our location and now when things are limited to only data, adding another dimension i.e. physical entities is really a big question.
From this talk audience will take away an understanding of the privacy concerns related to IoT, and how they may be putting their personal information at risk by connecting my physical entities to the internet. Is it really safe to connect things to the internet?
15:30 – 15:55 – Machine Learning for Smart Cities by Truc Viet Le, Machine Learning Developer at SAP
Urban computing is the process of acquisition, integration and analysis of big and heterogeneous data generated by diverse sources in urban spaces to tackle the major issues that cities face today and in the future. In other words, the goal of urban computing is to help us understand the nature of urban phenomena and make cities "smarter". An example of which is how autonomous vehicles would transform the future of urban mobility.
This talk surveys the fundamental concepts, methods and problems in urban computing. I particularly focus on the methods of machine learning and data visualization for urban computing research and practice. I finally introduce a generic machine learning solution framework based on spatiotemporal data to solve urban computing problems with real-world applications in urban transportation and law enforcement.
16:00 – 16:25 – When VR meets Internet of things: Life beyond second life by Pooja Purswani, Tech Speaker at Mozilla
IoT is taking over the technology industry with a huge bang! Our focus is to make the IoT smarter and more suitable for human interaction. Virtual Reality is the next billion dollar industry and it is the future of the Entertainment, Gaming and Education Industry. Now, imagine the possibilities that can exist if we were to we combine the worlds of Virtual Reality and Internet of Things
This session will enable people with minimal knowledge of VR and basic IoT boards (such as Arduino, Raspberry Pi) to experience the best of the IoT & VR worlds.
16:30 – 16:55 – Proctor: An Automation Framework by Roy Peter and Akshat Shah, respectively Systems Engineer & Product Engineer at Go-Jek
With increasing use of Golang as a systems programming language, at Go-Jek we used it to help us automate tasks in a scalable and extensible way. The project we built (Proctor) has 3 components in Golang: a CLI tool (client), server and reservoir of automation scripts.
That's quite a long list as some talks are rather short, and you'll find more choices, especially on Saturday and Sunday on the schedule page.
To attend the FOSSASIA Summit, you'll need one of the following tickets (pricing in SGD converted to US dollars):
Business Registration Fee – Full Event Pass: $523.40
Community Registration Fee – Full Event Pass: $100.90
Academic and Student Registration Fee – Full Event Pass: $52.40
Hall Pass, Career Fair and Opening Reception – Free (limited availability) or $9.10
Young Developers Day Ticket for students up to 18 years old accompanied by one guardian (Saturday March 24 only) – $9.10

Jean-Luc started CNX Software in 2010 as a part-time endeavor, before quitting his job as a software engineering manager, and starting to write daily news, and reviews full time later in 2011.