The smallest, thinnest Linux computer
There are many business card-sized SBCs, like RPi 4. But George Hillard, an embedded systems engineer decided it would be interesting to build an actual business card that was a computer. His card runs Linux and houses an Allwinner F1C100s carrying an ARM9 processor with 32MB RAM and 8MB flash storage.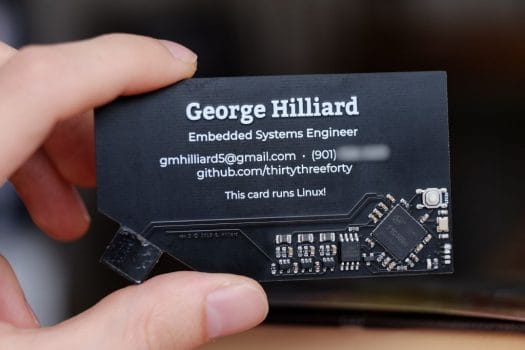 The Basics
It holds some of his photos, a copy of his resume and a couple of games, which is pretty good for something like a business card. There is a USB port off one corner, and the unit can connect to a computer and boot up in about 6 seconds and shows up under USB as a flash drive. But that piggybacked computer-attached display is really the only type of display the card can manage.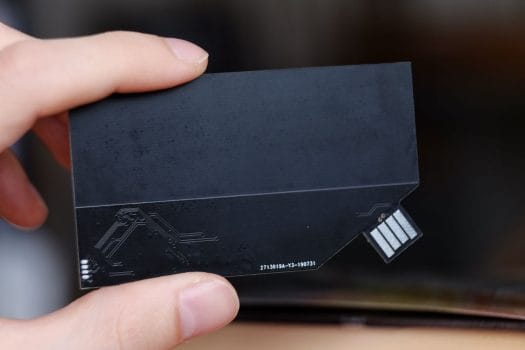 The Shell and Linux Version
The shell has the games, including a version of 2048, and a small MicroPython interpreter. The Linux is v5.2 with extra patches, and the whole thing is hosted on the inventor's thirtythreeforty GitHub page.
The Processor
The processor is an ultra low-priced Allwinner F1C100s, that runs the SoC which includes embedded RAM and CPU. There is no connectivity or heavyweight storage options and the choice of basic components was mandated by the need for absolute cheapness.
USB Connection
The USB port is directly connected to the Linux USB Gadget Framework, which allows for use through USB to a computer.
Costs
The entire card costs $3.00 USD and although this is a more than the average cost of a business card, for a business card that runs Linux, it's an absolute steal.
The Cost Breakdown Goes
Component Price
F1C100s $1.42
PCB $0.80
8MB flash $0.17
All other components $0.49
Total $2.88
Be aware that Georges' time to make each Linux capable business card is "free" in the breakdown above, and each computer is hand made and is time-intensive.
Further Information
George Hillard's blog has many extra details and further information on design processes and other aspects of such a small computer. The liliputing article also helped with information for this reporting and for further information about the inventor and his work.

Stephen started writing about technology after publishing sci-fi short stories. His first White-Paper, written in 2008, was well received and inspired him to continue writing about technology. Today he writes in the technology space full time, covering a multitude of topics. During the time he wrote part-time he edited hundreds of titles for large publishers, in science and technology. He lives in Staten Island, with his wife and children.