Debian 11 "BullsEye" has been released with Panfrost & Lima open-source drivers for Arm GPUs, in-kernel exFAT file system, driverless printing, and many more updates, plus a 5-year support window.
Debian's release is significant as the Linux operating system serves as the base for Ubuntu and derivatives, Raspberry Pi OS, and together with Ubuntu, is one of the operating systems supported by Armbian which offers images for a range of Arm-based single board computers.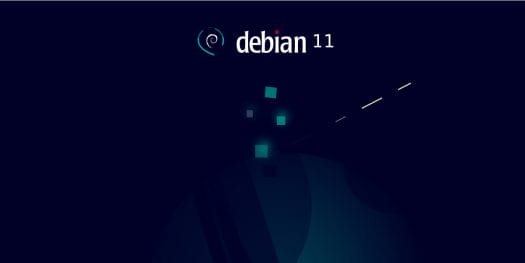 Arm Mali GPU support in Debian 11
I remember a few years ago 3D graphics acceleration on Arm boards was news, as it was quite a challenge to get it working due to binary blobs. But Debian 11 now comes with Mesa 20.3 framework which includes Panfrost and Lima open-source Mali GPU drivers by default, as well as the Vulkan 1.0 conformant V3DV driver for Raspberry Pi 4.
As noted in the documentation that means the following Arm Mali GPUs are supported:
Mali 400 and 450 GPUs via the Lima driver
Mali T720 (only up to OpenGL 2.1 and OpenGL ES 2.0), Mali T760, Mali T820, Mali T860, Mali G72, Mali G31, and Mali G52 via the Panfrost driver
Experimental support for T604, T620, T830, T880, G71, G51, G76
In practice, that means boards and devices based on most Rockchip, Allwinner, and Amlogic processors will have 3D graphics acceleration out of the box.
exFAT support
exFAT file system has been supported for years, so you may wonder what it is all about. That's because exFAT was only supported through a userspace driver (fuse), and now exFAT is supported within the kernel. This should lead to better performance, especially on lower-end hardware as we've seen in the past with another fuse-based file system.
Driverless printing via IPP-over-USB protocol
I remember in the past the need to install printer drivers to get this working, and even in recent years configuring a printer through CUPS required some efforts. But since most modern printers are able to use driverless printing without the need for vendor-specific, usually closed-source, drivers. Debian 11 "Bullseye" comes with ipp-usb package using the vendor-agnostic IPP-over-USB protocol which allows a USB device to be treated as a network device. This should make connecting a printer mostly plug-and-play.
More Debian 11 features
Of course, there are more highlights to Debian 11 including the move to Linux 5.10 LTS kernel, systemd's persistent journal functionality to optionally remove legacy logging daemons, Fcitx 5 input method for Chinese, Japanese, Korean, and other languages, "yescrypt" password hashing, and tenths of thousands of updated packages including GNU Compiler Collection 10.2, PHP 7.4, Gnome 3.38, KDE Plasma 5.20, LXDE 11, LXQt 0.16, MATE 1.24, and Xfce 4.16.
You can check out the release notes for a more detailed changelog. The amd64 and i386 images (CD or network installer), as well as ports for Arm (armel, armhf, arm64), MIPS (mipsel and mips64el), as well as little-endian Motorola/IBM PowerPC (ppc64el) and 64-bit IBM S/390 (s390x) can be found on Debian website.
Via Phoronix

Jean-Luc started CNX Software in 2010 as a part-time endeavor, before quitting his job as a software engineering manager, and starting to write daily news, and reviews full time later in 2011.