A few days ago I posted pictures of Ugoos UM3, a cute mini PC powered by Rockchip RK3288 quad core Cortex A17 processor, with 2GB RAM, 8GB internal storage, a few USB ports, and Wi-Fi 802.11 b/g/n/ac connectivity. There are so many Rockchip RK3288 based TV boxes and sticks on the market, that it has become difficult to differentiate, so Ugoos has decided to support not only Android 4.4 like all their competitors, but also Ubuntu 14.10, and they've provided an alpha release of dual boot Android / Ubuntu images for Ugoos UT3 and UM3 models.
Yesterday, I flashed the latest Android/Ubuntu firmware for UM3, and tested the image, so today I can report my findings. First of all, I'd like to point out that I received an earlier sample with various flaws that I reported to Ugoos, and they've already committed to fixes:
5V/2A power adapter is not powerful enough to drive the box and an external hard drive, leading to HDMI TV blinking, and reboots. Fix: Change power adapter to 5V/3A.
No heatsink leading to 100+ C temperature and reboot in Antutu benchmark, even with better power supply. Fix: All finished UM3 have an heatsink (metal plate) as shown below.

Confusing OTG/DC marking on micro USB DC only port, and no marking on actual USB OTG port. Fix: The case will be update to show where the full-sized USB OTG port is.
So now that we've got these engineering sample issues out of the way, let's talk a bit about the firmware. If you'd rather not read, and just watch the video, scroll down to the bottom of this post. Right after flashing, the firmware will boot to Android by default.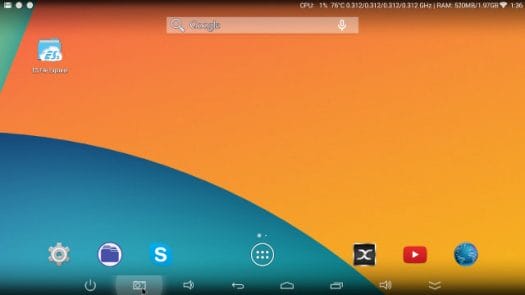 The system has actually two launchers pre-installed, the stock Android home screen as pictured above, and the same TV-friendly user interface as Nagrace HPH NT-V6. The company has also added "Ugoos" settings to the firmware which are options to display CPU usage (overall or per cores), cores frequency, and memory usage. There are two partitions reserved for Android out of the 8GB flash: a 0.95 GB partition for apps, and a 2.17 GB partition for data. I've tried Antutu benchmark, but either the 5V/2.5A power supply I used is not powerful enough (even when no hard drive is connected), or the temperature went above 100 C for too long, and the system simply reboots. I did not use my 5V/8A power supply since I have not made a 5.5/2.1mm power barrel to micro USB adapter yet.
That's all I did with Android, then I clicked on the power button in the task, and selected Switch System option. Within 45 seconds, I got to login prompt for user ugoos, enter the password (ugoos), ans started to play around.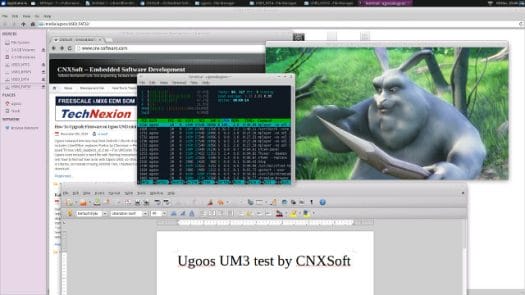 The first task was to connect Wi-Fi, which mostly worked, except DNS would not work properly. /etc/resolv.conf seems to be hardcoded to 192.168.2.1, which my router IP address is actually 192.168.0.1. To fix the DNS issue, I ran a few commands:

sudo

ln

-

s

/

run

/

resolvconf

/

resolv

.

conf

/

etc

/

resolv

.

conf

Wi-Fi won't connect automatically at boot time, and I always had to click on my ESSID in the menu on the top right to connect to the network. USB Ethernet is supposed to work, but it's not something I've tried. I've also checked the storage reserved for Ubuntu rootfs: 3.2 GB with 1.4 GB used, so 1.8 GB free, and we can also access the 2.3GB Android "data" partition from Ubuntu.
So after I tried LibreOffice which boots in a few seconds, typed a short seconds with a USB keyboard, and as expected I did not encounter any issues here. Then I switched to Chromium, but YouTube would refuse to load and complained with the message "Connection is not private", and recommending to set the date/ time of the computer. So I looked for a way to configure the date and time in XFCE, and apparently it's not possible from the user interface, so instead I used command tools to set the timezone, and get the time from NTP:

timedatectl

list

-

timezones

timedatectl

set

-

timezone

Asia

/

Bangkok

timedatectl is part of systemd-services (in Ubuntu), but I can't remember if ntpdate was pre-installed. If it was not simply:

sudo

apt

-

get

install

ntpdate

After setting the correct date and time, I could use Chromium to test the following:
Loading cnx-software.com – No problem, it loaded reasonably fast, and all items were properly displayed.
Playing an embedded YouTube video in CNX Software – OK (360p)
Playing the same YouTube video in YouTube – Some audio cuts and video may be choppy at time (480p)
Same YouTube Video (VP9 – 480p) in full screen – Video even more choppy, and audio cuts more frequent
Facebook Flash games – Candy Crush Saga: Will only load up to 67% of the game, and I could not play; Angry Birds with Friends: Load with error message: "This application is not correctly embedded. Wrong wmode value".
So the web browsing experience is far from optimal, at least if you plan to use YouTube, or other online video services, or play flash games.
For the next step, I went to my USB hard drive (NTFS partition) in the File Manager, and clicked on a 1080p H.264 video (Big Buck Bunny) which started mplayer, and play the video smoothly. Later I tried the MP4 version of the video, and noticed some slowdowns. So some 1080p videos may play just fine, and some others not so. To make sure video decoding was done by software, I also tried to play a 4K video, and as expected it was a disaster (2 to 3 frames per second).
Finally I installed es2gears to confirm 2D/3D graphics acceleration is not enabled (yet):

sudo

apt

-

get

install

mesa

-

utils

-

extra

Running es2gears will simply fail, and not even fallback to software rendering. I forgot to capture the exact error message, and one of the warning reads "libEGL warning: DRI2 failed to authenticate".
Once I finished playing in Ubuntu, I clicked on the top menu Other->Reboot to Android, which opens a terminal windows asking to enter your user password into to complete the action, and within 30 to 40 seconds, I was back in Android.
Here's the video with my tests. I'm sorry but the video quality is not very good, especially in Ubuntu where it's difficult, not to say impossible, to read the small text. I'll have to find a better solution solution for next time, maybe getting an HDMI input recorder.
Some other quick comments. There's no circuitry for power off in Ugoos UM3, so you'd have to disconnect the power to turn it off. If you do so in Ubuntu, the box will start Ubuntu next time, and in Android, it will boot to Android. I've also noticed that once Ubuntu enters screensaver mode (Black screen), there's no way to get out of it, and a power cycle is needed.
That's the status of the Android / Ubuntu image so far. Several bugs need to be addressed, VPU and GPU support in Linux, much more work is currently needed to have better Ubuntu image, although it can already be used to work with LibreOffice, and with caveats, to browse the web. Ugoos UM3 only has a 8GB eMMC flash, which means only 3GB is available in Android and Ubuntu, so you may consider using the Android or Ubuntu image instead of the dual boot image, if you need to install more applications.
If you plan to buy in quantities, you can do so by contacting the company via Ugoos UM3 product page. Since the device still in development, albeit almost ready, few sellers propose it for pre-order including Dealsprime for $109.99 including shipping, and on "Ugoosshop" for 129.95 Euros. It's big brother, UGoos UT3, which also supports Android and Ubuntu, has been available for a month or so, and sells for about $140 on Amazon US
, Chinavasion, GeekBuying, and others.

Jean-Luc started CNX Software in 2010 as a part-time endeavor, before quitting his job as a software engineering manager, and starting to write daily news, and reviews full time later in 2011.