Beelink i68 is one of the first 64-bit ARM Android mini PCs available on the market, and could offer an update to Rockchip RK3288 TV boxes thanks to its eight Cortex A53 cores and support for HDMI 2.0 up to 4K2K @ 60Hz. I've already taken a few pictures of the device and RK68 board, so today I'll report about performance, stability, features and video playback capabilities in the full review.
First Boot, Settings and First Impressions
The box has three USB 2.0 host ports and a micro USB OTG port, so for once I did not have to use a USB hub to connect all my devices and cables. I've inserted an Ethernet cable, an HDMI cable, an optical cable to the S/PDIF output, a Class 10 micro SD card, a USB hard drive, a USB webcam, an RF dongle for Tronsmart Mars G01 wireless gamepad, and finally MeLE F10 Deluxe RF dongle to the micro USB OTG port via the OTG adapter provided with the box. After connecting the power, you'll need to press the red power button on the rear panel to start the device. The boot takes 44 seconds, which is OK, and might be faster with less peripherals connected to the mini PC.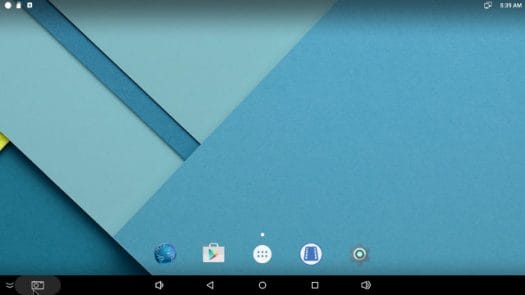 The launcher is the standard Android Home Screen with icons for the Browser, Google Play, the list of App, an Internal player, and Settings. The status bar is hidden by default, but you can pull it up with the mouse pointer. The user interface resolution is 1920×1080, but the system automatically detected the capabilities of LG 42UB820T 4K TV and set the video output to 3840x2160p60 (YCbCr420).
The settings interface is basically the same as on other Android 5.1 devices but with some options specific to TV boxes. The most relevant / uselful options include:
Wireless & Networks – Wi-Fi, Data usage for Wi-Fi and Ethernet (Accessing the latter crashes the settings), Bluetooth, and a "More" section with four sections: Tethering & portable hotspot, Ethernet, PPPoE and VPN
Device

USB – Connect to PC
Sound & Notifications – Volume for various sounds, and a Sound Device Manager to select Default Output, Spdif Passthrough, or HDMI Bitstream
Display

Cast Screen
Screen Scale
HDMI Mode:

Auto
4096x2160p @ 60Hz (YCbCr420), 50Hz (YCbCr420), 30Hz, 25Hz, or 24Hz
3840x2160p @ 60Hz (YCbCr420), 50Hz (YCbCr420), 30Hz, 25Hz, or 24Hz
1920x1080p @ 60 Hz, 50Hz, 30Hz, 25Hz, 24Hz
1280x720p @ 60 or 50 Hz
720x576p @ 50 Hz
720x480p @ 60 Hz

Storage – Two partitions: 1.94GB "Internal storage" with ~1.21GB free, 3.78GB "NAND Flash" partition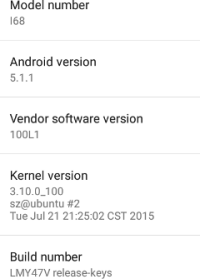 The other usual options like Printing, Security, Language & Input, etc.. are still there. If you want the full details, checkout the walk-through video embedded a little further below.
I had no problems connecting with Wi-Fi, Bluetooth and Ethernet. As previously mentioned, HDMI output was automatically set to 4K 60Hz, although some time later, I could see it set to 1080p60 after rebooting, so it could be automatic detection is not 100% reliable. I had to adjust the "Screen Scale" to 100% to make use of all the "real estate" of my TV screen.
The "About device" section reports "I68" as the model number, which runs Android 5.1.1 on top of Linux 3.10.0_100. The firmware version is 100L1, and I also checked with system updates in that menu, but it appears I have the latest firmware, or Firmware update OTA is not activated. This firmware is not rooted.
Here's the walk-through video showing more details about the settings, as well as some tests in Kodi and the internal player with a 4K 60Hz H.264 video, and a 4K 30Hz H.265 video sample.
I also quickly tried the IR remote control, and after inserting 2x AAA battery, it was perfectly usable at 2 to 3 meters from the box, but around 5 meters I noticed some keys pressed were missed. I still use my air mouse for most of the review, but I decided to move the RF dongle from the micro USB OTG port to one of the USB 2.0 host port because I lost control of the air mouse when I went to the USB settings…
The Google Play Store works very well, and the only apps I could not install require SMS capabilities (cellular), or are not available my locale anymore (e.g. CNBC Video). The only two apps that I believe should have installed, but are not available for my device, are Vidon Smartband and Plants vs Zombies 2 game. I also installed the Amazon app in order to download Riptide GP2 which I got during a "free app of the day" promotion. You may have heard about Stagefright bug affecting earlier versions of Android, so I've run the Stagefright Detector app, and everything is clear. That's one of the advantages of getting a recent Android version…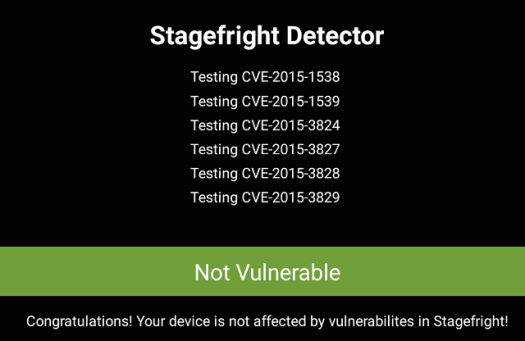 The power circuit does not appear to be controlled by an MCU. A long press (2 seconds or more) on the power button on the remote control or the unit itself, will bring a menu to Power Off or Reboot, but both options will simply reboot the device, so there's no option to truly turn off the device. A short press will make the device enter standby mode, and another press will wake it up again. So you'll have to choose between going into Standby mode or disconnect the power. The latter may lead to corrupted firmware, even after Standby mode is activated. When you connect the power adapter, the device won't boot, and you need to press the button on the back of unit, as the power button on the IR remote control won't work.
Beelink i68 stays pretty cool for a mid range device, as the temperature only went up to 42°C and 48°C on the top and bottom of the enclosure after running Antutu 5, and it got slightly warmer after 15 to 20 minutes playing Riptide GP2 at respectively 49°C and 56°C on the top and bottom of the case. These are the maximum temperatures I got while scanning the box covers with an IR thermometer.
The device feels just as responsive as boxes powered by Amlogic S802 or Rockchip RK3288, and the system is very stable, apart from a few bugs in the settings and Kodi where both apps may crash.
Video Playback with Kodi
The firmware was pre-loaded with Kodi 14.2, so that's what I used for testing with various videos stored on SAMBA shares in an Ubuntu 14.04 computer and accessed while connected via Ethernet. I had not troubles to connect to my SAMBA share in either Kodi or ES File Explorer.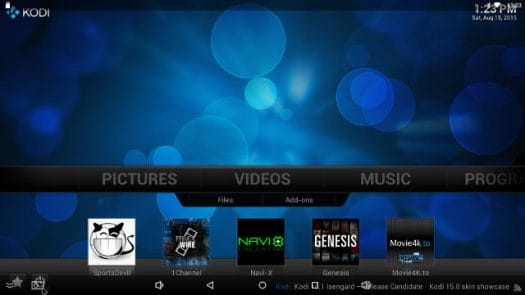 Let's being with video samples from samplemedia.linaro.org, as well as some Elecard H.265/HEVC samples, and a low resolution VP9 video:
H.264 codec / MP4 container (Big Buck Bunny) – 480p/720p/1080p – Mostly OK, but I could notice some "image jump" occurring very rapid, maybe 2 or 3 times in the video, as if an older frame was displayed for a short. It might also have been a bit smoother
MPEG2 codec / MPG container – 480p/720p/1080p – Same results as for H.264
MPEG4 codec, AVI container 480p/720p/1080p – Same results as for H.264
VC1 codec (WMV) – 480p/720p/1080p – audio only
Real Media (RMVB), 720p / 5Mbps – Software decode @ ~18 to 22 fps instead of 25 fps
WebM / VP8 – Could be a little smoother
H.265 codec / MPEG TS container (360p/720p/1080p) – 360p and 720p – OK. 1080p plays at 15fps, for a 24fps video, ) with audio/video sync issues.
WebM / VP9 (no audio in video) – OK
Results are a little disappointing, although it's possible some people find video playback to be acceptable, as the "image jump" issue does not occur that often and is very short (like one frame).
I've followed up with some higher bitrate videos:
ED_HD.avi

– OK, except during fast moving scenes, where the video is not really smooth
big_buck_bunny_1080p_surround.avi (1080p H.264 – 12 Mbps) – OK.
h264_1080p_hp_4.1_40mbps_birds.mkv (40 Mbps) – OK
hddvd_demo_17.5Mbps_1080p_VC1.mkv (17.5Mbps) – audio only, and it stops after 9 seconds
Jellyfish-120

-Mbps.mkv

(120 Mbps video without audio) – Sometimes OK, but most of the time not, with the fps fluctuating a lot between 12 fps to 60 fps… played from USB hard drive
I've played some HD audio videos both down-mixed to PCM using Kodi and the internal player "Video" app, and audio pass-through with Onkyo TX-NR636 using HDMI pass-through with BD/DVD input, and optical S/PDIF with TV/CD input. For audio pass-through, AC3 and DTS pass-through, as well as Dolby transcoding, were enabled in Kodi, as well as Spdif passthrough and HDMI bitstream in Android Sound settings as needed.
Video
PCM Output
Kodi
PCM Output
"Video" app
HDMI Pass-through
Kodi
S/PDIF Pass-through
Kodi
AC3 / Dolby Digital 5.1
OK
OK
OK. (Dolby 5.1)
OK (Dolby 5.1)
E-AC-3 / Dolby Digital+ 5.1
OK
OK
OK. (Dolby 5.1)
OK (Dolby 5.1)
Dolby Digital+ 7.1
OK
OK
Dolby 5.1
Audio Formats Not Supported over S/PDIF
TrueHD 5.1
Slow motion video, and audio cuts
OK
Dolby 5.1
Slow motion video, and audio stops after a while
TrueHD 7.1
OK
OK
Dolby 5.1
Dolby Atmos 7.1
OK
OK
Dolby 5.1
DTS HD Master
OK
OK
Dolby 5.1
DTS HD High Resolution
OK
OK
Dolby 5.1
You may have noticed I've added a video with Dolby Atmos 7.1, as my AV receiver supports it, and I've found some free Atmos samples online. The pass-through results were always Dolby 5.1 when transcoding was enabled in Kodi, but if I disabled it then it would just about stereo audio (PCM 2.0) for all codecs.
Sintel-Bluray.iso and amay.iso (Ambra – Prism of Life) Blu-ray ISO could play without noticeable issues, as did my two 1080i MPEG2 video samples (GridHD.mpg & Pastel1080i25HD.mpg). I've yet to find a box that plays Hi10p videos:
[Commie] Steins;Gate – NCED [BD 720p AAC] [10bit] [C706859E].mkv – Audio OK, green screen only, and no subtitles.
[1080p][16_REF_L5.1][mp3_2.0]Suzumiya Haruhi no Shoushitsu BD

OP.mkv

– Audio OK, subtitles OK, but video with massive artifacts, and got stuck after a short while.
Since HDMI 2.0 support is one of the main selling point of RK3368 TV boxes, you'd think they'd work to make 4K videos, and especially 2160p @ 60 fps video, work in Kodi:
HD.Club-4K-Chimei-inn-60mbps.mp4 – Starts OK, but somehow the framerate drops to 10 fps, and becomes choppy near the end

sintel-2010-4k.mkv – The first 10 seconds are stuttering, then it looks OK, only to become unwatchable a few seconds later due to low framerate.
Beauty_3840x2160_120fps_420_8bit_HEVC_MP4.mp4 (H.265) – Probably playing at 2 to 3 fps (Kodi live log says 8 to 11 fps)
Bosphorus_3840x2160_120fps_420_8bit_HEVC_MP4.mp4 (H.265) – Probably playing at 2 to 3 fps (Kodi live log says 8 to 11 fps)
Jockey_3840x2160_120fps_420_8bit_HEVC_TS.ts (H.265) – Won't play, the system stays in user interface.
MHD_2013_2160p_ShowReel_R_9000f_24fps_RMN_QP23_10b.mkv (10-bit HEVC) – Probably plays at 3 to 4 fps using software decode as all eight cores are close to 100% CPU usage.
phfx_4KHD_VP9TestFootage.webm (VP9) – Probably plays at 3 to 4 fps using software decode as all eight cores are close to 100% CPU usage.

BT.2020.20140602.ts

(Rec.2020 compliant video) – Won't play, the system stays in the user interface
big_buck_bunny_4k_H264_30fps.mp4 – Not smooth, at 15 fps or less
big_buck_bunny_4k_H264_60fps.mp4 – Even less smooth than the 30 fps video (~10 fps) with serious video/audio synchronization issue.
I feel tired getting devices that don't support 4K videos in Kodi… Nevermind, let's try those with the "Video" app from a USB hard drive:
HD.Club-4K-Chimei-inn-60mbps.mp4 – OK

sintel-2010-4k.mkv – OK
Beauty_3840x2160_120fps_420_8bit_HEVC_MP4.mp4 (H.265) – OK
Bosphorus_3840x2160_120fps_420_8bit_HEVC_MP4.mp4 (H.265) – OK
Jockey_3840x2160_120fps_420_8bit_HEVC_TS.ts (H.265) – "Can not be played"
MHD_2013_2160p_ShowReel_R_9000f_24fps_RMN_QP23_10b.mkv (10-bit HEVC) – Green screen…
phfx_4KHD_VP9TestFootage.webm (VP9) – "Can not be played"

BT.2020.20140602.ts

(Rec.2020 compliant video) – Audio and green screen…
big_buck_bunny_4k_H264_30fps.mp4 – OK
big_buck_bunny_4k_H264_60fps.mp4 – Plays in slow motion, massive audio/video sync issues
That's better, but too bad it fails to play the 4K 60fps H.264 video…
My 4K UHD television does not support 3D, but I still try to play some stereoscopic 3D videos to see if the system can decode them:
bbb_sunflower_1080p_60fps_stereo_abl.mp4 (1080p Over/Under) – 10 to 15 fps, audio/video sync delay
bbb_sunflower_2160p_60fps_stereo_abl.mp4 (2160p Over/Under) – Audio only (None of my hardware can decode this though, as it's require two 4K decoders for 4K 3D videos…)
Turbo_Film-DreamWorks_trailer_VO_3D.mp4 (1080p SBS) – OK
I've played a bunch off FLV videos, and most can play, but the ones which can't be played will crash Kodi. H.265, DViX/XVid, VOB/IFO, and MP4 could play, although some will get that "image jump" bug I got with Big Buck Bunny linaro samples from time to time. I also got three XVid video at standard resolution that would make Kodi crash, and some had audio / video sync issues.
I could play a full 1080p MKV movie without interruption, and Kodi log window reported only 2 dropped frames and no skipped frame, but while watching the video I did not always seem perfect, so I'm assuming the reported values in this device can't be trusted. I experienced the same issue with sample videos.
Finally, I've downloaded Antutu Video Tester from Google Play (Version 2.2), which soon after informed me there's a new 3.0 version, which I downloaded. However, I first ran the test in version 2.2, and the system only got around 230 points which is pretty low, but with the new version it got 532 points. So that means we can't compare scores between versions. You can find the detailed results for Antutu Video Tester 3.0 below.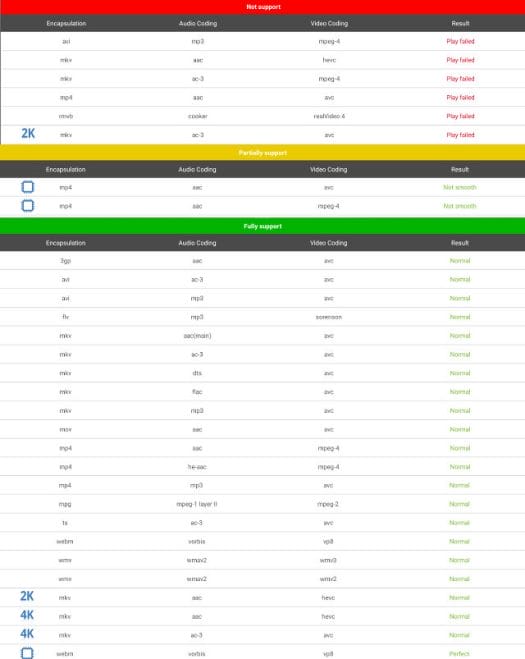 The video samples used in this review can be downloaded via links found in "Where to get video, audio and images samples" post and in its comments section.
Network Performance (Wi-Fi and Ethernet)
I'm using ES File Explorer to transfer a 278 MB file between a SAMBA share and the flash three times, and average the results to test Wi-Fi and Ethernet performance. Results for Beelink i68 are not catastrophic, but rather underwhelming, with the average transfer speed @ 2.2 MB/s, ranking the box as one of the least performing device for WiFi connection, at least with my setup.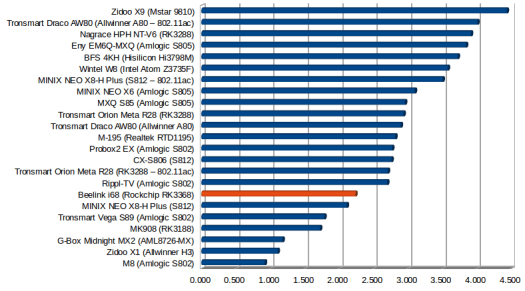 I also ran iperf with Wi-Fi using the command line "iperf -t 60 -c 192.168.0.104 -d" and the results are similar, but strangely a little slower than with SAMBA:

--

--

--

--

--

--

--

--

--

--

--

--

--

--

--

--

--

--

--

--

--

--

--

--

--

--

--

--

--

--

Client

connecting

to

192.168.0.110

,

TCP

port

5001

TCP

window

size

:

85.0

KByte

(

default

)

--

--

--

--

--

--

--

--

--

--

--

--

--

--

--

--

--

--

--

--

--

--

--

--

--

--

--

--

--

--

[

 

6

]

local

192.168.0.104

port

45737

connected

with

192.168.0.110

port

5001

[

 

6

]

 

0.0

-

60.0

sec

  

116

MBytes

 

16.3

Mbits

/

sec

[

 

5

]

 

0.0

-

60.1

sec

  

119

MBytes

 

16.7

Mbits

/

sec

GearBest claims the box supports Gigabit Ethernet on their product page, but when I connect the box to my Gigabit switch only a Fast Ethernet connection is detected. It could be the first devices sold don't ship with Gigabit Ethernet, but by the end of the month or next month, the new production run will have Gigabit Ethernet, as I've been told is the case for Tronsmart Orion R68. Nevertheless considering the transfer is taking place over a 10/100M link, the performance is very good.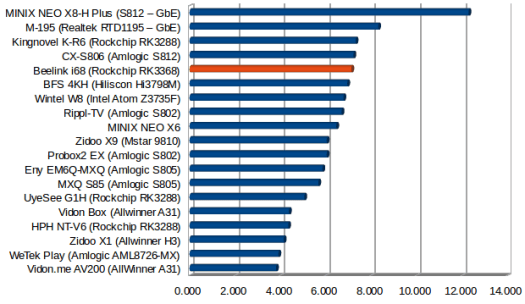 iperf confirms the very good performance (for 10/100M Ethernet) as running iPerf with the same command line as for WiFi delivers a transfer rate of over 90 Mbps in both direction.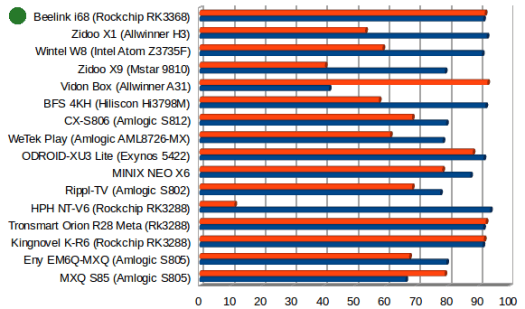 Ethernet iperf output:

Client

connecting

to

192.168.0.116

,

TCP

port

5001

TCP

window

size

:

 

144

KByte

(

default

)

--

--

--

--

--

--

--

--

--

--

--

--

--

--

--

--

--

--

--

--

--

--

--

--

--

--

--

--

--

--

[

 

6

]

local

192.168.0.104

port

39845

connected

with

192.168.0.116

port

5001

[

ID

]

Interval

      

Transfer

    

Bandwidth

[

 

6

]

 

0.0

-

60.0

sec

  

656

MBytes

 

91.6

Mbits

/

sec

[

 

4

]

 

0.0

-

60.1

sec

  

660

MBytes

 

92.1

Mbits

/

sec
Miscellaneous Tests
Bluetooth
I could pair my Mediatek MT6572 smartphone with issues, and transfer several pictures over Bluetooth.
I had to skip Sixaxis test with my Bluetooth PS3 controller, since the firmware is not rooted, and I did not try to root it.
Finally, I installed Vidon Smartband app to connect to X5 fitness band over Bluetooth LE, and the fitness band was detected, but for some reasons it failed to synchronize data, and always ends with "No bracelet connected".
Storage
The system could mount a FAT32 micro SD card, as well as the NTFS and EXT-4 partitions on my Seagate USB HDD, but exFAT and BTFRS are not supported.
| | | |
| --- | --- | --- |
| File System | Read | Write |
| NTFS | OK | OK |
| EXT-4 | OK | OK |
| exFAT | Not mounted | Not mounted |
| BTRFS | Not mounted | Not mounted |
| FAT32 | OK | OK |
A1 SD Bench results are not pretty standard for transfers over a USB 2.0 connection. However, EXT-4 write speed is about twice as fast as NTFS write speed.
NTFS (/mnt/usb_storage/USB_DISK2/USB3_NTFS) – Read: 28.47 MB/s , Write: 12.97 MB/s
EXT-4 (/mnt/usb_storage/USB_DISK2/udisk1) – Read: 25.21 MB/s, Write: 27.40 MB/s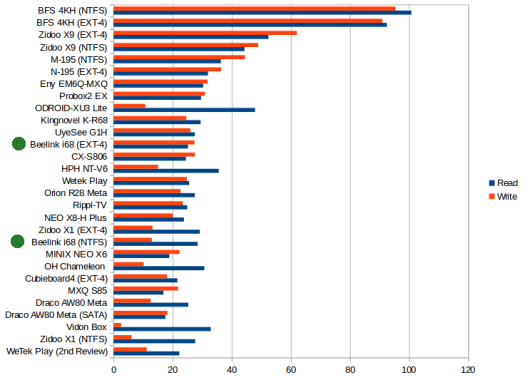 Beelink i68 internal performance is OK, but not quite the best I've seen so far, which explains why it boots in around 45 seconds, instead of under 20 seconds for the fastest devices. The FORESEE eMMC flash read @ 26.56 MB/s, and wrote @ 13.93 MB/s in A1SD app.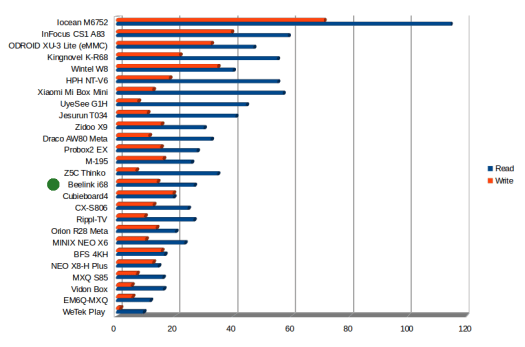 USB Webcam
First I connected my USB webcam to the micro USB port via the OTG adapter, and I did not work for either Skype or Hangout. Switching to a USB host port improved things a little bit, as the Echo / Sound Testing Service work fine in Skype, but for some reasons, I never manged to get the picture from the USB webcam.
Google Hangouts worked fine however.
Gaming
I played three games Candy Crush Saga, Beach Buggy Racing, and Riptide GP2. PowerVR G6110 was a bit of an unknown to me, but it performed pretty well with all three games at 1080p. Beach Buggy Racing was super smooth, even after maxing out the graphics settings. Riptide GP2 was super smooth with default settings, and after settings the Graphics settings to the maximum, it was still playable, but I could feel it was not quite as smooth. Both racing games were played with Tronsmart Mars G01 wireless gamepad.
Beelink i68 Benchmarks
CPU-Z does not know Rockchip RK3368, but detected the 8 Cortex A53 cores @ 312 MHz to 1.2 GHz and the PowerVR G6110 GPU correctly.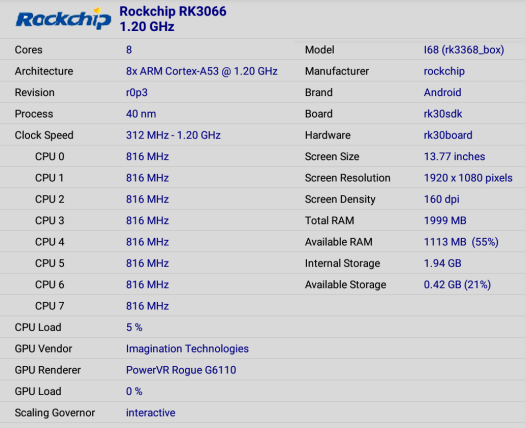 The model is I68 (rk3368_box) with 2GB RAM, and only 1.94GB storage detected, because the firmware uses two partitions. The UI resolution is confirmed to be 1920×1080.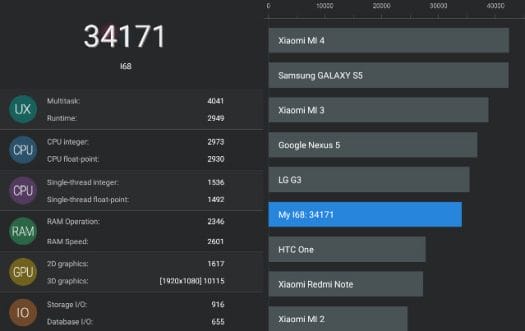 Beelink i68 gets 34,171 points in Antutu 5.7.1. which compares to 35,000 to 37,000 points I got with various RK3288 TV boxes, such as HPH NT-V6 or Uyesee G1H last year. So as expected, you should not really get a performance boost compared to RK3288 devices. I'll make a more detailed benchmark comparison between RK3288 and RK3368 in a post later on.
Please note that when the USB hard drive was connected, the 5V/2A power supply could not deliver enough power to complete Antutu, and the system would reboot during the multi-threaded floating point benchmark. I had to disconnect the hard drive the complete the benchmark successfully. RK3288 FPU would consume a lot of power, so I guess it's the same for RK3368.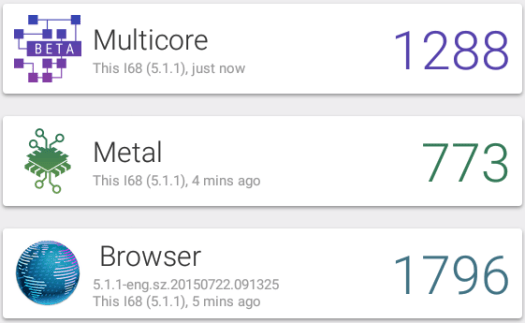 The mini PC got 1,288 points for Multicore test, 773 points for Metal test, 1,796 points for Browser test in Vellamo 3, which compares to respectively around 2000, 1500, and 2,500 points in Rockchip RK3288 devices.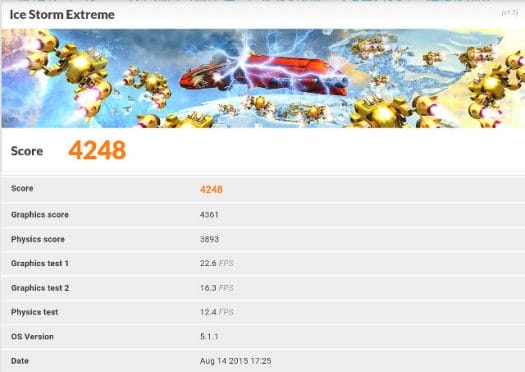 Based on my gaming experience, the GPU is not too bad, and scores 4,248 in 3DMark's Ice Storm Extreme. This is not quite as high as the scores achieved with Mali-T764 GPU in Rockchip RK3288 though which ranges between 7,000 and 7,500 points.
Conclusion
Beelink i68 is a decent device, with a smooth and stable firmware, although Kodi still needs some work, but if you were expecting a performance bump with a 64-bit ARM platform compared to Rockchip RK3288, you'll be disappointed, as Rockchip RK3368 does not reach RK3288 CPU or GPU performance. It's no slug either, but there's no performance advantage switching from a RK3288 based device to one featuring RK3368. The two main advantages I see are 4K 60Hz video decoding and output and Android 5.1 firmware. Unfortunately, albeit video output is fine, 4K video decoding @ 60 Hz does not really work for now, and Android Lollipop is coming to Rockchip RK3288 TV boxes.
PROS
One of the first 64-bit ARM TV boxes
Firmware is responsive and stable
HDMI 2.0 video output works up to 2160p60 Hz
Recent Android 5.1 OS
Very good Ethernet performance (for a 10/100M connection)
3D Games run pretty well
CONS
Kodi 14.2 needs some work as

None of my 4K videos could not play properly
Many videos have problems to play perfectly smoothly, either because of low framerate, or some skipped frames
Some videos will make the app crash
Pass-through only works with transcoding to Dolby Digital 5.1.

Box advertised with Gigabit Ethernet, but the current samples only ship with Fast Ethernet (I understand this may be fixed for models selling next month onwards)
4K 60 fps videos won't play smoothly in either Kodi or the internal "Video" app.
Wi-Fi performance below average, although still usable.
The device cannot be turned off cleanly (Only standby or reboot are working)
The flash is divided into two partitions, and the 2GB app partition may get filled pretty quickly.
I'd like to thanks GearBest for providing a sample for review. They sell the version I reviewed for or $78.99, as well as a version with just 1GB RAM for $71.18 [Update: Coupon GB68 brings the price down to respectively $72.99 and $64.18]. Beelink i68 can also be purchased on Amazon US, eBay, GeekBuying, and Aliexpress. Rockchip RK3368 TV boxes should be more cost effective than RK3288 ones, as for instance, RK3288 TV boxes with 2GB RAM, and 8GB RAM sell for a little over $80 to $90 including shipping depending on model.

Jean-Luc started CNX Software in 2010 as a part-time endeavor, before quitting his job as a software engineering manager, and starting to write daily news, and reviews full time later in 2011.