Linaro Connect San Francisco 2017 is now taking place until September 29, and it all started yesterday with the Welcome Keynote by George Grey, Linaro CEO discussing the various achievements since the last Linaro Connect in Budapest, and providing an insight to the future work to be done by the organization.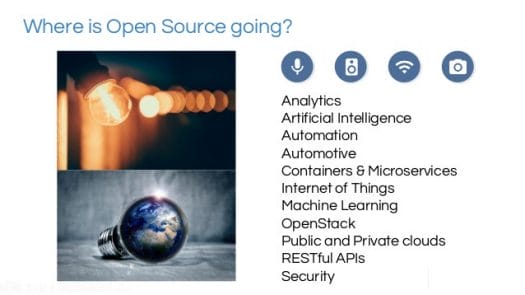 The video is available on YouTube (embedded below), and since I watched it, I'll provide a summary of what was discussed:
Welcoming New Members – Kylin (China developed FreeBSD operating systems) joined LEG (Enterprise Group), NXP added LHG (Home Group) membership, and Xilinx joined LITE (IoT and Embedded).
Achievements

OPTEE open portable trusted environment execution more commonly integrated into products. Details at optee.org.
LEG 17.08 ERP release based on Linux 4.12, Debian 8.9 with UEFI, ACPI, DPDK, Bigtop, Hadoop, etc…
LITE group has been involved in Zephyr 1.9 release, notably contributing to LwM2M stack
More projects to be found on download page.

Open source future with many fields involved including artificial intelligence, security, automotive, automation, etc.

Security requires software/hardware combination, and with a single global standard such as OPTEE desirable
Artificial Intelligence / Machine Learning

Trend is to move out of the CPU to off-load tasks to GPU, FPGA, or NNA (Neural Network Accelerators)
Not single API, for example TensorFlow supports CPU and NVIVIA CUDA, using other platforms require heavy customization
Linaro to work abstraction layer/ common API for machine learning
A.I will bring many benefits, but also potential dangers/issues: privacy, military use, etc… Development in the open is better.

Automotive

Currently Intel and NVIDIA provides ADAS / autonomous driving platform, both closed sources
More open platform needed, maybe a 96Boards Automotive platform with 6x cameras, GPS, touch screen display, processing power good enough for ADAS and IVI (In Vehicle-Entertainment)
Linux now mostly handles non-safety critical code, will change in the future. Containers will help.
Currently working on proof-of-concept with StreetDrone One autonomous driving development platform, DragonBoard 410c and Gumstix AeroCore 2 mezzanine. More details, maybe demo, at next Linaro Connect

96Boards

Recently (and soon to be) announced – Hikey 960, Orange Pi i96, Uranus (WiFi board based on TI CC3220, to run Zephyr OS)

ARM Platforms for developers – Three types:
Microplatforms

Definition – open source, minimal, secure, OTA upgradeable distributions
Cortex M platforms will use Zephyr OS, Cortex A support will be based on OpenEmbedded with a unified multi-SoC kernel
Currently tested on Hikey, DragonBoard 410c, and Raspberry Pi 3, more platforms to be supported in the future
Demos with 6x Carbon + Nitrogen board with BLE running Zephyr OS, Raspberry Pi 3 IoT gateway:

1. Use Linaro Developer Cloud (running LED Enterprise Reference Platform) + Hawkbit dash to monitor temperature sensors on the board
2. Switch Raspberry Pi 3 gateway to use Softbank cloud using Alibaba infrastructure on-the-fly, and control lights from Japan severs.
The two demos above shows how a multi-standard automation gateway could be implemented solving the problem of incompatibility of devices from different manufacturers
BLE mesh demo with six board controlling lights
Source code for demos can be found on Github


Going forwards downstream microplatforms will be developed by a separate entity: Open Source Foundries, unrelated to Linaro which will keep on focusing on upstream work

Linaro also launched the Associate Program for OEMs, ODMs, service providers, startups, and university who want to join Linaro. No details were provided, only an email address associate@linaro.org
You'll also find the presentation slides on Slideshare.

Jean-Luc started CNX Software in 2010 as a part-time endeavor, before quitting his job as a software engineering manager, and starting to write daily news, and reviews full time later in 2011.