H3Droid project provides Android images for Allwinner H3 & H2+ boards and TV boxes in order to improve on the firmware released by manufacturers. Last time we wrote about was in 2017, but the project released H3droid 1.3.5 recently with several improvements..
The good news is that more boards are supported with a bit fix that for example enables H3Droid to work on Orange Pi Zero (256MB RAM) and Libre Computer Tritium H2+ SBC's, but the bad news is that it's still based on Android 4.4 Kitkat, so some apps are not working anymore including Kodi, and the default YouTube app had to be removed since it does work not anymore. Workarounds do exist though, as you can install SPMC fork of Kodi, and play YouTube videos in a web browser, or install it manually after updating Google Play Services.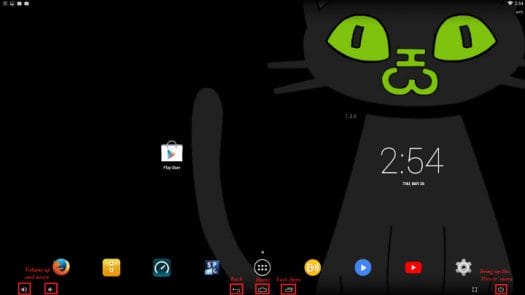 Here's the full changelog provided by the developers:
Added: fex/uboot for: Beelink x2, Sunvell r69 and Libretech h3/h2+ (tritium)
Added: Vendor_0079_Product_0006.kl (cheap noname/rebranded DragonRise gamepads)
Added: 'menu' command to h3resc (to run menu via ssh)
Added: enabled kernel modules: hid-multitouch, hid-dragonrise, hid-acrux, hid-greenasia, hid-samsung, hid-ntrig, hid-holtek, ads7846_device (loader), w1
Added: kernel: added lz4 support
Added: wip/crashing: new video mode: 2560×1600
Fixed: h2+/512M combo cma alloc (h3droid can now work on libretech h2+ and opi0(256M) boards)
Fixed: fix for black screen on boot (uboot phase is black now)
Fixed: 0eef:0005 touchscreen fix, should work now (after loading usbtouchscreen module)
Fixed: purge BT state on upgrades
Updated: armbian links in h3resc
Updated: ralink wifi driver with some new ids
Updated: bluez to 5.50
Updated: bionic's tzdata (thanks to zazir, Moscow is now in the current time zone +3 instead of +4)
Changed: enabled s_cir0 (IR) in opilite fex by default
Changed: swapped long and short actions on power button (short press to call power menu, long to sleep)
Changed: cut down logcat/serial verbosity a bit
Changed: busybox: updated to 1.29.2, enabled SELinux support
Changed: removed default youtube.apk, API changed and KitKat's one doesn't work anymore. You can install it after upgrading Google Play Services.
Changed: kernel: disabled OABI compat, switched to NOOP disk scheduler
Changed: init.rc insmods default-rtc.ko and default-touchscreen.ko, create a symlink in /vendor/modules/ if you want to make use of it
Changed: disabled sst_storage.ko
Changed: few tiny changes to h3resc/h3ii
H3Resc: moved menu numbers to make them visible on CVBS overscan
H3Resc: update should preserve some configurable files now
H3Resc: added tools/uboot-h3_video_helper to report new/exotic modelines
H3Resc: renamed item 53 to "ADDONS and TWEAKS" and added:

change swap size
toggle osk always on
reworked menu and moved some items into (53) sub menu
LibreELEC-H3 installation and boot option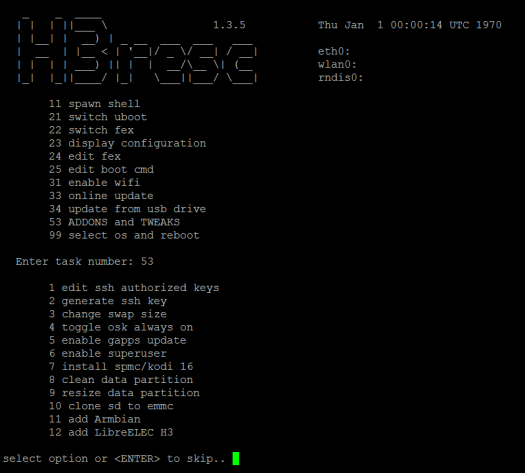 It will work on most Allwinner H3/H2+, and the platforms that do not work may just require a change to u-boot flex file. Boards and TV boxes that work out of the box include H3/H2+ powered Orange Pi, Banana Pi, FriendlyELEC NanoPi, and Libre Computer single board computers, as well as Beelinx X2 and Sunvell R69 TV boxes.
You can head over the download page to update or give it a try.

Jean-Luc started CNX Software in 2010 as a part-time endeavor, before quitting his job as a software engineering manager, and starting to write daily news, and reviews full time later in 2011.