MYIR, the Chinese based company that has developed several ARM-based hardware solutions, has introduced a new SoM powered by the ST's STM32MP1 microprocessor called the MYC-YA157C CPU Module with an accompanying development board known as the MYD-YA157C development board.
Early last year, STMicro announced the introduction of the STM32MP1, the first STM32 MPU (Microprocessor Unit) that features one or two Arm Cortex-A7 cores running Linux, as well as an Arm Cortex-M4 real-time core making it possible to use previous STM32 codes on the new unit.
Although, less than 1-year-old, the STM32MP1 microprocessor has since be deployed on a couple of development boards like the STMicro's own discovery kits and evaluation platform, Emtrion emSBC-Argon, PanGu single-board computer, and even octavo systems unveiled the OSD32MP15x system-in-package. One primary observation with these other developments boards is their relatively steep cost, and something MYIR aims to address.
MYiR MYC-YA157C STM32MP1 CPU Module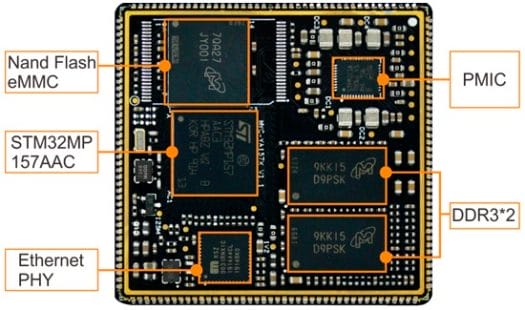 The MYC-YA157C CPU Module is a cost-effective STM32MP1 SoM that features the dual-core Arm Cortex-A7 operating at up to 650MHz and an embedded Cortex-M4 core running at up to 209MHz.
The System-On-Module uses the STM32MP157AAC3 variant, which supports a 3D GPU. The module measures at about 45mm by 43mm, making it super compact for deployment in an embedded controller. In addition to the STM32MP1, the SoM comes with a dedicated Power-Management IC STPMIC1. The MYC-YA157C CPU module also comes with 512MB DDR3, 4GB eMMC with an integrated GigE PHY chip.
The SoM can be attached to any development board or peripherals through the 1.0 mm pitch 164-pin stamp-hole (Castellated-Hole) expansion interface.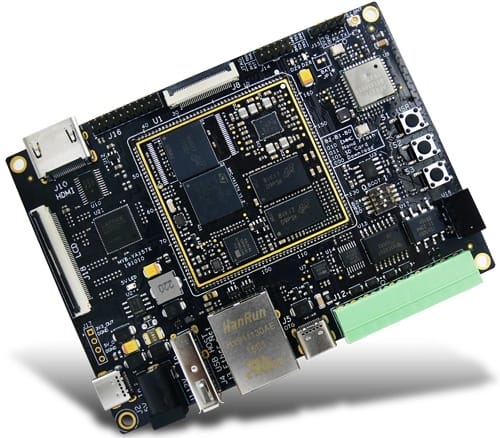 MYD-YA157C development board
Accompanying the MYC-YA157C CPU module is the MYD-YA157C development board, which is designed for the evaluation of the CPU Module. The baseboard comes with a set of interfaces such as RS232, RS485, USB Type-C DRP, USB2.0 HOST, Gigabit Ethernet, WiFi/Bluetooth, CAN, Micro SD Card Slot, JTAG, RGB888 based LCD/ HDMI, MIPI-DSI, and others.
MYIR is also offering a customization service for changing some of the base-board configurations such as the NAND Flash, RAM from 512MB DDR3 to 1GB DDR3, or even the 4GB eMMC to a max of 64GB eMMC and many more.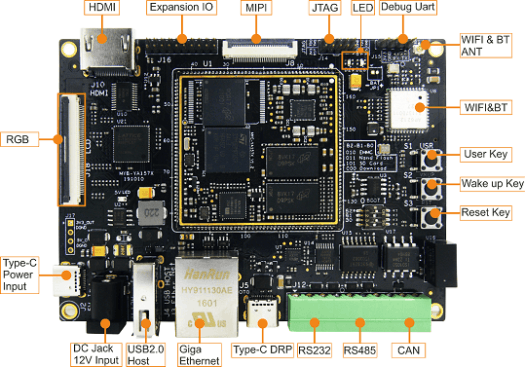 The MYD-YA157C development board is delivered with one Quick Start Guide, one Type-C cable, one USB to TTL serial cable, and one WiFi/Bluetooth. Extra optional addons from MYIR are the MY-CAM002U Camera Module and MY-TFT070CV2 LCD Module. The SoM supports Linux OS and comes ready with software packages based on Linux 4.19.9 kernel.
The MYC-YA157C CPU module is available for purchase at $29, while the MYD-YA157C development board is ready from $65. Both modules and development boards can be purchased online or by sending them an inquiry.
More information about the products is available on the announcement page and the product page.

I enjoy writing about the latest news in the areas of embedded systems with a special focus on AI on edge, fog computing, and IoT. When not writing, I am working on some cool embedded projects or data science projects. Got a tip, freebies, launch, idea, gig, bear, hackathon (I love those), or leak? Contact me.