We've been talking about the Rockchip RK3588 Cortex-A76/A55 processor since it showed up in a roadmap in the Spring of 2019, and the initial plan was for a release in Q1 2020. But as most regular readers know, there have been delays after delays, and some people have even started to associate RK3588 with vaporware.
But there may be light out of the tunnel with Rockchip RK3588 platform being showcased at the Rockchip Developer Conference 2021, notably with CPU and GPU benchmarks for the device. The results for Geekbench 4 reveal around 2.7 times (single core) or 3.4 times (multi-core) higher CPU speed, but the most impressive part is the GPU as GFXBench shows Rockchip RK3588 being multiple times faster than RK3399, in some cases over 10 times faster.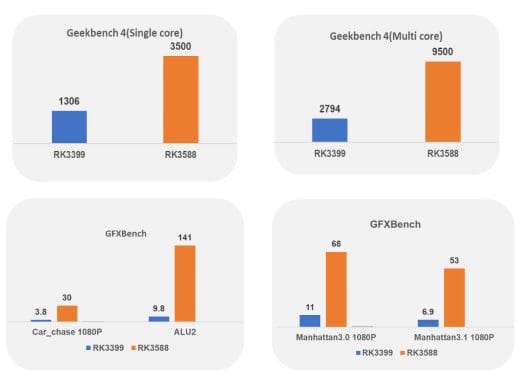 A few weeks ago, we noted some Geekbench 4 results with a system running Android 12 with 8GB of RAM, and small Cortex-A55 cores clocked at 1.8 GHz, but Rockchip must have done some optimizations or used a higher CPU clock (I've been told the Cortex-A76 are clocked at 2.6 GHz) since the new results are almost 20% higher for the single-core score. Whether the higher CPU clock will be usable in fanless systems remains to be seen.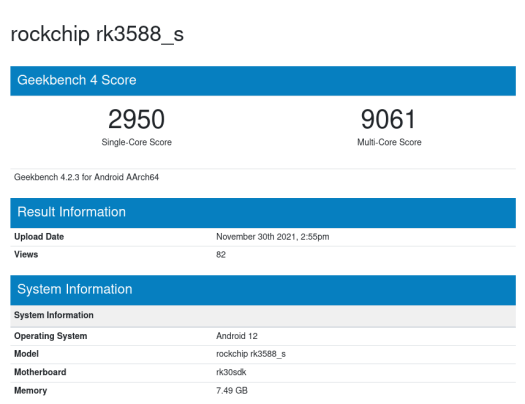 As a side note, the Identifier "ARM implementer 65 architecture 8 variant 4 part 3339 revision 0" is the same as for Dimensity 700 Cortex-A76/A55 processor, so that part looks right.
Bearing in mind that the new scores are higher, let's see how the single-core score (2,950) and multi-core score (9,061) in GeekBench 4 compare to the ones for a system-based on a Rockchip RK3399 processor.

In the single-core benchmark, the Rockchip RK3588 Cortex-A76/A55 processor is 2.28 times faster than RK3399, and 2.8 times faster in the multi-core benchmark. Arm did announce a 2x performance uplift between Cortex-A73 and Cortex-A76 in terms of peak single-thread performance. I first tried to estimate RK3588's Cortex-A76 CPU frequency, assuming 1.8 GHz for the Cortex-A72 on RK3399, 4.7 DMIPS/MHz for Cortex-A72, but I could not find data for the DMIPS/MHz for the Cortex-A76 core. But instead, we know the single-thread score for the Dimensity 700's Cortex-A76 core @ 2.2 GHz is about 2.700 points. That would mean Rockchip RK3588's Cortex-A76 cores are clocked at 2.4 GHz in that benchmark instead of 2.6 GHz for the latest benchmarks from Rockchip, while the Cortex-A55 cores are running at 1.8 GHz as reported by GeekBench 4.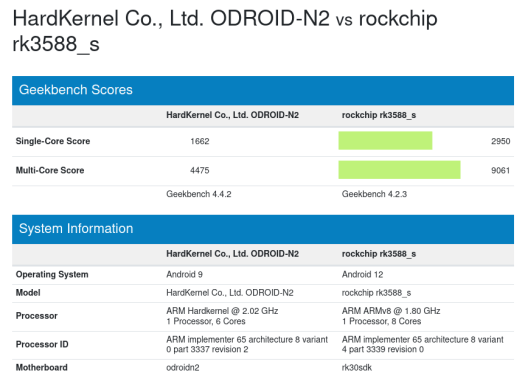 Since 2.4 GHz is also the frequency of the Amlogic S922X Rev C processor in ODROID-N2+ when overclocked, let's do a little comparison here too. The Rockchip RK3588 is about twice as fast as ODROID-N2+ in both single-core and multi-core GeekBench v4 benchmarks. So even, if Rockchip RK3588 is coming late, it looks really promising even for 2022, provided the price is right.
Some Geekbench v5 results are now available too, but Rockchip did not use those in their chart.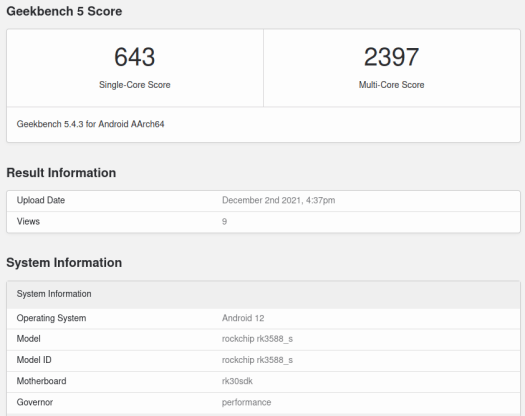 [Update: Antutu 9.2 benchmark on RK3588 evaluation board.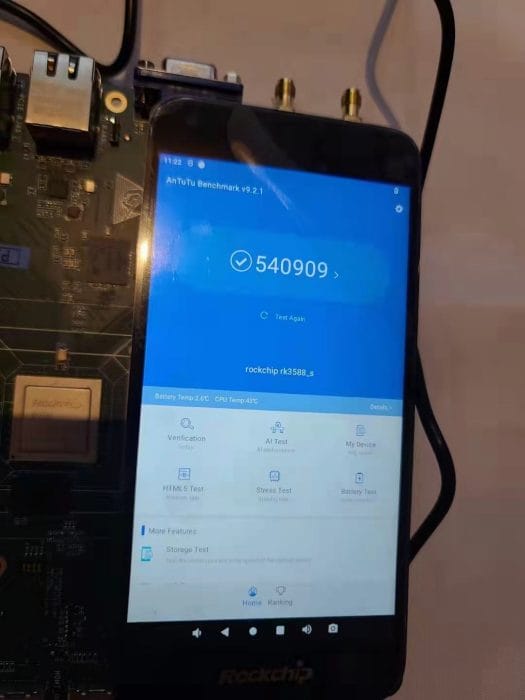 ]
Thanks to Markon for the tip.
Updated: This post was initially published on December 1, 2021 with Geekbench4 results leaked online, and updated on December 16, 2021 with Rockchip providing updated GeekBench4 results as well as GFXBench and Antutu 9.2 benchmarks

Jean-Luc started CNX Software in 2010 as a part-time endeavor, before quitting his job as a software engineering manager, and starting to write daily news, and reviews full time later in 2011.