Linus Torvalds has just announced the release of Linux 5.13:
So we had quite the calm week since rc7, and I see no reason to delay 5.13. The shortlog for the week is tiny, with just 88 non-merge commits (and a few of those are just reverts). It's a fairly random mix of fixes, and being so small I'd just suggest people scan the appended shortlog for what happened.

Of course, if the last week was small and calm, 5.13 overall is actually fairly large. In fact, it's one of the bigger 5.x releases, with over 16k commits (over 17k if you count merges), from over 2k developers. But it's a "big all over" kind of thing, not something particular that stands out as particularly unusual. Some of the extra size might just be because 5.12 had that extra rc week.

And with 5.13 out the door, that obviously means that the merge window for 5.14 will be starting tomorrow. I already have a few pull requests for it pending, but as usual, I'd ask people to give the final 5.13 at least a quick test before moving on to the exciting new pending stuff..

Linus
The previous release, Linux 5.12, added support for the ACRN hypervisor designed for IoT & embedded devices, Playstation DualSense & Nintendo 64 game controllers, as well as Nintendo 64 data cartridges, implemented dynamic thermal power management via a subsystem that allows the power usage of groups of devices to be capped to meet thermal constraints, and said goodbye to O-profile, replaced by perf events, among many other changes.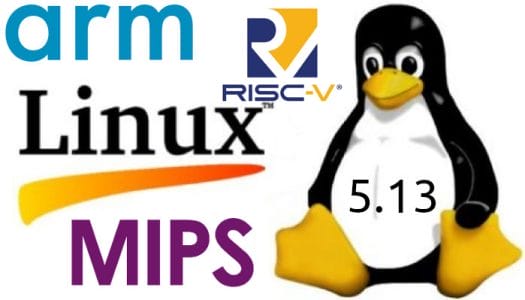 Some notable changes for Linux 5.13 include:
Preparatory work to support Apple M1 processor
Landlock security module merged after 34 revisions. "The goal of Landlock is to enable to restrict ambient rights (e.g. global filesystem access) for a set of processes. Because Landlock is a stackable LSM, it makes it possible to create safe security sandboxes as new security layers in addition to the existing system-wide access controls". Visit landlock.io for details.
Control-flow integrity for the kernel. Another security improvement where "the compiler injects a runtime check before each indirect function call to ensure the target is a valid function with the correct static type. This restricts possible call targets and makes it more difficult for an attacker to exploit bugs that allow the modification of stored function pointers. " Check out this LWN article for more information.
Support for incoming AMD and Intel graphics chips
Arm changes in Linux 5.13
Besides preliminary support for Apple M1 SoC, there were many Arm-related changes as usual:
Allwinner

Allwinner V3s – Sigma-delta modulation on audio PLL
New secondary interrupt controller binding to support the wake-up
Allwinner H6- Use the RSB bus instead of I2C for the PMIC
HDMI support for the BananaPi M2-Zero
New device – Topwise A721 Tablet (Allwinner A10)

Rockchip

Support for the Rockchip RK3568/RK3566 pin controller
Support for the clock controller on the new Rockchip rk3568
Some cleanups for rk3399 modularization
Ethernet – Add Rockchip DWMAC support
New board – NanoPi R4S board (RK3399)

Amlogic
Samsung

Clock driver – Clean up of redundant dev_err() calls after dev_ioremap_resource(); fix for the clk-exynos7 driver (part of upcoming Galaxy S6 device support)
DTS ARM changes for Linux 5.13

Configure battery charger and front camera on GT-I9100 phone.
Fix in several boards the Maxim PMIC/MUIC/fuel gauge interrupt flags
to match real type of interrupt coming from the device.
Correct DTS with dtschema. This brings back the commit adding input
clock to CMU in Exynos4412 Odroid which was reverted some time ago
due to unsupported deferred probes (now supported and tested).

DTS ARM64 changes – Cleanups

Qualcomm

Added Qualcomm SC7280 Laptop SoC following the SC7180 (Snapdragon
7c) used in some Chromebooks and Windows laptops, and corresponding reference board
PMIC – Support for PM8350, PM8350B, PM8350C, PMK8350, PMR735A and PMR735B in the Qualcomm PMIC GPIO driver.
Improved detection for SCM calling conventions
Support for OEM specific wifi firmware path
PHY driver

usb3-dp phy for Qualcomm SM8250
USB phy for Qualcomm SC7280

ARM64 DT updates

Extends the initial SM8350 description merged in v5.12 with
CPUfreq, SMMU, UFS, RPMHPD, SPMI, USB and remoteproc support. Adds definitions for the 6 PMICs found on the MTP and introduces the new SM8350 Hardware Development Kit (HDK).
SDM845 gains the camera-related nodes and some cleanups.
Added RPMh regulators, coresight, AOSS QMP, ipcc, llcc for the
SC7280.
Adds interconnect, PRNG and thermal pieces to SM8350.
SM8150 gains iommu settings and the remaining I2C controllers
SM8250 – Clean-ups, migrates SPI0 to use GPIO for chip select, Venus and the QMP PHY updated to include the DP portion.
Qualcomm SC8180 – Support for ACPI probing
Enabled sound support on the (SC7280) Trogdor device family.
Added the GIC hypervisor registers & interrupt for when Linux
is booted in EL2 on MSM8916.
Added Bluetooth support on the Samsung Galaxy S5, corrects the mount matrix for the IMU on Nexus 5 and corrects the fuel gauge irq trigger for the two devices

ARM64 defconfig updates

Enable the SM8350 TLMM and GCC drivers, needed to boot the
platform
Enable all the hardware support currently available for the
Qualcomm SDX55 platform in the qcom_defconfig. Due to (current) size
limitations these changes are not done in the multi-platform config

New devices & boards

Qualcomm X55 based Telit FN980 TLB SoM, Thundercomm TurboX T55 SoM
OnePlus 5/5T phones based on Qualcomm MSM8998:

MediaTek

Pinctrl driver – Support for Mediatek MT8195.
ASoC – Mediatek MT6358 accessory detection
Clock driver – "Proper" clk driver for Mediatek MT7621 SoCs
PHY – Mediatek DSI and HDMI PHY updates
Memory controller fixes
Mediatek DRM Next for Linux 5.13

Fine-tune the line time for EOTp.
Add support mt8192 dpi.
Make crtc config-updating atomic.
Don't support HDMI connector creation.

New boards & devices – Mediatek MT8183 powered Chromebooks: Lenovo 10e, Acer Spin 311, Asus FlipCM3, Asus Detachable CM3; Mediatek MT8516/MT8183 based OLogic Pumpkin Board

Other new Arm hardware platforms and SoCs

ASpeed – AST2500 BMC found on ASRock E3C246D4I Xeon server board
Broadcom – BCM4908 based TP-Link Archer C2300 V1 router
MStar – SSD202D based M5Stack UnitV2 camera
Marvell – Armada 38x based ATL-x530 ethernet switch
NXP

reMarkable Tablet (NXP i.MX 7)
Kontron pitx-imx8m, Engicam i.Core MX8M Mini based on NXP i.MX 8M
i.MX8QuadMax SoC, and NXP i.MX8QuadMax Multisensory Enablement Kit

Nuvoton – NPCM730 Quanta GBS BMC
STMicro

STM32H750 Cortex-M7 microcontroller (MMU-less), ART-Pi board designed for RT-Thread RTOS
STM32MP1 hardware: Engicam MicroGEA STM32MP1 MicroDev 2.0 and SOM, EDIMM2.2 Starter Kit, Carrier, SOM

Texas Instruments
Linux 5.13 updates for the MIPS architecture
Only a few changes for MIPS this time around:
Removed get_fs/set_fs
Removed broken/unmaintained MIPS KVM trap and emulate support
Added support for Loongson-2K1000
Fixes and cleanups
RISC-V changelog for Linux 5.13
Support for the memtest= kernel command-line argument.
Support for building the kernel with FORTIFY_SOURCE.
Support for generic clockevent broadcasts.
Support for the buildtar build target.
Some build system cleanups to pass more LLVM-friendly arguments.
Support for kprobes.
A rearranged kernel memory map, the first part of supporting sv48 systems.
Improvements to kexec, along with support for kdump and crash kernels.
An alternatives-based errata framework, along with support for handling a pair of errata that manifest on some SiFive designs (including the HiFive Unmatched).
Support for XIP.
A device tree for the Microchip PolarFire ICICLE SoC and associated dev board.
You can also read the full Linux 5.13 changelog with comments only, generated with the command git log v5.12..v5.13 --stat. Alternatively, KernelNewbies website should soon have a detailed changelog of Linux 5.13.

Jean-Luc started CNX Software in 2010 as a part-time endeavor, before quitting his job as a software engineering manager, and starting to write daily news, and reviews full time later in 2011.