Intel has recently launched the Intel Xeon D (Ice Lake-D) processor family with the D-2700 and the D-1700 models designed for software-defined network and edge applications with integrated AI and crypto acceleration, built-in Ethernet, support for Intel Time Coordinated Computing (TCC) and Time-Sensitive Networking (TSN), plus high reliability.
The new processors are bringing data center-class hardware to the edge, and at least two embedded systems companies, namely ADLINK Technology and Congatec, have already launched COM-HPC server modules and COM Express Type 7 module based on the new Intel Xeon D family.
Intel Xeon D processors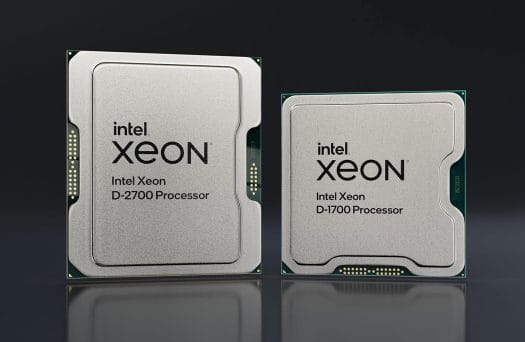 Intel Xeon D-2700 and Intel Xeon D-1700 are designed for space- and power-constrained ruggedized environments, feature industrial-class reliability, hardware-based security, and up to 56 high-speed PCIe lanes to support networks with up to 100Gbps Ethernet. While the Intel Xeon D-1700 sub-family is scalable from 2 to 10 cores, the Intel Xeon D-2700 family goes up to 20 cores
Highlights include:
Based on Sunny Cove core architecture like the Performance cores in Alder Lake processors.
Up to 4CH DDR4 with 3200 MT/s.
Up to 100 GbE.
Up to 32/64 4.0 PCIe lanes.
The processors support Intel Deep Learning Boost (VNNI) and Intel AVX-512 for AI inference processing, and AI performance improvements over the previous generation Xeon D-1600 or D-15000 processors are 2.4x for AI inferencing for network applications, and 7.4x for AI inferencing for IoT applications when using the Intel Xeon D-2700 processor as reference.
There are several models ranging from the 25W Xeon D-1702 to the 125W Xeon D-2798NT 20-core processor. You'll find the full list on Intel Ark. The processor will be used in factories, smart cities, hospitals, and other sectors that may benefit from the features of the Xeon D processors.
ADLINK Xeon D COM Express and COM-HPC modules
The COM-HPC-sIDH is a COM-HPC server type D size module powered by the Intel Xeon D-2700 HCC processor with up to 20 CPU cores, 30MB cache, 512GB DDR4 memory, 8x 10G or 4x 25G Ethernet interface, and a power consumption ranging from 65 to 118 watts. The COM-HPC module also includes a Module Management Controller (MMC) with an IPMB interface and a PCIe-BMC lane which can be used for remote management functions such as Serial over LAN (SOL) and iKVM when combined with a BMC carrier board.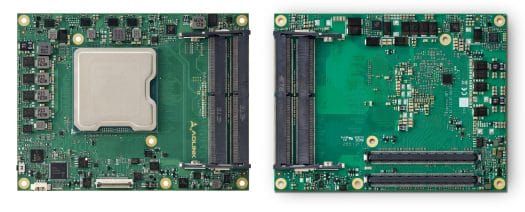 The Express-ID7 is a COM Express Type 7 module based on Intel Xeon D-1700 LCC processor, with up to 10 CPU cores, 128GB DDR4 memory and 4x 10Gbps Ethernet, all in a power envelope of up to 67W TDP.
ADLINK is also providing server starter kits based on the COM-HPC-sIDH and Express-ID7 modules, with the COM-HPC Server Base offering AI accelerator support via Gen4 PCIe (2 x16), 10GbE optical/copper Ethernet expansion, as well as local and remote IPMI/BMC management via VGA, COM, and dedicated Ethernet. Targets applications include edge networking, unmanned aerial vehicles, autonomous driving, robotic surgery, rugged HPC servers, 5G base stations, automatic drilling, ship management, and more.
More details can be found in the product pages for COM-HPC-sIDH and Express-ID7 modules.
Congatec COM-HPC Server and COM Express Type 7 modules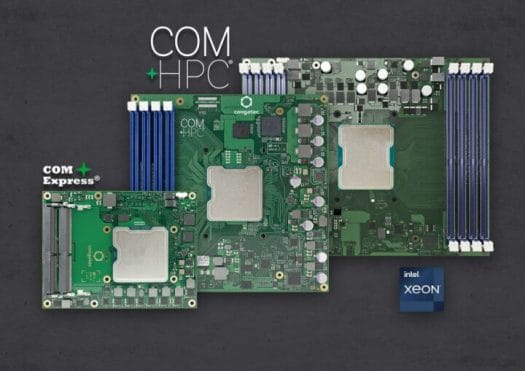 Congatec introduced not two, but three Intel Xeon D computer-on-modules with the conga-HPC/sILH COM-HPC Server Size E, the conga-HPC/sILL COM-HPC Server Size D module, and the conga-B7Xl COM Express Type 7 Server-on-Module.
The larger (200x160mm) conga-HPC/sILH COM-HPC Server Size E modules will be equipped with a Xeon D-2700 processor with up to 20 cores, 8 DIMM sockets for up to 1 TB DDR4 ECC memory, 32x PCIe Gen 4 and 16x PCIe Gen 3 as well as 100 GbE throughput plus 2.5 GbE with TSN and TCC support at a processor base power of 65 to 118 Watt.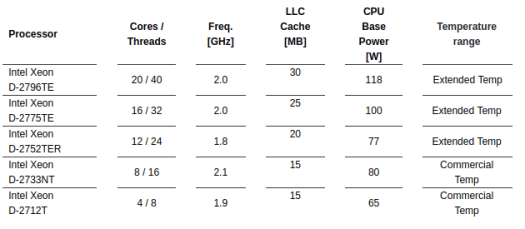 The COM-HPC Server Size D (160x160mm) and COM Express Type 7 (120x 95mm) modules will come with an Intel Xeon D-1700 processor with up to 10 cores. The conga-B7Xl COM Express module supports up to 128 GB DDR4 via 3 SODIMM sockets, and the conga-HPC/sILL COM-HPC Server Size D module offers 4 DIMM sockets for up to 256 GB DDR4 RAM. Both module families offer 16x PCIe Gen 4, 16x PCIe Gen 3 lanes, up to 100 GbE throughput, 2.5GbE with TSN & TCC support at a processor base power of 40 to 67 Watt.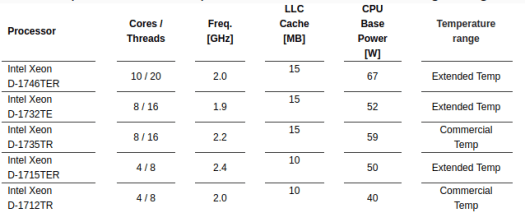 On the software side, Windows, Linux, and VxWorks BSP will be provided, and real-time virtual machine support is available via the RTS Hypervisor from Real-Time Systems.
As one may have expected, the target applications are pretty similar to the ones for the ADLINK modules with industrial servers for automation, robotics, and medical backend imaging, outdoor servers for utilities, and "critical infrastructures" such as smart grids for oil, gas, and electricity, rail, and communication networks, as well as autonomous vehicles and video infrastructures for safety and security.
Additional information, including detailed specifications, are available on the product pages for conga-HPC/sILH, conga-HPC/sILL, and conga-B7XI modules.

Jean-Luc started CNX Software in 2010 as a part-time endeavor, before quitting his job as a software engineering manager, and starting to write daily news, and reviews full time later in 2011.