The FNIRSI 1013D is a dual-channel flat-panel oscilloscope with a rich set of features. It is cost-effective and useful to people in the maintenance and R&D industries. Although it has been on the market for a few years, I purchased one, and I decided to introduce it and disassemble it to check out the hardware design.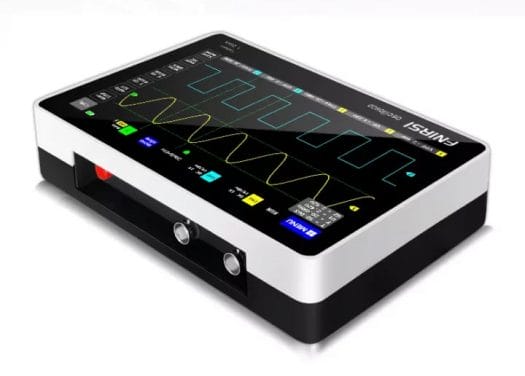 FNIRSI describes its oscilloscope as "small and portable", so I assume it should include a lithium battery, a TFT LCD screen, a processor to handle the display, and another chip to process the digital signals. Let's take it apart first to find out.
FNIRSI 1013D oscilloscope unboxing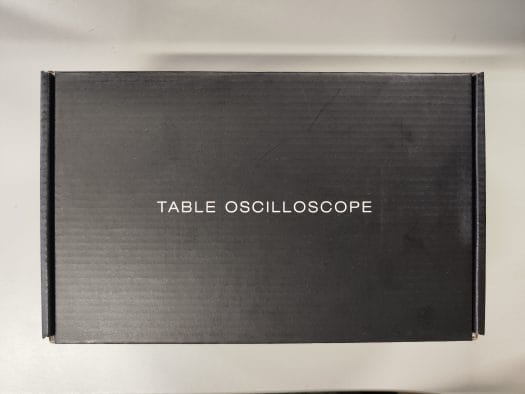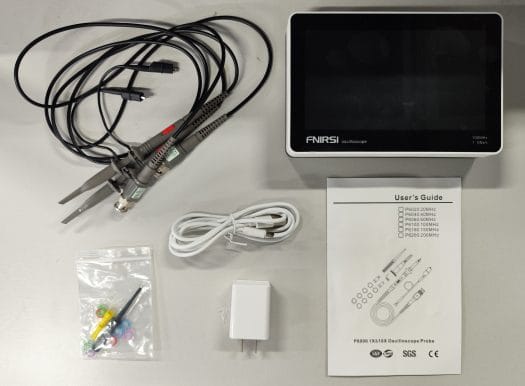 FNIRSI 1013D package content:
1x FNIRSI 1013D oscilloscope
2x 100MHz matching probes (1X and 10X)
1x USB cable
1x Charging adapter
1x Instruction manual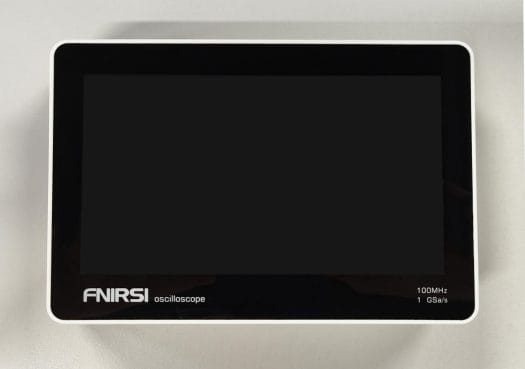 The FNIRSI 1013D adopts a 7-inch 800 x 480 resolution color TFT LCD with a capacitive touch screen.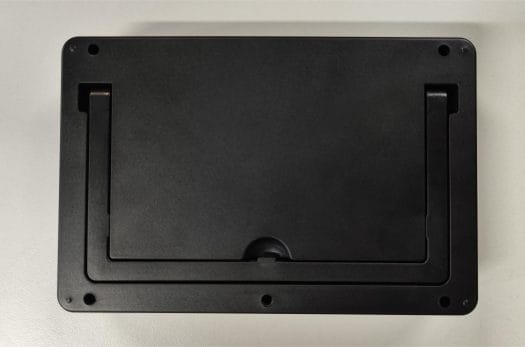 There are two input channels on the top of the FNIRSI 1013D oscilloscope to allow users to measure two different signals at the same time for comparison and analysis, for example, to compare the input and output signals of a power amplifier unit. High-voltage protection modules are built into the input channels to handle up to 400V voltage input. Besides the input channels, there are switch buttons for the power supply and a USB Type-C port. Those are the only external interfaces and buttons of the oscilloscope.
Teardown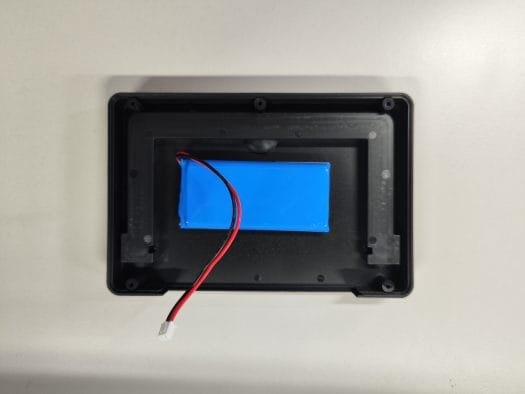 The FNIRSI 1013D is equipped with a 6,000 mAh lithium-ion battery, and the specifications state that it can be used continuously for 4 hours after five hours of charging.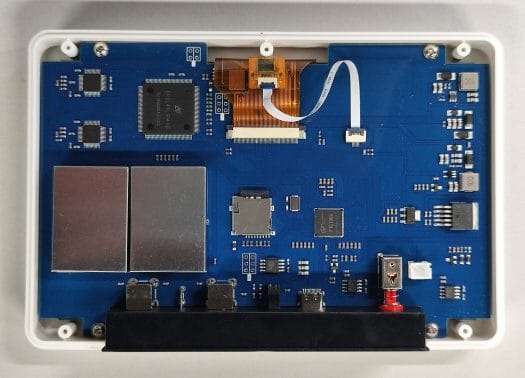 The hardware architecture uses an Arm + FPGA + high-speed ADC design. As in my initial assumptions, the oscilloscope uses the ANLOGIC EF2L45LG144B FPGA and two ADC with illegible markings used to process digital signals. Based on comments on EEVBlo, those should be AD9288 ADC chips, and we can see the display part relies on the Allwinner F1C100s ARM9 processor to drive the TFT screen.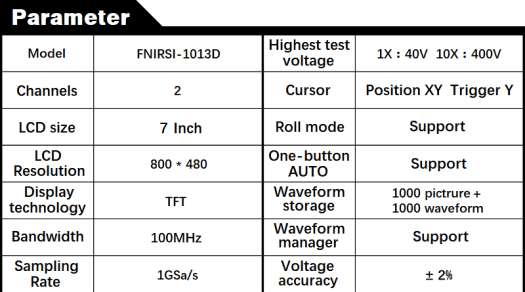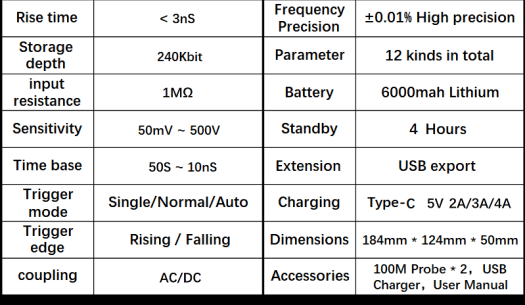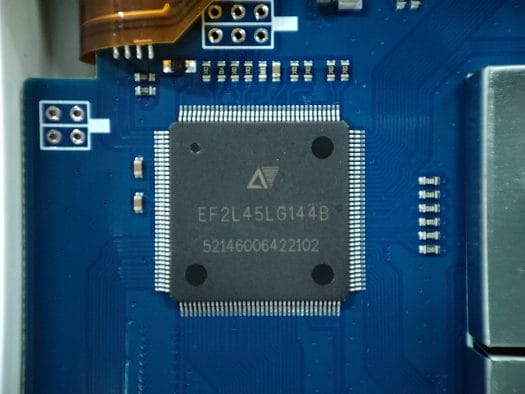 ANLOGIC EF2L45LG144B specifications:
DFFs – 4480
LUTs – 4480
DistributeRAM – 35k
eRAM:

eRAM-9K – 12
eRAM-32K – 6
eRAM-128K – 1
eRAM-256K – 1
eRAM-TotalBRAMBits – 700k

M18*18 – 15
PLL – 1
ADC – 2
USER IO – 10
Package – LQFP133
Size – 20 x 20mm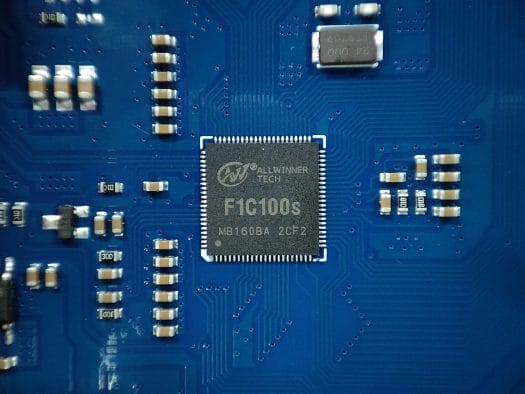 Allwinner F1C100s processor has been around for a while and featured in several articles on CNX Software with the chip found in handheld computers and even business cards.
Allwinner F1C100s specifications as a reminder:
CPU – ARM9 CPU architecture with 16KByte D-Cache+32KByte I-Cache
Memory – 32MB DDR (SiP)
Storage – SD 2.0 and eMMC 4.1
Video:

H.264 decoding up to 1280×720 @ 30fps
MPEG 1/2/4 encoding up to 1280×720 @ 30fps
MJPEG encoding up to 1280×720 @ 30fps
JPEG encode up to 8192×8192

Display:

LCD RGB interface up to 1280×720 @ 60fps
TV CVBS output, supports NTSC/PAL,with auto plug detecting

Camera:

8-bit CMOS sensor interface
CVBS input for NTSC and PAL

Audio:

Integrated analog audio codec with 2-channel DAC and one ADC, up to 192KHz DAC sample rate, up to 48KHz ADC sample rate
One I2S/PCM interface

Peripherals

1x USB OTG
1x SDIO
1x IR
3x TWI
2x SPI
3x UART

OS – Melis by Allwinner
Package – QFN88 ,10×10 mm
Process – 40nm
Practical use of FNIRSI-1013D oscilloscope
I used the Allwinner V853 development board beside me to conduct a simple test.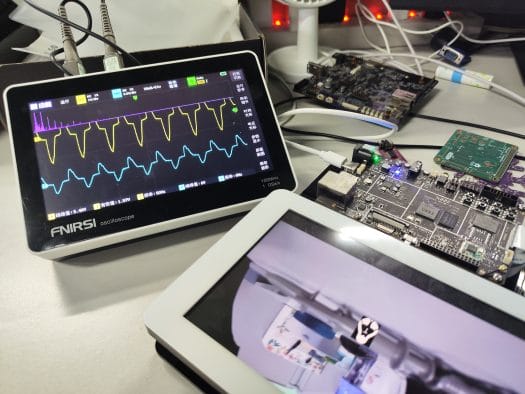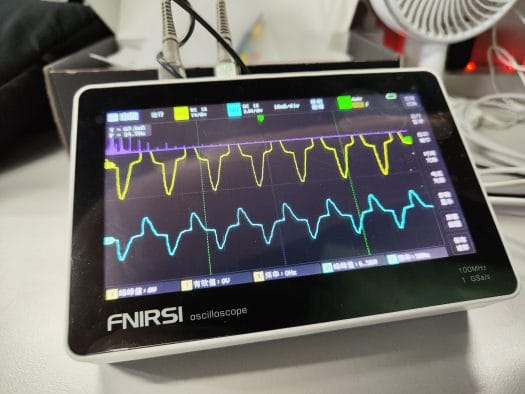 FNIRSI-1013D provides a one-button auto-adjustment function, avoiding tedious manual adjustment, and the dual-channel display facilitates real-time waveform comparison. In addition, the oscilloscope provides three different trigger modes: automatic, single, and normal. The automatic mode can be used to process sudden non-periodic mutation signals, the single mode can be used to process non-periodic digital logic signals, and the normal mode can be used to process periodic analog signals.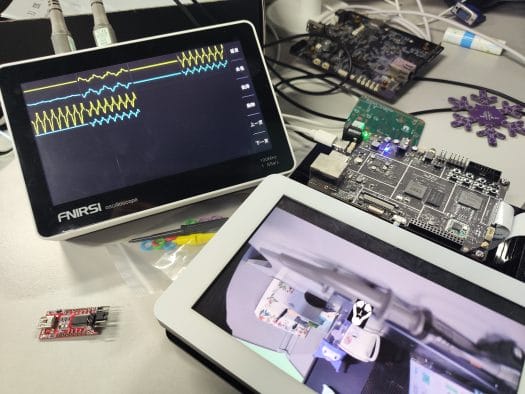 FNIRSI-1013D has a built-in 1GB of storage space. Simply click on the screenshot to save the currently displayed waveform. You can also export the waveform picture on the computer by connecting the computer via USB.
The oscilloscope is sold on Aliexpress for $127.50 with free shipping, but that price appears to be a time-limited discount.

Li Zexi became a part-time writer for CNX Software in 2022 and works as a software engineer in an embedded software company in China. He's been passionate about embedded development and the Internet of Things for many years, with extensive industry experience, and a new and unique vision!