The Raspberry Pi boards are great little Arm Linux SBC's with a low price and great community support. But the Broadcom processors used in the boards are also fairly old so they may not be suitable for some projects. If your application needs or would benefit from modern features such as memory over 1GB RAM, an actual Gigabit Ethernet port, USB 3.0 port(s), 4K video output, or H.265 hardware video decoding you'll have to find Raspberry Pi alternatives.
I'll point out 5 alternative single board computers in this post from the point of view of existing Raspberry Pi users, who will want good software support and a board with the same or similar form factor as Raspberry Pi 3 Model B/B+ in order to reuse their add-on boards and/or enclosures. Price has to be competitive as well, so nothing above $80 will be mentioned. The boards are not listed in any particular order.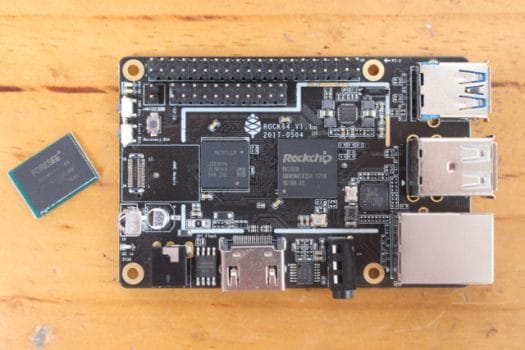 The Rock64 board is ideal if you want slightly more processing power thanks to the Rockchip RK3328 quad-core Cortex-A53 processor @ 1.5 GHz, memory up to 4GB, Gigabit Ethernet, USB 3.0, extra I/Os, 4K HDR video output or 4K H.265/VP9 playback. Faster and more reliable storage is also available through optional eMMC flash modules.
The board runs various Linux distributions, NetBSD, and Android. You'll find documentation in the Wiki, and get community support in the forum or IRC.
Price starts at $24.95 for Rock64 with 1GB RAM and goes up to $44.95 with 4GB RAM. You can purchase it on Pine64 store.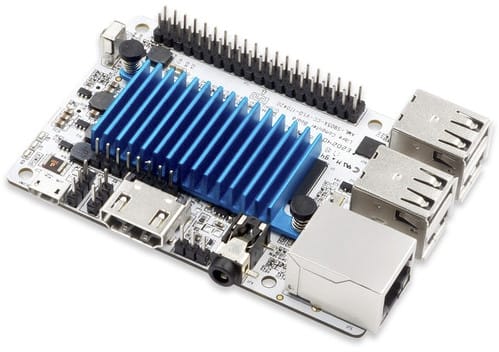 Libre Computer AML-S905X-CC is powered by Amlogic S905X quad-core Cortex-A53 processor which should also deliver increase performance over Broadcom processors found in Raspberry Pi boards, support 4K H.265, H.264, and VP9 hardware decoding, and video output up to 4K @ 60 Hz. You also have the option of getting 1 or 2GB RAM. Contrary to Rock64 board it is however limited to Fast Ethernet, and USB 2.0 ports, but bear in mind video playback quality is usually better on Amlogic processors compared to Rockchip ones.
Support is available from forums, IRC, Facebook groups, and so on. You'll find links to the source code and firmware image on the product page with AML-S905X-CC board running Android, Linux distributions like Debian or Ubuntu, and NetBSD.
AML-S905-CC board is sold for $30 with 1GB RAM and $45 with 2GB on Amazon US.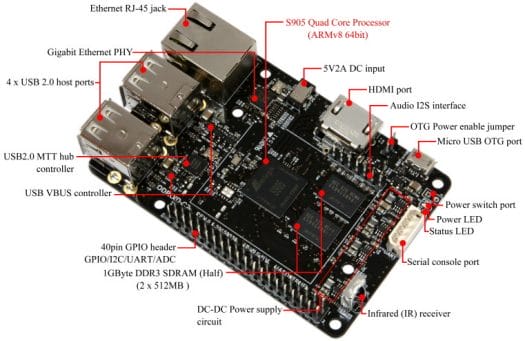 Most SBC's in this list have been released at least one year ago, but ODROID-C2 board is the oldest board in this post which also means the software may be more mature. ODROID-C2 features Amlogic S905 processor with four Arm Cortex-A53 cores @ 1.5 GHz, 2GB RAM, 4K H.264 & H.265 (but not VP9) hardware video decoding, 4K UHD video output, Gigabit Ethernet, and support for fast eMMC flash modules.
ODROID-C2 can run various Linux distributions and Android, and has great support via active forums and a detailed Wiki.
ODROID-C2 is sold for $46 on Hardkernel, but depending on your location you can save on shipping by purchasing on Ameridroid website. If you spend over $50 on Ameridroid you'll save $5 by using coupon CNXSUPPORTER5, $10 with coupon CNXSUPPORTER10.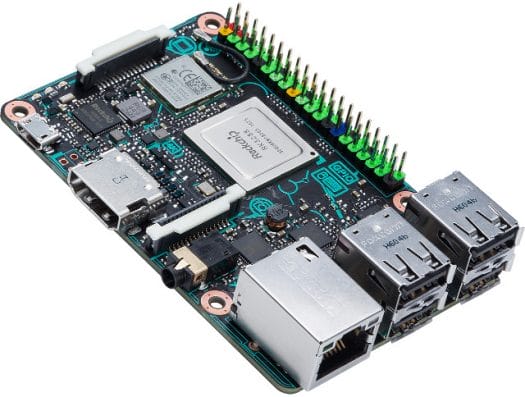 Tinker Board quickly became popular thanks to the name recognition of a company like ASUS. The SBC features a Rockchip RK3288 quad-core Cortex-A17 processor @ 1.8 GHz significantly faster than BCM2837(B0) found in Raspberry Pi 3 boards, 2GB LPDDR3 RAM, Gigabit Ethernet, H.264 / H.265 4K hardware video decoding, 4K up to 30 Hz or 60Hz depending on your TV, and a better audio codec.
You'll find documentation, download links to Android & Linux operating systems, and community support on the product page.
ASUS Tinker Board is however fairly more expensive at $79.99 on B&H, so you'd be better off getting ASUS Tinker Board S with the same specifications plus 16GB eMMC flash sold for $81.99 on Amazon.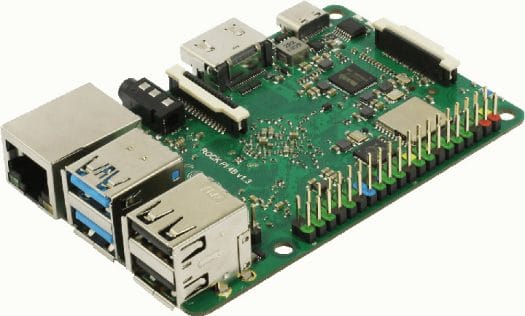 If you want an Arm board following Raspberry Pi 3 form factor with the most processing power, Rock Pi 4 is the board to buy thanks to a Rockchip RK3399 hexa-core Arm Cortex-A72/A53 processor coupled with 1 to 4GB RAM. It also offers fast interfaces not found on Raspberry Pi boards such as USB 3.0 ports and Gigabit Ethernet, as well as 4K support for video decoding (H.265, H.264, VP9) and video output up to 4K @ 60 Hz. Storage options include support for eMMC flash modules and M.2 NVMe SSD cards. Rock Pi 4 is also the only Raspberry Pi alternative in this list that includes display and camera connectors, and that provides optional 802.11ac WiFi 5 and Bluetooth 5.0 connectivity.
You'll find documentation and Android & Linux firmware image in the Wiki, and support is available through the forum although the community does not appear to be overly active.
Rock Pi 4 can be purchased through various distributors in China and Europe, The Rock Pi 4B with WiFi, Bluetooth, and 4GB RAM is also found on Aliexpress for $79.99 plus shipping.
Bear in mind that mechanical and electrically compatibility of those boards with Raspberry Pi 3 model B/B+ is not guaranteed since there will be some slight differences. That means that some enclosure may need some rework for Raspberry Pi alternatives to fit in and that Raspberry Pi HAT add-on boards' signals should be checked before connecting it to another SBC. That may also require some software work for a HAT to work before reaping the benefits of the extra power or features from your board.
If you are interested in more than just Raspberry Pi lookalikes, you can check out our list of Arm and x86 development boards, as well as the list of the most powerful Arm SBCs under $200 which I may need to update for 2019…

Jean-Luc started CNX Software in 2010 as a part-time endeavor, before quitting his job as a software engineering manager, and starting to write daily news, and reviews full time later in 2011.