This is the last day of the year, and just like in 2012, I'll look back on the main trends of this year, post a list of the top 10 posts of 2013 on cnx-software.com, and add some fun stats about the site and my visitors. 2013 has been the year of quad core media players and mini PCs, especially those based on Rockchip RK3188, XBMC is now featured in many Android STBs, "big.LITTLE" and "Octa-core" have been the buzz words on the application processor front, Google has entered the HDMI TV sticks market with the ChromeCast, and is competing with Miracast / DLNA TV dongles, we've gotten more and more low cost Linux development boards, crowdfunding has almost gone mainstream, and the Internet of things has started to take off thanks to new technologies such as Bluetooth Low Energy.
I've compiled the list using data from Google Analytics, filtered post from 2013, and sorted them by decreasing number of page views. Here are the top 10 posts of 2013:
Some posts from 2012 were still popular and would have made it to the list including posts related to WM8850-MID tablet, Cubieboard Getting Started Guide, and 84MB Raspberry Pi minimal image.
Now let's see some stats for cnx-software.

The site averaged about 300,000 page views per month, although as expected, two months holiday did not really help with traffic. Google Analytics reports a total of 2,239,006 visits, 1,306,200 unique visitors, and 3,579,860 page views for the year.
About half of the traffic came from search engines, mainly Google, with the remaining halves from over 4,000 other websites. The top 10 search terms and referral are shown in the table below:
| | |
| --- | --- |
| Top 10 Keywords | Top 10 Referrals |
| wm8850-mid | scoop.it |
| wm8850 | linux-sunxi.org |
| cubieboard | facebook.com |
| mid tablet review | plus.url.google.com |
| wm8850-mid firmware | raspbian.org |
| miracast adapter | liliputing.com |
| mtk6572 | 4pda.ru |
| miracast dongle | t.co |
| mid android tablet review | hardware.slashdot.org |
| minix neo x7 | forum.xbmc.org |
Let's find out more about my visitors now.
CNX Software is quite cosmopolitan. US and UK visitors represent about 22%, with the rest of the traffic coming from countries where English may not be the first language.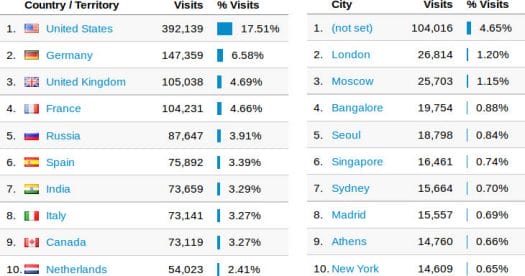 Most people still use Windows, but Linux still has a nice 18% traffic share (25.5% including Android and Chrome OS) which is well above average. Chrome is ahead a Firefox, with Internet Explorer far behind.
Site Speed figure are now available in GA, so for fun I've checked which countries, with over 1,000 page views per year, had the fastest and slowest average page load times on this blog.
You can consider yourself a lucky one if you live in Switzerland, Norway, and New Zealand, as pages load in less of 5 seconds average, but if you live in the Philippines, and especially in China and Nigeria, you may not be so lucky as page load times average over 60 seconds.
That's all for today, and 2013, so I'll join this year gadgets and boards (pictured below) to wish you a very happy and prosperous new year 2014, which promise to be interesting with the first ARM 64-bit based consumer devices, Chinese big.LITTLE processors coming to market, cheaper and more powerful devices, the Internet of things hopefully becoming mainstream, new mobile operating systems such as Tizen, Firefos OS possibly gaining momentum, and Linux with GPU acceleration for all thanks to Ubuntu 14.04 (and libhybris).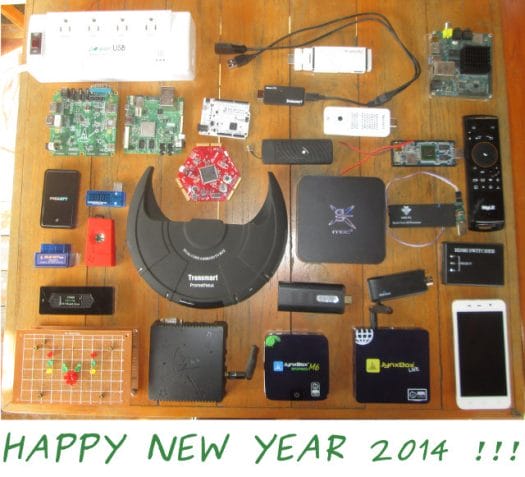 Jean-Luc started CNX Software in 2010 as a part-time endeavor, before quitting his job as a software engineering manager, and starting to write daily news, and reviews full time later in 2011.