Linux Torvalds has just announced the release of Linux 6.3 on the Linux Kernel Mailing List (LKML):
It's been a calm release this time around, and the last week was really no different. So here we are, right on schedule, with the 6.3 release out and ready for your enjoyment.

That doesn't mean that something nasty couldn't have been lurking all these weeks, of course, but let's just take things at face value and hope it all means that everything is fine, and it really was a nice controlled release cycle. It happens.

This also obviously means the merge window for 6.4 will open tomorrow. I already have two dozen pull requests waiting for me to start doing my pulls, and I appreciate it. I expect I'll have even more when I wake up tomorrow.

But in the meantime, let's enjoy (and test) the 6.3 release. As always, the shortlog below is just this last week's worth of fixes, which is a pretty random collection. Some misc VM fixes stand out, but that sounds scarier than it is – they stand out mainly because everything else is small, and it's unusual to see the mm/ subdirectory in the diffstat. But it's all pretty small, and a fair chunk of it is for things like kmsan, not "normal" VM code. Although there's still some fallout from the conversion to the maple tree and vma iterator. Let's hope we're all done with that pain.

Anyway – I think we're in good shape, but please do try to prove me wrong: testing in the real world is where it's at.

Linus
Linux 6.2 was released about two months ago with faster mitigation of the Retbleed speculative execution attack on x86-64 and ARM processors, the Runtime Verification (RV) tool, optional power savings with improved RCU locking (mainly for Android and Chrome OS), and faster file and directory creation with exFAT, and many other changes.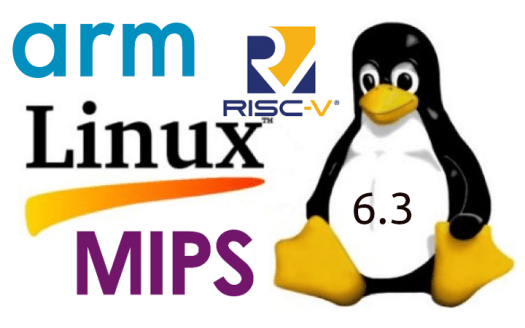 Linux 6.3 highlights
Some notable highlights of Linux 6.3 include:
Linux 6.3 Arm changes
As usual, there were plenty of changes made to the Arm architecture:
RISC-V Linux 6.3 changelog
Updates to the MIPS architecture
Thomas Bogendoerfer summarizes the MIPS updates for Linux 6.3 simply as "Just cleanups and fixes". So I've included the full list of changes and fixes below:
You can also find a more complete Linux 6.3 changelog with commit messages only. It was generated with the command git log v6.2..v6.3-rc8 --stat. Alternatively, you can also read the changelog on the KernelNewbies website.

Jean-Luc started CNX Software in 2010 as a part-time endeavor, before quitting his job as a software engineering manager, and starting to write daily news, and reviews full time later in 2011.