It's this time of the year when we look back at what happened, and what may be next. 2020 did not pan out as planned in more ways than one, but there were still some interesting developments.
Based on 2019 announcements, 2020 was promising to be an exciting year for Amlogic and Rockchip with the expected launch of RK3588 and S908X high-end processors for 8K capable devices, but we'll have to wait for 2021 for this to happen. Instead, the most interesting processor of the year from the Allwinner, Amlogic, and Rockchip offerings was probably Amlogic S905X4 processing adding AV1 hardware decoding.
As pointed out in our "RISC-V 2020 highlights" post, it was a fairly eventful year for RISC-V architecture, although there's still a long road ahead, especially for application processors. We had seen some general-purpose and Bluetooth RISC-V MCUs in 2019, but 2020 saw the launch of the first WiFi IoT RISC-V chips with ESP32-C3 and BL602, Alibaba making its own RISC-V cores targeting a wide range of application from MCU based hardware to servers found in data centers, and we got to see the first "usable" RISC-V PC motherboard with SiFive HiFive Unmatched.
On x86 front, Intel Gemini Lake processors resumed production from their 2019 hiccup, so it was possible to purchased systems based on GLK or GLK Refresh SoCs, and we also got some new Gemini Lake product launches with boards like ODROID-H2+ or Hackboard 2. Intel also launches new low power, but not low cost, processor families in 2020 with Atom x6000-series and Celeron Elkhart Lake IoT/Edge processors and Celeron, Pentium & Core i3/i5/i7 Tiger Lake processors. AMD introduced an update to its embedded processors with AMD Ryzen Embedded V2000 family, as well as some low power laptop SoC's including 15W Chrome-optimized Ryzen processors and Ryzen 4000-U and Athlon-3000-series processors,
Every year comes with its share of SBC announcement, and 2020 was now different with some of the highlights including the launch of Raspberry Pi 4 with 8GB RAM, the compact DFI GHF51 Ryzen Embedded SBC, Hardwarekenl ODROID-C4 board featuring Amlogic S905X3 SoC in Raspberry Pi form factor, the first Allwinner H616 SBC with Orange Pi Zero2, and various NanoPi boards from FriendlyElec for headless applications. We've also seen more and more AI development boards with LG Eris reference platform, Google Coral Dev Board Mini, and Pumpkin i500 among others.
Pine64 also deserves a special mention with more batches of PinePhone Linux smartphone with different OS'es, and the launch of PINECIL RISC-V soldering iron, and PineCube open-source Linux IP camera.
It looks like Espressif ESP8266 & ESP32 WiSoC are still dominating the makers' market for simpler IoT projects that need WiFi or Bluetooth connectivity, and competitors struggle to gain interest due to the lack of software support and/or pricing. In the LPWAN space, it seems LoRaWAN and Cellular IoT (e.g. NB-IoT) are clearly dominating, at least in terms of news.
Top Ten Posts of 2020
As every year, I've also dug into Google Analytics data to find out the posts published in 2020 with the most page views. Here are the top ten posts of the year in reverse order:
Please bear with me for a moment as I rush to purchase raspberry-pi-cases.com domain name, and rename the website to "CNX Software – Raspberry Pi Cases News"! Joke aside, a lot of the page views come from Google algorithm showing people news in their phone's Google Discover feed, so suddenly there may be a traffic spike for a given post just because it shows there. It's also worth noting longer-form posts such as reviews or how-tos do not fare as well as in a few years ago.
CNX Software Statistics for 2020
922 posts including that one were published in 2020, or exactly the same number as in 2019.
Let's check out the top visiting countries and cities in 2020.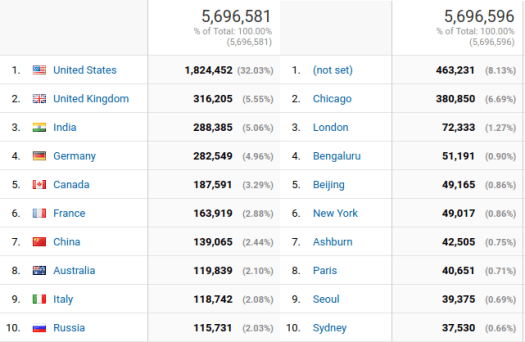 The United States and the United Kingdom take the top spots just like every year, but the share from the US has increased from 24.55% to 32.03%. India has also overtaken Germany to take the third position. The other mix of countries is pretty much the same except for some swaps.
Chicago is still easily in the top position, and London is a distant second like last year, but following the rise from the Indian share of traffic, Bengalore also moved into the third position.
Sadly, it's now the same story every year when it comes to browser market share with Chrome getting slightly higher (65.88% vs ) and Firefox further dropping down (8.74% vs 11.77%). Due to the increase in mobile traffic, Android is the top OS for the first time dethroning Windows after 10 years of CNX Software being online. Linux traffic share also dropped from 7.59% to 5.77%.

For the first time ever, mobile traffic surpassed desktop traffic. Desktop traffic was mostly stable 2.7 vs 2.5 million sessions, but mobile traffic increased from 2.2 to 2.9 million sessions.
What to expect in 2021
The first part of my forecast will look very similar to last year's forecast, as we should expect Rockchip RK3588 and Amlogic S908X SoC's, and related 8K hardware platforms to finally come to market. There will also be the new RK3568 processor with a larger number of I/Os that should bring us feature-rich SBC's. I'd also expect to see more AV1 capable SoC, media players, and single board computers based on S905X4 and other processors with AV1 hardware video decoding.
We'll probably see a lot of development around RISC-V, notably the RISC-V WiFi IoT processor mentioned in the first part of this post, namely ESP32-C3 and BL602, as well as some low-cost Linux RISC-V SBCs based on Allwinner RISC-V processor using one of Alibaba RISC-V core.
5G will keep ramping up, and we'll hear more about 5G and IoT thanks to the launch of 5G LPWA that's an upgrade from NB-IoT and eMTC standards for "Massive IoT". As usual, I'd expect plenty of news related to artificial intelligence at the edge, or the very edge (in sensors).
I'm joined with some of the year 2020's review samples to wish every CNX Software reader, commenter, and contributor a very Happy New Year 2021 !

Jean-Luc started CNX Software in 2010 as a part-time endeavor, before quitting his job as a software engineering manager, and starting to write daily news, and reviews full time later in 2011.